The Wienand Family Photo Album
1914 - 1943
In January of 2007, my mother gave me her parents' family photo album. I don't recall ever having seen it before. I scanned all the photos, and loaded them onto a digitial photo frame for her. About half of the photos are shown below and on the next page. When I have time, I'll add more. There's probably enough for another page or two.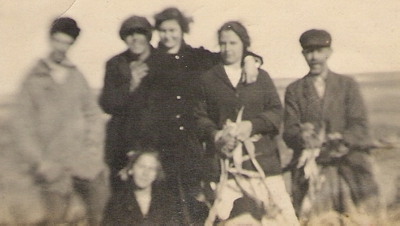 top middle: Rose Stearns
far right: Simon Wienand
front: Laura Wienand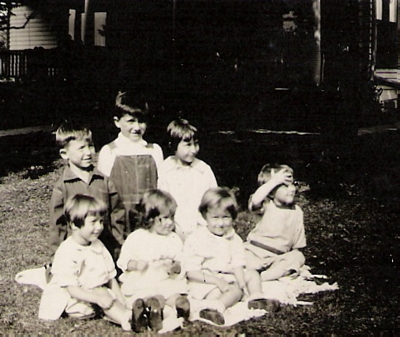 Anna Wienand's (my mother) 6th birthday party in 1927.
Back row: Bob Wienand, Bud Stearns, Anna Wienand
Front row: June, Joyce, Marilyn and Ralph Stearns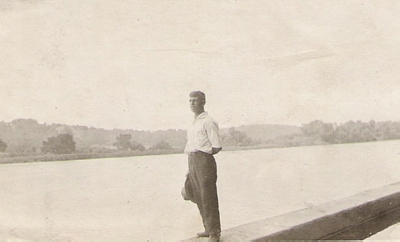 My grandfather, Henry Wienand, at the Rock River near Oregon, Illinois in 1914.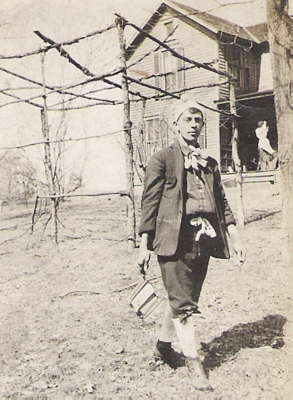 Charlie Wienand in 1916 in front of the first house that burned.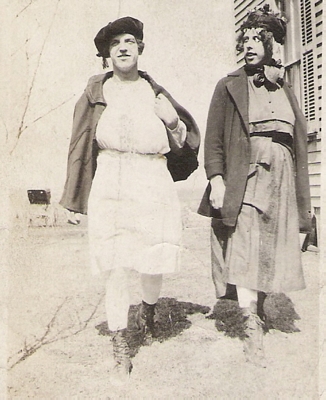 Brothers Henry and Charlie Wienand dressing up for Halloween in 1916.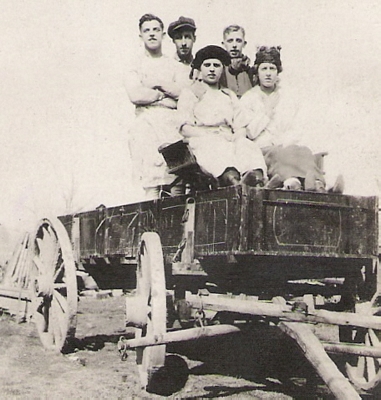 1916
Standing: Henry Wienand, Willie Canfield, Eddie Wienand
Seated: Helen Canfield, Laura Wienand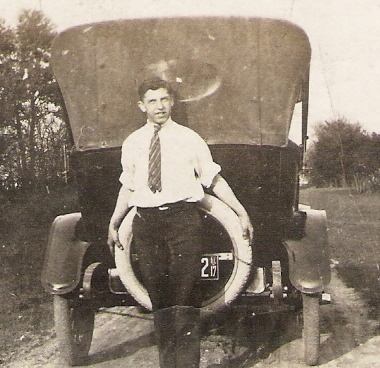 Henry Wienand with his car in 1917.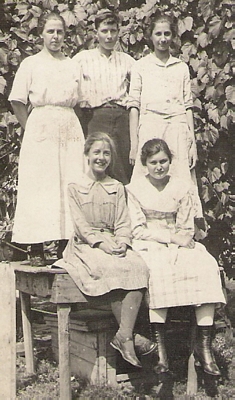 1918
Standing: Tillie Wienand, Arthur Stearns, Flory Bruins
Seated: Laura Wienand, Rose Stearns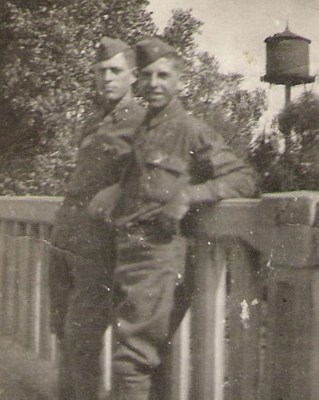 1919
Les Woodley and Henry Wienand in their WWI uniforms standing on the Krape Park bridge. The Krape Park water tower is prominent at top right.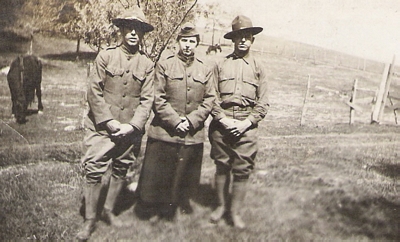 1919
Charlie, Tillie and Henry Wienand on the family farm east of Freeport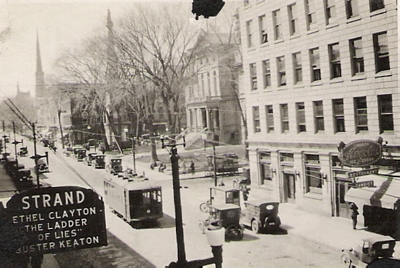 1920 Street scene in Freeport, Illinois.
Visible are the courthouse and Civil War Memorial, a streetcar, the Strand Theater, Angelos Restaurant, streetlamps, various autos, and the popcorn wagon, a regular feature that was parked on Van Buren alongside the courthouse for many years.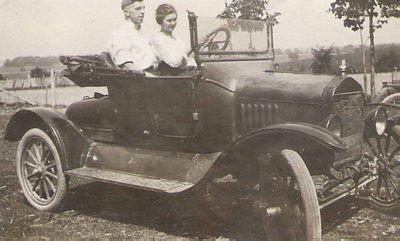 Henry and Rose Wienand in 1920. Grandma always used to tell me stories about driving her car. Here she is shown at the wheel.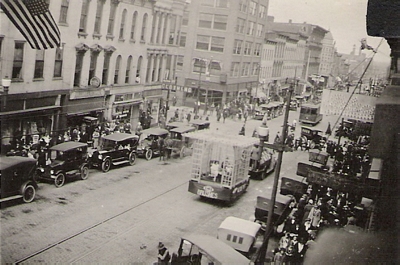 1920 Parade in Freeport, looking east on Stephenson Street. The intersection is Chicago Avenue.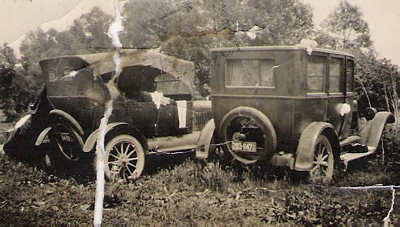 1923 camping trip.
A tarp has been thrown over the car on the left.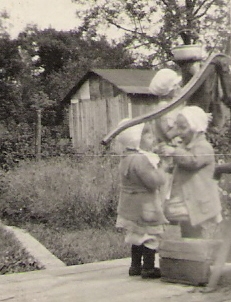 1926 - Bud Stearns and Anna Wienand at the water pump.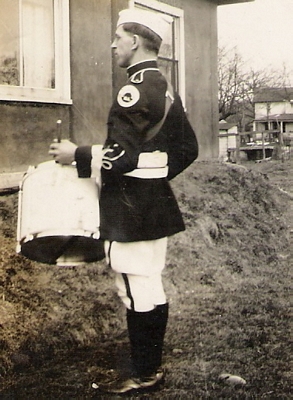 1927 - Henry Wienand was in the drum and bugle corps.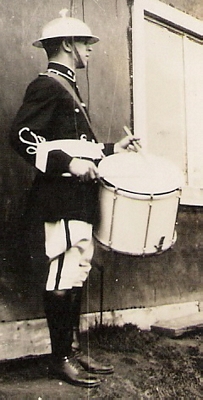 Grandpa Wienand playing the drum before a 1927 parade.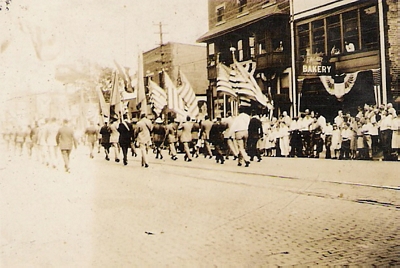 Henry Wienand marching in a parade in LaSalle, Illinois in 1927.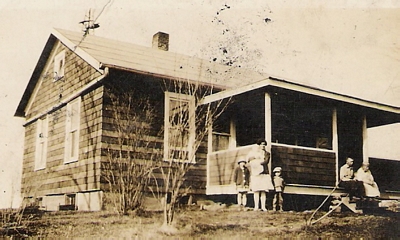 The Wienand farm home in 1927. My great-grandparents are sitting on the steps.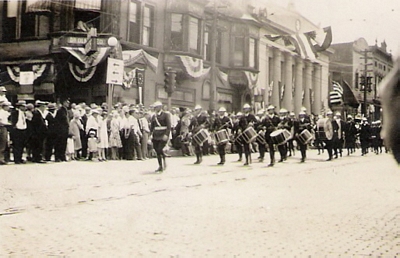 1927 Parade in Freeport.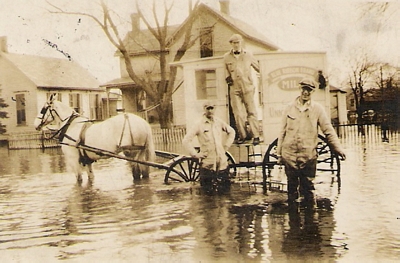 Crocker Street flood in 1927.
The delivery men are in hip waders. The supervisor is standing high and dry on the wagon. The horse waits patiently.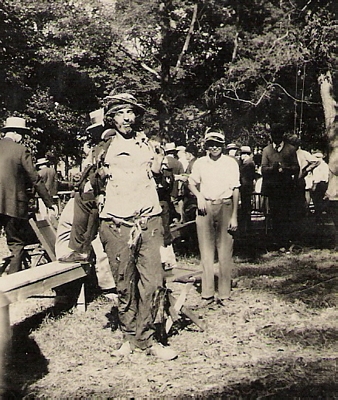 Grandpa dresses as a bum at an Arcade factory picnic in 1937.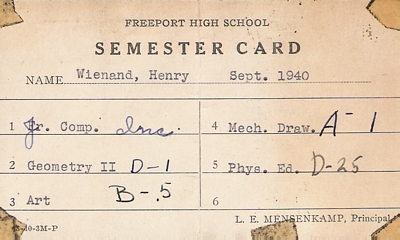 Uncle Bob's report card for the fall semester of his junior year at Freeport High School. Henry Robert (Bob) Wienand got an incomplete in Composition, a D in Geometry, a B in Art, an A in Mechanical Drawing, and a D in Physical Education. L. E. Mensenkamp was Principal.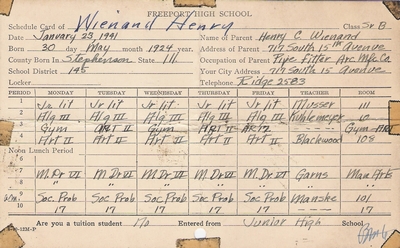 Here is Uncle Bob's junior schedule for Freeport High School for the spring of 1941. His teachers were Musser, Kuhlemeyer, Blackwood, Garns and Manske. His father was listed as a Pipe Fitter at the Arcade Manufacturing Company.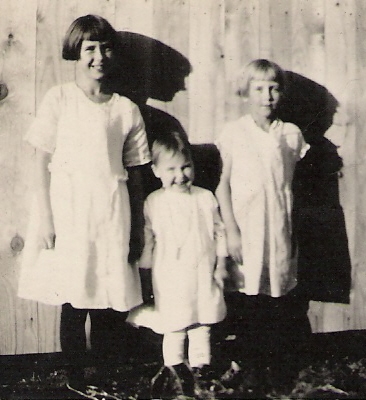 Alberta Couch, Anna Wienand, Margie Couch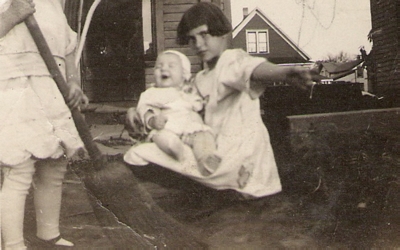 Alberta Couch holding Anna Wienand. The Couch family were neighbors on Chippewa Avenue.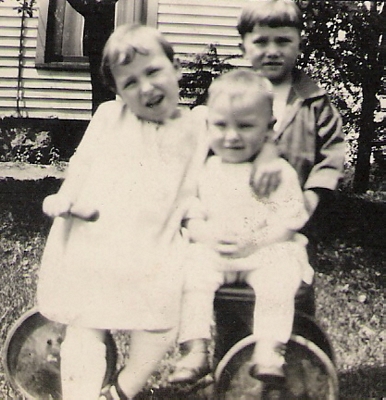 Anna and Bob Wienand, Bud Stearns.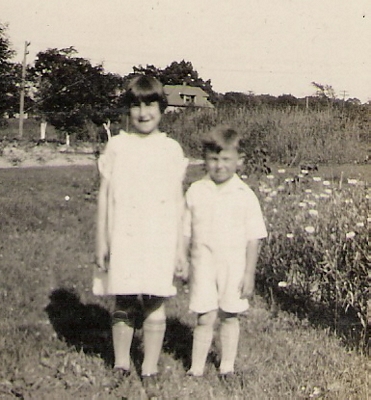 Anna and Bob Wienand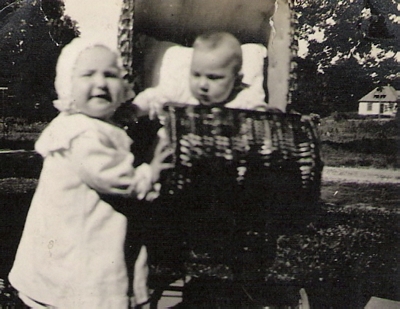 Anna & Bob Wienand. Bob is in the buggy that Grandma Stearns bought for him.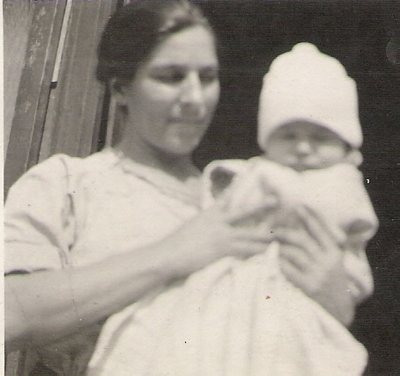 Anna Stearns holding Bud.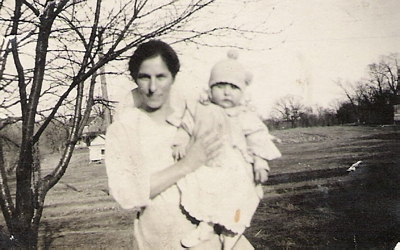 Anna Stearns with Bud. The tall smokestack just behind Anna's shoulder is probably at the Arcade.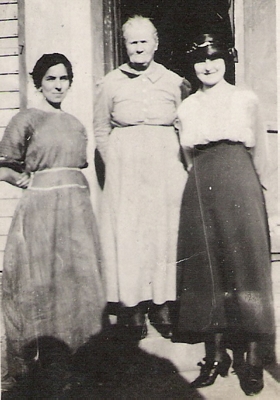 Anna Finkbeiner Stearns, Elizabeth Bird Stearns, Rose Stearns Wienand. Rose was my grandmother, Anna was my great-grandmother, and Elizabeth was my great-great-grandmother.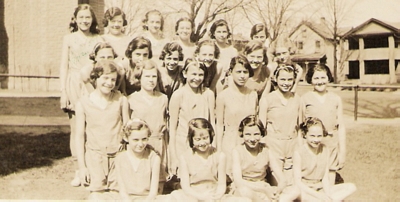 Anna Wienand's 5th Grade girls' physical education class at Center School in 1931.
Back row: Jean Murray, Jane Sieck, Evelyn Van Deest, Audry Marle, Joyce Woods, Carol Kruickshenk
Third row: Anna Wienand, Carolyn Stoke, Mary Ethel Hutmacher, Doris Cooper, Dorothy Pearson, Elinor Bonn
Second row: Mary Jane Rock, Betty Holtum, Barbara Chatters, Anna Petta, Betty Ann Keister, Betty Brown
Front row: Marion Engle, Mary Pfender, Eva Cline, Audrey Kirkey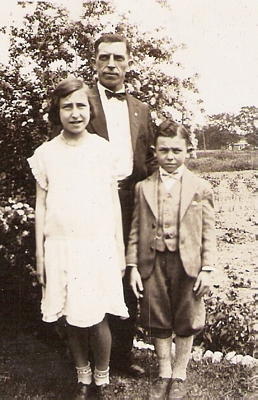 Anna, Henry and Bob Wienand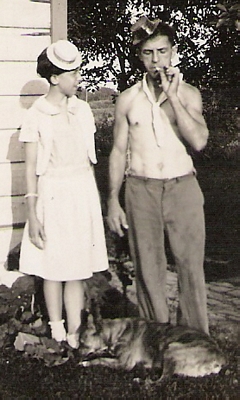 Anna and Henry Wienand with their dog, Patsy.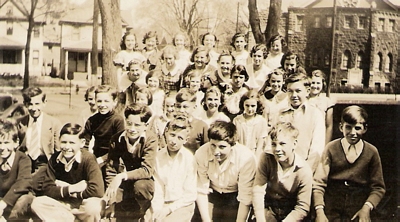 Anna Wienand's 8th Grade Class at Freeport Junior High School in 1934. Embury Church is in the background at right.
Back row: Jean Murray, Jane Sieck, Evelyn Van Deest, Audrey Marles, Joyce Woods, Carol Kruikshenk
5th row: Anna Wienand, Elinor Bonn, Dorothy Pearson, Doris Cooper, Mary Ethel Hutmacher, Carolyn Stoke
4th row: Mary Jane Rock, Betty Holtum, Anna Petta, Betty Ann Keister, Betty Brown
3rd row: Eva Cline, Mary Pfender, Audrey Kirkey, Barbara Chatters, Marian Engle
2nd row: Laverne Simmons, Billy Harnish, Richard Johnson, Gerrald Garrity
Front row: Alvin Voss, Neal Gochenour, Eugene Brobst, Howard Dissmeir, Frank Levin, Robert Alexander, Harry Unger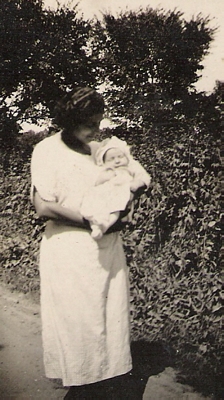 Anna Stearns holding her grandson, Bob Wienand.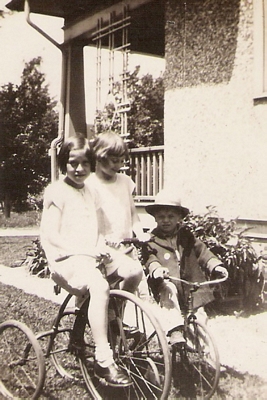 Anna and Bob Wienand on tricycles. The girl in the middle is Elinor? Hutmacher.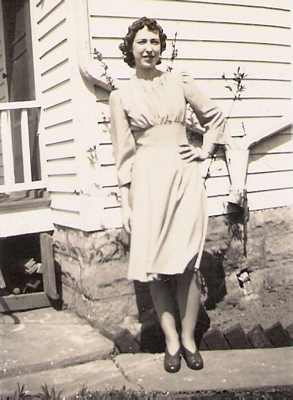 Anna Wienand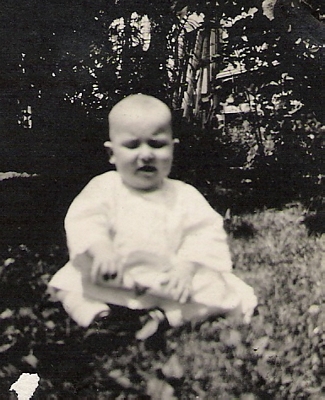 Anna Wienand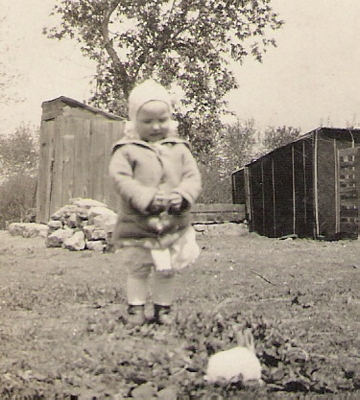 Anna Wienand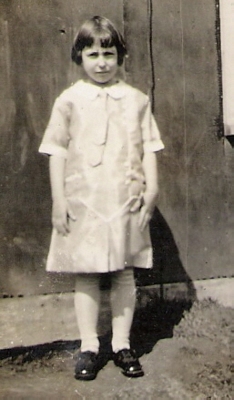 Anna Wienand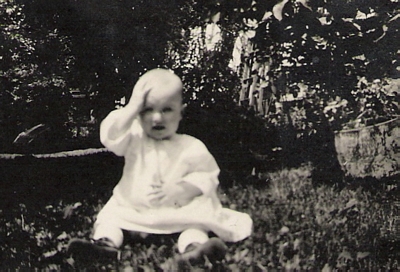 Anna Wienand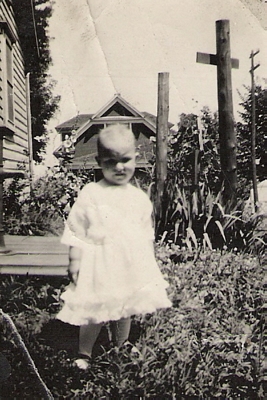 Anna Wienand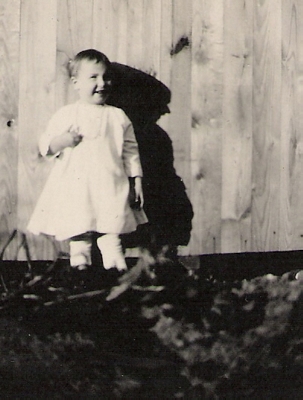 Anna Wienand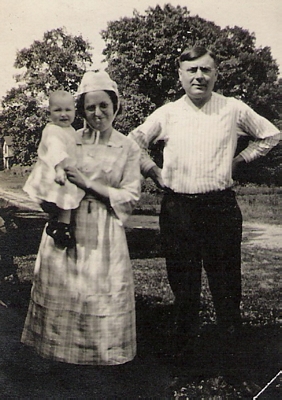 Anna Wienand being held by Annie Stearns, Frank Hodeker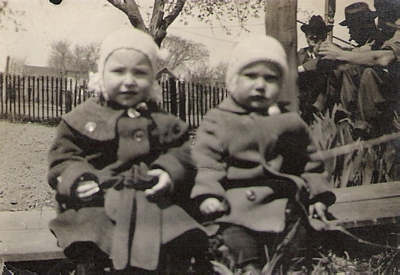 Anna Wienand, Bud Stearns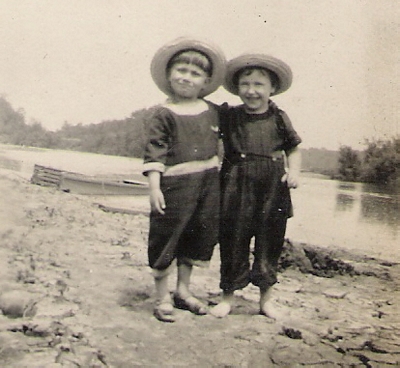 Anna Wienand, Bud Stearns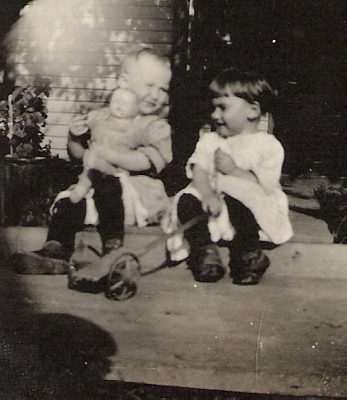 Anna Wienand, Bud Stearns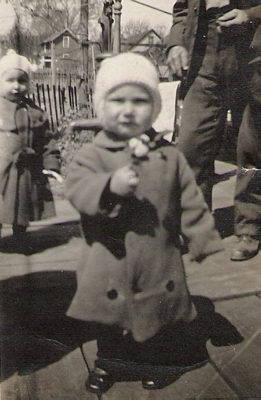 Anna Wienand at left, Laverne "Bud" Stearns
Home
All photos Copyright 2007-present, Robert Bike.
Latest Copyright March 13, 2013