Robert Bike
LMT #5473
EFT-ADV
Licensed
Massage Therapy
& Acupressure
I am in private practice in Eugene, Oregon.
541-465-9486

Current President of the Oregon Massage Therapists Association & a member of the Associated Bodywork & Massage Professionals.
I am an Oregon Licensed Massage Therapist. I do acupressure and massage therapy in Eugene, Oregon. I offer and teach The Mental Game©, EFT, Reiki, energy work, massage, hypnotherapy, and Jin Shin Do.
Aloha Hoahanau
In my dealings with my clients, I strive to do the right thing, in the right way, at the right time, in the right place, to the right person, for the right reason with the right feeling—the first time and every time.
Ho'oponopono
ke ala
Ancient Hawaiians counselled "making right, more right the path," utilizing the philosophy and practice of Aloha Lokahi- love and unity, the all encompassing and important aspect of the Aloha Spirit value system that Hawaiians embrace.
"Try it on
everything!"

EFT – The Mental Game
Robert: (541) 465-9486

Mission Statement


My goal is to teach
as many people
as possible this valuable healing technique.

I want to empower people, help them to reach their healing goals, and spread healing to the world.

With persistence,
anyone can heal
anything.
Private Sessions

Staff Development

Certification Classes

Free One-Hour
Training
Demonstrations
to Qualified Organizations
Groups I have presented to include:
Oregon Harpists
Eugene Stroke Survivors
Freeport Pretzels
"Choices in Mental Health Care as a Human Right"
CASA
EC Cares
Massage Therapists
Health Professionals
Hi Robert!
I wanted to update you on a new change that EFT has made in my life... a really stellar change, in fact.

I'm writing a book! Not just thinking about it or planning it or dreaming... but actually writing it. About four or five years ago, I received guidance to write a particular self-development book, but no matter how hard I tried in the past, I was just too scared to do it. I'd push myself really hard to the point of burnout, but there would still be nothing but random, disconnected thoughts and a bunch of notes and diagrams that meant very little.

But then EFT came to the rescue! As of now, I have now almost completed everything I set out to do, about four weeks ahead of schedule. I feel calm and competent with the work, and I accept that it's just a rough draft that will go through a lot of evolution before it's finished. WOW! That's some major cognitive shiftin'.

I just really wanted to share this story with you, because writer's block is something I have struggled wtih for TEN YEARS. This change hasn't been a one-minute wonder -- some days I've spent a lot more time tapping than writing, and I have a lot more left to clear. But it has been a miracle to me.

I'm working on myself on continuing to clear trauma of the past and opening to the flow and accumulation of money, along with some issues around food, weight, etc. My relationship with my extended family is transforming while I also transform. I'm experiencing lots and lots of positive change -- and some discomfort and anxiety -- so I'm tapping on healing whatever needs to be healed as I step into a new phase of my life. Very, very good stuff.

Well, I just wanted to share all of this wonderful news. Thank you so much for helping me learn EFT. Your workshops taught me how much I can open up and trust my intuition in this work. I learned that going with the flow is not only okay with EFT—it's the whole point of it! I'm so grateful for that and for all of my personal healing. Thanks, Robert.

Loving life,
Harmony


The Mental Game©
An Emotional Freedom Technique
Upcoming Classes
EFT Level 1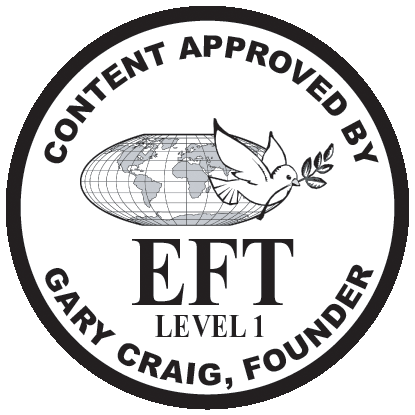 This is a 7 CE workshop that will equip you to produce rapid results with yourself and with clients in one session. You will learn the history and basis of EFT, the set-up statements, the tapping sequence, how to work with clients, what to say, and when to stop. You will learn to practice basic EFT on yourself and others. This is a fun, lively experiential training.
EFT Level 2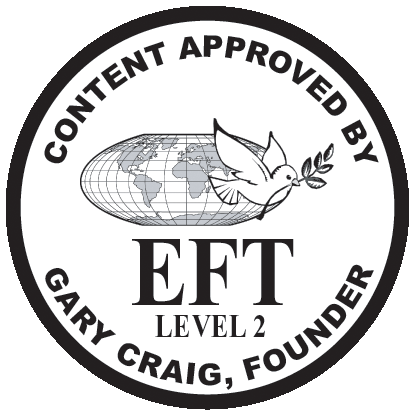 Level 2 EFT is for anyone who has taken Level 1 and wants to develop their skills. Level 2 contains enough quality material to move the serious student into the top 5% of the EFT healing practitioners in the world. Topics include The Palace of Possibilities, Tearless Trauma, Borrowing Benefits, Working by Telephone, Presenting EFT to Children, Core Issues, Addictions, and Affirmations. You will learn to practice advanced Emotional Freedom Techniques on yourself and others. This workshop gives Licensed Massage Therapists 12 contact hours of Continuing Education.
---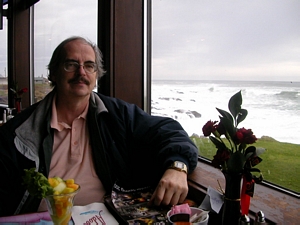 Most of our illnesses, injuries and ailments are caused by emotional disruptions. Negative emotions are related to disruptions in the body's energy system. When our body's energy (Japanese "ki" as in Reiki, or Chinese "chi" as in Tai Chi) is blocked, then the physical body suffers and our emotions are no longer healthy. The Mental Game©, an Emotional Freedom Technique (EFT) utilizes acupressure points to provide relief for a wide range of emotional and physical symptoms, and will help you to overcome the mental aspect of your sporting activity.
Easy to receive and easy to learn.
EFT is an effective form of acupressure. Instead of using needles, we tap with our fingertips to stimulate energy points while the client thinks about the problem. EFT is usually gentle. Substantial relief is often achieved with little or no pain.
Ki (our life force energy) circulates throughout the body through energy channels, or meridians. Blockages of Ki along these meridians may be one cause of emotional upsets and physical illnesses. EFT releases these blockages, generating results beyond those of conventional methods. EFT may provide relief for a wide range of physical, mental and emotional symptoms.
Blogger stress relief
Krista sought relief for stress from dealing with an unruly 6-year-old. Read her story in her own words here.
In an epilogue to her blog, she writes: "I was driving with Kaycee this weekend, and she was fine, sitting quietly in the back seat. I was developing a headache, so I began tapping. She asked, concerned, "Mommy, am I stressing you out?" I laughed and said no, that tapping also helps for other things, like when my body isn't feeling good. A few minutes later, I looked in my mirror and she was tapping herself!! Of course she stubbornly refused to let me demonstrate the "proper" way to do it, but I think she can benefit anyway just from learning that she has the power within herself to help her body when it's not feeling well. Thank you so much for all your help!! — Krista
Thinking about getting an EFT treatment?
First, take an assessment of your symptoms as they are now, and rank them from worst to least bothersome. Rank each symptom on a 0-to-10 scale, where 0 doesn't bother you at all, and 10 sends you through the roof. Judge each symptom based upon how you feel, such as pain, numbness, itching, irritation, anxiety and so on. We will work on each symptom with EFT. Then after each round of EFT, you will rate each symptom again. The goal is to bring all symptoms down to a zero.
"I felt better than I had in ages and it is still lasting. I am thrilled, though, with the additional energy I seem to have available and I am more relaxed as I move through what I need to do.
"By the way, I'm almost afraid to say it out loud for fear of tempting the gods, but my interest in daily alcohol consumption has waned considerably. Wine with dinner is unaffected but to just sit down and nurture myself with a drink or two just doesn't seem important. I come home and still have energy so I'm doing other things. 10:00 arrives and I forgot to have a drink! I know you are thrilled about this. If this continues, it is really the way I would prefer to have a relationship with alcohol.
"Thanks so much. Love and Light" — Kristin
Scientific Explanation of How EFT Works
EFT is based on the meridian system and the way cognitive thought energy interacts with it. The energy of the meridians, thoughts and emotions overlap. Emotions result from the influence of electromagnetic energy created by our thoughts, the energetic changes that occur in the meridian system and chemical changes that occur in the body.
Everyone has physical symptoms arising from past stress or chronic continuing stress. When stress is chronic (over a long period of time), the nervous system gets stuck in a fight or flight reaction. Chronic stress is often caused by anger, fear, frustration and other reactions to our situations, but can also be caused by nutritional stress, trauma or physical stress. During the fight or flight reaction, the adrenal glands send out adrenaline and cortisol, eventually leading to physical symptoms such as low thyroid, edema, fatigue, sleep disturbance, allergies and so on.
EFT is a tool used to relieve stress.
Chronic stress may sometimes be caused by emotional overload. EFT is acupressure that helps rebalance meridian systems that have been disturbed by chronic stressful emotions and/or singular traumatic events.
It is simple and effective.
The client thinks of the stressful event or a physical symptom while tapping on the end points of the major meridians. The tapping jars the meridian when the mind is aware of the event or symptom, and the blockage or disturbance of the energy system dissolves.
Thoughts and memories of past traumas melt away and no longer seem as important. Often we even forget previously painful memories because EFT processes them for us. The natural balance and flow of energy brings relief as the body heals itself. A trained acupressure practitioner using EFT can release pain, emotions and symptoms.
There is no psychological therapy involved.
Clients can learn to use this technique on their own or be aided by their trained acupressure practitioner. The client is simply using acupressure to balance meridians that have been disturbed by a thought or event. Once the natural flow of energy is restored, the body returns to its desired state of physical and emotional well-being.
Some situations require the attention of conventional therapists, psychologists, psychiatrists or physicians. I refer out diagnosed DSM-IV Psychological Disorders to trained professionals.
Fast results.
More than 80% of my clients get significant results or complete relief in the first session! While results may occur in as little as three minutes, or may take three hours, a typical session is about 90 minutes.
No drugs are involved. Unlike table massage, no undressing is required. There is no hypnotherapy. It is usually pain-free. And I teach you how to do it at home!
Call for an appointment
Robert Bike
EFT-ADV, EFT-CC, LMT #5473
541-465-9486


EFT - The Mental Game

# of
sessions

Length of each
session

Price

1

90 minutes

$80.00-$150.00
sliding scale

5

90 minutes each

$360.00*-$700.00*
sliding scale

10

90 minutes each

$700.00*-$1350.00

*when paid in advance as a package

Email Consultations: $20.00

Telephone Consultations: $1.00 per minute

Corporate Rates Available On Request
Athletes
Whether you play golf or tennis, run track, play basketball or football, a large part of your game is mental. With EFT, I will help you overcome slumps, eliminate hooks & slices, avoid the "freshman wall", throw straighter, jump higher and run faster. "No pain, no gain" is a thing of the past with EFT.
Common Ailments
EFT often has some effect on common ailments.
More than 80% of clients achieve noticeable improvement from their problems in one session.
Schedule an appointment today. One 90-minute session of The Mental Game is as little as $80.00!
Robert Bike
EFT-ADV
Licensed Massage Therapy & Acupressure # 5473
541-465-9486

Give a gift of healing. Give a Gift Certificate.


While healing methods have been my passion for over 30 years, and I am a Licensed Massage Therapist, trained and licensed in massage and acupressure, and a life coach, I am not a psychological therapist nor a psychologist nor a psychiatrist nor a physician. My background and my spiritual path, which I believe underlies all proper healing, has led me to be a minister, Reiki Master and spiritual healer.
"Thank you so very much!!
"It was so very generous of you to take the time to educate me in the work of EFT.
"I have been experimenting with more and more specific statements. Sometimes, I will just tap on my spots during the day to keep things flowing." — Mary
The information about The Mental Game, an Emotional Freedom Technique (EFT), contained on this website is for educational purposes only and represents the personal opinions of Robert Bike.
The Mental Game, an Emotional Freedom Technique, is experimental and unproven. While you are free to use, teach, share and/or show any of the material presented here, use these procedures with caution to treat yourself or others. This is not a medical procedure, and no psychology nor pyschotherapy is involved.
Use caution before using any technique mentioned on this website.

No warranties or guarantees are made, expressed or implied.
Private Sessions
1 on 1 Training
Classes
Use EFT for:
healing,
relaxation,
pain relief,
injuries,
muscle tension,
sports,
pain,
bad habits,
lose weight,
stop smoking.
Gift certificates.
Hi Robert,

Since your class I have been tapping on Eliza Doolittle (the Irish Setter) for her fear of loud noises. I do both surrogate tapping and tap on the the dog. She actually seems to enjoy it! Anyhow, we finally heard a loud pop the other night and instead of being absolutely frantic she was anxious, paced for a few minutes and went to her bed and went to sleep. Fourth of July will be the true test. I worked on my shoulder in class and it still feels great. My massage therapist even commented on how loose it was. I gave her your card so she can come see for herself.

Thanks again,

Mary

"I want to update you on how I have been feeling. I ate one of my favorite pastries the other day, which I have not been able to do in a VERY long time without getting a panic attack.
"Slowly but surely I am starting to get better days. I feel much better when I get up, and I feel refreshed. I thought I would honestly never feel this good in such a short period of time!
"It's almost too good to be true. It feels very unreal! Thank you again for the session. I am tapping for everything now!" — Deanna : )
"Thank you so much for your help. I wanted to let you know that your treatment really helped me to do what I needed to do and that it had positive results. Thank you again!" — L. M., Prineville, Oregon