Click to join 66pretzels
All Pretzels are welcome!
If you graduated from Freeport High School in any year,
join 66pretzels and get to know Pretzels of all ages.
Freeport High School
Freeport, Illinois
Pretzels

I saw on classmates.com a few years ago that 19 people from my class, 1966, had joined. While they do a fine job of keeping track of thousands of people, I didn't think they should have a monopoly on our class. So I created this page, which links to a Yahoo group where we can keep track of each other for free!
You can access our group using the link below or from the Yahoo! Groups "My Groups" page.
Group name: 66pretzels.
Group home page: http://groups.yahoo.com/group/66pretzels.
Group email: 66pretzels@yahoogroups.com.
To join, you must have a Yahoo account, which automatically gives you an email account of unlimited size!
In August of 2006, I went to my 40th high school reunion.
On this page and the four following pages are photos of Freeport High School and from that reunion.
Photos are of classmates, spouses, mothers, a teacher, and various others who happened by, including a former President of the United States (POTUS). I recognized very few of us. Whenever anyone new would walk in, the rest of us would say, "Who's that?", then when we'd find out who it was, we'd say, "Oh, wow!" I'll identify those I remember and as I have time.
There are some un-labeled photos. If you can let me know who is shown in the photos, I'll label all of them.
Sherry Ingram helped with the identification. If we got your name spelled right, and we got you identified properly, thank Sherry. If we blew it, blame me. If you have changes, email me at

.
Follow these links to see photos of the reunion.
Scroll down to see photos of our beautiful high school.
Saturday Luncheon at the Union Dairy and Debate Square
Saturday Night Main Event at the Four Seasons
Sunday Picnic at Krape Park's Flagstaff Hill
The Polaris (a history of Freeport Schools)
On Freeport!
L. M. Hiatt, Composer
(Hiatt was the first FHS band director in 1911, & wrote On Freeport! in 1922)
On Freeport!
On Freeport!
Crash right thro' that line.
Take the ball a-round,
Roll it on the ground.
You are go-ing fine.
Go on Freeport!
On Freeport!
Take our vic-t'ry through.
On, oh Freeport!
On, oh Freeport!
We are all with you.
Rah! - Rah! - Rah! Rah! Rah!
Freeport High School! Rah!
(Locomotive)
F-R-E-E-P-O-R-T
F-R-E-E-P-O-R-T
F-R-E-E-P-O-R-T
FREEPORT!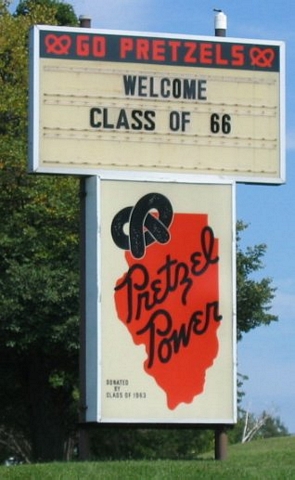 Somebody knew we were coming!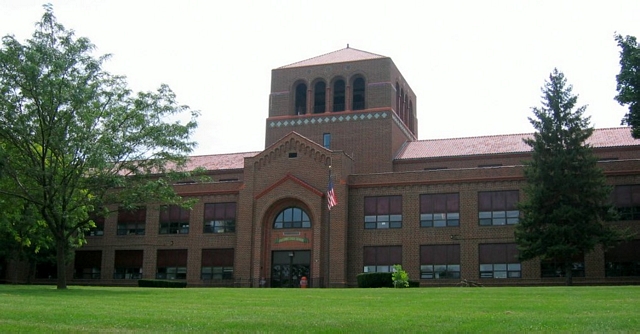 The front door on Moseley Street.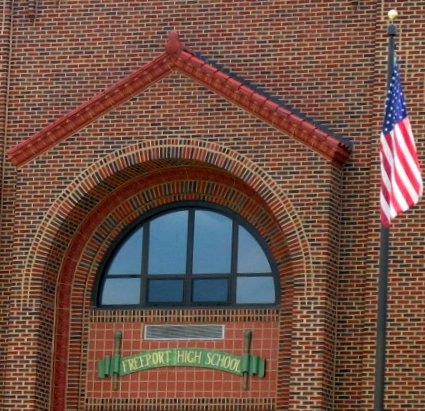 Freeport High School

Freeport High School viewed from the corner of Empire & West.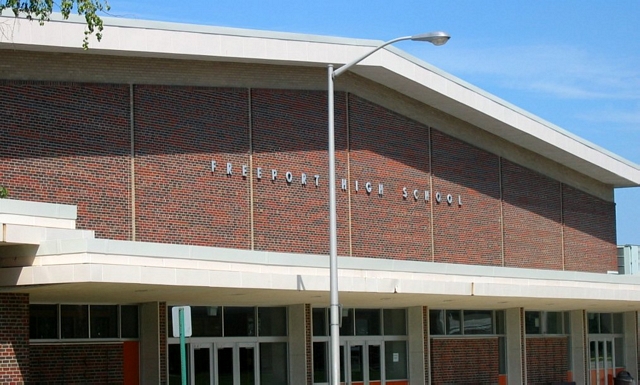 The "new" gym.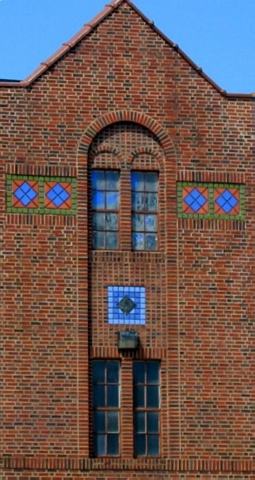 Intricate detail work on the brick & tile mosaic.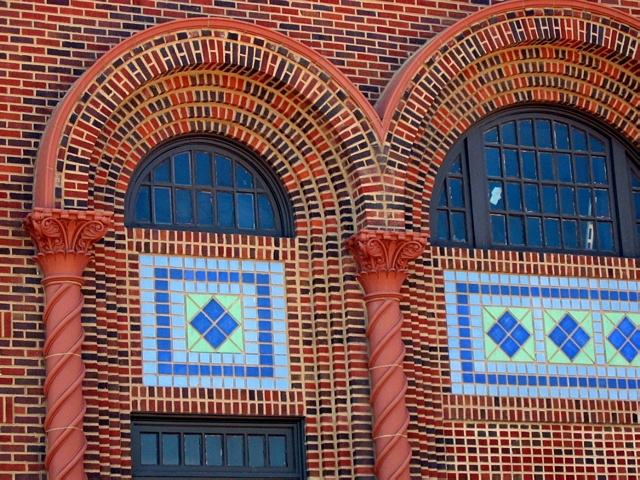 I've seen a lot of high schools in my travels, but none compare to the beauty and intricacy of the work at Freeport High School. Notice the spiral columns with intricate tops, the arched bricks, and the pretty tile work.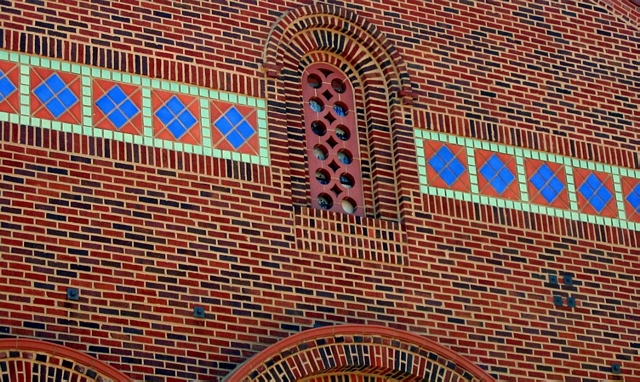 Did we pay any attention to this beautiful brick work when we attended high school?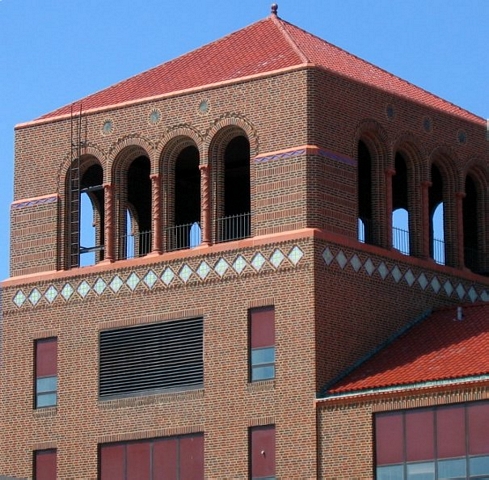 The magnificent tower atop Freeport High School.
Have any of you been up there?
Freeport High School viewed from the east. The football field used to be a deep bowl, with the track running around the outside. The "Pretzel Bowl" is gone, and the track is in front of the stands. The football team has continued our winning tradition in recent years.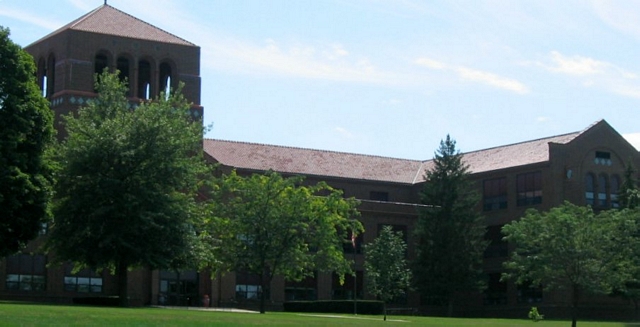 Classrooms at Freeport High School.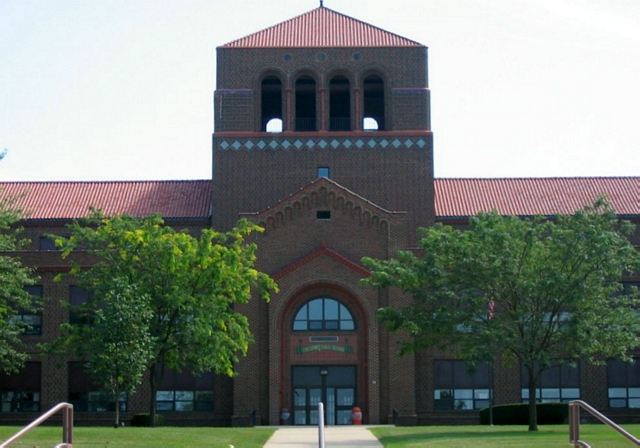 The front entrance to Freeport High School.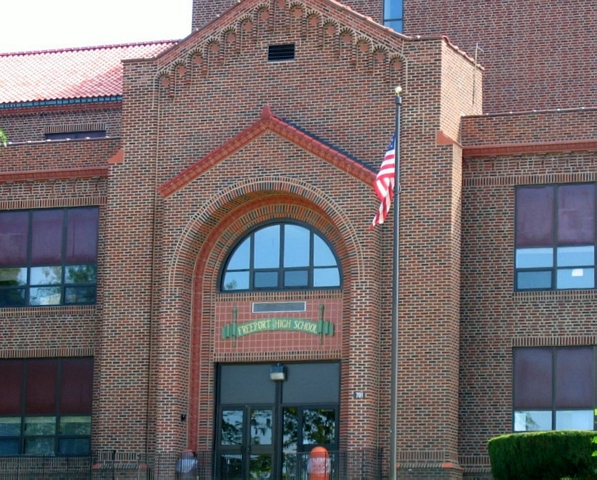 Detail of the front entrance to Freeport High School.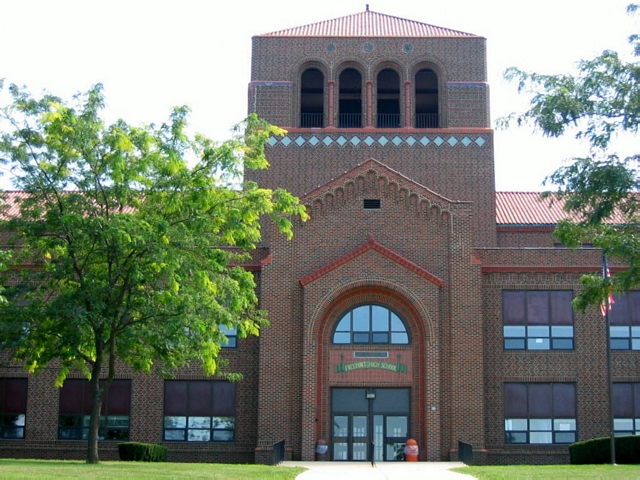 Freeport High School can't be beat, in architecture, in sports, in education.

Saturday Luncheon at the Union Dairy and Debate Square
Saturday Night Main Event at the Four Seasons
Sunday Picnic at Krape Park's Flagstaff Hill
---