Freeport High School
Freeport, Illinois
Class Reunions
Is your class reunion coming up soon? Contact me at

and I will add your class to my reunion page. This is a free service to all classes of Freeport High School, Aquin High School or Highland Community College. If you already have a page, let me know and I will link to your site. Please include your reunion committee's contact info.
Freeport High School:
1944
1961
1962
1963
1965
1966
1972 (external link no longer valid)
1973 (Facebook page)
1977
---
The Freeport Community Public School Fund was created in 1983 by concerned parents and businesses who saw a need in the schools for materials and equipment that the school district was not able to fund. One of the major fields of concern then was the science department, and retired teacher Doug Firebaugh said that he didn't know what he would have done without the new equipment that the fund provided for him.
Each year, in October, teachers can submit a request for durable equipment or materials that they need to use in their classrooms. The Board reviews the requests and decides which items to fund, according to how much money is raised through the annual fund-raiser, also held in October. Basically, this is mainly through a mailing of the annual brochure, which lists prior donors and memorials and honorariums.
Give generously to help the school system that got you where you are today! Read more about the School Fund and donate online at www.fcpsf.org.

---
The Freeport High School
Class of 1963
55th Reunion
will be held September 14-16, 2018
Ginger Gramley is moderating an FHS 63 page at Facebook
https://www.facebook.com/groups/192248981507749/about/
---
The Freeport High School
Class of 1966
50th Reunion

will be held September 23-24, 2016
Want to come to our 50th? Please contact:
Diane Dixon Sorn, 815-275-2766 or countrygirl052370@yahoo.com
Jeanne Jeffrey Mordick jjmordick@aol.com
If emailing, put "Class of '66 Reunion" in subject line.
Photos from the 45th reunion.
---
The Freeport High School
Class of 1965
50th Reunion

will be held August 21-22, 2015
Contact Bill Frakes for more info.
5166 W. Lily Creek Road
Freeport, IL 61032
---
The Freeport High School
Class of 1963
50th Reunion
Fri 23 Aug 2013 - informal gathering at the Freeport Country Club at 6pm
Sat 24 Aug 2013 - 10am tour of FHS
Sat 24 Aug 2013 - afternoon golf at the country club
Sat 24 Aug 3013 - at the country club: cocktails at 6pm; dinner at 7pm; program to follow
---
The Freeport High School
Class of 1962
50th Reunion

Sept. 28-30, 2012
Missing classmates:
Abbott, Roger
Becker-Herbig, Judith
Brown, James J.
Cain, Al
Clark, John
Coleberg, Robert (?)
Cramer, Jon F.
Ferrell-McClymonds, Nancy
Hayes-Montgomery, Barbara
Johnson-Shianna, Loretta
Jordan, Alma
Karlesky, Judy,
Klosa, Sandy
Martin, Karen L.
McDermott-Christenson, Jennifer
McDonald-Daniels, Nellie
Morton-Blair, Christine
Retzlaff, Leon
Smith-Knichski, Susan
Starkey-Roberts, Theresa
Stroud, Nick
Thompson, David
Zuck, Robert A.


---
The Freeport High School
Class of 1961
50th Reunion
was held Wed. Oct 5, 2011 5:00, for participation in the Homecoming parade
Fri. Oct 7 3-5 pm Reception at the Freeport Arts Center to view and greet classmate Athena Mosxana, who showed her world famous religious icons.
Fri Oct 7 5:30 Homecoming Football game
Fri Oct 7 8-12 pm Casual get together at O'Maddy's down town Freeport
Fri and Sat Oct 7 & 8 Golf at the Freeport Country Club.
Sat Oct 8 Cocktails and pictures with dinner, music and fellowship
Sun Oct 9 Continental breakfast available compliments of Dee Holsinger Mease at the Park Hills Golf Club.
Any questions can be directed to Marj Bogenrief mbogenrief@yahoo.com
or to Cindy Kleckner at cnckleckner@aol.com.
---
The Freeport High School
Class of 1944
70th Reunion
The Class of 1944's 70th reunion was held in August 2014. Out of a graduating class of 208, 26 attended. An estimated 63 class members are still living!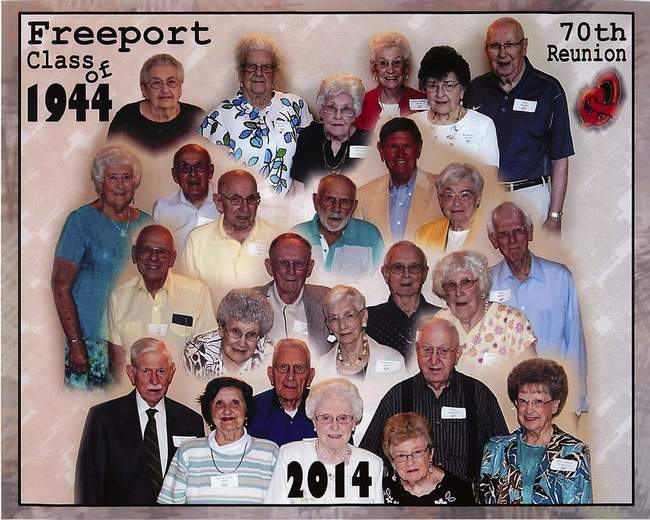 Classmates who attended are: Art Armagost, Georgia Chiames Balsamo, Betty Behrend Mergen, Gene Bennett, Joyce Cooper Pierce, Rosali Locher Cosgrove, Barbara Atherton Donahue, Dan Ferguson, Helen Fluechting Alt, Della Longamore Kirkpatrick, Carol Richards Klock, Donna Dahm Kortemeier, Martan Rees Kiburz, Dorothy Kuhlemeier Johnson, Dorothy Kuhn Bloyer, Mary Lindgren Bauch, Mark McLeroy, Wayne Meck, Jack Packard, Marcella Spahr Popp, John A. Reining, John Rush, Ralph Stearns, Paul Tucker, Laverne Voss and Alfred Washburn.
The class expects this will be their last reunion, but I hope they meet again for their 75th!