Book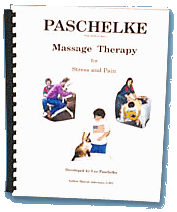 Paschelke Massage: Therapy for Stress and Pain

An illustrated textbook with step by step instructions is $18 plus S/H (U.S. funds). Send check or money order payable to Pachelke Massage Center PMC.

Paschelke Massage Center
PO Box 922
Marcola OR 97454

Click here to start your order!
Currently out of print. Call for more info.





History | Massage | Animals | Wa-shelke
Book | Video | Hot Packs | Home Page

Paschelke Massage Center
Sharon Jakeways, LMT
541-517-8025
paschelkemassage@msn.com