Dead & Buried in Freeport, Illinois
people who either died or are buried in Freeport
---
William Rockefeller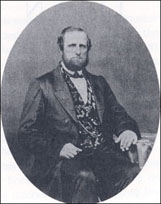 William Rockefeller, father of billionaire industrialist John D. Rockefeller, lived in Freeport, died and is buried in Oakland Cemetery. William Avery Rockefeller, Sr. (November 13, 1810 – May 11, 1906) was the father of John Davison Rockefeller (1839 – 1937) and William Rockefeller (1841 – 1922), who both founded the Standard Oil company.

"Big Bill" sold snake oil, and was a confidence trickster. He was an unreliable father, and played no role in his son's business career.

Rockefeller and his first wife, Eliza Davison Rockefeller (1813 – 1889), married in 1837, and were the parents of six children: Lucy, John Davison, William, Mary Ann, Francis and Franklin.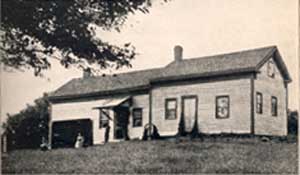 William abandoned the family while John was a teenager, but remained married to Eliza until her death. He was a traveling salesman of dubious products, such as "cancer cures." As William was frequently gone for extended periods, Eliza struggled to maintain a semblance of stability at home.
While still married to Eliza, William had two daughters by Nancy Brown, Clorinda (born 1838) and Cornelia (born 1839).
In 1856, he assumed the name William Levingston, and married Margaret Allen.

After hearing rumors that the richest man in the world had a shameful family secret, the press went into a frenzy. Joseph Pulitzer offered a reward of $8,000 for information about "Doc Rockefeller" who was known to be alive and living under a false name, but whose whereabouts were a family secret. Journalists failed to track him down before he died, and the full story wasn't exposed until years later.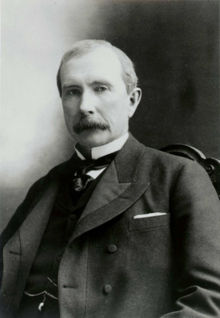 John D. Rockefeller never publicly acknowledged the truth about his father's life as a bigamist. John became an American industrialist and philanthropist. He revolutionized the oil industry and defined the structure of modern philanthropy. He had always believed that his purpose in life was to make as much money as possible, and then use it wisely to improve the lot of mankind.
In 1870, the two Rockefeller brothers founded Standard Oil. John kept his stock and as gasoline grew in importance, his wealth soared and he became the world's richest man and the world's first ever billionaire.
Rockefeller is still the richest person in history. In 1902, Rockefeller was worth about $200 million—compared to the total national wealth that year of $101 billion. His wealth grew significantly as the demand for gasoline soared, eventually reaching $1.4 billion, including banking, shipping, mining, railroads, and other industries. As a percentage of the United States economy, no other American fortune—including Bill Gates and Sam Walton—would ever come close.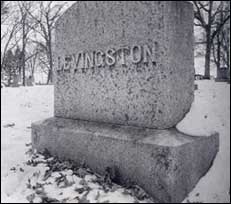 His foundations pioneered the development of medical research, and were instrumental in the eradication of hookworm and yellow fever. His money transformed a small private religious school into the prestigious University of Chicago.
Married in 1864, John and Laura had four daughters and one son, John D. Rockefeller, Jr.
While William was a bigamist and philanderer, his bloodline has been a major force in American business and politics for 125 years. William's great-grandson David Rockefeller was a leading New York banker. Another great-grandson, Nelson A. Rockefeller, was governor of New York and the 41st Vice President of the United States. A third great-grandson, Winthrop Rockefeller, was Governor of Arkansas. Great-great-grandson, John D. "Jay" Rockefeller IV is a Senator from West Virginia, and another, Winthrop Rockefeller, served as Lieutenant Governor of Arkansas.
---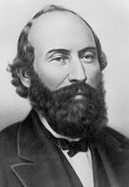 John Wilson Shaffer
The Mormons fled from Illinois to Utah to escape persecution. There was great concern about the Mormons, and this led to increased scrutiny from the Federal Government throughout the 1850s and 1860s.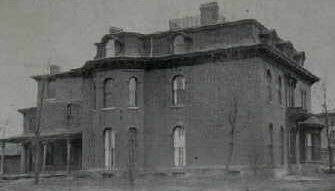 The Mormons were consolidating their power under Brigham Young. Nineteenth century Mormon political theory did not allow for separation of church and state. Anticipating when Christ would rule the earth, the Mormons began in 1844 to prepare a political organization through which Christ would govern. The militia or Nauvoo Legion, theoretically answerable to the territorial governor, was actually under the command of Lt. Gen. Daniel H. Wells, Mayor of Salt Lake City and counselor to President Brigham Young, the Church's Prophet, Seer, and Revelator.
In 1870 President Ulysses S. Grant acted. He appointed John Wilson Shaffer to be Governor of the Utah Territory. A former adjutant to Civil War General Benjamin F. Butler, Shaffer emphasized vigorous enforcement of federal authority. He removed Territorial Secretary Samuel A. Mann, who was linked to the Mormons. He ordered Utah Chief Justice James B. McKean to deal with problems of jurisdiction between federal and territorial officials.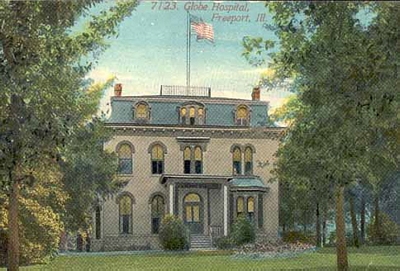 Governor Shaffer believed in crushing acts that appeared rebellious to the federal government. Shaffer took control of Utah affairs from Mormon hands and placed it in the hands of the federal government. Shaffer, with the help of United States troops, gained control of the territorial militia.
He died suddenly in his first year as governor.
Shaffer was a businessman in Freeport. After the Civil War, General Shaffer built the home pictured above and at left. He lived in it from 1866 to 1870, when he was appointed to be the Governor of the Utah Territory.
The home was later sold to Horatio Burchard, and later still to Dr. William Krape. In 1902 the home was turned into a 40 bed hospital, and was called the Globe Hospital. The institution later evolved into Deaconess Hospital and then Freeport Memorial Hospital. The Shaffer house, still a part of Freeport Memorial, was finally torn down in 1960.
John Wilson Shaffer, also known as J. Wilson Shaffer and J. W. Shaffer was born in Pennsylvania on July 5, 1827. He was a Freeport businessman, a Colonel and Chief of Staff to General Butler. He rose to Brevetted Brigadier General in the Union Army during the Civil War and was the Governor of the Utah Territory in 1870. He died in Salt Lake City, Utah, on October 31, 1870. He is buried in Freeport.
---
Clyde Southwick
Professional baseball player Clyde Aubra Southwick was born on November 3, 1886 in Maxwell, Iowa.
In college, Southwick played for the Iowa State College of Agricultural & Mechanical Arts. He was a catcher, batted left, threw right, was 6 feet tall and weighed 180 pounds.
He got into the majors on August 22, 1911. He went 3 for 12 (.250) with no homers in 4 games for the 1911 St. Louis Browns. He played his last game in the major leagues on September 9, 1911.
He died October 14, 1961 in Freeport, Illinois, and is buried in Chapel Hill Cemetery.
---
Jack Warhop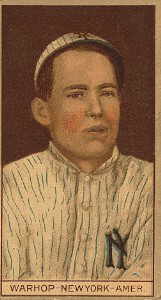 My dad used to point out a house at 621 S. Chicago Avenue when I was 11 or 12 years old, and tell me that the man who lived there had been the major league pitcher who gave up the first home run that Babe Ruth hit in the major leagues.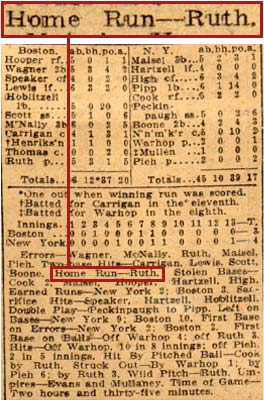 The baseball diamond at Taylor Park was first class. In 1906 the Nebraska Indians came to play the Freeport team. The Freeport Minor League Class D baseball team was called the Freeport Pretzels. The teams ended in a 2-2 tie after 12 innings, and Jack Warhop pitched the whole way for the Indians. Freeport's manager, Bill Morarity, was so impressed with Warhop that he signed him to a contract to pitch for Freeport for $80 a month. So Warhop stayed in Freeport and married a Freeport girl, Grace Nichol.
In 1907 he won 26 games and lost only six. In 1908 he won 30 games and lost six, while the team won 57 games and lost 64 in the Wisconsin-Illinois League. He was drafted by the the New York Highlanders (who in 1913 changed their name to the New York Yankees) in mid-season, and won one game in the major leagues, while losing two. In 1909 he won 13 games and lost 15. In 1910, he was 14-14; in 1911, 12-13; in 1912, 10-19; in 1913, 4-6; in 1914, 8-15, and he went 7-9 in his final season, 1915. His total win-loss record with the Highlanders/Yankees was 69-93, with an ERA of 3.12.
His pitching could be a bit wild at times. His 114 career hit batsmen is a Yankees team record and ranks 37th on the Major League Baseball All-Time Hit Batsmen List. He also holds the Yankees single season record for most hit batsmen, 26 in 1909. On May 6, 1915 he pitched to the opposing pitcher, George Herman Ruth, and the Babe hit his first home run. Warhop also pitched Babe Ruth's second home run, on June 2, 1915.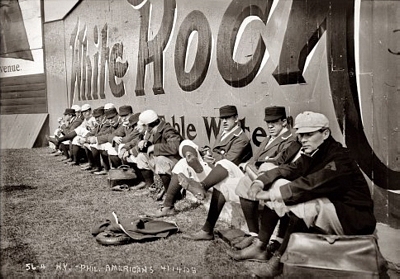 His batting average was just .156, but he still holds a major league record for pitchers for having stolen home twice, on August 27, 1910 and July 12, 1912.
He is 11th all-time in Yankee history in games pitched, 105; 13th in ERA and 16th for innings pitched, 1413.
Jimmy Powers wrote in the New York News, "Jack's greatest feats were performed with the Yankees in 1908. He was 5 feet 7 inches, a great workhorse. In 1910 he was good for 243 innings. Back on May 6, 1915, Jack had the dubious distinction of pitching the curve ball that a rookie named Ruth poled out of the park for his first major league home run."
The game was played in the Polo Grounds in New York City. Ruth was pitching for the Boston Red Sox, and Warhop for the New York Yankees. The Yankees won in 13 innings, 4-3.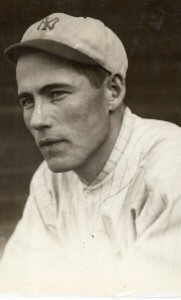 Today pitchers are coddled, and only pitch every third or fourth day. Jack Warhop often pitched every day or every other day. He had a wicked submarine ball.
After retiring from major league ball, he continued to pitch around the country in the minor leagues, local leagues and exhibition games. In 1955 he appeared on the "What's My Line?" television show.
Jack Warhop died in Freeport on October 4, 1960, and is buried in the Lanark Cemetery.

---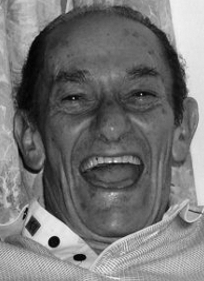 Arnold Glasow, American humorist, was born in Wisconson in 1905, and died at the age of 93 in Freeport. He married Vera in 1932, and they lived in Freeport throughout their long marriage. Vera died at the age of 108 in 2012.
Arnold Henry Glasow graduated from Ripon College and started his own business, a humor magazine that he marketed to firms nationally. Companies would print their own logos onto the magazine, then send them to their customers.
He successfully ran this business for over 60 years.
He published his first book at age 92, "Glasow's Gloombusters."
Glasow was a regular contributor to the humor sections of Reader's Digest, and his jokes and clever sayings were published frequently in the Wall Street Journal, Forbes, the Chicago Tribune and many other magazines and newspapers.
His quotes, all over the internet now, often misspell his name as Arnold Glasgow.
Here are some examples of Arnold Glasow's wit.
A consultant is someone who saves his client almost enough to pay his fee.

A good father lives so he is a credit to his children.

A good leader takes a little more than his share of the blame, a little less than his share of the credit.

A loyal friend laughs at your jokes when they're not so good, and sympathizes with your problems when they're not so bad.
A true friend never gets in your way unless you happen to be going down.

All some folks want is their fair share and yours.

An idea not coupled with action will never get any bigger than the brain cell it occupies.
Applause is the only appreciated interruption.
Beware of those who laugh at nothing or everything.
Conceit is the quicksand of success.
Consider how hard it is to change yourself and you'll understand what little chance you have trying to change others.
Criticism is more effective when it sounds like praise.
Doing beats stewing.
Don't get excited about a tax cut. It's like a mugger giving you back fare for a taxi.
Expecting something for nothing is the most popular form of hope.
Fear is the lengthened shadow of ignorance.
Find an aim in life before you run out of ammunition.
Happy is the person who knows what to remember of the past, what to enjoy in the present, and what to plan for in the future.
If you think you're tops, you own't do much climbing.
Improvement begins with I.
In life, as in football, you won't go far unless you know where the goalposts are.
It doesn't take great men to do things, but it is doing things that make men great.
It's easier to see both sides of a question than the answer.
It's only by the hard blows of adverse fortune that character is tooled.
It's smart to do your holiday hinting early.
Laugh to forget, but don't forget to laugh.
Laughter is a tranquilizer with no side effects.
Live so that your friends can defend you but never have to.
Most good resolutions start too late and end too soon.
Most troubles arise from loafing when we should be working or talking when we should be listening.
Never before has the future so rapidly become the past.
Nothing lasts forever - not even your troubles.
Nothing splendid was ever created in cold blood. Heat is required to forge anything. Every great accomplishment is the story of a flaming heart.
One of the chief objects of education should be to widen the windows through which we view the world.
One of the tests of leadership is the ability to recognize a problem before it becomes an emergency.
Only a strong tree can stand alone.
Parents can tell but never teach, unless they practice what they preach.
Patriotism is collective responsibility.
People with tact have less to retract.
Praise does wonders for our sense of hearing.
Progress is what happens when impossibility yields to necessity.
Reprove privately, praise publicly.
Silence is the safety zone of conversation.
Some folks believe liberty is doing as they please, but with controls on others.
Speaking or writing without thinking is like shooting without aiming.
Statesmen stand out because politicians are as alike as peas.
Success is simple. Do what's right, the right way, at the right time.
Success isn't a result of spontaneous combustion. You must set yourself on fire.
Telling a teenager the facts of life is like giving a fish a bath.
Temptation usually comes in through a door that has deliberately been left open.
The average vacation is one-tenth playing, nine-tenths paying.
The badge of intellect is a question mark.
The best bet is to bet on yourself.
The better part of maturity is knowing your goals.
The big problem is not the haves and the have-nots -- it's the give-nots.
The business world reaches out for and rewards leaders who can relegate and delegate.
The fewer the facts, the stronger the opinion.
The future is the past returning through another gate.
The key to everything is patience. You get the chicken by hatching the egg, not by smashing it.
The respect of those you respect is worth more than the applause of the multitude.
The trouble with ignorance is that it picks up confidence as it goes along.
The trouble with the future is that it usually arrives before we're ready for it.
The truth will ouch.
The world is full of thorns and thistles. It's all in how you grasp them.
There is no reward for finding fault.
Twist the dial during an election year and you hear someone twisting the truth.
We show our best side to those who mean least to us.
When making out your income tax, it's better to give than to deceive.
Without the spur of competition, we'd loaf out our life.
You can't shut out the world without shutting yourself in.
You'll break the worry habit the day you decide you can meet and master the worst that can happen to you.
Your body is the baggage you must carry through life. The more excess baggage, the shorter the trip.
You're immature if you can't accept reality or responsibility.