Born in Freeport, Illinois
---
William Dole Eckert


William Eckert was born in Freeport on January 20, 1909. Sometime before he reached high school, his parents moved to Indiana. He enlisted in the Indiana National Guard in 1924. In 1926, he entered the U. S. Military Academy, graduating in 1930. He entered the Air Corps and became a pilot. In 1937 he became a flying instructor. In 1938 he entered Harvard's graduate school and earned his Masters of Business Administration.
In March of 1944, Colonel Eckert became Commander of the 452nd Bomb Group in Europe. His decorations include the Distinguished Service Medal, Legion of Merit with two Oak Leaf Clusters, Distinguished Flying Cross, Bronze Star Medal, Air Medal, and foreign medals. He was rated a command pilot and technical observer.
In November of 1947, he was assigned to the Office of the Secretary of the Air Force. On April 14, 1948, he was promoted to Brigadier General.
In February of 1960, Eckert became Comptroller of the Air Force. He retired in 1961 with the rank of Lieutenant General of the United States Air Force.
On November 17, 1965, Eckert was elected baseball's fourth Commissioner by a unanimous vote of all twenty Major League club owners. He served for three years and is widely credited with using his business credentials to establish a more efficient office, streamlining business practices, and overseeing the funding and construction of bigger stadiums with long-term leases.
William Eckert died April 1, 1971, and is buried at Arlington National Cemetery.

---
Callista Flockhart


Callista Flockhart, a television actress, the star of Ally McBeal, was born November 11, 1964, in Freeport, Illinois. She was nominated for an Emmy Award and has won a Golden Globe. Her parents are Ronald Flockhart, an executive for Kraft Foods, and Kay Calista, an English teacher.
While she reportedly considers Freeport her hometown, Callista lived in other states, graduating from high school in New Jersey. She graduated from Rutgers University in New Jersey with a Bachelor of Fine Arts degree in 1988. She acted in the TV soap opera Guiding Light and had a roles in the films Quiz Show and The Bird Cage.
Calista won the 1998 Golden Globe Award for Best Comedy Actress in her role as Ally McBeal. She earned good reviews for her performance in Tennessee Williams' stage play, The Glass Menagerie.

---
Corky Hale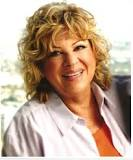 Corky Hale, a world-class harpist and working jazz musician, was born Merrilyn Hecht in Freeport on July 3, 1936. Her father owned a popular women's clothing store in downtown Freeport.
After college, Corky moved to Hollywood to pursue a musical career and became a session harpist and pianist for various artists, including Liberace, Frank Sinatra, Barbra Streisand, Tony Bennett, Billie Holiday, Harry James, Peggy Lee, James Brown, George Michael and Bjork.
In 1970, she married legendary songwriter Mike Stoller, who, with his partner Jerry Lieber, penned such rock and R&B classics as "Hound Dog," "Jailhouse Rock," "Kansas City," "Stand By Me," "There Goes My Baby" and "Love Potion No. 9." Stoller and Lieber were inducted into the Rock & Roll Hall of Fame in 1987.
Corky Hale, in addition to being a virtuoso on the harp, plays piano and flute, and sings. She has been a theatrical producer, political activist, restauranteur, and owned her own women's clothing store, "Corky Hale." She produced the play "Give 'Em Hell, Harry" starring Jason Alexander. While attending the University of Wisconsin in the 1940s, she was one of the only white members of the NAACP. She was a birth control teacher at Planned Parenthood, and is on the National Advisory Board of NARAL.
Corky is founder of Angel Harvest, an organization which redistributes food from restaurants, hotels and events to the hungry and needy poor of Los Angeles. Corky Hale and Mike Stoller are still married and live in California. Earlier this year, it was revealed that they donated $1 million to save the Pasadena Playhouse from bankruptcy.
---
Edmund Heller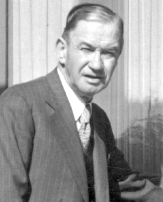 Edmund Heller was born in Freeport on May 21, 1875. In 1888 his parents moved to Riverside, California. As a boy, he spent a lot of time collecting birds and their eggs. After moving to California, he was often joined in his collecting by Harvey Hall, who later became a noted botanist.
He earned his Bachelor of Arts degree from Stanford University in 1901.
Heller was Curator of Mammals at Chicago's Field Museum from 1926-1928, Director of the Washington Park Zoo in Milwaukee from 1928 to 1935, and was Director of San Francisco's Fleishhacker Zoo from 1935 until his death in 1939.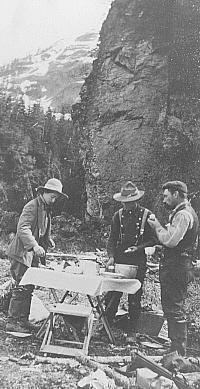 He led specimen collection expeditions for the Smithsonian, the Field Museum, and the American Museum of Natural History. He co-authored a book with Theodore Roosevelt.

Heller went to the Galapagos Islands with the Hopkins-Stanford Expedition in 1898 and spent seven months on the islands collecting specimens.
In 1900, the United States Biological Survey hired Heller as assistant to zoologist Wilfred Osgood in his Alaskan research.
Following his graduation in 1901, Heller became the field collector for the Field Columbian Museum, working in California, Oregon, Mexico and Guatemala.
In 1907, Heller went on the Field Museum's African expedition with Carl Akeley, the master taxidermist.
After returning from Africa, Heller was appointed curator of mammals at the Museum of Vertebrate Zoology at the University of California. He went on the 1908 Alexander Alaskan expedition and made the report on the mammals collected.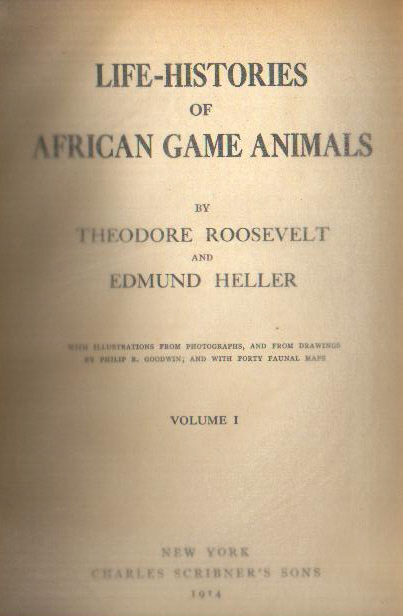 From 1909 to 1912 he went with the Smithsonian-Roosevelt and the Rainey African Expeditions. The trip resulted in the book, Life Histories of African Game Animals, co-authored with Theodore Roosevelt (1914).
In 1914, Heller accompanied the Lincoln Ellsworth expedition to the Dease River-Telegraph Creek area of British Columbia and later to Alberta. The United States Biological Survey was conducting field investigations to secure information concerning the habits and distribution of large game mammals.
Heller supervised the collection of 891 mammal specimens, 695 birds, and about 200 fish, reptiles and amphibians with the National Geographic Society and Yale University expedition to Peru in 1915. He explored the newly discovered ruins of an Incan civilization at Machu Picchu.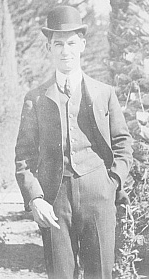 In 1916, Heller went to China with Roy Chapman Andrews (the naturalist often called the real life Indiana Jones) and Chapman's wife, Yvette Borup Andrews on the American Museum of Natural History Expedition. The book Camps and Trails in China recorded their experiences in China. (Chapman was from Beloit!)
Paul J. Rainey, who had accompanied Heller to Africa, was appointed official photographer for the Czech army in Siberia. He invited Heller to accompany him to Russia. From the summer of 1918 until the end of World War I, they traveled by rail across Siberia to the Ural Mountains and back to their starting point.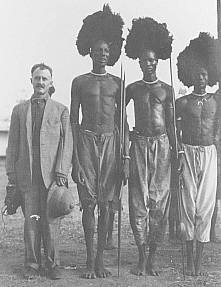 In 1919, Heller led the Smithsonian Cape-to-Cairo Expedition the entire length of Africa, south to north.
He worked for the Roosevelt Wild Life Experimental Station and made a field study of large game animals in Yellowstone National Park.
He was appointed assistant curator of mammals at the Field Museum under Wilfred Hudson Osgood. During his six years there, Heller made trips to Peru in 1922-1923, and to Africa from 1923-1926.
Heller's trip to Africa was his last collecting effort.
After his return, he resigned his position at the Field Museum and became director of the Milwaukee Zoological Garden, a position that he held from 1928 to 1935.
Edmund Heller's Resume

| | |
| --- | --- |
| 1875 | Born in Freeport, Illinois |
| 1888 | Moved to Riverside, California |
| 1898-1899 | Stanford Zoology Expedition to Galapagos Islands |
| 1900 | Assistant naturalist, US Biological Survey to Alaska |
| 1901 | Bachelor of Arts, Stanford University |
| 1901-1907 | Naturalist, Field Museum Explorations in California, Mexico, Guatemala and East Africa |
| 1907-1908 | Curator of Mammals, University of California Museum of Natural History |
| 1909-1910 | Naturalist, Smithsonian African Expedition under direction of Theodore Roosevelt |
| 1911-1912 | Rainey African Expedition, East Africa |
| 1914 | Co-author with Theodore Roosevelt of Life Histories of African Game Animals |
| 1915 | Yale University & National Geographic Society expedition to Peru |
| 1916-1917 | Explored Southwestern China & Tibetan Border for the American Museum of Natural History |
| 1918 | Photographic staff of Czecho-Slovak army with Paul J. Rainey |
| 1919-1920 | Cape to Cairo expedition of Smithsonian Institution |
| 1921 | Investigation of big game animals Yellowstone National Park |
| 1922-1923 | Expedition across Peru & down Amazon to the mouth |
| 1924-1926 | Expedition to the Mountains of the Moon, Central Africa & Gorilla Volcanos |
| 1926-1928 | Assistant Curator of Mammals, Field Museum of Natural History, Chicago |
| 1928-1935 | Director, Milwaukee Zoological Gardens |
| 1935-1939 | Director, Fleishacker Zoo, San Francisco (later renamed the San Francisco Zoological Gardens) |
| 1939 | Died in San Francisco |
There were two species were named after Heller, the Taita Thrush (Turdus helleri) and the Puna Thistletail (Schizoeaca helleri).
"I have always felt that the book which Edmund Heller and I jointly wrote, the Life Histories of African Game Animals, was a serious and worthwhile contribution to science."—Theodore Roosevelt, 26th President of the United States, 1901-1909
Heller wrote an article called "Nature's Most Amazing Animal (Elephant)" for National Geographic Magazine, published in June 1934. The article was about elephants of Africa and India, including taming, caring, as tourist attractions, and roles in mythology.

Heller died on July 18, 1939 in the cottage of the Fleishhacker Zoo where he lived.

All sales go to help support this website.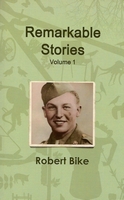 Remarkable Stories, Volume 1
by Robert Bike
Remarkable events have happened in Freeport and Stephenson County, Illinois, and remarkable people have lived there. These are stories gathered about people and events from 1835 through World War II.

By no means complete, these are overviews of lives and events which shaped our country and our world. From events in the lives of Tutty Baker, Abraham Lincoln, Charles Guiteau, Leonard Colby, Jane Addams and Bob Wienand come stories that will amaze you. Welcome to Volume 1 of our living history.

The author lives in Eugene, Oregon, and works as a Licensed Massage Therapist and Life Coach. An amateur historian, parts of these stories and many more appear on his website, www.robertbike.com.
Buy now! Only 99 cents to download in .pdf format!
---
John Maher
John W. Maher was born June 10, 1866, in Freeport, Illinois. In 1873 he moved with his family to the Dakota Territory.
Maher taught himself veterinary medicine and passed the exam to practice. He built an animal hospital near his home and developed a line of veterinary medicines that were widely used. He developed a reputation as a top veterinarian.
In 1912 Maher was elected as a member of the South Dakota House of Representatives.
He died May 10, 1917.

---
Relman George Morin


Relman Morin (September 11, 1907 - July 16, 1973) was a globe-trotting reporter and photographer for the Associated Press (AP). He was awarded two Pulitzer Prizes for his work. He won his first Pulitzer Prize for his reporting of the Korean War, and the second for "his dramatic and incisive eyewitness report of mob violence on September 23, 1957, during the integration crisis at the Central High School in Little Rock, Arkansas." His first name is sometimes spelled Relmon.
A graduate of Pomona College, Morin attended classes at Lingnan University in Canton, China, Shanghai College, and Yen-Ching University in Peiping (Beijing). Before joining the AP, he worked for the Los Angeles Times (1924-1926), the Los Angeles Record (1932-1934), and the Shanghai Evening Post.
Relmon joined the AP in 1934, and worked for them for 39 years. His job titles included Los Angeles editor (1934-37), Tokyo bureau chief (1937-40), Far East correspondent (1940-41), war correspondent (1942-45); and bureau chief in Paris (1945-47), Washington, D.C. (1947-48), and New York (1948-72). From December 1941 to August 1942 Morin was imprisoned by the Japanese secret police on espionage charges. In 1943, he authored Circuit of Conquest about his time in Asia. In 1960 he wrote East Wind Rising: A Long View of the Pacific Crisis, and A Reporter Reports. In 1965 he wrote Churchill: Portrait of Greatness; in 1968, Assassination: The Death of President John F. Kennedy, and in 1969, he authored Dwight D. Eisenhower: A Gauge of Greatness, and The Associated Press Story of Election 1968.
Of his experiences imprisoned during WWII by the Japanese, Morin said that he was interned with two other Americans in Saigon, in the residence of the British Consulate.
"It was totally different from the other internments anywhere else in the Orient," Morin declared. "We had more servants than internees, and whenever an occasion arose, if we could, we did send out for champagne to celebrate."
The most shocking sight in Indo-China, Morin said, was the emaciated appearance of several thousand Australians who were "prisoners of war, brought there from Malaya and Singapore."
"On the day they came ashore, even the native people who saw them burst Into tears. They were burnt black from the sun. emaciated from under-feeding, and many of them were too weak to walk. They were placed In an open field near the dock. The natives and the French residents of the area collected money and smuggled food and medicine to the Australians," Morin said. He expressed the belief that "what was smuggled in has probably kept the Australians alive, because the Japanese diet would hardly keep a canary in condition to fly." "Some of the people I knew In Hong Kong and Japan lost about 60 or 70 pounds during the internment."
In 1948, Morin married Dorothy Wright Liebes, "the mother of modern weaving."

---
Louella Parsons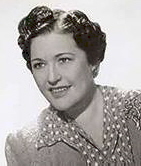 Louella Parsons, a Hollywood movie columnist was born Louella Rose Oettinger in Freeport, Illinois, on August 6, 1881.
At age ten she composed a short story entitled The Flower Girl of New York. She reportedly showed the story to the editor of the Freeport Journal-Standard; he read it but turned down the story. After her father died in 1890, her mother remarried and took her to live in Dixon, Illinois, where she graduated from high school.
She married John Parsons, and moved to Burlington, Iowa. She was lonely, unhappy and hated small-town life. She became pregnant with her only child, Harriet.
When her marriage broke up, she moved to Chicago and began writing movie scripts. Harriet was billed as "Baby Parsons" in several movies, including a movie that Louella wrote, The Magic Wand (1912).
In 1914, she began writing the first movie gossip column in the United States for the Chicago Record-Herald. In 1915, she wrote a book, How to Write for the Movies.
In 1925, Parsons contracted tuberculosis and was given six months to live. She moved to Arizona for the change in climate, then to Los Angeles.
When the disease went into remission, Parsons wrote a syndicated Hollywood column for William Randolph Hearst that appeared in over 600 newspapers around the world, and had over 20 million readers! Parsons became one of the most powerful voices in the movie business. She was known for her ability to scoop her competitors with the hottest stories. She knew everyone's secrets, and often wrote about them.
Parsons wrote the story for the movie Isle of Forgotten Women (1927).
Starting in 1928, she hosted a weekly radio program featuring movie star interviews.
Actors, directors, everyone in the movie business turned first to her column. She wielded enormous power. The studios feared getting bad reviews from her.
In 1937, Hedda Hopper was hired to be a gossip columnist by a rival newspaper. Parsons and Hopper became rivals and had a long feud.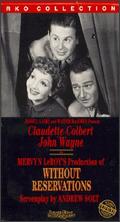 Parsons also appeared in movies, including Hollywood Hotel (1938), Without Reservations (1946) and Starlift (1951).
In 1944, she published her best-selling memoirs, The Gay Illiterate. She wrote a second autobiography in 1961, Tell It To Louella.
She officially stopped writing her column in December 1965.
Louella Parsons has two stars on the Hollywood Walk of Fame, one for movies and one for radio.
She was married three times, to John Parsons from 1905 to 1914, to John McCaffrey, Jr. from 1915 until their divorce, and to Henry Martin from 1926 until he died in 1964. Louella Parsons died December 9, 1972.
---
Charles Quintus
A farmer and inventor, Charles Quintus was born in Freeport, on October 23, 1859, and graduated from FHS in 1877. He operated a farm near St. Mary's (Calvary) cemetery, just west of Freeport before moving to Iowa in 1883. In about 1885 he invented the Quintus self-feeder for threshing machines, a principal still in use today. He also held other patents, including one for a car tire pattern. He often said that if he had another chance he would devote his life to that work. After the death of his first wife he traveled extensively, selling his self feeder for threshing machines in 14 midwestern states. On September 29, 1887, he married Jennie Mallory of Freeport. They had three children. Jennie died in 1895. In March, 1900, he married Daisy Mallory in Freeport. They had one daughter. Charles Quintus died September 28, 1939.

---
Ted Snyder


Ted Snyder, Songwriters Hall of Fame lyricist and composer. Born August 15, 1881 in Freeport, Illinois, he grew up in Boscobel, Wisconsin. He played piano in a Chicago cafe, then took a job with a music publishing company.
In 1907, the company first published one of his musical compositions. In 1908, he founded his own music publishing business in New York City, and that year one of his songs was used in the Broadway musical Funabashi.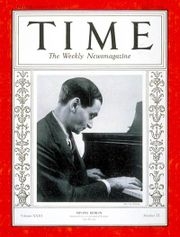 He hired an unknown songwriter in 1909, and Irving Berlin was so good that the two became business partners. They sang their music and performed in the 1910 musical Up and Down Broadway. A list of Ted Snyder musicals is here.
In 1914, Ted Snyder helped found ASCAP, the American Society of Composers, Authors and Publishers, a nonprofit organization that collects from performers and pays its members whenever their music is played publicly.
Snyder's songs include The Sheik of Araby (1921), recorded by Benny Goodman in 1937 and The Beatles in 1962; and Who's Sorry Now? (1923), a #1 hit on the UK singles chart for Connie Francis in 1958 and #4 on the American Billboard charts. In 2000, it was named one of the Songs of the Century by the Recording Industry Association of America.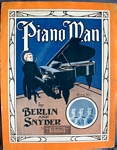 Other songs Ted Snyder composed include Moonlight on the Rhine, In the Land of Harmony, The Ghost of the Violin, How'd You Like to Be My Daddy, I Wonder If You Still Care For Me, My Guitar, Piano Man, I Want to Be in Dixie, Dreams, Just Dreams, My Dream of the USA and Under the Moon. A list of 60 of his songs is available here.
In 1924 Snyder composed the music for the Broadway musical Fashions of 1924.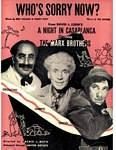 In 1930, Snyder moved to California and opened a Hollywood nightclub.
Ted Snyder died July 16, 1965 in Woodland Hills, California. In 1970, he was inducted into the Songwriters Hall of Fame.
At least 22 motion pictures have used his songs, including the Marx Brothers' A Night in Casablanca (1946) . A list of movies that used his songs can be found here.