Just Passin' Thru Freeport, Illinois

General John A. Clark
John A. Clark arrived in Freeport in 1837. He served as Clerk of the Circuit Court from its opening day on August 29, 1839 to 1852. He also served as Stephenson County Recorder from 1845-1847.
In 1840, Clark and Rev. F. C. Winslow organized a group known as the Crusaders, a temperance group fighting alcohol consumption. The first meeting was in an upstairs room at the corner of Chicago & Main Streets, above a tavern!
Much money was made and lost in the early years of our country by settlers plotting out a town. Speculation was great on which towns would prosper, and which would disappear. Ransomburg and Cedarville were touted as Stephenson County's best hopes for a city and a county seat. But the railroads determined which cities would grow. On January 7, 1847, Clark, John Addams, Dexter Knowlton and Oliver Wright traveled first to Rockford, then to Chicago to talk to railroad officials. They took with them a sum of $20,000. The railroad was diverted from its original planned route and came right through Freeport. The first Iron Horse arrived in August of 1853, assuring Freeport of its place in history.
Clark secured the land now bounded by Winslow, Broadway, Locust, Oak and Chicago Streets and the railroad tracks, and laid out streets and plots. He called his subdivision the Winneshiek Addition. He made his money there, and gained valuable experience surveying the land.
Following Freeport's incorporation as a city on February 14, 1855, an election was held on April 2 to decide its officers. Clark was elected as one of its first six Aldermen. He was reelected in 1857. He was undoubtedly one of the Freeport dignitaries to greet Stephen A. Douglas and Abraham Lincoln at the 1858 debate. Perhaps he told Lincoln of his Winneshiek Addition.
With the outbreak of the Civil War, Clark volunteered and was tabbed by President Lincoln to be Surveyor General of the New Mexico and Arizona Territories. He surveyed the land that was to become New Mexico and Arizona. He was Surveyor General of New Mexico from July 26, 1861 until July 29, 1868.

In September of 1863, General Clark surveyed the the San Francisco Mountains and the Colorado River in what is now northern New Mexico and Arizona, hunting for mineral deposits, especially gold. As a result, Brigadier General James H. Carleton made plans "to take early action in legislating for such a region; to open roads; to give force to subjugate the Indians; to give mail facilities; to claim rights of seigniorage [net revenue derived from issuing currency] in the precious metals...."
A collection of Clark's papers from December 9, 1861, to August 28, 1868, are available at the Museum of New Mexico, The Palace of the Governors, Fray Angélico Chávez History Library.
On October 5, 1868, Clark moved to Salt Lake City and became Surveyor General of Utah. He served until August 2, 1869.
---
The Marx Brothers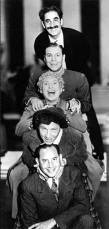 The Marx family moved from New York to Chicago in 1909. The boys skipped school a lot to attend Cubs and White Sox games and vaudeville matinees. They were fascinated by vaudeville.
Their uncle, Al Shean, was partner in the famous vaudeville team Gallagher and Shean. Cousin Sadye Marx took the stage name Mary Livingston and married Jack Benny. They formed a comedy team that lasted until Jack's death in 1974. The older Marx brothers began a musical vaudeville act and gained experience in show business, but never quite caught on.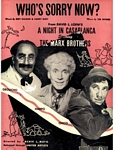 Julius (1890-1977), identified top to bottom in the photo at the left, was a grouch and got the nickname Groucho. Herbert (1901-1979) called himself Zeppo. Adolph (1888-1964) played the harp and became Harpo. Leonard (1887-1961) was a ladies man, and liked chicks, hence Chico. Milton (1892-1977) liked to wear rubber soled shoes, or "gum shoes" and was called Gummo.
In 1917, Uncle Al Shean wrote a special vaudeville show just for the five brothers called Home Again. The show opened in Freeport, Illinois, and it was an instant hit. Three weeks later the Marx Brothers were playing on Broadway.
Hollywood followed, then television. The photo at the right shows the Marx Brothers' movie, A Night in Casablanca, featuring the song, Who's Sorry Now?, which was written by Ted Snyder, who was born in Freeport, Illinois!
All sales go to help support this website.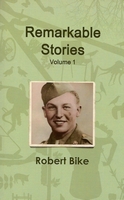 Remarkable Stories, Volume 1
by Robert Bike
Remarkable events have happened in Freeport and Stephenson County, Illinois, and remarkable people have lived there. These are stories gathered about people and events from 1835 through World War II.

By no means complete, these are overviews of lives and events which shaped our country and our world. From events in the lives of Tutty Baker, Abraham Lincoln, Charles Guiteau, Leonard Colby, Jane Addams and Bob Wienand come stories that will amaze you. Welcome to Volume 1 of our living history.

The author lives in Eugene, Oregon, and works as a Licensed Massage Therapist and Life Coach. An amateur historian, parts of these stories and many more appear on his website, www.robertbike.com.
Buy now! Only 99 cents to download in .pdf format!
---
Zintkala Nuni
Zintkala Nuni, also known as Zintka Lanuni, Lost Bird, Brings White Horse, Okicize Wanji Cinca, Maggie C. Nailor and Marguerite Elizabeth Colby, was an infant survivor of the Massacre at Wounded Knee.
Chief Big Foot was dying of pneumonia, lying in one of the wagons. The Cheyenne ran out of food, were fearful of militia and cowboy attacks, and they were coming peacefully, the white flag of surrender flying. They were old men, tired of battle, accompanied by women and children. More than 300 natives had already been slaughtered in the month of December 1890, their bodies stripped and scalped, their homes ransacked, artifacts stolen and sold for profit.
On December 29, 1890, the United States Seventh Cavalry massacred these 300 unarmed men, women and children. The Indians ran, the soldiers followed, shooting women and children at point blank range. Eighteen soldiers were awarded the Medal of Honor for butchering children and women at Wounded Knee. It remains a black mark on the military and on the Medal of Honor.
The massacre ended by about two in the afternoon. By four, a winter storm came in, driving everyone from the battlefield. On January 2, the army and natives returned to the frozen field to bury their dead.
They came upon a group of five women, their bodies frozen to the ground in their own blood. They heard a baby cry. They chiseled around and turned over one woman and underneath her body was an infant, about six to eight months old. On her head was a beautiful beaded cap decorated with red, white and blue American flags beaded on the sides over a teepee; around it were the black hills of South Dakota and a little red bow. She was wearing a little bracelet.
Her patriotic cap made her a curiosity. She had lived through a massacre, had survived a blizzard, and was found under her mother's body which was covered by a snowdrift. Her survival was a miracle.
She was taken to nearby Pine Ridge, South Dakota, and given to John Yellow Bird and his wife Annie Lone Horn. Annie was a young mother and she nursed the child. The baby stayed with them, gaining strength. Annie named the little girl Okicize Wanji Cinca (Child of the Battlefield). John Yellow Bird owned a trading post, and everyone who came to buy supplies wanted to see the miracle child.

General Leonard Colby, an 1867 graduate of Freeport High School, was the commander of the Nebraska National Guard. His headquarters was in Nebraska, just 25 miles south of Pine Ridge. General Colby, on his own initiative, took his troops to Wounded Knee, escorted by his friends, Major Burke and Buffalo Bill.
Major Burke had by this time acquired the baby to give to some powerful Washington, D.C. friends, probably for a large sum of money, and showed her to General Colby on January 5, 1891. Colby wanted the child as a living trophy of white supremacy on the battlefield.
General Colby bargained with Major Burke and Buffalo Bill to buy the baby, and early on the morning of January 6, they struck a deal.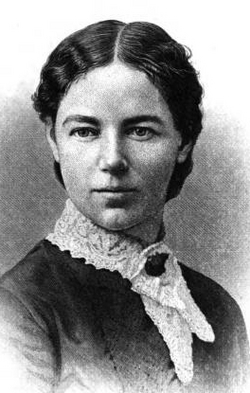 General Colby's wife, Clara Bewick Colby (1846–1916), was editor and publisher of a suffrage journal, the Woman's Tribune, from 1883 to 1909.
Considered a radical feminist, she was friends and colleagues with Lucy Stone, Elizabeth Cady Stanton and Susan B. Anthony.
She was the first woman to graduate from the University of Wisconsin.
The Republic, a Washington, D.C., newspaper reported the following: "It seems it is not Mrs. Allison Nailor who has the Indian baby, but Mrs. Clara Bewick Colby, the editor of The Woman's Tribune, who is in Washington for the winter. Her husband, General L. W. Colby, who in charge of the Nebraska State militia has been engaged at the scene of the late Indian hostilities, has now returned, and writes Mrs. Colby that he has taken to their home in Beatrice, Neb., an orphan Indian girl, nine months old, who was found on the battlefield of Wounded Knee Creek four days after the battle. Her toes and the top of her head are a little frost-bitten, but nothing serious. The battle was on Monday and the baby was found on Thursday, with two others, who were then alive but have since died. General Colby writes: "She is my relic of the Sioux War of 1891 and the massacre of Wounded Knee, where Big Foot and his braves were slaughtered." She is now being cared for by Mrs. Colby's sister, Dr. Mary B. White, until Mrs. Colby's return."
Just as readers today are fascinated by celebrity, Clara Colby developed a relationship between her daughter and the Tribune's readers. She wrote: "Dear Readers: So many Tribune readers are warmly interested in the little maid that I will not apologise for saying something about her in these gossippy notes. At home she is intimately connected with the manufacture of the Tribune. In the desk where I write she has a drawer. Of the book shelves some are hers, and she has special corners in the den and library. Her greatest diversion is to arrange her papers, shorthand notes, etc., classifying them in the leaves of a magazine. She takes dictation, folds Bulletins and directs papers, imitating in a wonderful way all the usual features of each performance."


Clara eventually gave Zintka a presence in the Tribune with a section titled "Zintka Lanuni's Corner", starting in the April 6, 1895, edition of the paper: "The little "Lost Bird" is never so pleased as when running errands for the Tribune, folding papers, carrying copy; and whether helping or hindering, having a finger in every pie. She delights to be called the Tribune maid. So it is but fair to give her a little corner in it, all her own, where the poems and stories she is especially fond of may have place, and to which she can invite the little folks of other families to send also their favorites for publication."

Zintka Lanuni's Corner ran fairly regularly though the 1890s.

Zintka lived a long and tragic life, while General Colby and Clara lived charmed lives. There's a lot more to this story, well worth the read, in my book, Remarkable Stories, Volume 1. Only 99 cents to download in .pdf format or $11.99 in paperback.