The Class of 1944

Janice Carole Abels, Marion Ruth Adams, Clifford Geroge Albert, James Thomas Anderson, Arthur Leroy Armagost Jr., Barbara Lorraine Atherton,
Paul J. Bamberg, Roosevelt Banks Jr., Mary Carolyn Bastian, Leslie Milton Baylor, Bette L. Behrend, Gene R. Bennett, June Adele Bennett, Emerson Berends, Blanche Hart Berg, Robert F. Bergemann, Donald G. Best, Karl Roger Bing, Carol Jean Blackmore, Iris Helen Bohlin, Charlotte Jean Boswell, Kenneth L. Breymann, Donald E. Brokhausen, Lois Marion Brubaker, Pauline Ruth Brubaker,
Edgar Carter, Georgia Chiames, Helene Joanne Chiames, Laverne Harlan Condit, Joyce Cooper, Frederic O. Corran,
Donna Mae Dahm, Wendell F. Dassing, Delbert H. Dean, Jerome Earl Deery, Pauline Ruth Deininger, Gloria Jean Devore, Lois Evelyn Dickinson, William Stanley Ditzler, Harold Albert Dixon, Robert Cornelius Donahue, Frank P. Donner Jr., Ronald A. Dumroese,
Loraine Ella Eastman, Ben Engle,
Dolores Ann Falk, Beverly Jean Farnham, Shirley Mae Feiler, Daniel C. Ferguson, Ronald Dwayne Fickert, Donna Rose Fierheller, Donna Mae Finkbeiner, Neota Mae Finkboner, Helen Leona Fluechtling, Richard Freidag,
Harvey Carroll Gabel, Jerry L. Gallagher, Lavonne Geiser, Ruth Geiser, Bennett A. Graff, Lois Maxing Graff, Hazel Marie Gramley, Marion Elizabeth Gray, Virginia M. Griffo,
Jean Shirley Heimbuch, Dolores A. Heitzman, Joyce Elaine Heitzman, Frank J. Henry Jr., Doris Berniece Higley, Gloria M. Hoffman, Verle L. Hoffman, Donald R. Holdeman, Carlyn Lorraine Horan, Harry R. Hosking, Patricia A. Huber, C. William Hultquist, Floyd E. Hutcherson, Norma Jean Hutmacher,
Ray J. Ifert,
Iris Maxine James, Pauline Louise Johnson,
Kristine Lulla Katsufru, Donald E. Kieckhaefer, Elizabeth M. Kirchberg, Roger Kish, Donald J. Knauff, Harold I. Knicely, Stanley F. Koehler, Laverne henry Koester, Elizabeth Ann Kracht, james Krueger, Vernice Jayne Krueger, Ethel Marie Kryder, Dorothy mae Kuhlemeier, Dorothy Marie Kuhn, Mary Elizabeth Kurth,
Tom Labinski, Janice Lllene Lieber, Laurence Liebers, Theo Jean Lincoln, Mary Louise Lindgren, Royal W. Liscom, Rosali Locher, Leona M. E. Loewe, Della May Longamore, Victor Chauncey Lopez,
Barbara Dale Malott, M. Merle Marcum, Doris Marie Marsh, Charles R. McCoy, Mark McLeroy, William Thomas McMillan, Wayne H. Meck, Doris M. Metz, Irma Jean Meyer, L. Reece Mickle, Lois Audrey Miller, Delbert C. Moore, Joann Arlene Morrow,
Eileen Joanne nampel, Jack A. Neely, Dorothy Esther Noeske,
Jack W. Packard, Glenn B. Palmer, Bob Paugels, Audrey Louise Peterson, Dorothy Mae Phillips, Thomas R. Pfisterer Jr., Alice M. Poggenklass, Jeanne Pollock, Phyullis Ann Popkes, June Meredith Porth, William Porth,
Virginia Mae Rafferty, John Douglas Randall, Wayne Stanley Reck, Marion Elaine Rees, John Reining, Carol Jean Richards, Lois Elaine Richter, John R. Rush,
Ferne Evelyn Salter, Lois Maxine Sampson, Jim Edward Sanders, John C. Sargent, Max E. Schopf, Jean Marilyn Schneider, Robert F. Schroeder, Virginia Mae Schunk, Howard Scott, Elizabeth Ann Seely, Jean A. Sheetz, John H. Shoemaker, C. LaVaughn Short, Leon B. Siegmeier, Arlith June Siemens, Jeanette Faye Skeel, Donald Lorene Smith, June Smith, Theodore C. Smith, Lester Eugene Snyder, Lois Sorn, Marcella Mae Spahr, J. Gordon Springer Jr., Marilyn Joyce Staas, Ralph R. Stearns, Priscilla Stewart, Joyce Ellen Stiegman, Janice Stocks, Virginia Lee Stout, Eva Pearl Stukenberg, Frances Sutterlin, Jack William Sward,
Lenard Allen Thompson, Mary Ann Trevillian, Paul O. Tucker,
James Joseph Vaughan, William Vehmeier, Laverne R. Voss, Shirley Mae Voss,
May Elizabeth Wahler, Norma Jean Wahler, June Harriett Wales, Dorothy Marie Wamsley, Alfred F. Washburn Jr., jack Norman Welty, Clark Laverne Wichman, Richard Wienand, Edward Wilhelms, Harold R. Wilhelms, Paul C. Wilhelms, Donald J. Williams, Leroy Wilson, Harold Walter Wirtjes, Jean Annabelle Wittbecker, Ross Wolfe, Joan Eilene Womelsdorf, Joyce Elaine Womelsdorf, Irene Woods, Irene Margaret Wright,
Janice Young, Donald Heard Youngs Jr.,
Robert Zimmerman.

---
The Freeport High School
Class of 1944
70th Reunion
The Class of 1944's 70th reunion was held in August 2014. Out of a graduating class of 208, 26 attended. An estimated 63 class members are still living!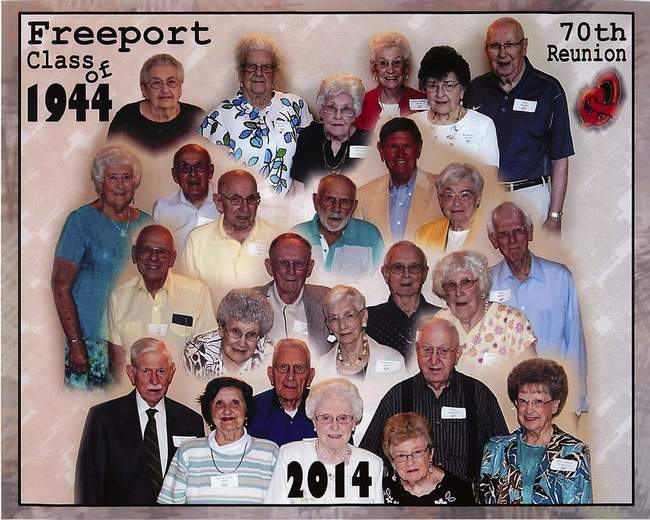 Classmates who attended are: Art Armagost, Georgia Chiames Balsamo, Betty Behrend Mergen, Gene Bennett, Joyce Cooper Pierce, Rosali Locher Cosgrove, Barbara Atherton Donahue, Dan Ferguson, Helen Fluechting Alt, Della Longamore Kirkpatrick, Carol Richards Klock, Donna Dahm Kortemeier, Martan Rees Kiburz, Dorothy Kuhlemeier Johnson, Dorothy Kuhn Bloyer, Mary Lindgren Bauch, Mark McLeroy, Wayne Meck, Jack Packard, Marcella Spahr Popp, John A. Reining, John Rush, Ralph Stearns, Paul Tucker, Laverne Voss and Alfred Washburn.
The class expects this will be their last reunion, but I hope they meet again for their 75th.
---
Click on any year in the chart below to see the class and other info,
such as postcards, people and events from that year.
.