Ancestral Gravesites and Family History
Stephenson County, Illinois
Most people who do their family trees use some kind of genealogical software or do it by hand. I've chosen the web to do mine. What follows is a pictorial story with gravestones, family photos and family stories. As I learn more about my ancestors, I add the information.
John M. Bike, 1823 - 1897, and Mary Bike, 1828 -1877
Cedarville Cemetery, Cedarville, Illinois
John & Mary Bike were my great-great grand uncle and aunt. They were born in Center County, Pennsylvania, and came to Illinois by covered wagon in 1848. As they came across the area that is now Chicago, it was then just a swamp. It took two weeks to cross Chicago because they had to lay planks in front of the wagon wheels, drive the wagon onto the planks, then pry the planks out of the mud, and repeat the process.
In the background, the tall monument is the gravestone of Jane Addams of Hull House, the first woman to win the Nobel Peace Prize. She grew up in Cedarville, and was the same age as some of my ancestors, who grew up a couple of miles from here.
Mary Jane Bike, 1849 - 1856, and Medora Bike, 1852 - 1868
daughters of John and Mary Bike.
The family story of how Medora died relates to a late winter blizzard. Medora, age 16, was walking home from school with some friends in a snowstorm. As they neared the farm, the storm intensified, and turned into a whiteout. The children held hands and spread out, hoping that one of them would touch a building. From tracks found later, they apparently walked right between the house and the barn before perishing in the snow.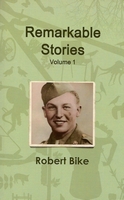 Remarkable Stories, Volume 1 by Robert Bike

From events in the lives of Tutty Baker, Abraham Lincoln, Charles Guiteau, Leonard Colby, Jane Addams and Bob Wienand come stories that will amaze you. Welcome to Volume 1 of our living history.
Only $11.99 paperback; only $0.99 ebook.
A neighbor of my ancestors, Jane Addams was born and raised in nearby Cedarville, founder of Chicago's Hull House. She founded, and served as first president of the Woman's International League for Peace. She worked for social justice, cared for the poor and the oppressed and faught for the rights of workers, women and children. The editors of LIFE magazine, for their millennium issue, appointed a panel of prestigious historians to help them name and rank the 100 most important persons of the last 1,000 years. Jane Addams was named number 66, the fourth of only ten women selected, and the first of only three American women. She lived to be the most feted and widely loved woman of her time. President Teddy Roosevelt called her "America's most useful citizen." President Wilson told her he was "strengthened" by her aid. President Hoover often asked for her advice. She received fifteen honorary degrees from American universities. Upon her death in 1935, messages poured in from around the world: President Franklin D. Roosevelt, the heads of state in Europe, social organizations, labor unions and church leaders. The Chicago City Council, in a formal resolution, declared her "the only saint America ever produced." Governor Horner of Illinois said "her life was dedicated to a selfless service which has few parallels in the history of humanity; no person ever scaled higher peaks."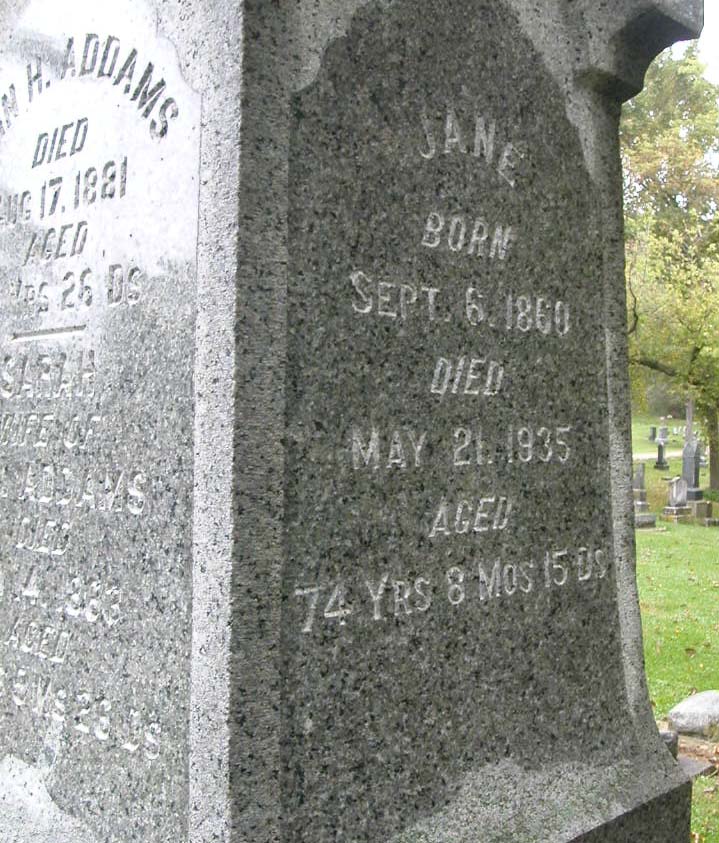 Jane Addams, September 6, 1860 - May 21, 1935
I include photos of Jane Addams' grave because of the influence she had on my life. After the assassination of Martin Luther King, Jr., I came out to her gravesite to meditate. I thought about her life and that of King, both winners of the Nobel Peace Prize, and decided that I would dedicate my life to peace also. I never had a goal of winning a prize, just making a difference in my own life and those around me.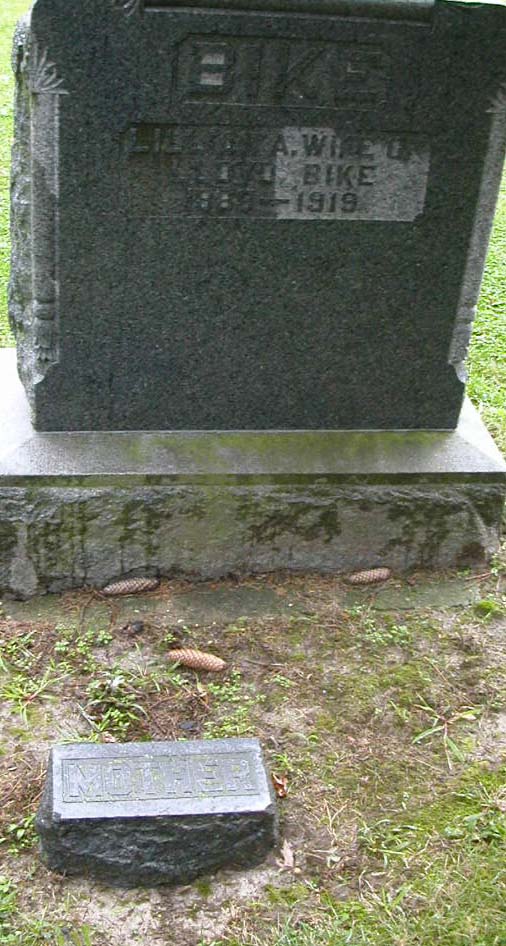 Lillian Amina Wagner Bike, 1889 - 1919
Lillian Wagner Bike was my grandmother, my father's mother. She died in the great influenza pandemic of 1918-1919, when thousands died, including some from nearly every family. My father, Ralph Bike, was only 5 when Lillian died. Lillian was six or seven months pregnant at her death. My grandfather, Lloyd Bike, raised my father on the family farm with the help of his parents and other family members.
See more of the Wagners, including photos, here.
Lillian's sister Nellie (1888-19?) married John Henry Nortridge (1875-1939) in 1921, and together they had a son, Vale Nortridge (1923-2001).
John Henry Nortridge had children with his first wife (Bertha May Robbins) Harold Lee (1899-1953), and Florence (m. William Beatty).
With his second wife, Sarah Austin, he had Jean (m. Dr. David Lynn) (1916-?) and John Michael (called Jack) (1918-?). Sarah died shortly after giving birth to another daughter who died hours after her birth.
Left alone to raise four children, John Henry hired Nellie as a nanny and housekeeper. She had been the children's Sunday school teacher and choir leader. To all the Nortridge children, Nellie was called "Ma." I knew her as Aunt Nellie.
Jack Nortridge became a bomber pilot in WWII, and is memorialized in the book, An Emotional Gauntlet: From Life in Peacetime America to the War in European Skies, by Stuart. A. Wright.
John Henry Nortridge built a successful business, the North Ridge Brush Company, and reportedly made millions. He died in March 1939 of prostate cancer.
I'm related through marriage and through Vale to many Nortridges around Freeport. Below is Vale Nortridge, Nellie Wagner Nortridge, and my father, Ralph Bike.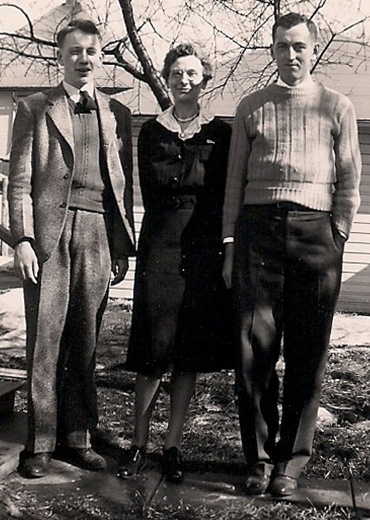 Raymond was my father's brother, born and died four years before Dad was born. Raymond was born April 10, 1909, and died on April 16, 1909. Both Raymond and Lillian are buried in Cedarville Cemetery, located northwest of Cedarville, Illinois.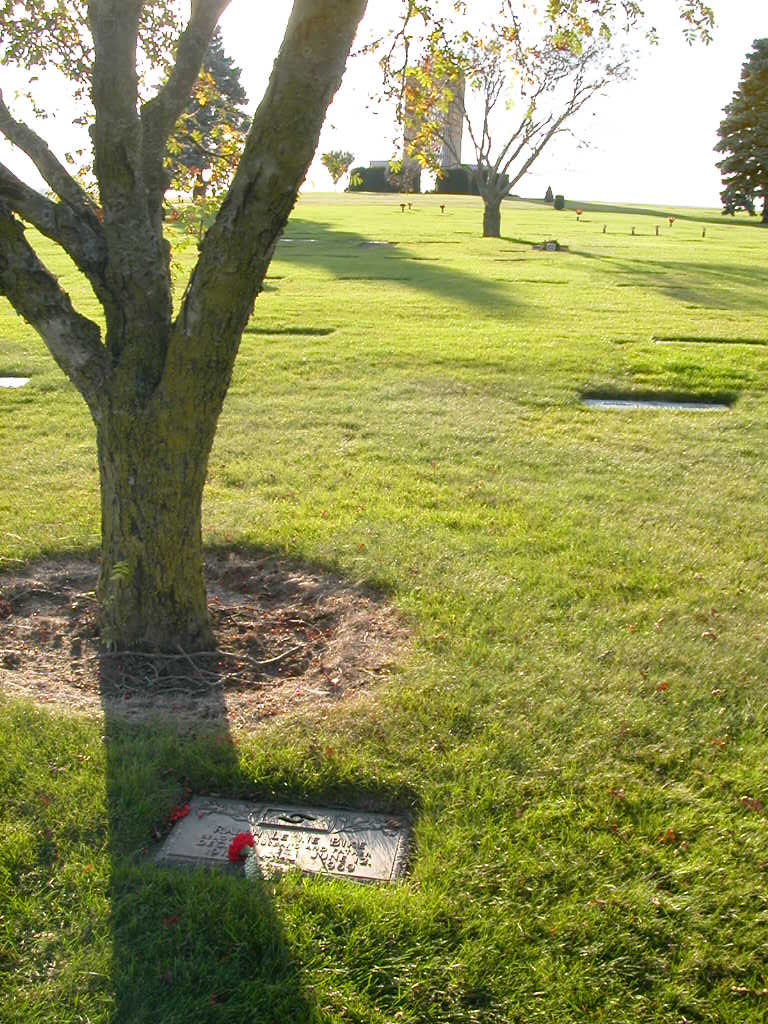 Ralph Leslie Bike, my father, 1913 - 1969
Chapel Hill Cemetery, Freeport, Illinois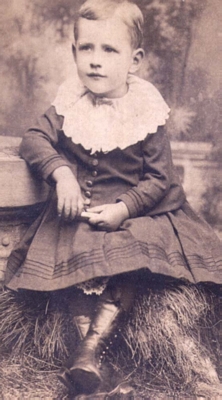 Ralph Bike as a child. Yes, they really dressed boys like this for photos!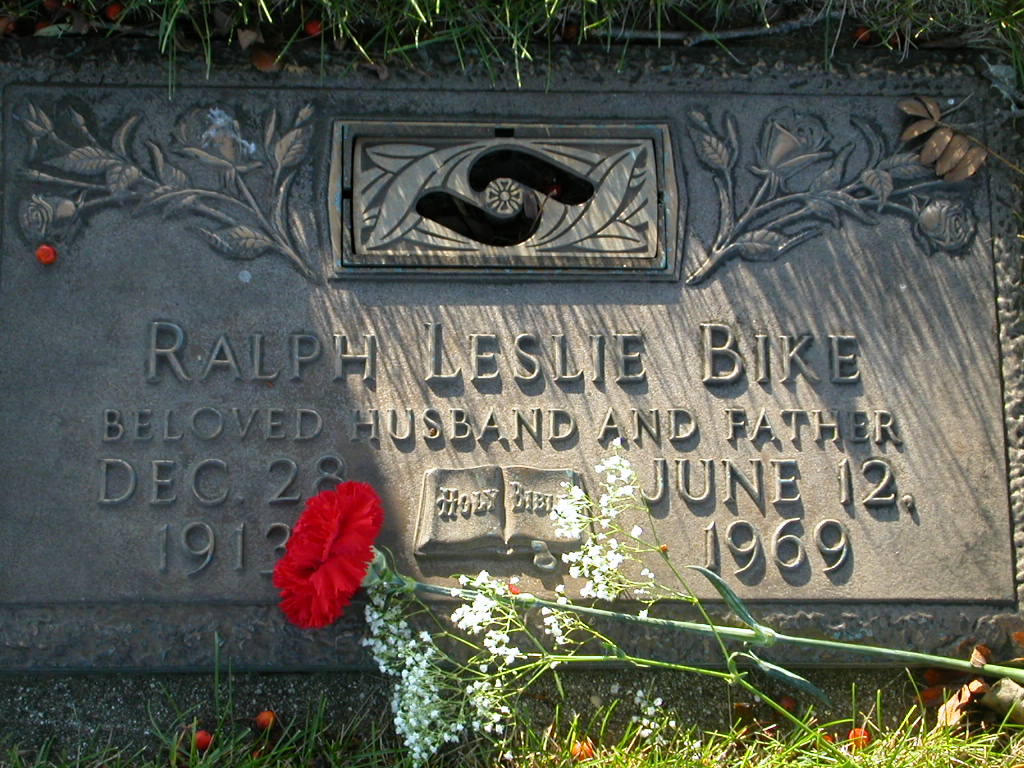 Ralph Bike, born December 28, 1913, died June 12, 1969. Raised on the family farm, Dad graduated from Freeport High School in 1931. He joined the army after Pearl Harbor. Mom & Dad got married on December 12, 1943. He worked at the Post Office for 25 years. Dad died of a heart attack at age 55.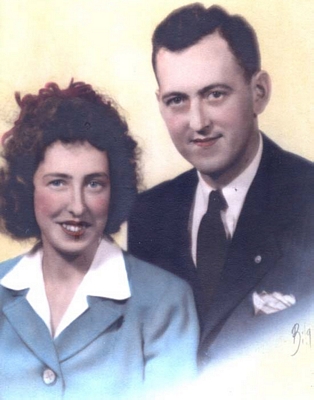 My parents, Ann and Ralph Bike.
Dad died in 1969.
Mom died May 8, 2015, at age 93!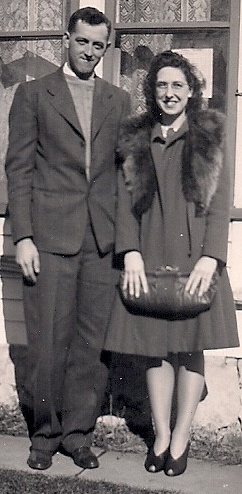 Ralph Bike and Anna Wienand
I believe this photo was taken about the time they got married,
on December 4, 1943.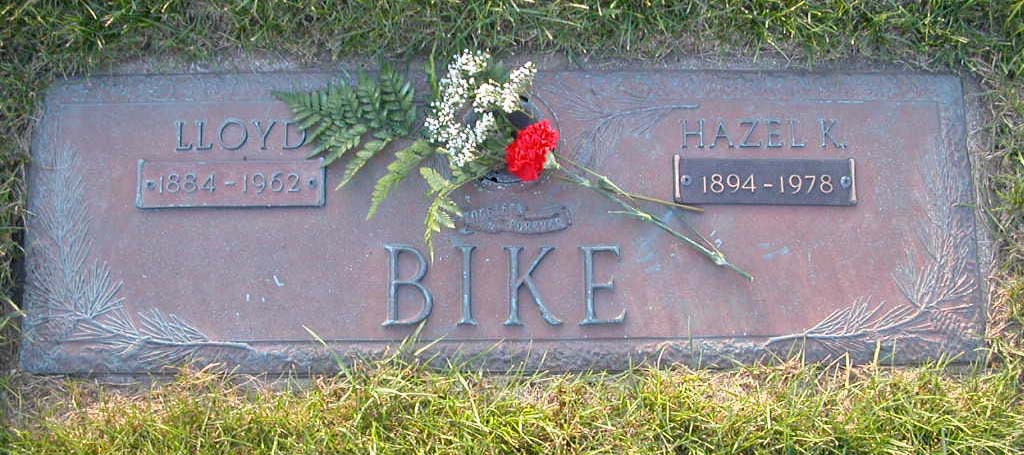 Lloyd Bike, 1884 - 1962, and Hazel Kathryn Bender Bike, 1894 - 1978
Grandpa and Grandma Bike

Grandpa died of a heart attack at age 78. Grandma lived to 84, but suffered many health problems. They are both buried at Chapel Hill Cemetery at the south edge of Freeport, Illinois. Below is Hazel Bender as a young woman.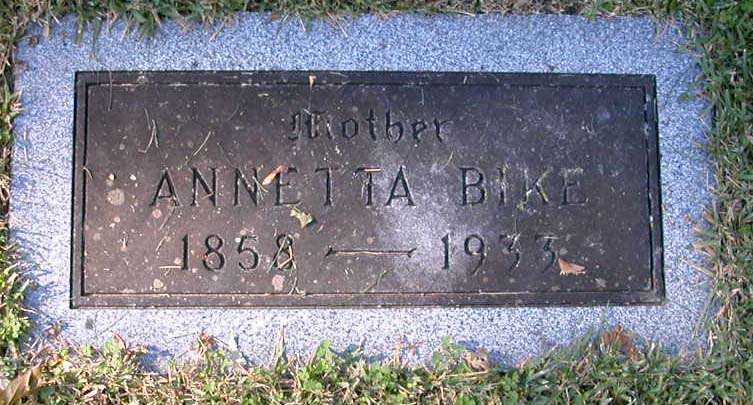 Great-grandma Annetta Epley Bike, 1858 - 1933
Annetta Bike was Lloyd Bike's mother, my great-grandmother.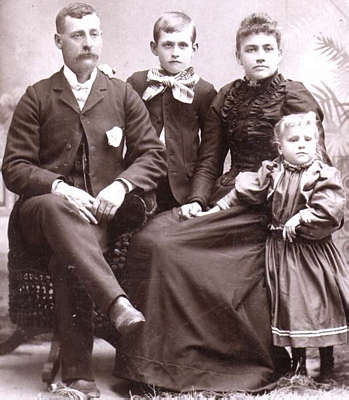 William, Lloyd, Annetta and Pearl Bike in about 1892.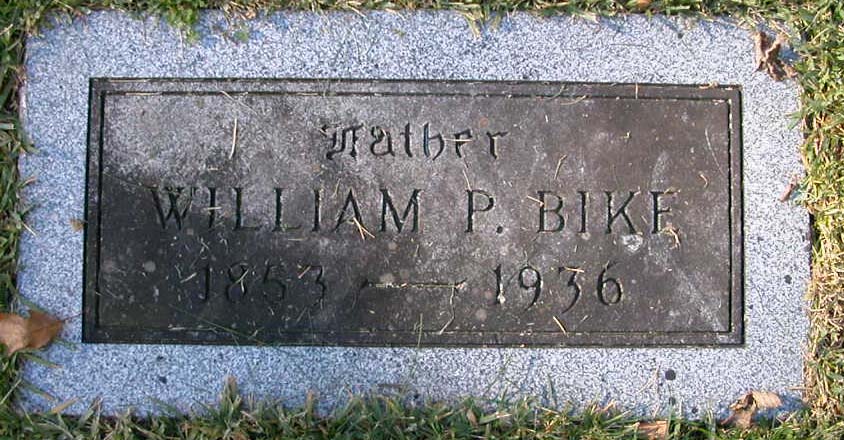 Great-Grandpa William Peter Bike, 1853 - 1936
William Bike was Lloyd Bike's father.
Annetta Eppley and William Bike were my first ancestors born in Illinois.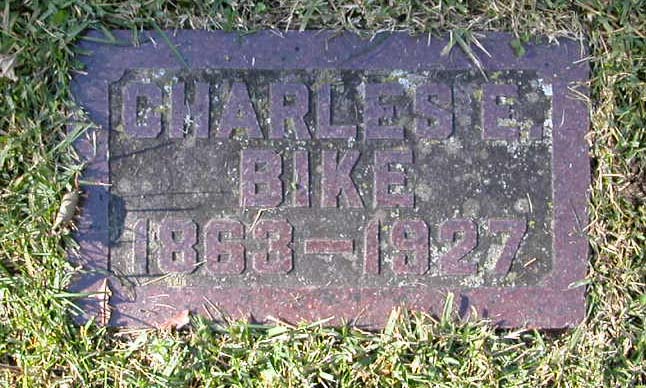 Charles E. Bike, 1863 - 1927
Charles Bike, great-grandpa's brother, never married.


Eunice & LeRoy Daniels, who were good friends of my parents, are buried near Dad.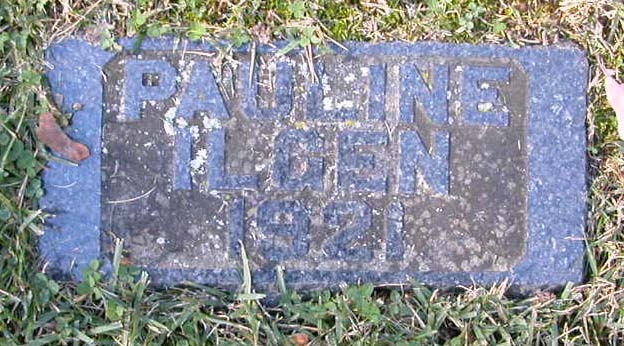 Pauline Ilgen, 1921
Pauline was William & Pearl's infant daughter.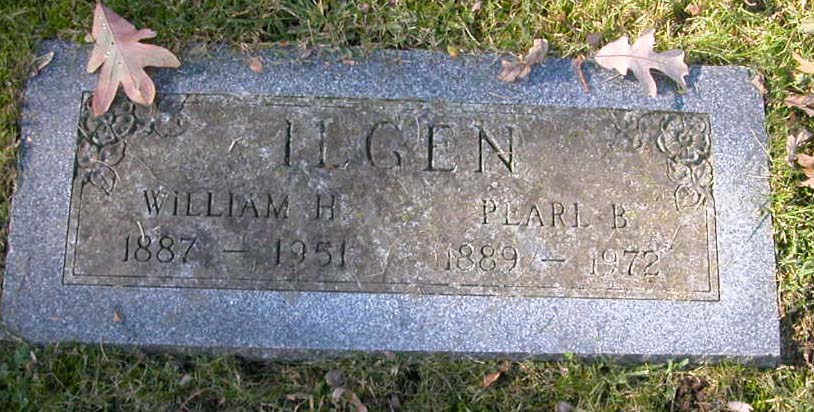 Pearl Bike Ilgen, 1889 - 1972 & William Ilgen, 1887 - 1951

Aunt Pearl was grandpa Bike's younger sister. Her husband, William Ilgen, died when I was very young.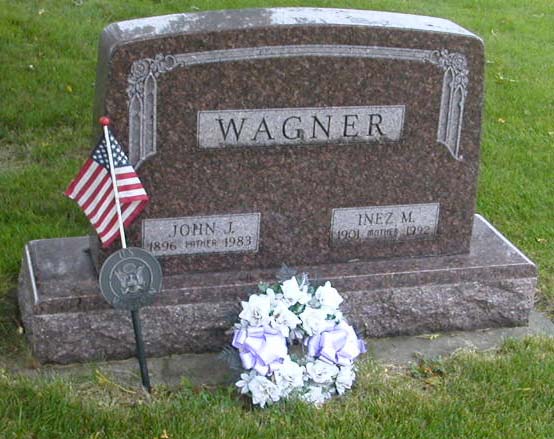 John Wagner, 1896 - 1983 & Inez Wagner, 1901 - 1992
John Wagner was grandma Lillian Amina Wagner's brother. They are buried at Grandview Cemetery between Freeport and Cedarville.
John Wagner, my father's cousin, got a good deal on a headstone, so he bought one in advance. John Retired, and lived on his farm near Buena Vista, Illinois, northwest of Freeport, until his death on June 1, 2011.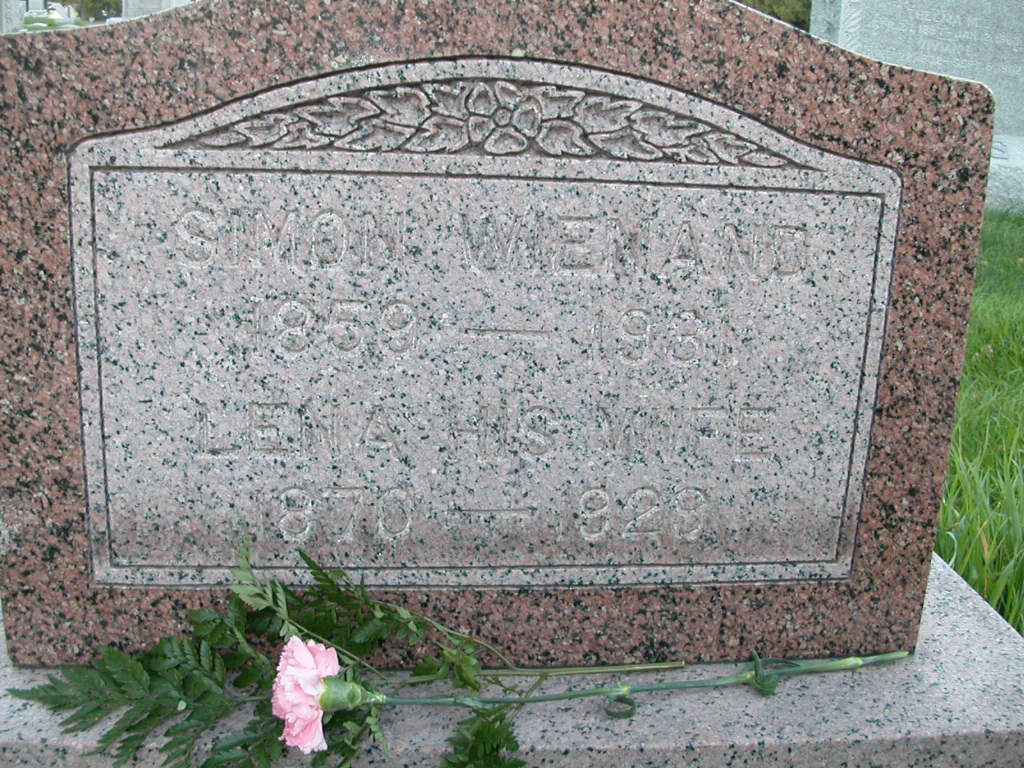 Simon Wienand, 1858 - 1931, and Lena Wienand, 1870 - 1929
Simon & Lena were my great-grandparents, my mother's father's parents, and I'm really sorry I never met them. Apparently they were real characters. They lived off River Road and were bootleggers! The Inter-Urban train ran between Freeport & Rockford. They used to get off the Inter-Urban & walk home. Their house burned down twice. When Grandma Lena died, the wake was held at Matilda Fullmer's house. Aunt Tillie was my Grandpa Wienand's sister. My mother remembers seeing the open casket in her living room. When Grandpa Simon died, the wake was at Edward Wienand's home. Edward was my Grandpa Wienand's brother. Simon's open casket was in Edward's living room.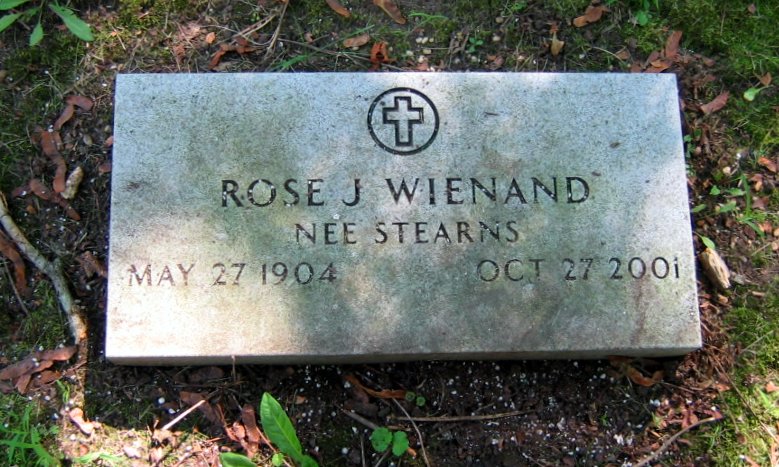 Rose Julia Stearns Wienand, 1904 - 2001
Rose Wienand, my grandmother, died peacefully at age 97. She was the matriarch of our family. Always fiercely independent, yet kind and loving, she lived a full life. Widowed after Grandpa Wienand died in 1951, she took in a boarder to help pay expenses. Harold Kissell then entered our lives, and was Grandma's longtime companion, until his untimely death in 1992.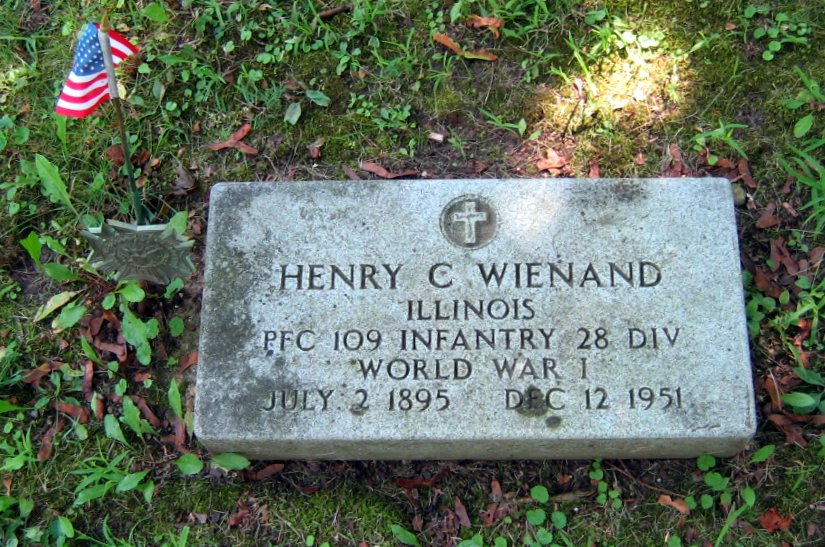 Henry Carl Wienand, 1895 - 1951
Henry Wienand, "Heinie" to almost everyone, Grandpa to me, was a veteran of World War I, and fought in France. Grandpa had a great sense of humor and a great sense of adventure. Grandpa and Grandma had a huge vegetable garden on the north side of their house on S. 15th Avenue, in the Arcade section of Freeport. Every time grandpa would find a garter snake, he'd put it in my pocket. Grandpa worked at the Arcade toy factory.
Henry C. Wienand, #3338588, joined the service on June 28, 1918, at Camp Grant, Rockford, Illinois. He was a PFC in the 109th Infantry, 28th Division of the Infantry. He fought at the engagement at Thiaucourt, France, about 20 miles southeast of Verdun. He was in the Saint Benoit Raids from October 10 to November 11, 1918. He was Honorably Discharged on May 24, 1919.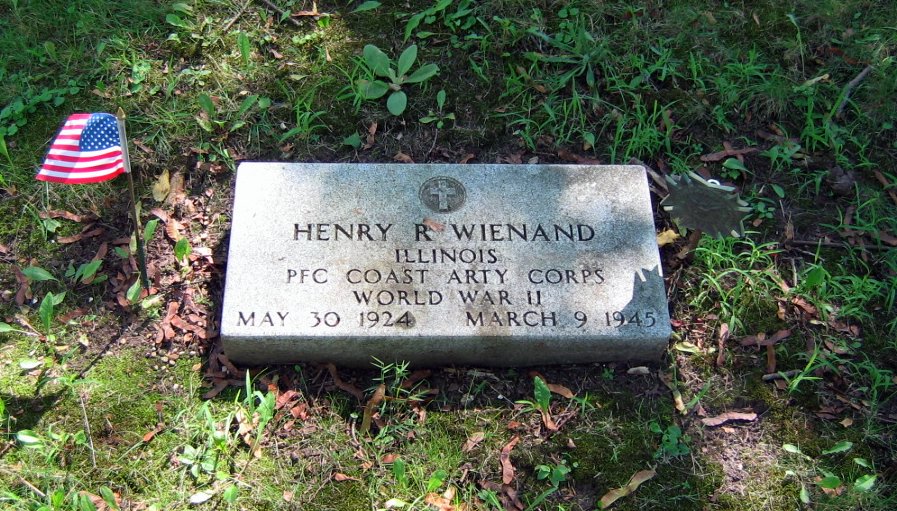 Henry Robert Wienand, 1924 - 1945
Bob Wienand was my uncle. He was on an anti-aircraft unit at the Remagen Bridge in Germany when he was killed at age 20. His death devastated our family, as I imagine all war deaths hurt all families in the world. I chronicled the story of his service and death in my book, Remarkable Stories.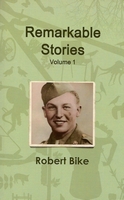 Remarkable Stories, Volume 1 by Robert Bike

From events in the lives of Tutty Baker, Abraham Lincoln, Charles Guiteau, Leonard Colby, Jane Addams and Bob Wienand come stories that will amaze you. Welcome to Volume 1 of our living history.
Only $11.99 paperback; only $0.99 ebook.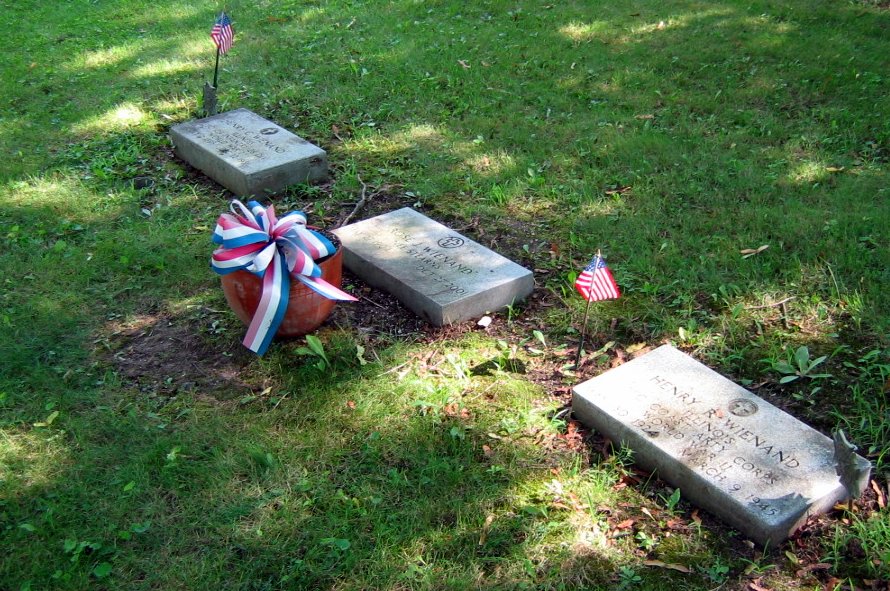 Grandpa Wienand, Grandma Wienand, and Uncle Bob are buried together in Oakland Cemetery, Freeport, Illinois.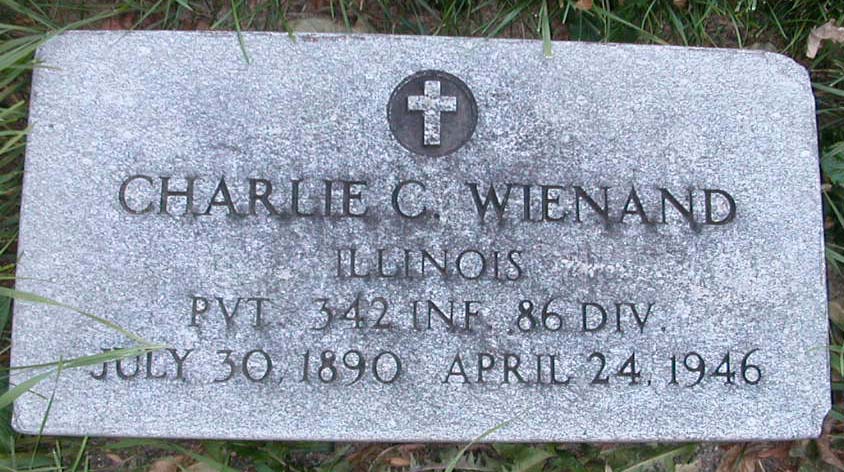 Charlie C. Wienand, 1890 - 1946
Uncle Charlie was my grandfather's brother. Charlie also served during World War I. He lived with his parents, and kept all his money in jars which he buried around the house. After he died, all the relatives hunted for his buried treasure.
Harold was my grandmother's long-time companion, and was like a grandfather to me. Harold was an engineer on the Illinois Central Railroad. Harold is buried in a family plot in Dubuque, Iowa.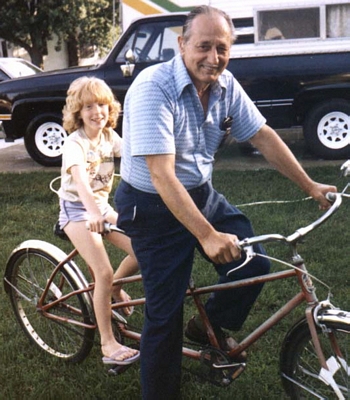 Rose Painter with Harold Kissell in about 1983.
Rose is my niece, my sister Claudia's daughter.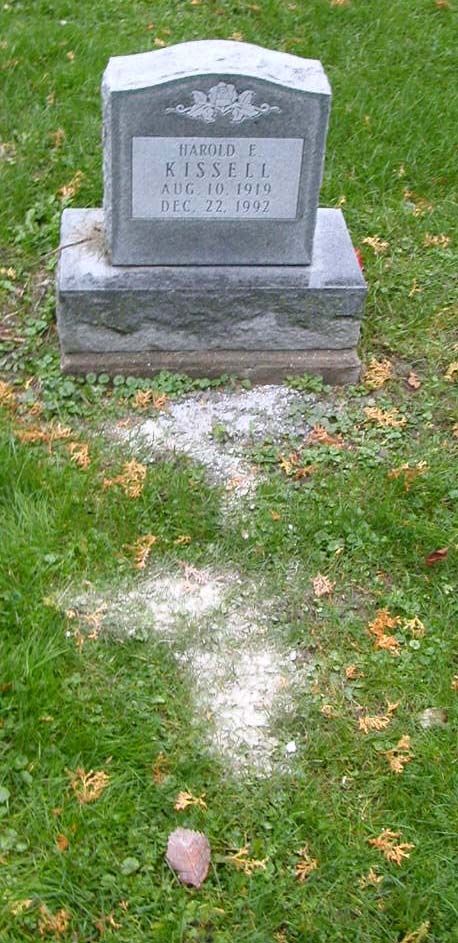 We scattered some of Grandma's ashes on Harold's grave.
We also scattered their dog Baby's ashes there.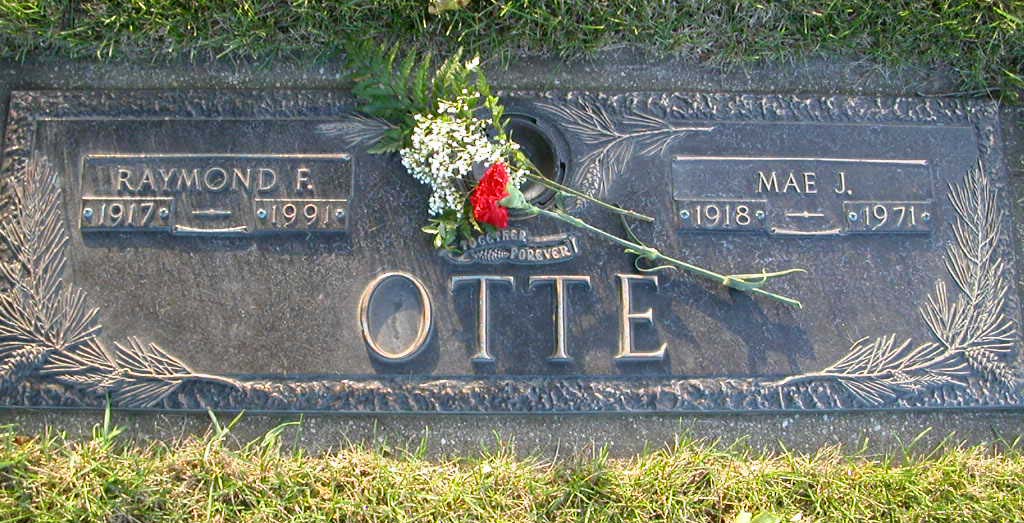 Raymond Otte, 1917 - 1991, and Mae Otte, 1918 - 1971
My mother's second marriage was to Ray Otte, who is buried with his first wife, Mae Trost Otte. Ray was a well known and well respected fence builder in Stephenson County. He loved to dance, and took my mother all over the midwest to go dancing. They took some fabulous vacations together, including a memorable trip to Nome, Alaska.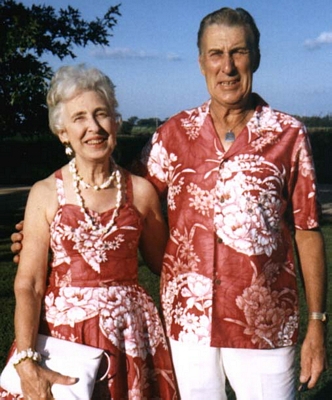 Ann and Ray Otte
My mother with her second husband.
They were both excellent ballroom dancers.
They travelled throughout the United states following dance bands.
Robert was my great-grandfather, my mother's mother's father. I remember my great-grandparents' 50th wedding anniversary party that was held at Grandma Wienand's home on S. 15th Avenue shortly before he passed. I remember sitting on his lap. I was 4. It is the last time I remember seeing him. Robert worked as a farmer most of his life, and later worked odd jobs, including moving houses.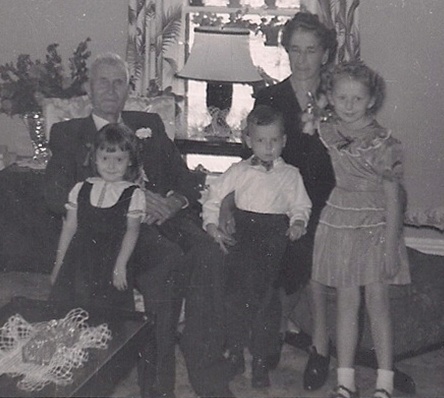 Robert Stearns and Anna Finkbeiner Stearns
unknown little girl, Robert Bike and Claudia Bike
photo taken in about 1952 at Rose Wienand's home
This is great-grandma's grave, my mother's mother's mother, Anna Finkbeiner Stearns. She worked for Mrs. Walker & cleaned at Mrs. Walker's home as well as at the Walker Mortuary. She was full of life, and had a wonderful spirit. I spent a lot of time at her house when I was growing up. When she died, Grandma Wienand had a reception for all the relatives at her house. I kept asking my mom who everybody was, and shortly thereafter began assembling my family tree.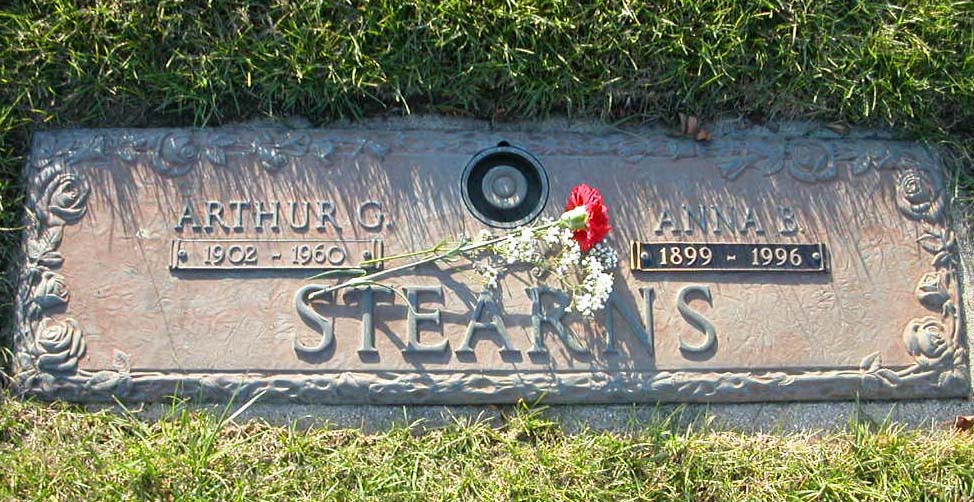 Arthur G. Stearns, 1902 - 1960 and Anna B. Vaughn Stearns, 1899 - 1996
Arthur Stearns was Grandma Wienand's brother. He owned a foundry, and at one time had a toy factory, the Realistic Toy Company. I have some of his toys. Nick Servatius worked for Arthur for a while and learned the business. With the financial backing of the Henney Motor Company, Nick went on to found his own company, Modern Plating, which is still operating. My mother's childhood best friend, Lucille Eberle, married Nick's son, Richard Servatius. Aunt Annie was Arthur's bookkeeper.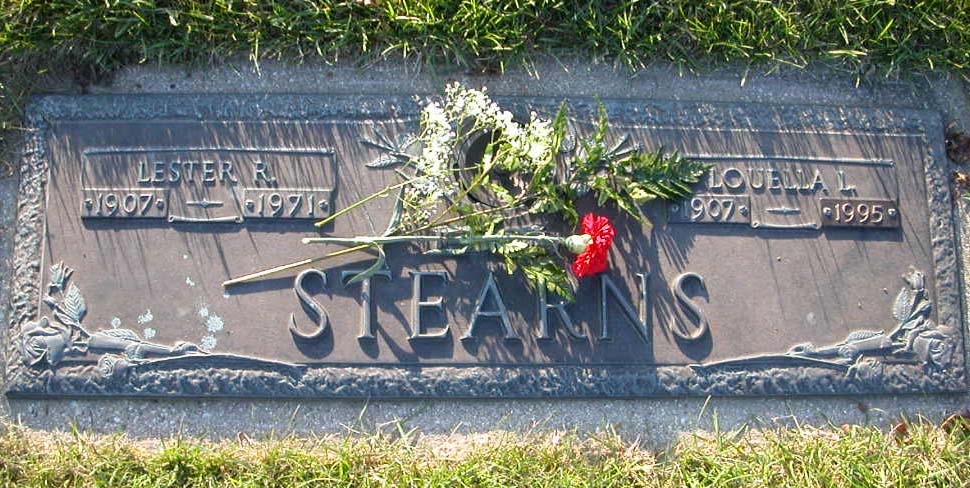 Lester R. Stearns, 1907 - 1971 and Louella L. Stearns, 1907 - 1995
Lester Stearns was another of Grandma Wienand's three brothers. Lester worked with Arthur in the foundry. Loella worked raising five kids, including twins.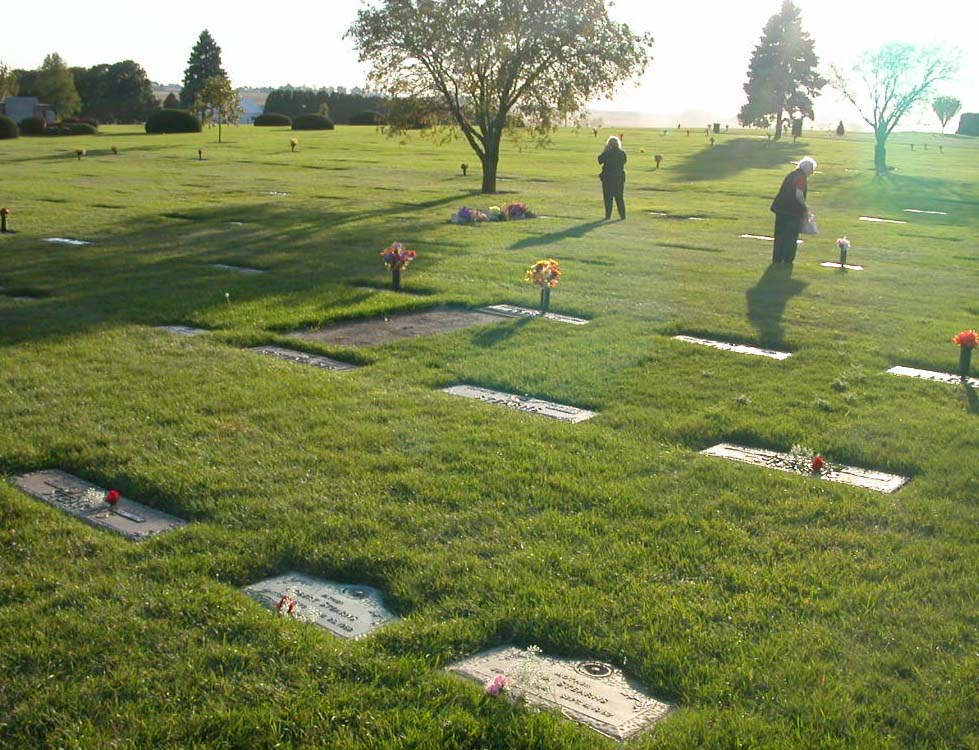 This photo shows the close proximity of the Stearns graves to my father's, which is under the tree at the top center of the photo. My sister, Claudia Bike Painter, and my mother, Anna Wienand Bike Otte, are looking for other relatives' graves in Chapel Hill Cemetery.