The Class of 1850
While FHS was not yet on the graded system with classes, there were students attending.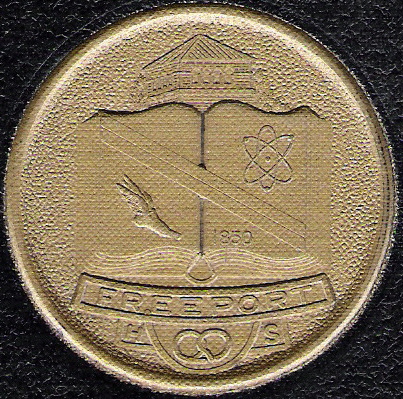 The Freeport High School Official Seal shows that the school was founded in 1850. The seal was shown on the cover of the 1966 Polaris.
I'm still researching early Freeport High School history. Information about all Freeport students before the first class will be included with the Class of 1850.
---
William "Tutty" Baker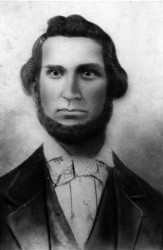 While we generally think of Freeport in terms of the white settlers and the community they founded in the mid-1830s, there was actually a Native American village located where the old Illinois Central passenger station was, on the west bank of the Pecatonica, just south of the Stephenson Street bridge. The village was called Winneshiek, and the chief of the village was also named Winneshiek, which means Coming Thunder.
This was a fine location for the local band of Winnebagoes. The Pecatonica River provided water and food in the form of fish and turtles. There was fertile land to grow their crops. And large herds of buffalo and deer ran through the prairies and woods. Food was plentiful, and life was good until the white men came.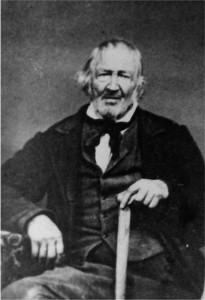 On the 24th of December of 1835, William "Tutty" Baker (left, as a young man, right as an old man) settled permanently about a half mile upstream (northwest) of this spot, near what we call the Van Buren Street Bridge. He claimed 640 acres of land, and plotted out streets and lots for building. He called his village Winneshiek, after the Indian village. He was a generous man, and helped many people settle here. There were no bridges, and few ferries. As the westward traveling settlers passed through, he used his canoe and his hospitality to help all.
Baker established an Indian trading post and a tavern. He would travel in his canoe to distant settlements, including going as far as Peoria, to get supplies, and row back upstream with what he needed for his family and his customers.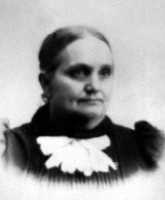 In the spring of 1836, Baker brought his family to the land he had claimed. Elizabeth Phoebe Baker was the first white woman to see the area. Caroline Baker (shown at left) was the third white child born in Winneshiek, on May 28, 1838; she later married Amos Doane and moved to Kansas. Rivers John Fowler was the first white child, born on August 31, 1837; Sarah Jane Hollenbeck was the second, born on December 15, 1837; Joseph John Earle was born March 10, 1839. Other babies may have been born earlier, but these four survived infancy.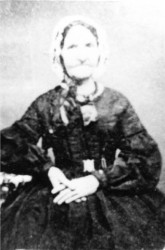 L. O. Crocker arrived in 1836 and built a store, located at the east end of Main Street, on the west bank of the Pecatonica.
By 1837 Baker had also built a rudimentary hotel. The tavern on the riverbank, which was also the Baker home, was the gathering place in the village of Winneshiek. Baker, as mentioned previously, was exceedingly generous. One morning, after he had given away food and hospitality to yet another traveler, Phoebe Baker (right) sarcastically suggested that instead of Winneshiek, the village should be called Freeport, because Tutty gave everything away for free. Tutty laughed, and told the story to all the other settlers, and soon the village was called Freeport.
So, if you were born or raised in Freeport, and your momma sasses you for your sarcastic sense of humor, just explain to her that you come by it naturally, because your home town is named after a sarcastic joke!
---
Black Abe, Abram Follock
Black Abe was employed by "Father" Brewster and wanted an education. John K. Brewster had settled in Oneco in 1838, then moved to Freeport. He later built the Brewster House Hotel.
There was some dissent about 16-year-old Black Abe attending school in the winter of 1845-1846 and sharing a desk with a white boy because there was tremendous prejudice at the time, but Mr. Sunderland convinced all that it was in everyone's best interest that Black Abe be allowed to attend school. Black Abe remained a scholar at Freeport School, but I don't have a record of Black Abe graduating from Freeport High School. The first black that I have confirmed to be an FHS graduate was George Lipscomb in 1917.
Black Abe was listed in the 1850 census as Abram Follock, 21, a native of New York. He was a barber.
The first issue of Freeport's first newspaper, the Prairie Democrat, dated November 17, 1847, had an advertisement of Follock's Barber Shop. On January 24, 1849, he advertised, "A. A. Follock, Knight of the lather and brush, holds forth at his barber shop at the Stephenson County Hotel, in Freeport, Illinois, where he will be ready to wait upon his customers at all hours. Shaving, Hairdressing and Shampooing done in the latest and best approved style and fashions of 1848-49."
He advertised that he went to ladies' homes to shampoo their hair. At his shop, he sold hair oil, perfumery, razors, hair brushes, combs and scissors. His prices were: Shaving - 6-1/4 cents, hair-cutting - 12-1/2 cents. His barber chair is now at the Stephenson County Museum.
---
Alexander Cameron Hunt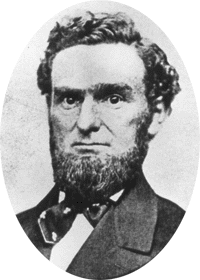 A. C. Hunt was born in Hammondsport, New York, on January 12, 1825. His father, Richard Hunt, brought the family to Freeport, arriving in the spring or summer of 1837. In the fall of 1837, Richard erected a frame building at Galena and Van Buren Streets, where he set up his office of Justice of the Peace, and a second building on the corner of Van Buren and Spring Streets. His two daughters, Eliza and Sarah attracted the attention of all the young men.
Boys at that time often learned the trade of their fathers, but Richard was a Justice of the Peace, so A. C. learned other things. His mother and older sisters taught him to cook. He helped his father and others in the new community of Freeport build the first homes and business. And he played with the other boys in the community, including probably the Native American boys in the nearby village. The Baker children could speak the language of the natives, and A. C. probably learned some of the language as well. All these skills would serve him well in the rest of his life.
When Nelson Martin opened the first school in Freeport in the fall of 1837, 12-year-old A. C., Eliza, Sarah and Hamilton Hunt were among the first students.
When gold was discovered in California in 1849, A. C. went west seeking gold with one of the Baker boys and several other Freeporters. Apparently he did well. When he returned, A. C. became a successful Freeport businessman. The 1856 City Directory listed an ad for Brewster & Hunt, Forwarding & Commission Merchants and general dealers in produce and grain. The owners were listed as J. K. Brewster and A. C. Hunt. As you will see, A. C. often got involved with several businesses at one time. I suspect he also ran a restaurant, and that A. C. was the cook.

In 1851, 26-year-old Cameron Hunt married 17-year old Ellen Elizabeth Kellogg.
In 1856, A. Cameron Hunt was elected the second mayor of Freeport. In 1857 he was elected to his second one year term.
There was a depression that struck the country in 1857, and Cam Hunt lost his businesses.
In 1858 A. C. heard that gold had been discovered in Colorado at Pike's Peak. So in the spring of 1859, he took his wife Ellen, daughter Isa, son Albert (Bertie), and his father Richard, and headed west.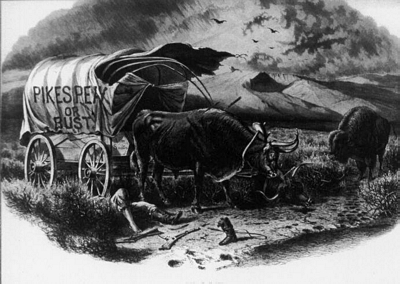 At Kansas City they joined a wagon train headed for Pikes Peak. At Cimarron Crossing, a St. Louis couple decided to take the cutoff to Santa Fe. Two days later, Mr. Walsh and son called for a division of common property so that they might return home. The pair received as their share one wagon, a yoke of cattle, cows, sheep, a pony and some chickens as well as their own personal supplies. The remainder of the company kept on towards the mountains, bound by a mutual agreement to continue on to California if Pike's Peak was not satisfactory. "I dread the long journey, oh I do," Ellen Hunt wrote in her diary, "but when we stop again I want to stay, and never move again, and shall not go on, till we are satisfied." Of the 150,000 who started for the gold fields, at least 50,000 turned back. Some wrote "Pikes Peak or bust" on their wagons, and many busted out or died along the way.

Ellen was sick from the start. Large purple blotches formed on her body, which Richard called erysipalis, an acute bacterial infection of the skin. It confined her inside the wagon most of the way. By the time the party turned onto the Cherokee Trail, Ellen was feeling better. As they headed up Fountain Creek, her spirits began to soar; when the party reached Jimmy Camp, she was ready to homestead.
The entry in Ellen's diary for June 24, 1859, reads, "Had a splendid view of the mountains for several miles. Begin to see finer country. Passed one fine location for a farm, beautiful prairies on a soil much like Pigeon Prairie, with grove of pine convenient. Camped near one and beside an elegant spring."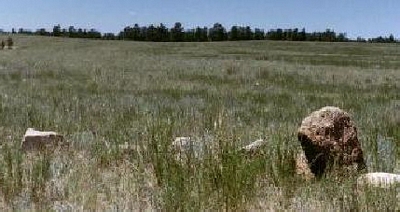 On June 25, 1859, Ellen wrote, "Started at moon rise and traveled 15 miles before breakfast, to a pine forest—very beautiful but sad from the number of graves here—8 are in view of persons who have frozen to death, one as late as June third, '59. The changes are so sudden even in the summer that from being very warm it will be so cold as to benumb the body before fire can be made to warm it. These changes generally occur after a rain, or storm of some kind." At left, Fagan's Grave, one of the graves Ellen Kellogg Hunt saw on June 25, 1859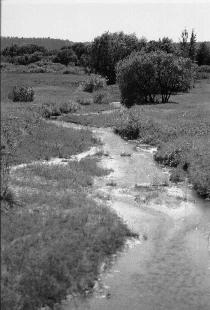 Her June 26, 1859, entry reads, "Started again before day, traveled till nine, breakfasted and were off again at 11 1/2oc. Sand very deep, soil looks poor. No trees save a few cottonwoods along Cherry Creek. Camp at 7 oc in a better looking country, 5 miles from Denver, in a rain storm which continued until nine oc." (At right, Cherry Creek.)
On June 27, 1859, Ellen wrote in her diary, "Monday - 27th. Started at 7 1/2 oc. The day was intensely hot and roads dusty. Traveled slow and arrived at D [Denver] 20 minutes before 11. The cabin Ham had engaged was on the very outskirts of Auraria, built of logs and mud, with neither windows or floor. 'Tis much better than most of its neighbors but at first I felt blue enough at the prospect of even trying to live in such a place. When once at work trying to make it comfortable I felt better. A partition was made of our wagon cover, shelves here and there. I sleep comfortable all night notwithstanding my fear of the Indians, of which about 300 are here."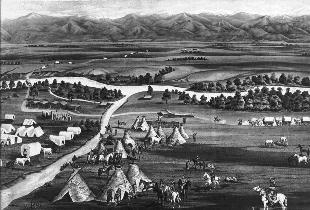 They settled in the Cherry Creek area, which is now a part of Denver. The mouth of Cherry Creek was a site of gold digging.
A. C. built a log cabin and opened a restaurant. Thieves and crooks ruled the territory, so he organized his neighbors and was elected judge of the vigilante committee, which cleared the undesirables from the community by capturing, trying and hanging the offenders.
Hunt was also in the livery business with John M. Clark, at 3rd Street, Auraria. He also was president of the Capitol Hydraulic Company of Auraria, which constructed ditches for irrigation. By the end of 1859 he was Vice President of Auraria Town Company, and in March 1860 he presided over a meeting which united Auraria with the smaller village across the creek, Denver City. The combined town was named Denver.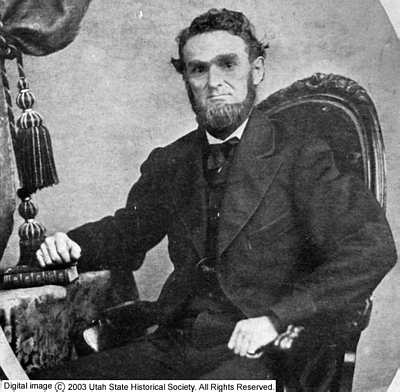 On June 10, 1862, Abraham Lincoln appointed A. C. Hunt to be United States Marshall, a position he held for five years. He was also appointed Ex-Officio Superintendent of Indian Affairs.
A. C. Hunt built the first brick house in Denver.
During the administration of Alexander Cummings, the third governor of Colorado from 1865-1867, Hunt served for a time as Treasurer of Colorado Territory.
In 1867, A. C. ran for congress. There was considerable voter fraud in the election. His opponent was elected, but A. C. was rewarded with the appointment of Governor of the Colorado Territory on April 24, 1867. Portrait at right is Governor Hunt.

Shortly after his appointment to the governorship he and Colorado's First Lady, Ellen Kellogg Hunt, made a six week trip through Colorado. At one party where Vice President Schuyler Colfax (photo at left) was the guest of honor, the cook had ruined the meal. Hunt took upon himself the duty of chef. Ellen protested. She didn't think it was proper for a governor to cook for the Vice President of the United States. But Hunt was proud of his cooking abilities.

His administration was dominated by conflicts between white settlers and Native Americans. Because he had been Superintendent of Indian Affairs, and continued to hold that position, he had excellent relations with the natives.
In February of 1868, A. C. got the Ute Chiefs, Indian agents and President Andrew Johnson together to discuss a treaty. Because of A. C.'s good relations with the Indians, a treaty was signed. The federal government, of course, reneged on the agreement, which angered the Indians. A. C. personally rode from one Indian encampment to the next and to the next to defuse the situation. He went to the camps alone and unarmed.
He remained governor until June 14, 1869.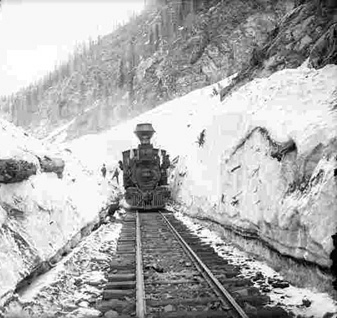 After he was out of office, A. C. continued to work to develop Colorado. He was the pathfinder and builder of the Denver and Rio Grande Railroad (photo at right). Hunt conceived taking narrow-gauge tracks across nearly unbridgeable chasms and snow-covered passes of the Rockies. He would ride 100 miles a day on horseback while supervising the work. He opened six of the leading mines of Colorado.
Hunt helped to develop the Kansas Pacific Railroad.
Hunt is credited with introducing the first bee colony to Denver.
Hunt pioneered the use of alfalfa in Weld County.
At a dinner party one night, Ellen noticed that A. C. wasn't saying much. She asked him to engage in conversation with the guests. He replied that he doesn't talk, he takes action. If she could find something for him to do, he'll do it! And that little story sums up his life. He was a doer, and he got a lot done.

As president of the Rio Grande railroad, Hunt went to Mexico to obtain concessions to build the Mexican National Railroad from Laredo to Mexico City. He and 12,000 employees built a narrow-gauge line two thousand miles, connecting the capital of Mexico with Texas.
Hunt opened the San Tomas mine west of Laredo and constructed a private railroad to move his coal to market. This was the Pecos Railroad. It ran 26 miles along the Rio Grande. He had large property interests in Texas and Mexico.
Hunt established the first electric light plant at Laredo, Texas, and put up wires across the Rio Grande to electrify Nuevo Laredo, Mexico.
In 1891, while in Chicago, he had a stroke, and he only partially recovered.
Alexander Cameron Hunt died in May 1894 at his residence in Tenleytown (a historic neighborhood in northwest Washington, D. C.), and is buried at the Congressional Cemetery in Washington. He was the father of Isa, Albert, Robert, and two children who died in infancy, Isabel and Bruce. Ellen died August 8, 1880. He married Alice Underwood on June 3, 1889. They had a daughter, Gloria. Gloria died in 1918, Alice in 1920.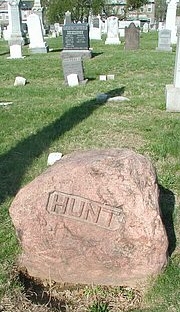 On February 23, 1908, a granite boulder was shipped from Colorado to Washington to mark the last resting place of Alexander Cameron Hunt. The stone was the gift of General William J. Palmer, A. C.'s former business partner, a Civil War general and founder of Colorado Springs (portrait at right). The boulder is red granite, taken from the Ute Pass, weighs several tons, and when placed in the Congressional Cemetery was the only monument of its kind.
In this cemetery, endowed by Congress, Governor Hunt lies in the lot of United States District Judge of Virginia John C. Underwood and Mrs. Underwood, parents of the second Mrs. Hunt. An inscription on the family monument states, "Alexander Cameron Hunt of Colorado Crossed the Divide May 14, 1894."

---

War Hero, Medal of Honor winner, Secretary of War, Commander of the Army—can you name this famous Freeporter?
John McAllister Schofield was born in Gerry, New York, on September 29, 1831, and at the age of 12 was taken by his father, the Reverend James Schofield, a Baptist minister, to Freeport, Illinois. Schofield always listed Freeport as his hometown.
His mother was Caroline McAllister Schofield. James Schofield founded the First Baptist Church in Freeport. In 1844, at the age of 13, John Schofield was baptized by his father in the "Jordan of Illinois," the Pecatonica River. During the Civil War, President Abraham Lincoln appointed James Schofield a Chaplain, where he spent his time ministering and writing letters from dying soldiers to wives or mothers. Rev. James Schofield had been an officer in the War of 1812 and the Schofield Family added the "h" (Scofield to Schofield) to the name in 1844 when they moved to Freeport.

Growing up, John Schofield excelled in education, sports and hard work on the family farm. At the age of 16 he spent several months doing surveying work in northern Wisconsin. At 17, he taught school in Oneco, Illinois. He decided on law as his chosen profession, and returned to Freeport to study Latin.
He attracted the attention of Freeport's Congressman, the U.S. Representative from Illinois' 6th District, Thomas J. Turner. When Turner's candidate for West Point cancelled at the last moment, he remembered a young man he saw teaching mathematics at his brother's school in Oneco, and appointed John Schofield to the West Point Military Academy. The Schofields sold some land and used their life's savings to get him there. Schofield later joked that if Turner had witnessed his class while he was teaching Latin that he never would have gotten the appointment.
On June 1, 1849, John McAllister Schofield arrived at West Point with less than two dollars in his pocket, at the age of seventeen years and nine months.
Schofield graduated from West Point in 1853, seventh in his class.

He served for two years in the artillery. He served as Assistant Professor of Natural and Experimental Philosophy at West Point from 1855 to 1860. In June 1857 he married Harriet Bartlett, daughter of his chief in the Department of Philosophy. They had five children, John (1858-1868); William, (1860-1906), a Major in the Army; Henry (1862-1862); Mary Campbell, born 1865; and Richmond or Richard, born 1865, a Major in the Army.
While on leave in 1860–1861, Schofield was Professor of Physics at Washington University in St. Louis, Missouri, until the Civil War began.
He served throughout the Civil War in command positions, receiving the Medal of Honor for heroism in battle. When the Civil War broke out, Schofield became a Major in a Missouri Volunteer Regiment and served as Chief of Staff to Major General Nathaniel Lyon until Lyon's death during the Battle of Wilson's Creek in August 1861.
At Wilson's Creek, Missouri, on August 10, 1861, in his first wartime engagement Schofield and others advised General Lyon to retreat in the face of overwhelming odds, but his advice was not considered, resulting in a Union loss of 258 dead and more than 1300 total casualties. The Union had 5400 men; the Confederates 10,175.
Lyon's regiment charged, with him at the head. As is often the case in hand to hand combat, confused fighting took place at this point, and clearly, neither side had a clear advantage. The Confederates far outnumbered the Federals, but Union troops held a better position and had more artillery.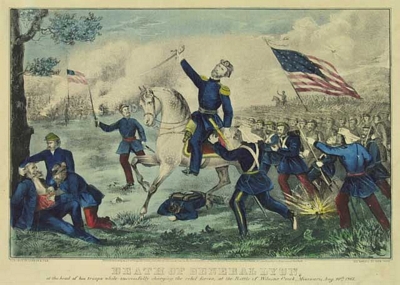 At about 10 a.m., the Confederates killed General Lyon's horse and wounded the general in the head and leg.
Lyon then walked a short distance to the rear and had his head wound bound. He got another horse, rallied some troops, and was leading them forward when he was shot through the heart, fell to the ground, and died immediately (depiction at right). He was the first Union General Killed in Action in the Civil War.
Schofield then led a successful charge. The engagement was then considered as one of the severest of the Civil War. "Never before considering the number engaged had so bloody a battle been fought on American soil; seldom has a bloodier one been fought on any modern field." The Confederate forces lost 278 dead and more than 1200 total casualties. It was the bloodiest battle yet in the Civil War. The public was shocked and outraged. But battles were to get much worse, and much more bloody.
Schofield "was conspicuously gallant in leading a regiment in a successful charge against the enemy," according to the Medal of Honor Citation he received on July 2, 1892. Schofield was one of five soldiers who won the Medal of Honor at Wilson's Creek.
Schofield was promoted to Brigadier General of Volunteers on November 21, 1861, and to Major General of the Army of the Frontier in Missouri operations on November 29, 1862.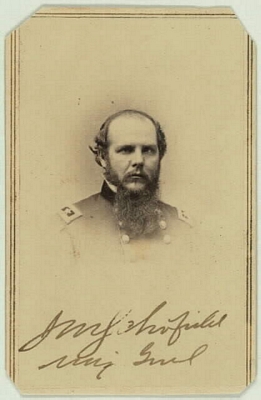 On April 17, 1863, he took command of a division in the XIV Corps of the Army of the Cumberland.
In 1864, as Commander of the Army of the Ohio, Schofield took part in the Atlanta Campaign under Major General William T. Sherman. Sherman, after the fall of Atlanta, took the majority of his forces on the March to the Sea through Georgia.
Schofield's Army of the Ohio was detached to join Major General George H. Thomas in Tennessee. Confederate General John Bell Hood invaded Tennessee, and on November 30, 1864, Hood attacked Schofield's smaller Army of the Ohio in the Battle of Franklin. Schofield successfully fought off Hood and joined his forces with Thomas. For defeating Hood's larger army at the Battle of Franklin, Schofield was awarded the rank of Brigadier General in the Regular Army on November 30, 1864.
On December 15-16, 1864, Schofield led his Army of the Ohio to victory at the Battle of Nashville.
Ordered to operate with Sherman in North Carolina, Schofield moved his entire 15,000 man army with artillery and baggage 1800 miles by rail and sea to Fort Fisher, North Carolina, in only 17 days, occupied Wilmington on February 22, 1865, fought the action at Kinston on March 10, and was awarded the brevet rank of Major General on March 13, 1865.
On March 23, Schofield joined Sherman at Goldsboro. He was present at the surrender of Johnston's army on April 26, and was charged with the execution of the details of the capitulation.
After the war, Schofield was sent on a special diplomatic mission to France in 1865-1866, because of the presence of French troops in Mexico.
During Reconstruction, Schofield was appointed by President Andrew Johnson to serve as military governor of Virginia. He commanded the Department of the Potomac in 1867.
He served as Secretary of War in the cabinet of President Andrew Johnson from June 1, 1868 until the end of Johnson's term on March 13, 1869.

In 1873, Schofield was given a secret task by Secretary of War William Belknap to investigate the strategic potential of a United States presence in the Hawaiian Islands. Schofield recommended that the United States establish a naval port at Pearl Harbor.
From 1876 to 1881 he was Superintendent at West Point. After serving in various departments throughout the country, he succeeded to command of the entire Army on the death of Lieutenant General Philip S. Sheridan (who graduated in the same class with Schofield at West Point in 1853), and served as Commander of the Army from August 14, 1888, until his retirement.
His wife, Harriet Bartlett Schofield, died December 24, 1888, in Washington D.C., at the age of 55. John married Georgia Kilbourne in 1891. On April 4, 1897, they had a daughter, Georgia.
He was a member of the Military Order of the Loyal Legion in the United States.
On February 5, 1895, Schofield was promoted to Lieutenant General.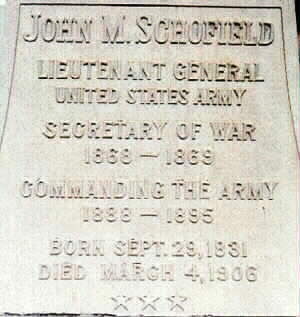 Lieutenant General John McAllister Schofield, United States Army, was forcibly retired for age on his 64th birthday on September 29, 1895. His memoirs, Forty-six Years in the Army, were published in 1897.
He is memorialized by the military installation Schofield Barracks, Hawaii. Schofield Barracks occupies 17,725 acres on central Oahu. The base was established in 1908 to provide defense for Pearl Harbor and the Hawaiian Islands. It has been the home of the U.S. Army's 25th Infantry, known as the Tropic Lightning Division, since 1941. As of the 2000 Census, the barracks population was 14,428 military personnel and families.

Prior to his death, he was the last surviving member of Andrew Johnson's Cabinet.
John M. Schofield died in Saint Augustine, Florida, on March 4, 1906, and is buried in Arlington National Cemetery.
His brother, Charles Brewster Schofield, a Lieutenant Colonel in the United States Cavalry, long served as his Aide-de-Camp, and is also buried in Arlington National Cemetery.
His son-in-law, Avery Delano Andrews (1864-1959), Brigadier General, United States Army, and his daughter Mary Campbell Schofield Andrews are also buried in Arlington National Cemetery. Daughter Mary (1865-1945), married Andrews on September 27, 1888. They had two children, Scofield (1889-1971) and Delano (1894-1959).
Today, John Schofield is remembered for a lengthy quotation that all cadets at the United States Military Academy at West Point and the United States Air Force Academy are required to memorize:
"The discipline which makes the soldiers of a free country reliable in battle is not to be gained by harsh or tyrannical treatment. On the contrary, such treatment is far more likely to destroy than to make an army. It is possible to impart instruction and give commands in such a manner and such a tone of voice as to inspire in the soldier no feeling, but an intense desire to obey, while the opposite manner and tone of voice cannot fail to excite strong resentment and a desire to disobey. The one mode or the other of dealing with subordinates springs from a corresponding spirit in the breast of the commander. He who feels the respect which is due to others cannot fail to inspire in them respect for himself. While he who feels, and hence manifests, disrespect towards others, especially his subordinates, cannot fail to inspire hatred against himself." – John M. Schofield
---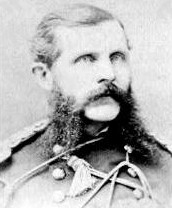 George Wheeler Schofield, John's younger brother, was born in Gerry, New York, on September 30, 1833, and was just 10 when the family moved to Freeport, Illinois. He rose to General in the Civil War, was a respected "Buffalo Soldier," designed the Schofield Revolver and was commander of Fort Apache.
He enlisted in the 1st Missouri Volunteer Infantry in November 1861 and served with his brother John who was promoted to Brigadier General of Volunteers on November 21, 1861.
George was a Captain in Company A, 1st Missouri Light Artillery at the Siege of Vicksburg, Tennessee.
He earned a promotion to Lieutenant Colonel in the 2nd Regiment Missouri Volunteer Light Artillery. In command of the 2nd, he was active in the campaigns of Georgia.
Near the end of the Civil War, he was brevetted Brigadier General of U.S. Volunteers on January 26, 1865 for gallant and meritorious service during the campaigns in Georgia and Tennessee. The Schofield family now had two brothers who were Civil War generals!
After the Civil War he chose to remain in the army and was given the rank of Major in the 10th Cavalry formed at Fort Leavenworth, Kansas in 1866. Cheyenne warriors gave the 10th Cavalry the nickname "Buffalo Soldiers" out of respect for their fierce fighting in 1867. The literal translation was "Wild Buffaloes." The 10th Cavalry had several companies of Negro soldiers. Eventually all Negro soldiers were called Buffaloes or Buffalo Soldiers.
George participated in campaigns against the Cheyennes, Arapahos and Comanches in the Indian Wars. On October 25, 1874, troops under command of Major Schofield pursued Comanches near Elk Creek and captured "68 warriors, 276 squaws and children, and about 1500 ponies." The prisoners were taken to Fort Marion, Florida, under charge of Captain Pratt, who earned distinction for educating Indians as Superintendent of the Carlisle Indian School.
Schofield was assigned to Fort McKavett (west of San Antonio, Texas) with the 24th and 41st Infantry Regiments. He came up with a better design for army pistols, and worked with Smith and Wesson Firearms to manufacture his design.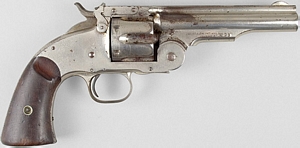 He patented several modifications to make it easier to reload on horseback while holding the reins. In 1875, Schofield submitted his design to the Ordnance Board. It was adopted as a substitute standard. The .45 caliber Smith & Wesson Schofield Revolver (at right) was named for him in 1875.
Cavalrymen preferred the Schofield Pistol over the Colt Model 1873 because with it's break-top design, it was far faster to reload, especially on horseback. From 1875-1878, the army purchased 5,000 Schofields (out of 9,000 manufactured), but eventually dropped the design. Buffalo Bill Cody, Virgil Earp, Pat Garrett, John Wesley Hardin, Frank and Jesse James, Cole and Jim Younger and many others used the Schofield.
In 1876, George Schofield married Alma V. Bullock at Fort Concho, Texas.
In 1879, he was promoted to Lieutenant Colonel in the 6th Cavalry and led relief troops at the Battle of Cibicu, during the Apache Wars.
Schofield's last duty was as post commander of Fort Apache, Arizona. The 1948 movie Fort Apache, directed by John Ford and starring John Wayne and Henry Fonda is about the fort when Schofield was commander, but the movie is entirely fiction and mixes facts.
In 1882, he began suffering from severe headaches. He went to The Presidio in San Francisco and was diagnosed with an inoperable brain tumor. He took one of his own Schofield Pistols and shot himself in the right eye.
Lieutenand Colonel George Wheeler Schofield died Dec. 17, 1882, age 49, and is buried on the grounds at Fort Apache, Arizona.
---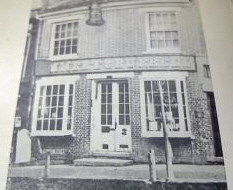 This is one of the earliest photos I have found of Freeport. This is the original Emmert Drug. The building was built in 1846, but I don't know when the photo was taken. Note the hitching posts at the front of the sidewalk.

---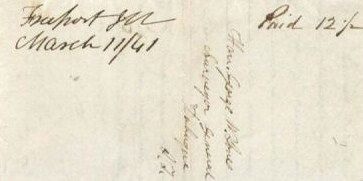 This letter was mailed from Freeport in 1841! The notation in place of postage noted that 12-1/2 cents was paid on March 11, 1841. It was mailed to the Honorable George Howe, Surveyor General, Dubuque, Iowa.
---
Click on any year in the chart below to see the class and other info,
such as postcards, people and events from that year.