The Class of 1924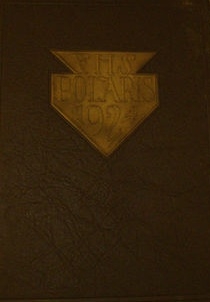 The 1924 Polaris
Alice Ackerman, Edna Ackerman, Hazel Alberts, George Allen, Opal Althoff, Royal Anderson, Ruth Andre, Marie Avenarius,
Milton Babcock, Theodore Babcock, William Babcock, John Baker, Lorena Balles, Churchill Bangs, Klein Bardell, Russell Barrett, Iola Bauray, Veronica Beddoes, Nelson Bender, Alma Bennehoff, Howard Bennethum, William Beuscher, John Blackmore, Cora Bloom, George Bolender, Emerson Borchers, Russell Borchers, Kenneth Boyer, Beatrice Brokhausen, Gladys Brownlee, Josephine Bruce, Marjorie Burns, Bernard Burkhart, Marvin Burt, Orin Busker, Esther Buterbaugh,
Mary Carnahan, Gladys Carpenter, Mildred Christen, Kenneth Clark, Cleo Conter, Loretta Corman, Nancy Cortes, Charles Costing, Richard Credicott, Howard Crockett, Gwendolyn Cunningham
Mary Daacon, Frances Datt, Lester Daughenbaugh, Leroy Denton, Bernice Dickman, George Diddens, Mabel Dinges, Jennie Mae Dixon, Elizabeth Dowling,
Roberta Emrich, Anabel Erickson, Martha Erickson, Edna Ermold, Inez Evans,
Margaret Faerber, Fred Fink, Dorothy Fishburn, Robert Fisher, Dortha Fleming, Hazel Foose, Willard Forsaith, Erene Forscythe, Nevin Foy, Carl Frank, Mildred Frank, Russell Frankeberger, Karl Franz, Philip Freidag, Viola Fry, Charles Furst,
Fred Gabel, Robert Gage, Susanna Galtz, Wilbur Garman, William Geiger, John Gilbert, Lois Gill, John Gillen, Kenneth Gift, Nelma Gillogly, Gertrude Graham, Viola Groff, Harry Grossle, John Guifro, Marvin Guth, Dorothy Guyer,
Isadora Haight, Gladys Hale, Harriet Haller, Evelyn Hannah, Ruth Hanson, Mervin Hasselman, Francis Heinen, Philip Herbruck, Wilbur Hershey, Willard Hiatt, Sye Hicks, Mary Hill, Marjorie Hinze, DeVore Hitchner, Edwin Hoffman, Elmer Hoffman, Leona Hoffman, Geneva Holmes, Milford Hopke, David Hunter, Carl Huss, Ella Hutmacher,
Iola Ickes,
Florence Jaeger, Karl Jaeger, Arthur Jenner, Marion Johnston or Johnson,
Clyde Kaiser, Lawrence Kaiser, Alice Kampmeier, Louis Kappes, Myrtle Kappes, Virginia Karcher, Jack Kauffman, George Keck, Marion Keehn, Albion Keene, Twyla Keister or Kiester, Dorothy Kencke, Susie Kerr, Norbert Keyes, Amy Kramer, Marie Kramer, Melvin Kramer, Elsie Krugjohann, Marion Kuehn, Jack Kuehner, Nonie Kuehner, Kathleen Kuntz,
Raymond Lamm, Miles Lapp, Sara Lapp, Helen Leamy, Lornis Leverton, Alvin Lawver, Donald Lawver, Rowland Lawver, Camelia Lewis,
Colin Mackenzie, Louise Mahle, Murrle Mallory, Russell Mallory, Mary Ellen Manion, George Manus, Vivian Martin, Foy Matter, Loren McClanathan, John McDonald, Loretta McGrath, Roberta McLees, Marjorie Messler, Hildegard Metzel, Dorothy Meyers, Kenneth Meyers, Olga Mielke, Ernest Miller, Marshen Miller, George Mitchell, Melvin Mitchell, Ruby Adelle Mitchell, Emma Molter, Gladys Molter, Julia Molter, Fred Montiegel, Margaret Moore, Lily Mosely, Robert Moss, Catherine Mueller, Thelma Mulnix, William Murphy, Kenneth Myers,
Don Nelson, Evelyn Nelson, Mildred Nesemeyer, Russell Nesemeier, Carl Noe, Margaret Norton,
Dorothy Ogden, Marion Olson, Harry Oman, Gertie Orendorf, Gladys Ottenhausen,
Charles Pack, Louise Packard, Doris Patterson, Ruth Peters, Dorothy Phillips, Bethel Pifer, Eileen Plunkett, Ruth Pressler, Vernena Puls, Ralph Putnam,
Roy Rabb, Henry Raepple, Bernard Raveny, Lorene Ravenowsky, Louise Raymer, Leroy Reed, Mildred Reed, Thelma Richard, Charles Richards, William Ridgway, Melford Rizner, Donald Roberts, Elizabeth Roche, Victor Rockey, Russell Rockow, Muriel Rockwell, Virginia Rotzler, Glen Runkle, Arline Ruthe, Mary Ryan,
Maude Saliday, Edna Sartorius, Margaret Sauer, Agnes Scanlon, Lucille Shepley, Mildred Schlegel, Russell Schmidt, Ruth Schockey, Robert Schroeder, Mary Schwarze, Grace Sensanbaugh, Lucile Shepley, Kenneth Shunk, Clarice Sites, Kathryn Sluiter, Dawn Smith, Wilma Snyder, Maud Soladay, Helen Speilman, Bowen Staver, Anita Steele, Lovetta Steele, Russell Steele, Frederick Steffen, Leona Steffen, Donald Stewart, William Steffen, William Stimpert, Bernard Stulte, Kenneth Swank,
Clifford Taylor, Maxwell Taylor, Carl Temple, Clyde Thomas, William Thomas, Goldye Timms, Bernice Trepus, Theodore Turner,
Arthur Voigt, Bernice Volkers, Esther Volkers,
Julia Wachlin, Florence Wadleigh, Ralph Wadleigh, Lyle Wagner, Mildred Walbaum, Russell Wallace, Ruth Weaver, Clarence Weber, Roger Wheeland, Charles Wieber, Hugh Williams, Thomas Willie, Gertrude Wilson, Jack Wilson, Lyle Wise, Gordon Wright,
Vivian Youngblood, Elroy Yde, Wilhelmina Yde.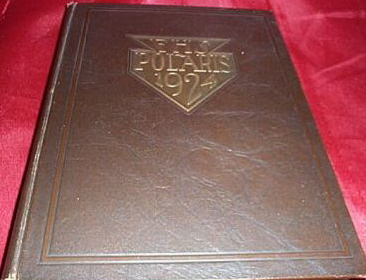 The 1924 Polaris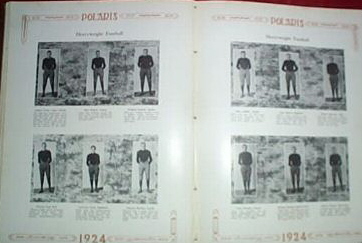 The 1924 Football Team
The Freeport High School football team of 1924 under Coach Pat Holmes, capped off an 11-0-0 record with a 33-0 win at Ansonia, Connecticut, to claim the mythical National Championship.
---
John H. Baker, Class of 1924, great-great-grandson of William "Tutty" Baker, the founder of Freeport, was a standout football and basketball player. He was born in Freeport September 5, 1905, the son of Bert Baker and attended Lincoln grade school. He married Alice O'Rourke on October 14, 1932. He owned Baker's Walgreen Pharmacy in Rockford. He died May 16, 1959.
---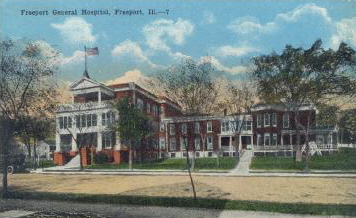 Freeport General Hospital in 1924.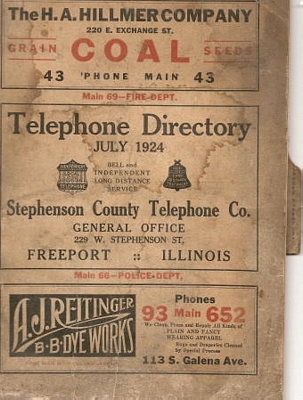 1924 Telephone Directory
---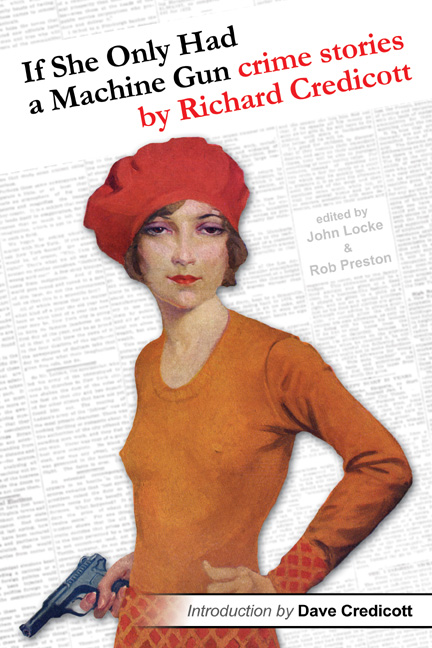 Because of the extensive info about FHS on this site, interesting people contact me. John Locke, author of this book, contacted me for information about the Credicott family, and specifically about Richard Credicott. I graduated in 1966 with Richard's son, Dave. Both John & his co-author, Rob Preston, came to my home one day and I got to show them the 1924 Polaris and several others.
Richard Credicott, a 1924 Freeport High Pretzel, established himself in 1930 as one of the best writers in the new gangster fiction magazines appearing on the newsstands during Prohibition's twilight. This collection reprints all 18 stories he published in a brief and intense career, from magazines like The Dragnet, Gangster Stories, Mobs, and Dime Detective; wildly entertaining tales of mob mayhem, Tommy-gun battles, and tantalizing molls—gang girls with happy trigger-fingers. Extensive introductory material discusses Credicott's life in Freeport, writing career, and legacy. His story offers rare insights into the ups and downs of breaking into the pulps in the early years of the Depression, and glimpses of Freeport during the tempestuous '20s, including the experiences of some real-life Freeport gangsters. Reminiscences of Richard Credicott's life are provided by his son, Dave Credicott, Freeport High class of 1966.
The Credicott family owned the Freeport Dairy, which produced Oak Brand Ice Cream.
The book can be purchased through Amazon.com.
---
Click on any year in the chart below to see the class and other info,
such as postcards, people and events from that year.