The Class of 1920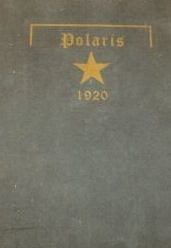 Harry Apel, Edna Althof, Esther Althof, Russell Askey, Vernon Ascher, Lilas Atchison,
Verdie Barker, George Barnds, Edna Balles, Ruby Beck, Donald Bennett, Georgia Bennethum, Philos Beuscher, Florence Bennett, John Beyers, Clifford Bixler, Ethel Bolender, Marjorie Borgmeier, Bruce Bowen, Arthur Brenizer, Donald Brubaker, Elmer Buss,
Paul Cramer,
Clara Dampman, Ralph Danielson, Florence Denton, Walker Dollmeyer,
Bernice Edler, Frances Eels, Gladys Ermold,
Sarah Firestone, Frances Fisher, Marion Fisher, Gertrude Folbridge, Dorothy Franks, Leona Franz, William Freidag, Ruth Funston,
Thelma Graham, Catherine Green, Ruth Greier, Jack Gugger,
Gladys Haase, Dorothy Haithcox, Ralph Haman, Harold Hamlyn, Mabel Haraldson, Leola Haren, Lillian Haren, Glenn Harrison, Chrystal Heeren, Paul Hermsmeier, Hal Hiatt, Lucius Hiatt, Oscar Hodel, Helen Hopper, Edward Hughes,
Bertha Ifert, Gladys Ilgen,
Dorothy Jastram, Paul Jones, Jeannette Jordan,
Isabelle Kaiser, Paul Kaiser, Doris Keck, Phil Keene, Alfred Keister, Irene Keister, Clyde Kennedy, Margaret Kiefer, William Knapp, Robert Knipschild, Katherine Kruger, Harry Kruse,
Beryl Laible, Bertha LaMar,
George Madden, Faith Martin, Ruth Martin, Alive Maves, Lucile McRae, Persis Meier, Edith Meyers, Helen Miller, Elizabeth Moore, Edwin Morris, Arthur Mullen,
Thera Neidigh,
Gertrude Phillips, Gertrude Price,
Katherine Redican, Dorothy Resh, Edward Rideout, Doris Risley, Neva Roberts, Margaret Roche, Ray Rockow, Willard Rubendall, Lillian Ruthe,
Viola Schlegel, Joseph Schudt, Ferral Shons, Alden Showalter, Levon Shunk, Edward Siegmeier, Lillian Spratler, Albert Staas, Louise Stephenson, Cloetta Stewart, Zella Stockwell,
Cyrus Taft, Tiffany Ellsworth Thayer, Dorothy Toelle, Sydney Torey,
Hannah VanDeest, John VanDeest, Cheryle Voght,
Iva Wachlin, Thelma Waldecker, Alice Wall, David Wallem, Gladys Walter, Elizabeth Welch, George Wheat, Nicholas Wilkey, Leon Wilson, Zelma Wubbena,
Madeline Younger.
Juniors in the 1919 Polaris
Oddly, neither the Class of 1920 nor any of the classes besides the seniors were listed by name in the 1919 Polaris.

The girls of Freeport High School Class of 1920, as Juniors.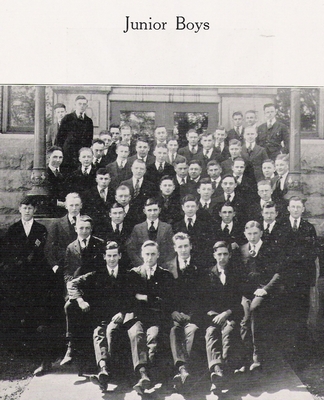 The boys of Freeport High School Class of 1920, as Juniors.
The Junior Class Officers were Walker Dollmeyer, President; George Wheat, Vice President; Ruth Funston, Secretary and Treasurer; and Vernon Ascher, Historian. The Board of Control (maybe now called Student Council?) was Persis Meier, Vernon Ascher, Francis Eels and Alden Showalter.
In the Junior class play, "Contrary Mary," the actors were Vernon Ascher, Levon Shunk, Albert Staas, Georgia Bennethum, Arthur Brenizer, Elmer Buss, Doris Keck, Edna Balles, Marjorie Borgmeier, Alden Showalter, Robert Knipschild and Myron Wisdom.
There was a memoriam to Charles Haggerty, but no mention of how he died. The Spanish Influenza killed many in Freeport in the previous year.
---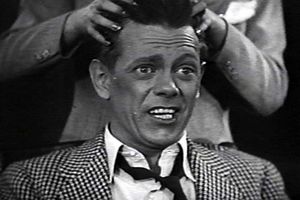 Tiffany Thayer dropped out at age 15 before graduating, but went through the Freeport schools with the Class of 1920. Born in Freeport March 1, 1902 to an actor father, Elmer Thayer, Tiffany worked as an actor, reporter, and used-book clerk in Chicago, Detroit, and Cleveland. He is shown in this photo in the 1936 film, The Devil On Horseback.
At age 16, he toured as the teen hero in the Civil War drama The Coward. In 1926, Thayer moved to New York City to act, but soon spent more time writing.
In 1931 Thayer co-founded the Fortean Society in New York to promote the ideas of author Charles Fort. The Society was headed by Theodore Dreiser. Early members of the original Society in New York City included Booth Tarkington, Ben Hecht, Alexander Woollcott and H. L. Mencken.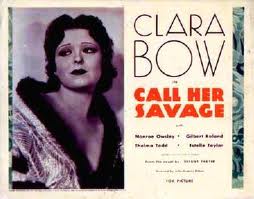 Thayer wrote several novels, including the bestseller Thirteen Women (1930) which was made into a movie starring Myrna Loy in 1932. Other movies include Clara Bow starring in Call Her Savage (1932), ZaSu Pitts starring in Strangers of the Evening (1932), Alan Ladd starring in Chicago Deadline (1949), and Fame is the Name of the Game (1966), adapted from Thayer's One Woman, starring Anthony Franciosa, Jill St. John, Jack Klugman, Robert Duvall and Nanette Fabray. Strangers of the Evening was also known as The Hidden Corpse.
Thayer wrote mysteries such as Murder Spree: Thirteen Men (1930). Thayer also wrote a number of novels which contain elements of science fiction or fantasy, including Dr. Arnoldi (1934) about a world where no-one can die. He also wrote America Needs Indians and Raped Again!, the latter described as a blueprint for enslaving entire populations. Thayer also wrote an edition of François Rabelais for children, Rabelais for Boys and Girls (1939).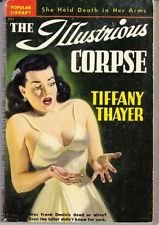 Thayer co-wrote LO! with Charles Fort. Other novels include Three Musketeers, One Woman, Little Dog Lost, Five Million in Cash, Three-Sheet, The Illustrious Corpse, The Cluck Abroad, Kings and Numbers, and The Greek.
Reviews of Thayer's works are quite amusing. Dorothy Parker wrote, "He is beyond question a writer of power; and his power lies in his ability to make sex so thoroughly, graphically, and aggressively unattractive that one is fairly shaken to ponder how little one has been missing." F. Scott Fitzgerald wrote, "curious children nosed at the slime of Mr. Tiffany Thayer in the drug-store libraries." William Tenn, recalling Dr. Arnoldi more than sixty years after he had read it, characterized it as "absolutely fascinating---and disgusting. . . . If you ever find a copy, give it to some sf fan you dislike. Your reward will be the baffled misery in his eyes after he's read it."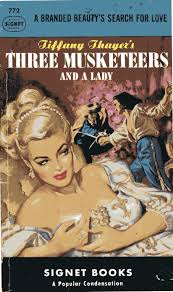 A reviewer recently wrote in his blog, Pretty Sinister Books, "I really don't know what to make of Thirteen Women (1932) by the eccentric stylist Tiffany Thayer. Is it a thriller? Is it a character study? Is it some kind of allegory on Fate? What I do know is it's tawdry, vulgar, lyrical, pulpy, poignant, disgusting, frustrating, infuriating, and utterly addictive. It's sort of the equivalent of driving by an utterly gruesome car wreck on the highway. You don't want to look, you know better. You, of course, are not a gawker or a rubbernecker. But when you get close enough you do slow down and you stare in horror and then look away, but you look back and you gape again. Then you move on. That's what it's like to read Thirteen Women."
Thayer was once an immensely popular author. His first novel, Thirteen Men, was reprinted 40 times in 20 years. After the success of his last novel, the Three Musketteers in 1939, he devoted the rest of his life to an enormous historical work, Mona Lisa. Projected to appear in seven installments, only the first, the three-volume, 1200 page, The Prince of Taranto (1956) was ever published.
Tiffany Thayer died in Nantucket, Massachusetts, on August 23, 1959.

---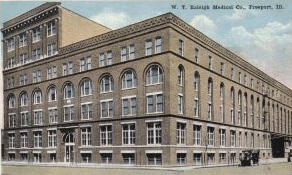 Card showing the W. T. Rawleigh Medical Company in 1920.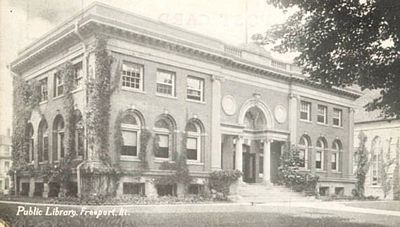 The Freeport Public Library in 1920.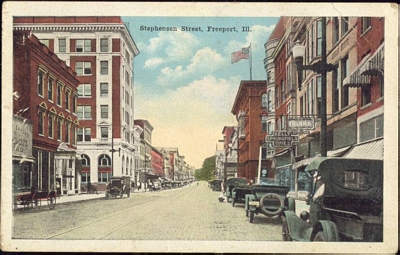 Stephenson Street in 1920.

---
Click on any year in the chart below to see the class and other info,
such as postcards, people and events from that year.