The Class of 2012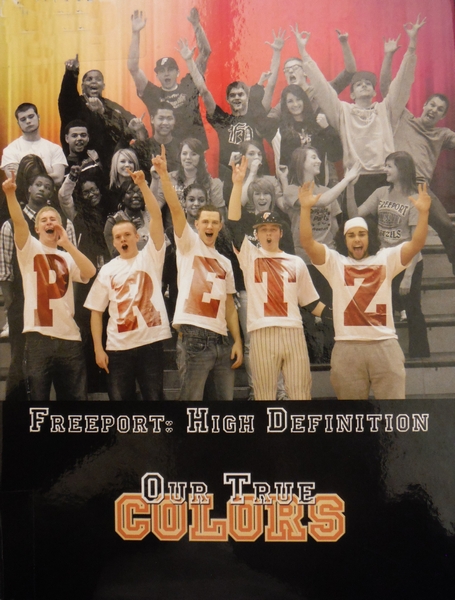 The 2012 Polaris
Kari Aaby, Montana Abraham, Javier Acevedo, Uriel Acevedo, Samuel Achterberg, Chastity Adams, Lil' Rob Adams, Larhonda Addison, Higinio Auilar, Abigail Alanis, Jessica Alexander, Willie Allen, Sarah Anderson, Schamar Anderson, Allison Andrews, Brittany Angell, Michelle Apodaca, Brandon Arachikavitz, Richard Arbogast, Nathan Arendt, Joshua Armentrout, Scott Armstrong, Myles Arnaiz, Joseph Arola, Merisol Arroyo,
Blaise Baptiste, Danielle Barber, Alexander Batten, Devin Best, Mikayla Boettner, Courtney Bowdry, Emily Bowen, Andrew Bower, Emily Brentner, Steffa Brentner, Brandon Brewer, Stephanie Brooks, David Brown, Elijah Brown, Gabrielle Brown, Mikelle Brown, Krell Bruce, Dwayne Buchanon, Tiphani Busch, Amanda Buske, Nichole Buss,
Breanna Calvin, Emily Carey, Courtney Cary, Devon Castle, Mariah Castle, Sheila Castle, Tiffany Castle, Latrice Cayce, Cassidy Challenger, Samantha Chambers, Chun-Yu (Nancy) Chen, Dawayne Clark, Christy Cole, Deja Collier, Richard Cornaccia, Josie Cotherman, Jenna Creuzer, Aaron Cummins,
Dustin Dach, Lucas Dahms, James Daly, Brittany Davenport, Demonte Davis, Fernanda De Assuncao, Joshua Dearth, Leah Defrane, Kalah Dirksen, Korinne Dodson, Rosa Dominguez, Kylie Doran, Nathan Doss, Shane Drake, Giselle Duarte, Jodeci Duong, Michael Dykstra,
Destaney Edgerton, Terrence Eggleston, Daniel Ehlers, Brittney Ellinor, Kadedra Euell,
Jodeci Fane, Tiona Farr, Christopher Farringer, Kimberlee Fazio, Carl Fedison, Gail Fernandes, Percy Fleming, Devonte Fletcher, Devin Foley, Anthony Frank, Michael Funk,
Melayah Gaither, Rachel Garman, Alex Gary, Christopher Gauthier, Amanda Genandt, Samantha Gerdes, Alexis Gibson, Erica Giedd, Michaela Gilliam, James Glynn, Lucas Goncalves, Michael Gordon, Tomas Gordon, Joshua Graf, Aaron Graham, Elizabeth Graham, Anthony Green, Ivan Grossman, Evan Groves, Laura Guderyon, De'Jae Guess, Sennia Gurun, Graham Gustoff, Michael Alan Guzzardo,
Jeremy Haas, Joshua Haas, Rachel Hale, Alicia Hall, Zachary Hallin, Kyle Hamilton, Cheyenne Harmon, Alexandria Harnish, Sheavontae Harris, Lauren Hartog, Krista Hille, Mia Hilton, William Hines, Davonte Hobbs, Michael Hoeft, Lena Hoffmeister, Justin Holden, Demetrius Hollins, Eryn Holmes, Kyle Hubb, Aissa Hughes, Halee Hull, Morgan Hurder, Heather Hutchison, Skyler Hutmacher, Zakkary Hybarger,
Stephanie Ihus, Jacob Isaacs, Acadia Ishmon, Jovontae Ishmon, Tykieta Ishmon, Willie Ishmon,
Kyler Jacobson, Kerry Jennings, Dominic Jiles, Nishita John, Janessa Johnson, Re'Gine Johnson, Samantha Johnson, Tysheldin Johnson, Cierra Jones, A'Kia Jordan, Brandon Jordan, Cassidy Joy,
Kevin Kaitschuck, Aaron Kalnins, Bradley Kappes, Shayna Karg, Alexander Kauffman, Cameron Keep, Dylan Keep, Alec Kerchner, Darius Kerney, Emily Kimpel, Devonte King, Jasmin Kloepping, Tanika Kloepping, Dennis Knoles, Jami Knox, Kimberly Kort, Sarah Kraai, Devin Krontz, Christina Kruger, Dorothy Krulas, Cassidy Kuehne, Zachary Kuehne, Annacelia Kuiper, Kolin Kutzke,
Deidre Lahre, Joshua Lamm, Celynn Lamothe, Janie Lark, Amber Lasco, Justin Lashelle, Zachary Lawson, Kristin Lebranch, John Leddy Jr., Katie Lehman, Jack Lehnherr, Tymario Lenoir, Kiley Lentz, Brian Lewis, Charles Lewis, Cornelius Lewis, Kierra Lewis, Jessica Long, Laticia Long, Justin Love, Breeona Lucas,
Alexis Macon-Nesemeier, Michelle Maher, Noelle Maher, Abigail Maize, Joseph Maloku, David Marck, Samuel Marshall, Kyle Maurer, Robyn Maxey, Nicholas May, Katlyn Mclain, Shakiyla McClain, Forrest McClellan, McCall McComber, Andrew McDermott, Taron McGee, Demetrius McIver-Kitch, Collin McKinney, Jessica McNeely, Antonio McShane, Dalton Meier, Sabrie Melchor, Jade Meyers, Jill Michelhaugh, Shadeed Monroe, Ashley Moore, Demitrius Moore, Jacob Moore, Mary Moore, Melissa Morrisett, Steven Mosby, Michael Mumford, Tyler Munson, Megan Myers, Michaela Myers, Robert Mysliwiec,
Jasmin Nava, Darren Nesemeier, Desamara Newton, Keeona Newton, Gabrielle Nickel-McCray, Zackery Nielsen, Luke Norman,
Ashley Oiler, Tyler Olson, Kadiesha Otto,
Olivia Page, Aquil Parker, Brittany Parker, Alyxzandrya Pempilton, Trey Pempilton, Edwena Peters, Kate Peterson, Grant Petran, Ashlynn Pierce, Rebbie Plunkett, Aimee Pontnack, Heather Prasse, Andrew Pratt, James Priewe, Jasmine Propst,
Josilyn Quintero,
Whitney Rademaker, Scott Rammelsberg, Erica Ray, Kayla Reed, Sarah Reed, Teresa Regez, Jessica Reidner, Tiffany Rice, Sierra Richards, Madison Riddell, Michael Roach, Cole Roberge-Wenger, Cathy Roberts, Victoria Rodriguez, Emily Roemer, Andrea Roloff, Breanna Ross, Za'Quan Roundtree, Cordre Rucker, Makayla Rucker, Elisa Ruiz, Kaitlyn Russell,
Brandon Sabin, Kassidy Sack, Edmundo Saldivar, Desean Sanders, Hannah Sandstrom, Arturo Santacruz, Natasha Sargent, Cody Saylor, Jenna Schardt, Megan Schierer, Evan Schrader, Kyle Schwendinger, Jasmine Scott, Kyle Seal, Erin Seiple, Aaron Shaffer, Emily Shaw, Amanda Sheffield, Justin Sherrer, Katherine Simler, Tannen Skriver, Aerile Smith, Scott Smith, Tiffany Snyder, Michael Spangler, Kevin Spradlin, Cory Squires, Erika Stampfli, Kahley Stark, Tyler Steele, Daniel Steenrod, Kayla Steil, Megan Stenzhorn, Brandon Stephenson, Molly Stewart, Emmert Stimpert, Dylan Stites, Cody Stolfus, Cody Strasser, Cody Striffin, Brady Swanson, David Swanson,
Ryan Talley, Travis Tallman, Andrew Tamalurides, Da'Joh'Na Taylor, Eric Taylor, La'Tayshia Taylor, Dominique Teague, Devon Tensley, Jonathon Tessmann, MacKenzie Thomas, Alyssa Thruman, Vonjee' Tillmon, Zachary Toepfer, Claire Tolliver, Johannah Tomita, Samantha Treadway, Wanique Tripp, Brandon Truckenmiller, Fabian Trujillo, Camreise Turner, Michael Tuttle,
Bryan Ulmer,
Marcus VanBrocklin, Maria Vazquez-Acevedo, Jasmine Veasley, Kasandra Villareal, Timothy Vorwald,
Courtney Walker, Johnnie Walker III, Tevin Walker, Kailyn Wall, Nicole Walsh, Cornelia Ware, Paul Ware, Lauren Wasylyk, Jerrica Watson, Noah Weaver, Alice Webb, Ashley Wendling, Shane Werntz, Colin Wescott, Anique White, Briana White, Cammeron White, Allison Wilhelms, Zechariah Wilkinson, Chanice Williams, Keeynan Williams, Mason Williams, Rachel Williams, Kenneth Williamson, Chasity Wilson, Cylie Wilson, Justin Wilson, Dominique Winfrey, Moriah Winker, Noell Witte, Kortni Wong, Natalie Woodall, Latonya Wright, Cody Wurster,
Doris Yancey, Amber Yeary, Diondraye Young, Matthew Young,
Roseanne Zettle, Daniel Zimmerman, Chloe Zuberbuhler, Aaron Zuck.
Includes members shown in 2009 & 2012 Polarises.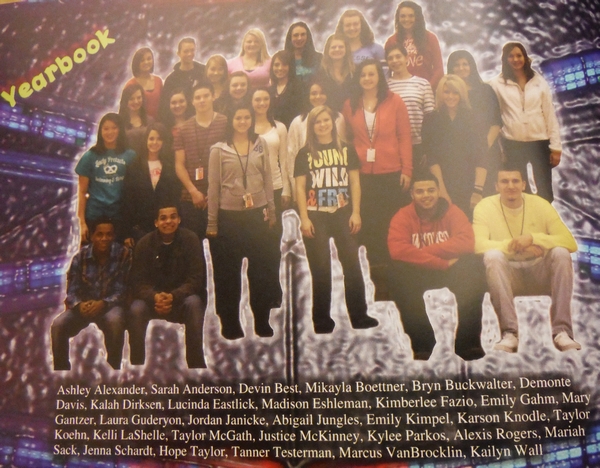 The 2012 Polaris Staff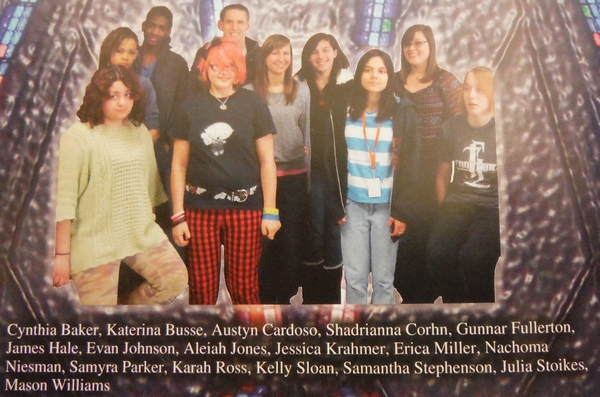 The 2012 Pretz News Staff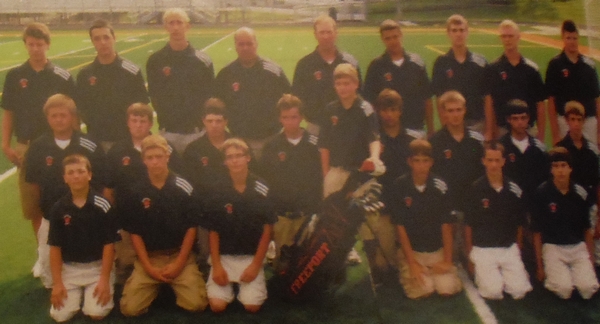 The boys golf team finished 8-1.
Front: Aaron Davis, Wade Dodson, Collin Stark, Anthony Welt,
Dylan DeBello, Quintin Heidenreich.
Middle: Benjamin Bastian, Owen Wagner, Adam Werntz, Michael Roach, Cooper Helm, Adam Beach, Benjamin Woods,
Caleb Moring, Cameron Koehn.
Back: Daniel Arana, Mitchell Boettner, Jacob Nesemeier,
Coach Budden, Coach Gallie, Andrew Dorman,
Christopher Kornfeind, Dustin Dach, Sam Michelbaugh.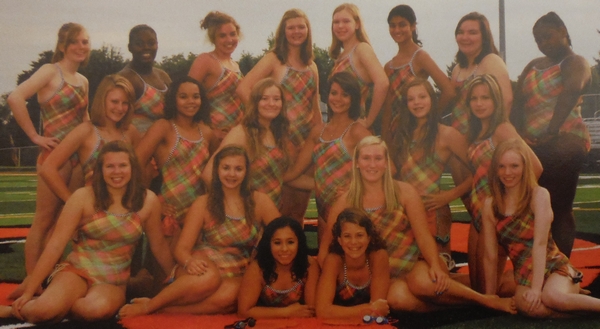 The girls swim team.
Front: Rebecca Ensor, Erin Kohlbauer, Lannette Herrera, Emily Schierer, Erica Giedd, Kelly Sloan.
Middle: Caitlyn Brugger, Alexandria Kohn, Kasey Jacobson, Megan Schierer, Lexie Joy, Anastasiia Otiakvs'Ka.
Back: Morgan Hurder, Kyliah Hughes, Leigh Hartog, Fiona Neary, Emily Colberg, Gail Fernandes, Elysia Rodriquez, Marshae Bowen
Not shown: Emily Tomita, Mary Gantzer, Sage Archer.

2012 All-Conference NIC TEN
Coaches of the Year:
Jeff Zick, Boys Basketball
Mike Pisula, Girls Swimming
Ashley Alexander, Junior, Basketball, Soccer
Marisela Arana, Sophomore, Track
Michael Bennett, Senior, Football
Devin Best, Senior, Football
Bryn Buckwalter, Volleyball, Basketball, Track
LaKonka Collins, Sophomore, Track
Aaron Cummins, Senior, Swimming
Lucas Dahms, Senior, Soccer
Korrine Dodson, Senior, Golf
Gail Fernandes, Senior, Swimming
Michael Gordon, Senior, Soccer
Haley Grunewald, Freshman, Soccer
Leigh Hartog, Sophomore, Swimming
Allyson Hayner, Freshman, Soccer
Justin Holden, Senior, Soccer
Armond Hollins, Junior, Wrestling
Kasey Jacobson, Freshman, Swimming
Kyler Jacobson, Senior, Bowling
Evan Johnson, Junior, Bowling
Malasia Jordan, Junior, Pom Pons
Lexie Joy, Freshman, Swimming MVP
Abigail Jungles, Sophomore, Track
Ryan Lane, Junior, Baseball
Kierra Lewis, Senior, Softball
Julia Luecke, Junior, Soccer
Stevie Luy, Junior, Bowling, Softball
Andrew McDermott, Senior, Swimming
Jacob Nesemeier, Junior, Swimming
Luke Norman, Senior, Basketball
Trey Pempilton, Junior, Wrestling
Trey Pempilton, Senior, Wrestling
Kate Peterson, Senior, Cross Country, Track
Justice Reed, Junior, Wrestling
Alessandra Reedy, Junior, Golf
Mike Roach, Senior, Golf
Emily Scheirer, Sophomore, Swimming, Soccer
Megan Scheirer, Senior, Swimming
Sidney Schneider, Junior, Softball
Evan Schrader, Senior, Baseball
Ashley Simmons, Sophomore, Track
Daniel Steenrod, Senior, Swimming
Kylee Strohecker, Sophomore, Bowling
Taylor Swanson, Junior, Soccer
Haley Swords, Sophomore, Soccer
LaTayshia Taylor, Senior, Softball
Devin Valentine, Sophomore, Track
Anna Walker, Sophomore, Pom Pons, MVP
Adam Werntz,Junior, Golf
Christopher Wiley, Sophomore, Bowling
Eleanor Willging, Sophomore, Cross Country, Track
Adam Winters, Sophomore, Tennis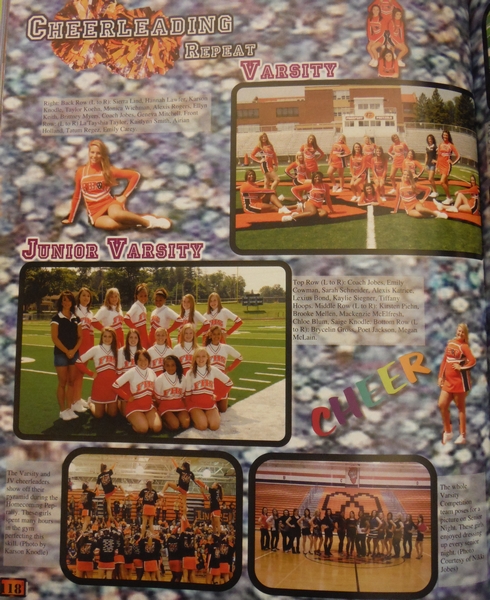 Cheerleading

---
Faculty
Paula Ackerman, Lucille Adams, Karen Alt, Roberta Andrews,
Melody Babcock, Sabrina Backus, LaFrancine Baker, Michael Banghart, Lisa Bardell, Shellie Barth, Julie Barsch, Margaret Bausman, Robyn Baxter, Yvonne Bell, Beth Benedetto, Erica Berchtold, Marie Berhard, Victor Berry, Daniel Blackbourn, Delores Blasing, Barry Boettcher, Lois Bollman, Connie Bollon, Elizabeth Bowen, Allison Brouhard, Bonita Brouhard, Michelle Brown, Vanessa Brown, Kevin Budden,
Tammy Calow, Bev Castle, Frank Chapman, Cherice Clowers, Gina Cole, James Cole, C. Cole, Martrice Collier, Rebecca Connors, Timothy Connors, Elliott Cooper, Heather Cornellius, Whitney Cummins,
Peggy Deboer, Michael Dechy, Jeannette Diddens, Dana Dinderman, Lynn Dunn,
Dulce Eastlick, Martha Ebner, Richard Eiler, Jessica Ellis, Michele Elzen, Kelly Everding, Paul Everding,
Tamberlyn Farmer, Roger Fegan, Nicholas Fellows, Jeffrey Fitzpatrick, Kim Fricke, Steven Fricke, Terrie Fuller,
Matthew Gallie, John Giuffre, Cindy Gordon, Mary Gorham, Jamie Graf, Alan Greene,
Patrick Hardy, Stacy Hartman, Collin Hayes, Jennifer Heiden, Paul Heimer, Zachery Heitz, Christing Herbig, Chad Hersey, Tara Hersey, Patricia H.?, Sandi Hilton, Jeffrey Hirz,
Lisa Johnson, Teresa Julius,
Jennifer Kanosky, Linda Kathen, Michelle Keister, Wanda Kerchief-Mendoza, Amy King, Sandra Kraft, Bill Krahe, Pam Kuper,
Kathy Lamm, Brandon Lamm, Amy Larson, Jeffrey Lawfer, Jeffrey Lehman, Lisa Lind, Jaimie Long,
Christine Mackey, Barbara Marck, Kayla Marquez, Linda Marske, Nicholas Martin, Lori Mcintosh, James McLallen, James Mertz, Carole Michael, Matt Milliken, Audrey Moore-Howard, David Mouri,
Nick Namio,
Jamie O'Brien, Jacie Ogden,
Justin Pasch, Esther Paspula, Derek Paulsen, William Petersen, Beth Peterson, Larry Phillips, Ryan Pierce,
Diane Regan, Christine Reinders, Kathy Reuber, Ricky Robinson, Jamie Rodriguez, David Roloff, Alison Rosheisen, Nancy Rummel,
Officer JoLynn Sanders, Jeff Sands, Alexander Sarver, Jeffrey Schierer, Jenny Schneiderman, Larry Seiple, Maurice Sellers, Danelle Setterstrom, Jewel Shockey, Kelly Simler, Rhonda Singleton, Jennifer Slaght, Connie Smith, Elizabeth Smith, Wendy Smith, Carrie St. Andrews, Samantha Stayton, David Steenrod, Angela Stralow, Lauri Swalve, Sarah Swords,
Harry Taylor, Connie Taylor, Steven Tellefson, Sherry Thiel, Andrew Tollberg, Amy Tolu-Honary, Janet Tomita, Neal Trainor, Joseph Turek, Jamie Turner,
Diana Ulsh,
Martha Wachlin, TAvari Warren, Elwyn Webb, Jennifer Whitson, Aaron Wichman, Beth Wichman, Bill Williams, Ravi Wilson, James Winker, Carol Winter, Robert Winter,
Justin Yeager,
Noelle Zarembski, Thomas Zelski, Jeffrey Zick.
---
Click on any year in the chart below to see the class and other info,
such as postcards, people and events from that year.