The Class of 1855
While FHS was not yet on the graded system with classes, there were students attending.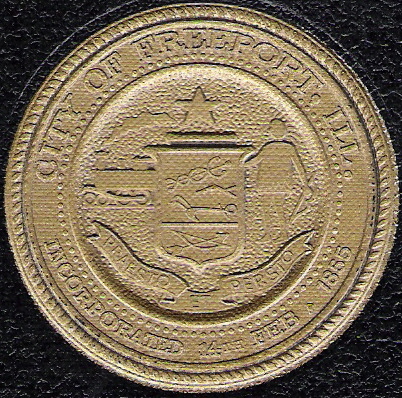 The City of Freeport, Illinois Official Seal shows that the city was incorporated on the 14th of February, 1855. The seal was shown on the cover of the 1966 Polaris.
Perhaps Freeport should be known as the City of Love because of its founding date, rather than Pretzel City!
---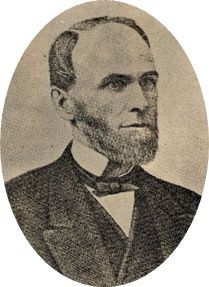 Thomas Johnston Turner, 1815-1874, was the first Mayor of Freeport, Illinois, elected in 1855. Although he did not go to Freeport High School, he did study law in Freeport.
Turner was born in Trumbull County, Ohio, on April 5, 1815. He moved to Freeport in 1838, studied law, was admitted to the bar in 1840, and started his law practice in Freeport. He became judge of the probate court of Stephenson County in 1842, Postmaster of Freeport in 1844 and State District Attorney in 1845.
He established the first weekly newspaper in Stephenson County, The Prairie Democrat, in 1847. The next year, The Freeport Journal was started. These and other newspapers eventually were merged into today's Journal Standard, which has been published under that banner since 1913.

Turner was elected as a Democrat to the Thirtieth Congress, and served in Washington, D. C. from March 4, 1847 until March 3, 1849. A Republican from downstate Illinois at the same time was elected and served the same time, a fellow by the name of Abraham Lincoln. This was the beginning of a long friendship between the two men.

Turner had an active law practice. His law partner was John B. Scroggs (left); they practiced together until 1866.

While no one has saved Turner's correspondence, people have saved the correspondence of Mr. Lincoln, and the two exchanged letters in regard to legal matters several times through the years. Lincoln archivists have letters between the two dated from February 8, 1850 to November 11, 1853. A letter dated June 27, 1853, ends, "I should be glad to see you & shake you by the hand; but as there is no contested jury question, I scarcely think you need be at the trouble & expense of coming. All the law questions which can arise at this term, the Judge has already decided. Very truly yours, A. LINCOLN"

Freemason Thomas J. Turner was Master of Excelsior Lodge No. 97 in Freeport in 1854, and Grand Master of the Grand Lodge of Illinois, from 1863-65. He received the Royal Arch degree in Freeport Chapter No. 23, R.A.M., and was Senior Warden of Freeport Commandery No. 7, K.T. in 1864-65.

He was elected to the State House of Representatives in 1854, and served as Speaker of the House.
In 1855, Thomas J. Turner was elected the first mayor of Freeport, Illinois.

On August 27, 1858, Turner introduced Abraham Lincoln during the Lincoln-Douglas Debates that would determine who would become the United States Senator from Illinois. While Turner backed Lincoln, Stephen A. Douglas (left) referred to Turner during the debates, and even asked him questions. Turner's replies are part of the debate!
Lincoln and Douglas were debating slavery, and Douglas branded the Republican Party as the Black Republican Party, using the strong racist views of the day to influence voters. Quoting from the debate transcripts:

Mr. DOUGLAS: "In 1854, after the death of Clay and Webster, Mr. Lincoln, on the part of the Whigs, undertook to Abolitionize the Whig party, by dissolving it, transferring the members into the Abolition camp and making them train under Giddings, Fred Douglass, Lovejoy, Chase, Farnsworth, and other Abolition leaders. Trumbull undertook to dissolve the Democratic party by taking old Democrats into the Abolition camp. Mr. Lincoln was aided in his efforts by many leading Whigs throughout the State, your member of Congress, Mr. Washburne, being one of the most active. Trumbull was aided by many renegades from the Democratic party, among whom were John Wentworth, Tom Turner, and others, with whom you are familiar."

[Mr. Turner, who was one of the moderators, here interposed and said that he had drawn the resolutions which Senator Douglas had read.]

Mr. DOUGLAS: "Yes, and Turner says that he drew these resolutions. ["Hurrah for Turner," "Hurrah for Douglas."] That is right, give Turner cheers for drawing the resolutions if you approve them. If he drew those resolutions he will not deny that they are the creed of the Black Republican party."

Mr. TURNER: "They are our creed exactly."

Mr. DOUGLAS: "And yet Lincoln denies that he stands on them. Mr. Turner says that the creed of the Black Republican party is the admission of no more slave States. . . ."
A few minutes later, Douglas again turns to Turner:
Mr. DOUGLAS: "I want to know of Mr. Turner whether or not, when he was elected, he was a good embodiment of Republican principles?"

Mr. TURNER: "I hope I was then and am now."

Mr. DOUGLAS: "He swears that he hopes he was then and is now. He wrote that Black Republican platform, and is satisfied with it now. I admire and acknowledge Turner's honesty. . . "
And again:
Mr. DOUGLAS: "Mr. Turner, who stands by me, and who then represented you, and who says that he wrote those resolutions, voted for Lincoln, when he was pledged not to do so unless Lincoln was in favor of those resolutions. I now ask Mr. Turner [turning to Mr. Turner], did you violate your pledge in voting for Mr. Lincoln, or did he commit himself to your platform before you cast your vote for him?"
Douglas did not wait for a reply, and plunged forward:
Mr. DOUGLAS: "I could go through the whole list of names here and show you that all the Black Republicans in the Legislature, who voted for Mr. Lincoln, had voted on the day previous for these resolutions. For instance, here are the names of Sargent and Little of Jo Daviess and Carroll, Thomas J. Turner of Stephenson, Lawrence of Boone and McHenry, Swan of Lake, Pinckney of Ogle County, and Lyman of Winnebago. Thus you see every member from your Congressional District voted for Mr. Lincoln, and they were pledged not to vote for him unless he was committed to the doctrine of no more Slave States, the prohibition of slavery in the Territories, and the repeal of the Fugitive Slave law."
While Douglas won the election to the U.S. Senate in 1858, the tens of thousands who read every word of the debates across the country were impressed with Lincoln, and elected him President in 1860.

Thomas J. Turner was selected to be a delegate to the Peace Convention held in Washington, D. C., in 1861 in an effort to prevent the Civil War.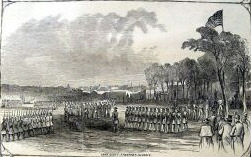 When the Peace Convention effort failed, Turner enlisted in the Union Army and on May 14, was elected by a vote of 529 to 367 by the volunteers to be Colonel of the Fifteenth Regiment, Illinois Volunteer Infantry.
The 15th Regiment was mustered at Camp Scott in Freeport on May 24th. Camp Scott was established as a staging area in 1861 on the present site of Freeport Senior High School. Camp Scott may have been named after General Winfield Scott, who was an important figure in the Blackhawk War peace process. Left, Camp Scott, Freeport, Illinois, as shown in Harper's Weekly, June 15, 1861.
A few weeks later, after receiving instructions at Alton, they left for the field.
Their first battle was in Missouri. Colonel Turner and the 15th served honorably in many battles in Missouri, Tennessee and Mississippi.
Colonel Turner resigned because of bad health on November 2, 1862.
The regiment suffered six officers and 81 enlisted men who were killed in action or who died of their wounds and five officers and 135 enlisted men who died of disease, for a total of 227 fatalities.

Colonel Turner and the 15th Regiment were ordered to report to Alton, Illinois, on June 1, 1861, and were on duty there until July 15, 1861. They moved to St. Charles, Missouri, then to Hannibal, Jefferson Barracks and Rolla, from July 15-August 7.
They advanced toward Columbus August 29-September 8, and joined Fremont's Army at Tlpton on October 1. They were attached to the Department of Missouri until February, 1862.
In March 1862, the 15th went to the District of West Tennessee, and served with the Army of the Tennessee in battles in Tennessee and Mississippi through Turner's resignation in November, 1862.
Battles that Colonel Turner and the 15th Regiment were involved in include:
Fremont's advance on Springfield, Missouri., October 13-November 3, 1861.
Capture of Fort Donelson, Tennessee, February 16, 1862.
Occupation of Pittsburg Landing, March 14-17.
Battle of Shiloh April 6-7.
Advance on and siege of Corinth , Mississippi April 29-May 30.
March to Memphis, via Grand Junction, Holly Springs and Lagrange, June 1-July 21.
Battle of Hatchie River, October 5.
Grant's Central Mississippi Campaign.
Operations on the Mississippi Central R. R. from Bolivar to Coffeeville October 31, 1862, to January 10, 1863.

Battles after Turner's resignation include:
Duty at Memphis until May, 1863.
Siege of Vicksburg, Mississippi, May 22-July 4.
Siege of Jackson, Mississippi, July 10-17.
Assault on Jackson July 12.
Capture of Fort Beauregard September 4.
Meridian Campaign February 3-March 5, 1864.
Champion's Hill, Baker's Creek, February 4.
Movement to Cairo, Illinois, then to Clifton, Tennessee, and march to Ackworth, Georgia, via Huntsville, Alabama, Decatur, Alabama, and Rome, Georgia, April 28-June 8.
Atlanta Campaign June 8 to September 8.
Regiment consolidated with 14th Illinois Infantry July 1, 1864, as 14th and 15th Illinois Battalion Infantry.
Action at Big Shanty October 3, Ackworth October 4, Morris Station October 4, Allatoona Pass October 5.
March to the sea November 15-December 10.
Siege of Savannah December 10-21.
Campaign of the Carolinas January to April, 1865.
Pocotaliga, South Carolina January 14-16; Combahee River January 25; Salkehatchie Swamps February 2-5; Rivers' Bridge, Salkehatchie River February 3; South Edisto River, Binnaker's Bridge February 9; Orangeburg, North Edisto River February 11-12; Columbia February 15-17; Cheraw March 3; Battle of Bentonville March 19-21; Occupation of Goldsboro March 24, and of Raleigh April 14; Bennett's House April 26; Surrender of Johnston and his army.
Regiment reorganized at Raleigh, North Carolina April 28, 1865, from 14th and 15th Battalion Infantry.
March to Washington, D. C. via Richmond, Virginia April 29-May 19.
Grand Review May 24.
Moved to Louisville, Kentucky June 7-10, then to St. Louis, Missouri, and Fort Leavenworth, Kansas.
March to Fort Kearney July 1-14, and duty on the plains till September 1.
Ordered to Fort Leavenworth, Kansas.
Mustered out at Fort Leavenworth, Kansas, September 16, 1865.
Throughout the war, the 15th traveled by foot, boat and train, a distance of about 11,000 miles. The officers were Col. Thomas J. Turner, Senior Major William R. Goddard, Junior Major Rufus C. McEathron, and Surgeon William J. McKim.

After the war, Thomas Turner was a delegate to Illinois State Constitutional Convention from the 56th District from 1869 to 1870.
He was an unsuccessful Democratic candidate for United States Senator in 1871.
Thomas J. Turner died at Hot Springs, Arkansas on April 4, 1874. He is buried in City Cemetery in Freeport.

Thomas Turner married Adeline R. Burnside. They had three children, Alice, Thomas E., and Jennie. He was also married at one time to Margaret Mitchell.
---
One-year terms through 1863.
Two-year terms through 1921.
Four-year terms starting 1924.
Part-time with a city manager position in 2017.
Name
Bio
Term
Colonel Thomas Johnston Turner
follow link
1855
A. Cameron Hunt
follow link
1856-1857
John W. D. Heald
He was elected as an alderman in 1856, mayor in 1858, and to the school board in 1860.
1858
Denard Shockley
1859
Hiram Bright
He became an attorney in 1854. In 1860 he was a 38 year old attorney/farmer. About this time he sold his farm in Harlem township to Thomas Ewing. In March 1865, Bright went into business with Augustus Frederick Broad. They sold boots and shoes as well as books and stationary. In February of 1867 the partnership dissolved and Augustus continued to do business alone
1860
Francis W. Hance

Born July 3, 1825 in either Wheeling, WV or Belmont County, Ohio, he was a physician and surgeon. He completed a literary course at Franklin College in Athens, Ohio, and earned his medical degree from the University of Pennsylvania in 1849. He married Mary B. Chamberlain of New York in 1849. He moved to Freeport in May 1853. In 1878, he was named the first president of the Stephenson County Society of Physicians and Surgeons; the name was later changed to the Stephenson County Medical Society. Mary Hance died September 24, 1873; Francis died September 15, 1896.

1861
Urban D. Meacham
Born in New York state on March 12, 1816, he moved to Freeport in 1852. He was elected State's Attorney, served as clerk of the circuit court, and was a well-known attorney, practicing in Stephenson County for 28 years. He died in January 1892 at age 75.
1862
Charles Butler
He was a founding member and Secretary of the Evergreen Lodge in Freeport in 1855.
1863
John F. Smith
He was on the executive board of the Freeport Driving Park Association, incorporated September 10, 1875, for the purpose of developing speed and purity of breed in horses. This led to horse racing at Taylor Park.
1864-1866
David H. Sunderland
Born in Vermont on July 26, 1822, Sunderland was the first schoolteacher in "The Little Red Schoolhouse" during the winter of 1845-1846. He was paid $20 per month. An average of 50 students attended every day. He clerked for a while in O. H. Wright's mercantile business. He was county clerk of Stephenson County starting with a special election June 1855 and was elected to four-year terms in 1857 and 1861, serving a total of ten years. In 1857, he was one of four founders of the German Insurance Company. In 1867, while mayor, he became President of the Copper Scroll Lightning Rod Company, which produced 210,000 feet of copper lightning rods per year. He was the first Corresponding Secretary of the Old Settlers' Association, started January 1, 1870. In March 1880, he was named Supervisor of the Census.
1867-1868
C. J. Fry
On the Board of Directors for the First National Bank at its founding on February 24, 1864. Built the three-story Fry's Building in 1864-1865 at the corner of Stephenson and Chicago. The building housed stores on the first floor, offices on the second floor, and the Masonic Lodge on the third floor. On the Board of Directors for Freeport schools in 1867.
1869-1870
E. L. Cronkite
He was elected to the Illinois State House of Representatives three times, 1872, 1874 and 1876. In 1878 he ran for State Treasurer. The vote was:
J. 0. Smith, Republican, 215,283;
E. L. Cronkite, Democratic, 169,965;
E. N. Bates, National, 65,673;
J. R. Gavin, Prohibition, 2,192.
He was a member of the Winneshiek Lodge, the Western Star Encampment of Patriarchs, the Grand Lodge of Perfection, the Freeport Council Princes of Jerusalem, the Freeport Commandery K.T., and was Vice President at the founding of the Freeport Driving Park Association.
1871-1872




Jacob Krohn

Born in Germany, February 22, 1832, he arrived in Freeport in 1855. He manufactured and sold cigars. In 1861 he built a large store on Stephenson street. In 1871 he invested in the Second National Bank, becoming one of its directors; in 1877 he was appointed acting cashier, and in 1884 became the bank's president. He was mayor four years and oversaw the state fair in Freeport. He was Third Ward Alderman for five years. He was President of the Board of Education when the high school was built. He was a member of the County Board of Supervisors, on the building committee for the courthouse. He had eight children; daughter Edna graduated from Freeport High School in 1898. He died June 21, 1901.
1873-1874
A. P. Goddard
Alpheus P. Goddard, President of the Freeport Railway, Light and Power Company, was born in Franklin County, N. Y. His parents, Benjamin and Mary Pierce Goddard, moved to a farm three miles from Freeport in December 1835 when he was two years old, and was one of the earliest families in Stephenson County. The family moved into Freeport in 1838. He was prominently identified with the development of Freeport, serving as alderman, mayor and member of the board of supervisors. He also served in the Civil War as first lieutenant in the Illinois Volunteer Infantry, and was brevetted a captain for honorable service. He fought in the siege of Vicksburg and in the battles of Jackson and Champion Hill. He and his father built Goddard's Flouring Mills. He died February 12, 1905 at the age of 72.
1875-1876
Jacob Krohn
see above, 1873-74
1877-1878
E. L. Cronkite
see above 1871-72
1879-1880
James McNamara
Born in Fremont, Ohio on August 27, 1846, he moved to Freeport in 1867. He became a wholesaler and retailer of shoes and boots.
1881-1884
August Bergman
Born in Germany on September 27, 1835, he moved to Freeport in 1852 and made bricks until 1860. In 1864 he opened Bergman and Dorman, livery stable and dealers in agricultural equipment. He was elected street commissioner in 1864, and served six years as alderman. He was a trustee of St. John's German Evangelical Church.
1885-1888
Charles Nieman

Born in Germany in 1847, he moved to Freeport in 1875 and owned the Freeport Syrup Refinery. It closed in 1880, and he became co-owner of Freeport Vinegar Works (later known as Charles E. Meyer & Co.), makers of cider, cider and wine vinegars, syrups and molasses. It was located in a brick building near the tracks of the Illinois Central and Chicago & Northwestern Railroads in southeastern Freeport. With 14 employees, they produced 50 barrels per day, and sold all over the midwest. He married Margaret C. Adler, a grammar school principal in New York City. They had had four children. He was District Deputy Grand Chancellor of the Knights of Pythias. In 1885 he was elected Third Ward Alderman.

1889-1892
August Bergman
see above, 1885-1888
1893-1894
James P. Younger
He died February 15, 1919, in Chicago.
1895-1898
Albert Baumgarten

Albert Baumgarten, Cyrus Tobias and Edward H. Morgan started the Arcade Manufacturing Company in 1885. It had previously been known as the Novelty Iron Works, founded by Edward H. and Charles Morgan in 1868. Arcade manufacturing originally occupied a one-story building on Chicago Avenue. In 1893 it opened in the Arcade Addition.

1899-1900
G. A. Huenkemeier
Gustave married Mary Kochsmeier, and built up a grocery business. He was elected alderman from the second ward.
1901-1902
C. J. Dittmar
He was a delegate to the 1916 Democratic National Convention in St. Louis, which resulted in the nomination of Woodrow Wilson for his second term as President and Thomas Marshall for Vice-President.
1903-1908
William Thomas Rawleigh
follow link
1909-1910
C. J. Dittmar
See above, 1903-1908
1911-1912
Charles F. Franz
1913-1914
Harry H. Stahl
1915-1918
W. L. Calkins
1919-1920
Al N. Stephan
1921-1924
Oscar E. Mellom
1924-1928
George Edler
1929-1930
J. W. Nelson
1931-1932
John A. Ascher
1933-1934
J. W. Nelson
1935-1936
Luke Stuart
1937-1941
Earl E. Miller
1941-1949
Glen F. Kunkle
1949-1961
Joe D. Shelly
1961-1969
Mark B. McLeRoy
1969-1989
Dick Weis
1989-1997
James L. Gitz
follow link
1997-2005


George Gaulrapp

Freeport Mayor George Gaulrapp signs documents after being sworn into his second term by Judge James Hauser on May 4, 2009. Gaulrapp said his administration would embrace progressive thinking during the next four years. "We will continue to have an open-door policy at City Hall. The only difference is, we are going to focus our time and resources on people who want to move Freeport in a positive direction and offer solutions."

Click on photo to see the original from the Journal-Standard.

2005-2013
James L. Gitz
follow link
2013-2017
Jodi Miller
In 2016, voters decided to go to a city manager type of government and make the mayor a part-time ceremonial position.
2017
---
Population of Freeport, Illinois
| | | | |
| --- | --- | --- | --- |
| Year | Population | Increase/Decrease | %± |
| 1835 | 1 | | |
| 1840 | 491 | 490 | |
| 1849 | 1020 | 971 | 107.7 |
| 1850 | 1436 | 416 | 40.8% |
| 1860 | 5376 | 3640 | 274.4% |
| 1870 | 7889 | 2513 | 46.7% |
| 1880 | 8521 | 632 | 8.0% |
| 1890 | 10,189 | 1668 | 19.6% |
| 1900 | 13,258 | 3069 | 30.1% |
| 1910 | 17,587 | 4329 | 32.7% |
| 1920 | 19,669 | 2082 | 11.8% |
| 1930 | 22,045 | 2376 | 12.1% |
| 1940 | 22,368 | 323 | 1.5% |
| 1950 | 22,467 | 99 | 0.4% |
| 1960 | 26,628 | 4161 | 18.5% |
| 1970 | 27,736 | 1108 | 4.2% |
| 1980 | 26,266 | -1470 | -5.6% |
| 1990 | 25,840 | -426 | -1.6% |
| 2000 | 26,443 | 603 | 2.3% |
| 2010 | 25,638 | -805 | -3.0% |
| 2011 | 25,630 | -8 | -.03% |
---
Click on any year in the chart below to see the class and other info,
such as postcards, people and events from that year.