The Class of 1913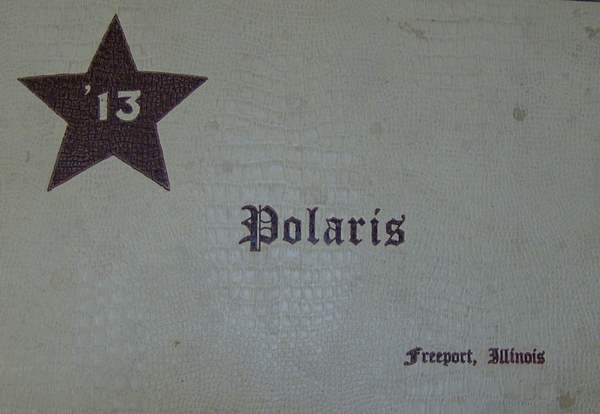 Max Antrim, Gladys Andres,
Lillian Barrett, Lola Baymiller, Mae Bean, Brace Beeler, Helen Berry, Beryl Bertalot, Robert Betts, Henry Biersach, Jeanette Borgmeier, Raymond Britt, Angelina Brockmeier, Bethel Brown, Minnie Brunnemer, Charles Malcolm Byerly,
Lloyd Clifford, Bessie Craiger, Leslie H. Crockett,
Leonard Davis, Mary DeBeer, Louise Dittman,
Cathryn Farnum, Leone Fetterhof, Lawrence Fisher, Vera Foss, John Frank,
Herbert Grattelo,
Alta Haithcox, Zella Harnish, Dorothy Hettinger,
Hazel Ifert,
William Jungkunz,
Jennie Kahl, Marcie Kennison, Hugh Kleckner, Vernon Klontz, Ruth Knoble, Vivian Kostenbader,
Mary Lacy, Robert Langenstein, Frances Lavelle, Harriet Lennox, Arthur Lentz, Henry Lichtenberger, Lee Lonnergan, Bessie Luce, Edith Lyon,
Charles Markel, Esther Matter, Enolia McCluhan, Eleanor McClurkin, Elmer McCool, Marie Merck, Viola Meyers, Weber Meyers, Ellsworth Mulnix,
Julius Nix,
Agnes Osborn,
John Petrie, Marie Pfeil, J. Maurice Phillips, Wilma Pierce, Jean Place, Luella Powell, Bert Prall,
Muriel Rice, Leonora Rideout, Thomas Rigney, Oscar Rippberger, Katheryn Royer, Edwin Ryan,
Helen Schulte, Marie Schulte, Iola Schulz, Newell Sensanbaugh, Lloyd Sensenbaug, Ethel Shearer, Kurt Siecke, Ruth Smith, Sidney Smith, Clarence Snyder, Harold Snyder, Vida Snyder, Blanche Soper, Gertrude Stadel, Alex Steenrod, Ralph Stein, Harry Stine, Mildred Swartz,
Lois Taggart, Clarice Taylor, Robin Thomas,
Irene Ulrich,
Amanda Vaupel,
Flossie Wagner, Winnifred Wareham, Fred Wheat, Mary Wilson,
Edward D. Young, Gladys Youngblutl.
---
World War I Veterans from the Class of 1913
Ensign Max Antrim served with the U.S. Merchant Marine, Atlantic Service.
Raymond Britt was a Chief Quartermaster, Naval Aviation, U.S. Navy Hospital Corps, from June 1917 to December 1918.
Charles Malcolm Byerly was in Officer's Training School at Camp Grant, Rockford.
Lloyd Clifford served in the U.S. Navy aboard the Battleship "St. Louis."
Leslie H. Crockett was in the U. S. Naval Reserve Force attached to the "Norman B. Ream" and the "U.S.S. Mayflower."
Lieutenant Leonard Davis was in the Artillery at Fortress Rosecranz, San Diego, California.
Lawrence Fisher served with an Ambulance Unit in Italy.
Corporal Herbert Grattelo served with the U.S. Cavalry in Texas.
Sergeant William Jungkunz served in the Quartermaster's Department, Salvage Company 1, at Camp Kearny California.
Sergeant Hugh Kleckner was with the 342 Infantry, overseas.
Vernon Klontz was in Ensign School with the Navy at Municipal Pier, Chicago.
Arthur Lentz served in the army.
Robert Langenstein served in the Infantry. He was Killed in Action.
Henry Lichtenberger served with the 17th Company, C.A.C., at Fort Williams in Portland, Maine.
Charles Markel served with the First Division, Aero Squadron, at Ellington Field in Houston, Texas.
Sergeant Elmer McCool was in the Infantry.
J. Maurice Phillips enlisted in the Navy in June of 1917 and served on board the "Hancock."
Bert Prall was a Quartermaster at Newport, Rhode Island.
Edwin Ryan served in the Navy.
Newell Sensanbaugh was a Private in the Marine Corps. He was sent to Paris Island and Quantico, Virginia.
Lieutenant Kurt Siecke served with the Signal Corps.
Clarence Snyder served with the Truck Corps.
Harold Snyder was a Private at Headquarters Company, 13th Regiment, F.A.R.D., Camp Jackson, South Carolina.
Alex Steenrod trained at the Coast Artillery Officer's Training Camp.
Harry Stine served with the Quartermaster's Department in Philadelphia, Pennsylvania.
Fred Wheat served in the Infantry, Fort George, Spokane, Washington.
Edward D. Young was in Officers Training Camp, Jos. E. Johnston, Florida.
---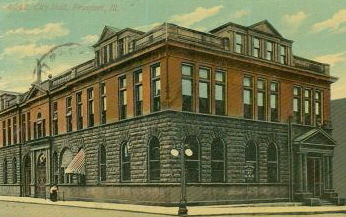 Freeport City Hall, as shown on a card postmarked in 1913.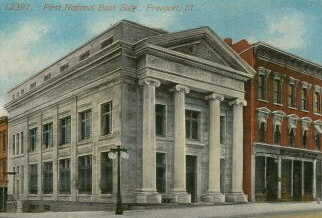 First National Bank in 1913.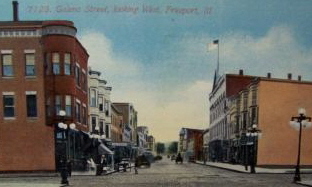 Galena Street, now known as Main Street.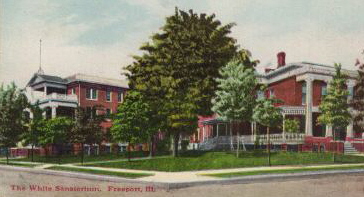 White Sanitarium in 1913.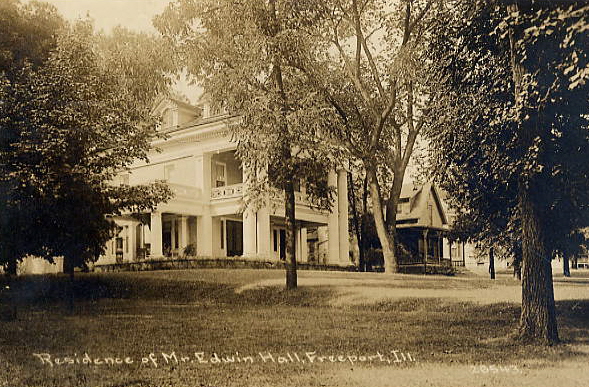 Not only were public buildings the subject of postcards in the early 20th century, but apparently some private residences were worthy as well. Shown on a card postmarked in 1913 is the residence of Mr. Edwin Hall. This house is located on W. Stephenson Street. Hall was a director of the Security Trust Company, located in the Tarbox Building.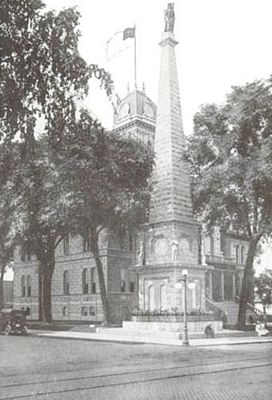 The Stephenson County Courthouse and Soldiers' Monument. Note the bricks of Stephenson Street, the trolley tracks, a street lamp, and a couple of people sitting on the wall.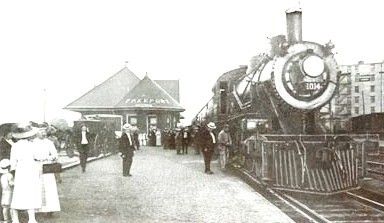 The Illinois Central Railroad depot, with steam engine number 1034.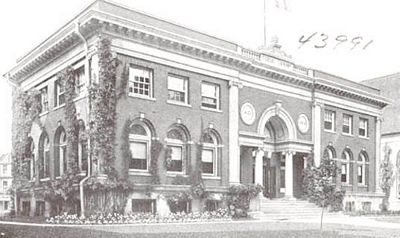 The Freeport Public Library.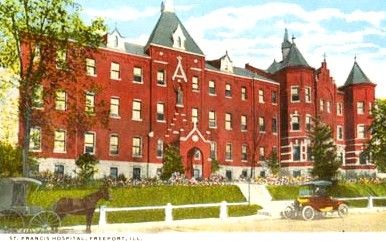 St. Francis Hospital in 1913.
---
Click on any year in the chart below to see the class and other info,
such as postcards, people and events from that year.