The Class of 1873
Addison Bidwell, Cashier, First National Bank, Freeport.
Lillian Burrell married D. C. Miller, Meckling & Vermillian, South Dakota.
Kate DeForest, journalist, Paris, France. Correspondent for Harper's Bazaar.
Clara S. Hawes, teacher, Freeport, and later librarian, Pittsfield, Massachusetts.
Anna Murphy, teacher, Chicago.
Elida Pattison married H. D. Bentley, Freeport.
Lizzie Prentice married F. A. Read Jr., Freeport.
William H. Taggart, dentist, Chicago.

---
Graduation was held at Wilcoxon's Opera House on the evening of June 25. There was a frightful thunderstorm that evening. C. C. Snyder was principal and chemistry instructor. Dr. O. E. Stearns presented the diplomas. Clara Hawes was salutatorian. William Taggart was valedictorian.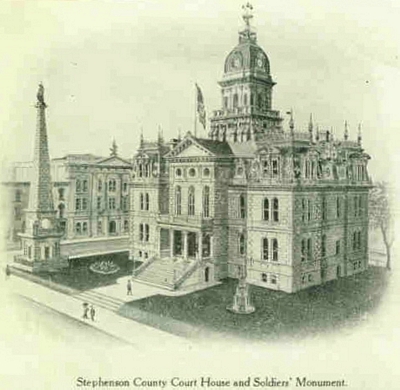 Finished in November of 1872, dedicated on February 22, 1873, Stephenson County's second courthouse was built without issuing bonds for a cost of $130,413.56. An iron fence surrounding it was removed in 1900. It was heated with stoves and lit with gas lights. While the outer portion was Joliet marble, the lower structure of the building was built with arches and metal, and the upper portion was wood.
The clock in the dome was built by Seth Thomas. The 1850-pound bell struck the hours. The clock wore out in 1913, and it was rebuilt. In 1915, one of the 500-pound weights that kept the 8.5-foot pendulum moving came loose and fell through two floors. By 1923, it no longer could keep the correct time. In 1927 the clock was dismantled and stored, and the dome was removed.
The second court house was torn down in 1974, and replaced with the "modern" courthouse on the same site. Many wish that the magnificent old building had been updated.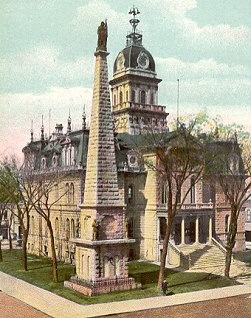 ---
Click on any year in the chart below to see the class and other info,
such as postcards, people and events from that year.
.