The Class of 1925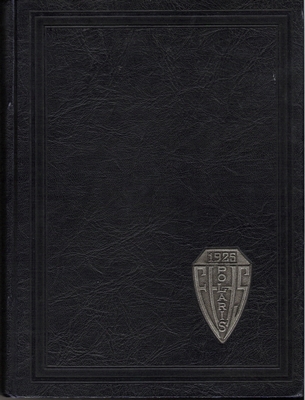 Catherine Ackerman, Opal Althoff, William Ascher,
Theodore Babcock, Joanna Beck, Lorraine Becker, Edith Beine, Verla Berg, Clarence Bittner, Mildred Boedeker, George Bolender, Russell Borchers, William Brooks, Frances Brice, Edna Brinkmeier, David Burrell, Waldemar Bury,
Eileen Cahill, Eugene Chitty, Dorothy Clark, Ena Cook, Raymond Cram, John Cross,
Edna Daacon, John Daacon, Beatrice Davis, Gertrude Demeter,
Nellie Eder, Eleanor Engle, Leslie Evans, Emerson Evers,
Leroy Farnum, Alice Forry, Dorothy Frank, Vernon Fry, Charles Furst,
Vivian Gleason, Earl Goodman, Viola Graff, Germaine Griffin, Verna Grimm,
Lois Haitheox, Esther Hall, Lois Hanke, Ruth Hansen, Horrace Herrick, DeVore Hitchner, Oscar Hummermeier,
Harry Ibler,
Marion Jenner, Elizabeth Johnston, John Jurgensmeier,
Ralph Kachelhoffer, Alice Kepner, Pauline Kieckhaefer, Louella Klaas, Theodore Klatt, Gladys Klein, Margaret Knauff, Helen Koym, Irene Kramer, Orlo Krell,
Arnold Lamm, Tom Lawless, John Leamy, Edward Ledwith, Clarence Lied, Lucile Lindsey, Elizabeth Loos, Leona Liebenstein,
Ellwood Madden, William Madden, Murrel Mallory, Wilbert Martin, Foy Robert Matter, Fred Jephson, Annetta McDermott, Alice Meyer, Paul Meyers, Marsden Miller, Maxine Miller, Theron Miller, Roscoe Mitchell, Lois Moersch, George Morse, James Murdaugh,
Berniece Nelson, Laura Nesemeyer, Gladys Nestle, Theodore Neiman, Tom Neiman,
Josephine Osborne, Kenneth Ostergerg, Jeanette Ottenhausen,
Charles Pack, Helen Perry, James Pollock, Grover Popp, Lois Price,
Tom Redican, James Richards, Thelma Richard, William Ridgway, Earl Ross, Bernard Rought, Roswell Ruthe,
Robert Sage, Arthur Saltzer, Edith Saxby, Gladys Saxby, Theodore Schleuning, Earl Schofield, Kenneth Schulz, Marian Selby, Gertrude Sender, Gerald Sheridan, Quentin Smith, Viola Smith, Virginia Smigh, Martha Speer, Fred Steffen, Gladys Steineke, Evelyn Stephan, Mary Stevens, Rena Stocks, Edward Sullivan, Anna Sweeney,
EvelynTielkemeier, Robert Toelle, Edwin Trunck,
Evoda Van Loh,
Velma Wachlin, Kathryn Wall, Ardath Walrod, Bernice Weiler, Roger Wheeland, Benjamin Wilkin, Clarence Wilson, Leslie Wilson,
Charles Young, Walter Young.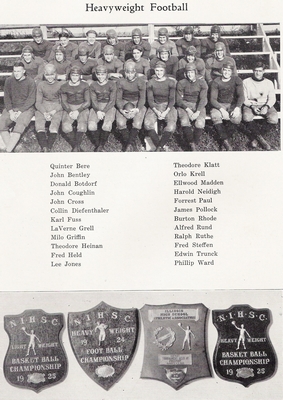 Intersectional football games, popular at the time, established mythical National Champions.
Freeport won at Ansonia, Connecticut in 1924 and claimed the National Championship.
The Heavyweights first won the Big Seven title. The team captain was Bill Brooks.
Freeport finished the season a perfect 11-0.
The rivalry with Rockford was always the biggest game of the season. In front of the biggest crowd that ever saw a football game in Northern Illinois, Freeport beat Rockford 24-0.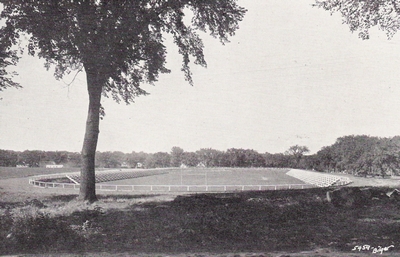 Freeport hosted Chicago's Englewood High School for the State Championship, and beat them 33-0.
Freeport then travelled to Ansonia, Connecticut to play on their field on Thanksgiving Day. Ansonia had been undefeated for four years and was widely regarded as the best in the east. Freeport beat Ansonia on their home field, 33-0.
Freeport was crowned National Champion.
After the game, they visited the Yale Bowl, then went sightseeing in New York City.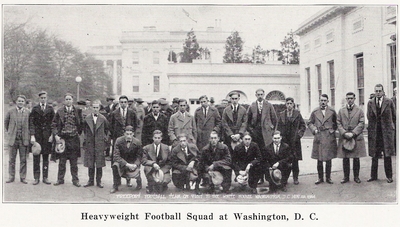 Then the team travelled to Washington, D. C.
The team was honored at the White House and each team member got to shake hands with President Calvin Coolidge!
The photo above shows the team posing at the White House. The members of the 1924 Freeport High School National Championship team were Quinter Bere, John Bentley, Donald Botfdorf, John Coughlin, John Cross, Collin Diefenthaler, Karl Fuss, LaVerne Grell, Milo Griffin, Theodore Heinan, Fred Held, Lee Jones, Theodore Klatt, Orlo Krell, Ellwood Madden, Harold Neidigh, Forrest Paul, James Pollock, Burton Rhode, Alfed Rund, Ralph Ruthe, Fred Steffen, Edwin Trunck and Phillip Ward.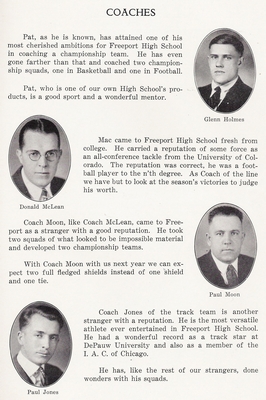 Glenn "Pat" Holmes coached both the football and basketball teams. His assistants were Donald McLean and Paul Moon.
Holmes graduated from Freeport High School in 1916. He played on the FHS State Championship basketball team of 1914-1915.
Moon coached the lightweight team and assisted with the heavyweights. McLean was an all-conference tackle at the University of Colorado.
Paul Jones, a track star at Depauw University coached the FHS track team.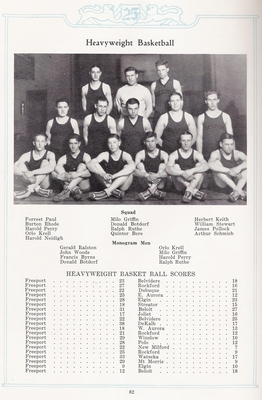 The 1924-25 Heavyweight Basketball team were the undefeated champions of the Big Seven Conference.
Freeport won the Regional Meet of the State Tournament, but lost by a single point at the Sectionals to Elgin, the eventual state champion.
The team finished the season with a final record of 17-3.
Team members were Forrest Paul, Burton Rhode, Harold Perry, Orlo Krell, Harold Neidigh, Milo Griffin, Donald Botdorf, Ralph Ruthe, Quinter Bere, Herbert Keith, William Stewart, James Pollock and Arthur Schmich.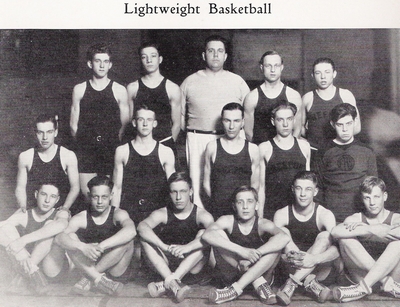 The 1924-25 Lightweight Basketball squad also won the Big Seven conference championship, and finished with a record of 9-2.
Team members were Forrest Bender, Donald Blackiston, Howard Broughton, Harry Ibler, Maurice McClanathan, Herbert Stimpert, Edward "Pete" Strahm, John Swartz and Quinter Bere.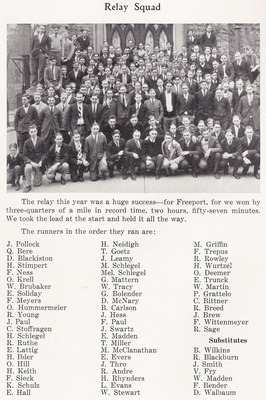 There used to be a relay race run between Rockford and Freeport in a race between the two high schools.
FHS won the relay this year by three-quarters of a mile in record time, two hours and fifty-seven minutes. Freeport started fast and held the lead through the entire race.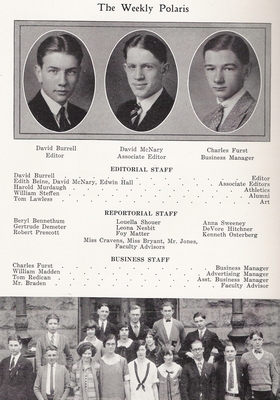 The weekly newspaper was known as the Weekly Polaris.
David Burrell was editor, David McNary was Associate Editor, and Charles Furst was Business Manager.
The editorial staff included David Burrell, David McNary, Edith Beine, Edwin Hall, Harold Murdaugh, William Steffen and Tom Lawless.
The reporters were Beryl Bennethum, Gertrude Demeter, Robert Prescott, Louella Shouer, Leona Nesbit, Foy Matter, Anna Sweeney, DeVore Hitchner and Kenneth Osterberg.
The advisors were Miss Cravens, Miss Bryant and Mr. Jones.
The business staff was Charles Furst, William Madden, Tom Redican and faculty advisor Mr. Braden.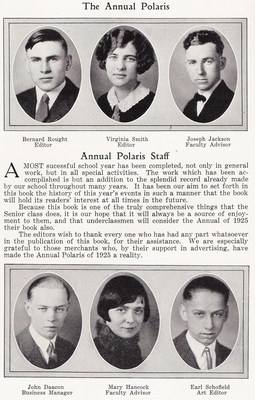 Bernard Rought and Virginia Smith were editors of the Annual Polaris. Joseph Jackson was the faculty advisor.
John Daacon was the Business Manager; Earl Schofield was the Art Editor and Mary Hancock was the faculty advisor.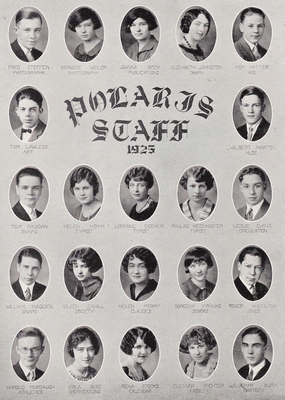 The Polaris Staff, pictured above, left to right:
Fred Steffen, Berneice Weiler, Joanna Beck, Elizabeth Johnston, Foy Matter
Tom Lawless, Wilbert Martin
Tom Radican, Helen Koym, Lorraine Becker, Pauline Kieckhaefer, Leslie Evans
William Madden, Eileen Cahill, Helen Perry, Dorothy Franks, Roger Wheeland
Harold Murdaugh, Verla Berg, Rena Stocks, Eleanor Richter, Waldemar Bury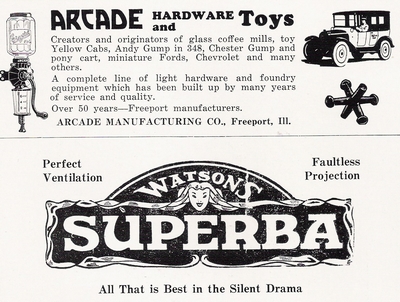 Advertisers help offset the enormous cost of publishing the Polaris each year. There were a lot of advertisements in the 1925 Polaris. I selected a few, shown above and below. My grandfather worked at the Arcade, and I have some Arcade Toys. The Superba movie theater advertised silent films. The Lindo theater, known as the Freeport Theater when I was growing up in Freeport, was refurbished in 2007, though it probably doesn't have the advertised "Eight-Piece Orchestra" or "Grand Pipe Organ". The old Licondo Hotel, with portraits of Lincoln, Douglas and the debate memorial stone.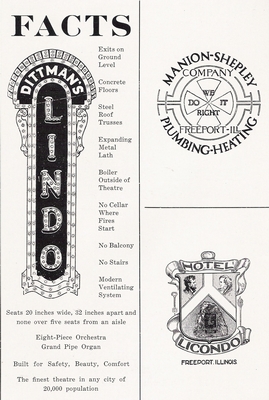 ---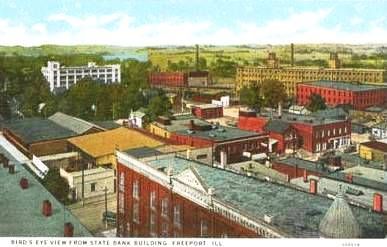 Bird's eye view of Freeport from the roof of the State Bank building. In the background at left, the white building is Furst-McNess. The large yellow building at back right is Henney Motors.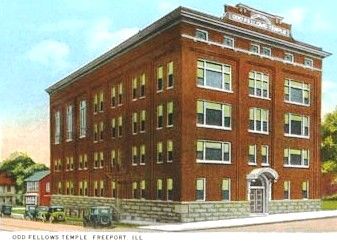 A postcard showing the Odd Fellows Temple in 1925.
---
Click on any year in the chart below to see the class and other info,
such as postcards, people and events from that year.