The Class of 1953

Roger Ackerman, James Adams, Carol Albrecht, Charles Allen, Gerald Allen, Thomas Altenbern, Lois Ammerman, Shirley Anderson, William Anderson, Ronald Armagost,
Bonita Babcock, Carol Bamberg, Mary Bartell, Jane Baxter, Mary Becker, Sharon Benoy, David Bishop, Barbara Bittner, Gary Blehinger, William Bourneman, David Brandt, Jean Briggs, Judith Broughton, Gerald Brubaker, Arthur Brumfield, Gloria Burnett,
Delbert Carley, Joan Carter, Patricia Church, Donald Clock,
Donald Dame, Ruth Dascher, Melvalen Davis, Willa Davis, James Doherty, Calvin Deininger, Phyllis Dickman, Jeannine Diddens, Doris Didier, Leda Dietrich, Gary Dinges, Shirley Dirksen, James Dodson, Arlin Doering, Hope Dupee, Roger Duitsman,
Ronald Ehrlich, Mary Engels, Patricia Evers,
Joseph Fair, Frederick Fairbairn, Verma Farrar, Mary Ferguson, Shirley Ferguson, John Fletcher, Joanne Fletcher, Onalee Fosha, Joanne Fransen, Marilyn Fullerton, Alison Furst,
Mary Gartman, Gerald George, Carolyn Giessel, Diane Grahl, Roger Gray, John Greene, Jacklyn Groves, Henry Guffey,
Rogene Hagemann, Janice Hagens, Virginia Hagens, William Hannah, Dolores Harbach, Lawrence Harriss, Stanley Hartog, Rosemary Hasse, James H. Hayner, Keith Heck, Sandra Homan, Gloria Hunefield, Robert Hunter Jr.,
Faye Jackson, Irene Jacobs, Joan Jacobs, Jo Ann Jacobs, Clarlyn Johnson, Juanita Johnson, Eugene Julius, Robert Jury,
LeAnne Kahl, William Kammer, Marilyn Karl, James Ketelhut, Duane Kielsmeier, Herbert Kilburn, Sandra Kirchberg, Ann Kirkman, Marilyn Klages, Karl Klentz, Berniece Klontz, Joyce Kline, Kirby Koeller, Gerald Koeller, Charles Koon, James Koym, George Krehl,
Robert Lamm, Angelo Lasco, Minnette Lenoir, Floreida Lenz, Rose Llewellyn, Ronald Loewe, Marie Long, Neal Louthain, Wes Luedeking,
Grant MacKenzie, James McCaffrey, Janet McLain, James McLarnon, Don McLean, Gail Mackert, Mary Madden, Emma Marassa, Donald Marchesi, Marcia Marcum, Milton Markley, Joyce Marsh, Richard Mathiot, Richard Maxey, Gene Meads, Bob Merrill, Marilyn Metcalf, William Metzger Jr., Coleen Meyer, Patricia Meyer, Joanne Meyers, Barbara Miller, Mary Miller, Virginia Miller, Arlene Mitchell, Alice Moerk, Richard Mueller, Carmine Myers,
Tom Nack, W. Donald Nesemeier,
Kerry Padfield, Donald Penticoff, William Penticoff, Nancy Peters, Ann Peterson, Janet Place, Richard Pohl, Judith Price, Richard Rees, Joan Rideout, Barbara Rinehart, Catherine Rockey, Dianne Rockey, Robert Rockey, Donald Ross, Myles Rothstein, Shirley Rozman, Larry Rubendall, Rober Rubendall, Dorothy Runkle, Connie Russell, Joe Russell, Frank Rutter Jr., Ward Ryan,
Emily Saeger, Richard Sauer, Richard Schmelzle, Charles Schuler, Lynette Schwitz, Carol Shain, Joyce Shain, Larry Shelly, Janet Sherwood, Robert Skeel, Lona Slamp, Sara Snook, Alison Snyder, Dick Snyder, Daniel Sommers, Larry Stees, Al Stewart, Suzanne Stewart, Barbara Stimpert, Jenlyn Stocks, Nelda Stoner, Jacqueline Stubbe, Leslie Robert Stukenberg, James Symens,
Shirley Tinsley, James Turner,
Helen Vallarta, Roger Vandenberg, James Van Vleck, Roger Voss, Ronald Voss,
Elizabeth Wahlstrom, Dolores Walter, Kathryn Walters, Arthur Watkins, Hazen Weier, Jean West, Phillip Wichman, Juanita Williams, Bob Willis, Bill Woods, Margaret Woodward, John Woodward, Ann Wurtzel,
George Yde, Ronald Yde, Sandra Youmans.

---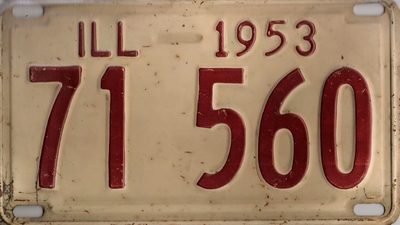 My father's 1953 license plate.

---
Click on any year in the chart below to see the class and other info,
such as postcards, people and events from that year.