The Class of 1916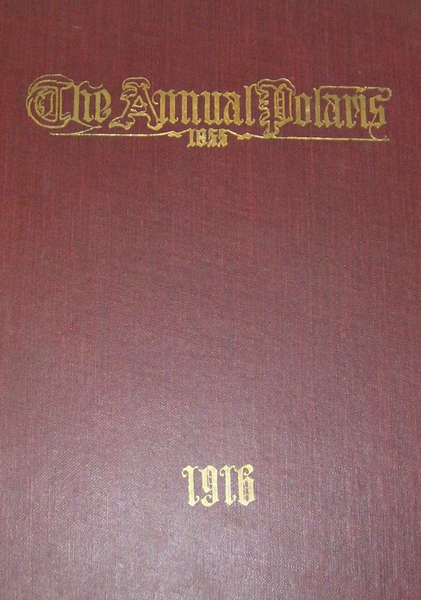 Stanley Antrim, Ralph Aspinwall,
Margaret Bauch, Merton Beck, John Bennehoff, Mae Betts, Margaret Blust, Homer Boelter, Ray Bolender, Orville Borchers, Myrtle Brobst, Bethel Brown, Clark Brubaker, Gladys Brubaker, Frances Burrith,
Dorothy Cardin, Lucille Carter, Lois Clark-Nokes, Ruth Countryman,
Florence Dampman, Edwin Davis, Theodore Demeter, Edwin Dildine, Paul Dustman,
Dewey Eder, Jennings, Eder, Dorothy Ellis, Dwight Emerick, Doris Engle, William Ennenga, Elmo Eson,
LeRoy Foss, Phyllis Freidag, Doris Freidag, Elizabeth Fugate,
Valerie Geraty, Marguerite Goodman, Edward Grant, Marion Gray, Florence Green-Smith, Martha Gueth, Roy Guhl,
Donald Hanke, Herbert Hannah, Harwood Herlocker, Harold Hettinger, Boyd Hill, Carl Hoffman, Glenn Holmes, Douglas Hurley,
Gertrude Janssen,
Katherine Keene, Marie Keller, Emil Kirchner, George Kleckner, Bernice Knapp, Russell Knott, Henry Kunz,
Cleo Lamb, Charles Lavelle, Josephine Lawver, Hilda Luedeking, Marie Ludolph,
Frances Manion, Margaret Maurer, Ardath Mishler, Blanche Moyer, Emory Mulnix, Laura Murdaugh, Maxcie Musselman-Kahl,
Bertha Newman-Shook, Ruth Nute,
Elizabeth Osten, Dan Owens,
Lynn Peters, Rose Phillips,
Frank Reed, Ella Reedy, Marie Reints, Elsie Resh, Orletta Rideout, Marie Rigney, Marion Rockey, Russell Ryan,
Barbara Schar, Amy Schenken, Vernie Schleneing, Genevieve Schmich, Lettie Schmertmann, Madelyn Schumacher, Edward Seitz, Clifford Snively, Harold Snyder, Hazel Spielman, Ethel Stewart, Freda Stoller, Harold Sumner, Helen Swanzey, Margaret Sweeney,
Olga Tappe,
Ruth Vaupel,
Margaret Wagner, Harold Waldecker, Alice Wilkey, Paul Williams, Ethyl Witt, Earl Woodring,
Viola Young,
Charles Zipf.
---
World War I Veterans from the Class of 1916
Ralph Aspinwall, S.A.T.C., Beloit.
Ray Bolender, U.S. Aviator Station, Paneelas, France.
Clark Brubaker, Ordinance Department, Camp Hancock.
Edwin Davis, Ordnance Department, France.
Theodore Demeter, U.S. Marines, 6th Regiment, 75th Company. Killed in Action.
Dewey Eder, S.A.T.C., University of Illinois.
Dwight Emerick, Aerial Cadet, Ellington Field.
William Ennenga, Navy, Great Lakes Naval Training Station.
Elmo Eson, S.A.T.C., University of Illinois. Died of Spanish Influenza.
Marion Gray, 160 Aero Squadron, France.
Roy Guhl, S.A.T.C., "Y" College, Chicago.
Donald Hanke, Navy.
Boyd Hill, Naval Aviation Station, Boston.
George Kleckner, Officer's Training Camp, Waco, Texas.
Russel Knott, Army.
Dan Owens, Quartermaster's Corps, France.
Clifford Snively, S.A.C.O.T.S., Camp Zachary, Kentucky.
Harold Sumner, 76th Field Artillery, Battery A, France.
Harold Waldecker, Medical Corps, Fort Riley, Kansas.
Earl Woodring, Marine Corps, Paris Island, South Carolina.
Fred Young, Corporal, Supply Company, 314 Q.M.C., France.
---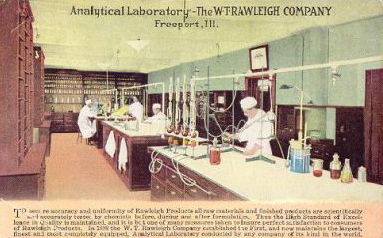 Card mailed in 1916 showing the W. T. Rawleigh Analytical Laboratory. The caption in part reads, "To secure accuracy and uniformity of Rawleigh Products all raw materials and finished products are scientifically and accurately tested by chemists before, during and after formulations. . . .In 1898 the W. T. Rawleigh Company established the First, and now maintains the largest, finest and most completely equipped Analytical Laboratory conducted by any company of its kind in the world."
---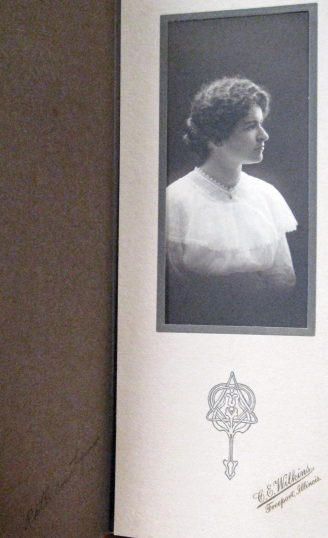 Rebecca Becker sent along this photo of the Class of 1916's Ruth Countryman.
---
Click on any year in the chart below to see the class and other info,
such as postcards, people and events from that year.