The Class of 1870

Frank Brown, C & NWRR, Evanston.
Vine Colby.
Niles W. Heermans, Episcopal minister, Michigan City, Indiana, and later DeKalb, Illinois.
Elisha Manning, physician, Rockford.
Lillie Mather, married Mr. Savage.
Oliver P. McCool, insurance agent, Chicago.
Martin L. Newton.
F. A. Read. Dry goods businessman.
Katherine Rowell, married Mr. Neff, Freeport, and later married Mr. McDoel who was president of the Monon R.R. Co., Geneva, Illinois.
Frank Sumner, Denver, Colorado.
Carrie Sweet, married Mr. Wells, Minneapolis, Minnesota.
Kittie Tarbox, married Mr. Youngs, Freeport.
Julia Taylor Clayton, married Mr. Stratton, Freeport and later Chicago.
Ada Webster, proprietor of fancy store, Denver, Colorado.
Clara Webster, married classmate Niles W. Heermans, Michigan City, Indiana, and later DeKalb, Illinois.
Emily Woodruff, married Mr. Colby, and later went by her maiden name and lived in Rockford.
---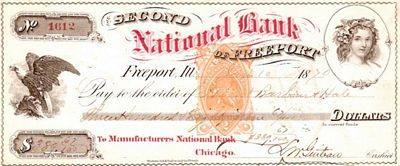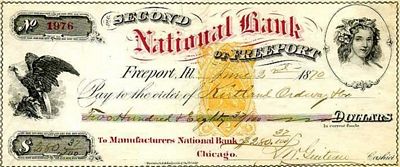 Two 1870 bank checks, signed by
L. M. Guiteau.
Luther Guiteau was the cashier at the Second National Bank, a founder of the Freeport School board, and father of the infamous assassin, Charles Guiteau.

---
Click on any year in the chart below to see the class and other info,
such as postcards, people and events from that year.
.