The Class of 1922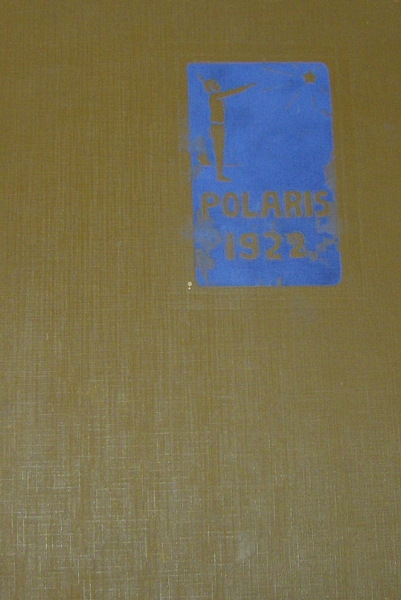 The 1922 Polaris
Louise Albright, Gladys Althof, Iva Aukes,
Anna Badura, Dorothy Balz, George Beardsley, Paul Bell, Ruth Bell, Francis Benston, Kathryn Bender, Margaret Berryhill, Jennie Blackmore, Amine Boyle, Florence Buoniney, Roscoe Burley, Frances Burnwood,
Irene Campbell, Luella Clarke, Robert Clemenstine or Clevenstine, Harry Commons, Nancy Criddle, Gerald Crone, James Currier,
Leona Daniels, Karl Deemer, Harriet Denton, Marjorie Dietrich, Irene Ditzler, Betty Dorman, Fred Dorman, Eloise Dunn,
Norman Edler, Ruth Edler, Lewis Edison,
Bernice Faerber, Esther Fishburn, Mildred Fishburn, George Fleuhr, Roger Folgate, Kathryn Freidag or Friedag, Margaret Furray,
Mara Gable, Nora Gable, Donald Garman, Keeler Gift, Louise Guntherman, Stanley Guyer,
William Hadley, Robert Hannah, Vera Hartman, John Hawkins, Edna Heck, Margaret Heck, Pearl Heitz, Dorothy Herlocker, Mildred Herlocker, Jean Hillmer, Edith Hitchner, Wesley Hockman, John Hoebel, John Hoefer, Lillian Hoffman, Melvin Hoover, Milford Hopke, Capron Hunter, Edna Huisinga,
Olive Johnson, Irma Jury,
Merl Kaiser, Charles Kerchner or Kirchner, Theodore Kiester, Harold Koerner, Clarence Kriens, Jack Kuehner, Lola Kuhlemeyer,
Robert LaMar, Edward Lamm, Frederick Lamm, Helen Larrow, Harriet Lattig,
Mildred March or Marche, Raymond Madden, Theodore Mau, Vivian McCulloch, Archie McDonald, Charles McDonald, Dorothy McDougall, Florence Messing, Eleanor Meyer, Winston Meyers, Joseph Meyers, Pearl Meyers, Kathryn Miller, LaVern Miller, Theron Miller, Ruth Molter, Edward Mullen, Edith Mullins, Vincent Mullins, Marcella Murphy, Pearl Myers,
Lorene Newton,
John Osborne, Reilly Osborne,
Edith Paules, Ruth Paules, Russell Penticoff, Dorothy Perkins, Carolyn Phillips,
Estella Rawleigh, James Reardon, Mildred Ressler, Gracia Richards or Gratia Richard, Jerome Rohkar, Carolyn Rosemeier, Dallas Ruble,
Everett Salisbury, Marie Saltzer, Kathryn Sawhill, Robert Schwarz, Vivian Searles, Roy Secker, Lillian Sensanbaugh, Harold Shaw, Ruth Sheetz, Homer Shouer or Shower, Helen Showalter, Elizabeth Siegenthaler, Ralph Singer, Donald Smith, Georgia Smith, Luther, Stahl, Donovan Stephenson, Lois Stearns, Mary Louise Stibgen, Elizabeth Stockwell, Eleanor Stoessinger, Donald Stover, Lalon Straub, Ralph Strohacker, Alfred Strahm or Strohm, Lalon Straub, Brice Sturtevant, Edward Sueltman, Katherine Sullivan,
Charlotte Thomas, James Tice, Boyd Todd, Lou Torey, Anna Traeger,
Emma Voigt, Marjorie Volkers,
Donald Wachlin, Charles Wagner, Paul Wagner, Bertha Walker, Grace Wall, Merrill Weiler, Royald Wheeler, Karl Wieneke, Minnie Wilhelms, Henry Wilkey, Ray Wilson, Brewster Wise,
Elroy Yde, Clarence Yordy, Emery Yost,
William Zartman, Margaret Zimmerman.
---
A world record was established by Donovan Stephenson, star end of the lightweight football team, when he kicked eleven consecutive exra points following touchdowns in two conference games. In the games, Freeport defeated DeKalb 16-0 and West Aurora 70-0.
---
Listed as Freshmen in the 1919 Polaris
Oddly, neither the Class of 1922 nor any of the classes besides the seniors were listed by name in the 1919 Polaris.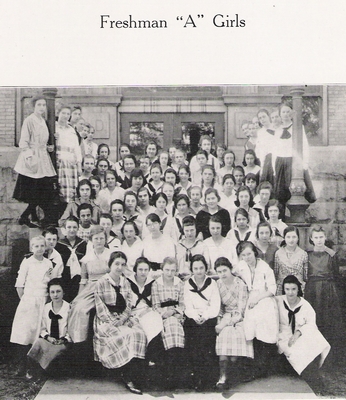 The "A" girls of Freeport High School Class of 1922, as Freshmen.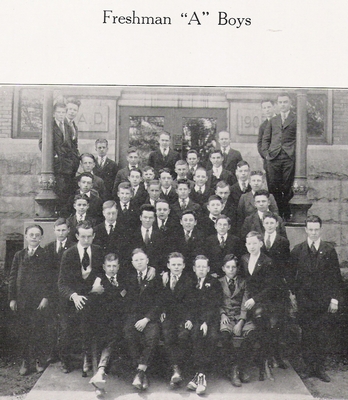 The "A" Boys of Freeport High School Class of 1922, as Freshmen.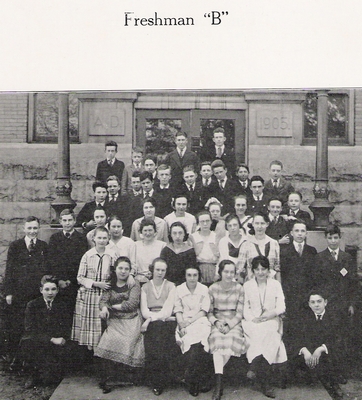 The Freshman "B" Class of 1922, in 1919.
The Freshman "A" Officers, for Freshmen entering school in the fall term, were Conrad Cramer, President; Ray Wilson, Vice President; Eloise Dunn, Secretary and Treasurer; and Ramona Woodward, Historian.
The Freshman "B" Officers, for Freshmen entering school in February, were Donald Stover, President; Ruth Paules, Vice President; and Russel Penticoff, Secretary and Treasurer.
Freshman girls mentioned in the 1919 Polaris were Kathryn Freidag, Caroline Rosemeier and Naomi Burnwood.
Freshman athletes included James Reardon, Ray Wilson, Donovan Stevenson, Hadley Ruch, Ralph Singer, Karl Deemer, Conrad Cramer, Harold Wright and John Haefer.
Freshman musicians included Naomi Burnwood, singer; Winston Myers, born player; and Jerome Rohkar, cornet.
---
Roger Folgate attended Freeport High School and graduated in the Class of 1922. He entered Lake Forest College in 1922 and went on to earn seven varsity letters, four in football, two in basketball and one in baseball. Captain of both the basketball and football teams, he was also selected All-Conference in both sports. His leadership went beyond the playing fields as he served as president of Student Government, the Class of 1926, the Athletic Board, and Digamma Alpha Upsilon. His involvement and leadership were honored by being admitted into the Iron Key Society. Graduating in 1926 with a degree in economics, he began his teaching and coaching career at Whitman College where he served as Director of Physical Education. In 1930 he married Ruth Martin '28. He received his Master's Degree from the University of Wisconsin in 1935 and the following year became Athletic Director at Pacific University in Oregon. Roger eventually became the owner of Folgate Music Company and also stayed involved with the Rotary and Kiwanis Clubs. Source: http://www.lakeforest.edu/foresters/rfolgate.htm.

---
Click on any year in the chart below to see the class and other info,
such as postcards, people and events from that year.