The Class of 1875
Mary Barry, Freeport.
Lettie Berry married Mr. Newton, LaPorte City, Indiana.
Lucy E. Briggs married Mr. Trembly, Centerville, Iowa.
Joseph D. Burrell, minister, Brooklyn, New York.
Georgia Chamberlin married Mr. Berry, Toledo, Ohio.
John D. Collman, banker, Freeport.
Mira L. Giles, teacher, Chicago.
Lizzie M. Fifield, Chicago.
Adelia Hart married Mr. Jaycox, Durand.
Eliza L. Murphy, teacher, Freeport.
Minnie E. Rogers, stenographer, Elgin.
Rose Sheetz married Mr. Kintzle, Freeport.
Ella C. Steers.
Ida H. Yates.
---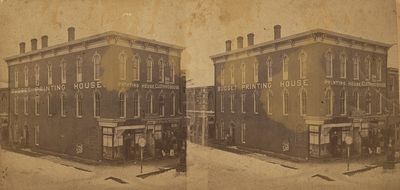 1875 stereograph of the Budget Printing House Building taken after a good snowfall.
The store at the left is A. W. Ford Watches & Jewelry Store with a clock in front.
The sign over the middle door reads Freeport Budget with stairs to the upper floors.
The store to the right is Isaac Stine's "Stine's Star" Clothing House.
There's a horse-drawn sleigh parked in front.
---
Click on any year in the chart below to see the class and other info,
such as postcards, people and events from that year.
.