The Class of 1954

Ruth Arlene Abernathy, Leon Ray Armagost,
James R. Bader, Eugene Harrison Baker, Robert Edward Bamberg, Wayne H. Barkau, Davis Frederick Bauch, Joanne Carol Baumgartner, Mary Lou Bear, Lorraine Christine Beidler, Ronald Lavern Bender, Larry W. Bessert, Lois Best, Carolyn Lucile Bittner, Richard N. Blask, Mildred Jean Bloomquist, Ruth W. Boltjes, Barbara Boyett, Richard Duane Brubaker, Richard James Bruce, Claudia Burgess, Elizabeth M. Burt,
James M. Canada, Elizabeth Mary Carley, Edward Carlson, Gary Roger Carr, Beverly Cerroni, Leo J. Chambers Jr., Loren L. Chambers, Donna Lee Cheeseman, Ralph Chenong, Patricia Lynn Christen, Ronald Cox, Ellen Mary Craig,
Doris Dame, Donald E. Davenport, Gwenn Davis, lawrence Irving Dixon, John Joseph Doerr, nancy Jo Doolen, Jerry Richard Downing, Richard Lee Downing, Charles Clifford Doxey, Gene Duray,
Corrine Ann Ehrlich, Robert W. Elliot, Joanne Florence Emrick, Patricia Ellen Erb, James Stephan Evans,
Doris Jean Fambro, Karl Feller, Stewart Fish, William Joseph Fleming, Gerald Leon Fogel, Madonna Lou Folgate, Dennis E. Frank, Marlene Rose Frank, Delbert Frederick, Stanley G. Fritz, Mary Carolyn Fritzenmeier,
Jean Ruth Gilchrist, Richard Gitz, Eleanor Rae Gorham, Dorothy Ann Graff, Wilbur Alfred Grossman, Eldora Ruth Grundall, John Edward Gusloff,
Arlene Marie Haas, Jack H. hammond, Mary Lou Hance, Norma Jean Harnish, Robert D. W. Hartog, Barbara Heine, Colleen Heitter, Mary Leona Herendeen, Colleen Ann Heitter, Leon Heitter, Richard Ernest Herbig, Adele Ann Hess, Kenneth Hickman, Reid A. Hille, Nancy Jean Holtum, Kay Diane Horstmeyer, Robert A. Horton, Jerry Mark Huisinga, Esther Pauline Hull, Frank Leland Hunsicker,
Dwayne E. Ingold,
Leland Earl Jacobs, Robert W. Jenner, Herbert George Jensen,
Darlene May Kahly, Marion Kasprzak, Patrick Keefe, Gary Keith, Sandra Keith, Jack Kennedy, James Franklin Kerch, Carole Faye Kerr, Donald H. Ketelhut, William Harold Kimes, Paul Gene Klaus, Marlene June Klinke, Rosemary V. Klontz, Eileen L. Klosa, Leslie Ann Kluth, Phyllis Anne Koeller,
Richard Frank Lawson, Ronald LeBaron, Donna Mae Lehman, Joliene Kay Lentz, Robert James Lenz, Wesley Lowew, Kenneth F. Lowery, Louella Lutz,
Joan Malatacca, Kennety R. Marcum, James Maurer, Keith Kay Maves, Eleanor Ann Mayer, R. King McCulloch, Suzanne Maureen McDermott, Shirley McGrath, Audrey J. Meile, Joyce Marlene Meinders, Donald Wayne Meyers, Garnet Lorraine Meyers, Joanne Meyers, Lawrence Meyers, Jeron Michel, Constance Ann Miller, Doris Marie Miller, Frederick Paul Miller, Jack E. Morden, Darlene Mae Moring, Mary Jane Morrow, Lester Murphy,
Jacquelyn Nelson, Ned Nesemeier, John Arthur Nienhuis, David L. Nortridge,
Glenn Offelein, Jean Lou Olthoff, Nelson Ottenhausen, Bonnie Jean Orr, Nelson Ottenhausen, Stephen Thomas Ousley,
Gary Edward Paar, Pamela Ann Pack, Ronald L. Pearson, Robert J. Peters, Robert E. Picking, Jacqueline Pittsley, Sue Ann Price,
Sandra Rae, Karl Henry Rafferty, Donald E. Raih, Shirley Jean Ransom, Judith Kay Rawleigh, James J. Richards, Richard Richtemeyer, Barry Lee Robbins, Bonny Lue Robbins, David A. Roskam, Arline Lee Rutter,
Mike S. Scaros, Joan Mary Schmelzle, Dale E. Schmertman, Paul L. Schmertman, Patricia Carol Schradermeier, James L. Scofield, Patricia Mae Seery, Lee Sherwood, Robert Shippy, Rita Annette Siedschlag, Bonita Kay Smith, Joseph Duane Snyder, James Charles Spaide, Stephen Wilkin Spudich, Janice Staas, Shirley Ann Stebbins, Larry Strohecker, Judith Lynn Studebaker, Richard Spencer Swift,
Beverly Maria Taylor, Gerald George Ter Hark, Patsy Ann Thompson, Margaret Thruman, Ruth Thruman, Angie Mae Turner,
Frederick Vallarta, Delbert E. Veach, David John Vohlken,
Duane Kay Wagner, Judith Lynn Wagner, Thomas Edward Wardel, Beverly Jean Watkins, Wayne Henry Wilhelms, Dale A. Wilhite, Joe Williams, Jack Willis, Sally Ann Willis, Darlene Winslow, Jack Winters, Rose Ann Wolf, Earl Lavern Woods, Ted Wootan,
Nancy Zimmerman.
---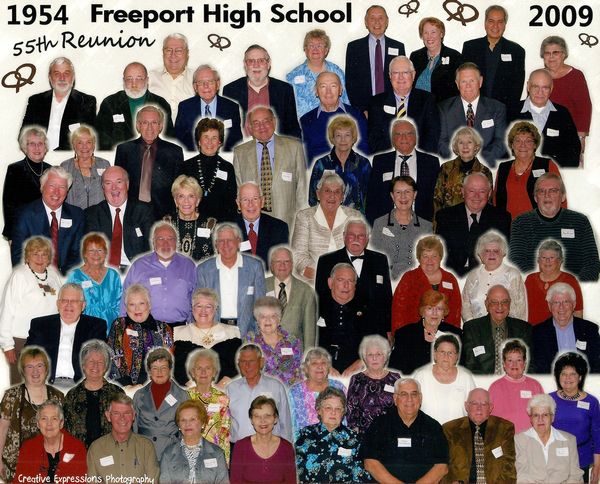 55th Class Reunion in 2009
Leslie Ann Kluth's photo scanned by Fred Kluth, Class of 1959
---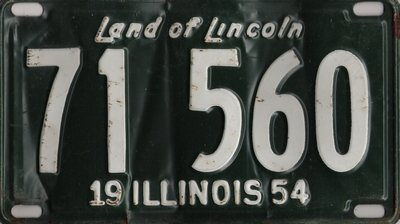 My father's 1954 license plate.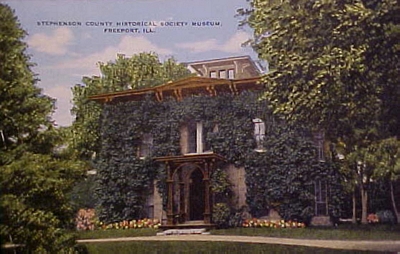 The Stephenson County Historical Society Museum
from a card postmarked 1954.

---
Click on any year in the chart below to see the class and other info,
such as postcards, people and events from that year.