Biblical Aromatherap
y
by Robert Bike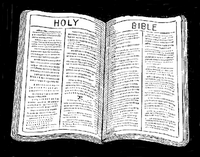 The Bible mentions about 232 plants by name, or closely enough to figure out what plant is meant. Of these, 24 are aromatic plants; that is, parts of the plants can be pressed or distilled to get an essential oil. Essential oils are the lifeblood of plants and have tremendous healing capabilities.
The healing power of plants is the basis for modern medicines.

Biblical Aromatherapy discusses how the plants were used in biblical days and how you can use the essential oils from biblical plants.
Originally published in manuscript form in 1999, I completely revised the book and added illustrations.
To order Biblical Aromatherapy in paperback,
Click here.
List price $24.99; introductory offer $19.99
---
To order the pdf version and download to your computer or phone,
The electronic version is only $2.99!