The Class of 1951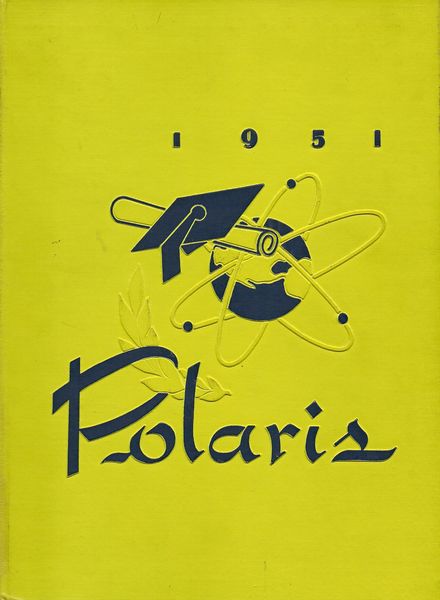 Robert Adams, V Adams, Robert Alich, Bette Altfilish, John Altman, J Austin, D Auvinen,
Joanne Babcock, Marlene Baker, S Baldwin, Klein Bardell, John Barth, William Bauch, Charles Bauscher, Gerald Bender, Nicolette Bender, Michael Donald Bennett, N Beverly, Ann Bihl, C Bittner, L Blackbourn, Roger Bonn, Evelyn Bookman, J Borge, J Bowers, David Briggs, Shirlee Brooks, N Browning, D Brubaker, W Brumfield, M. Joan Burns, A. Woodruff Burt, Patsy Buss,
Carolyn M. Cain, M Cain, John Campbell, Thomas Carey, Ronald Carr, Cornelia Chandler, C Chandler, Constance Chapman, Allen Clark, Richard Clark, Cowles Clevenger, Daniel Clock, William Cunningham,
McKinley "Deacon" Davis Jr., E Deal, Hildegarde Deike, S. Loleita Delzell, Joanne DeNure, Dorothy Dickman, Richard Diehl, Donald Diffenbaugh, V Dikkers, Dolores Dixon, Rowland Doerr, Benjamin Dorsey,
Clark Engle, Joan Erb,
David Faist, B Feld, E Fike, William Fishburn, Barbara Fisher, Kenneth Fissell, Marcella Frederick, Harlan Fritz, James Furst, Mary Lou Fryer,
Joan Garman, Delmar Gibson, Emma Glass, Ronald Glasser, Barbara Graf, Wayne Graff, Berneice Gramley, Robert Gross, E. Burdette Gundry,
Dale Hart, G Haynes, Roger Heck, Rosellen Heck, D Heiland, J Heilman, Lois Heilman, K Henry, Phyllis Hershberger, Patricia Hewins, James Hill, D Hille, Sally Hirst, Lucille Hoffman, Bernita Hogins, Donna Holtum, Harold Horstmeyer Jr., Elwood Hull, Barbara Hunsicker,
Eugene Ingold,
James Jacobs, Geraldine Janssen, Maribelle Jenkins, Edith Jephson, Melvin Johnson,
Lawrence Kant, Elizabeth Kasten, Roger Kasten, Kathryn Keep, Marilynn Keith, Caroljean Kerlin, Carol Kitchen, Delos Kittoe, Gerald Kline, D Klopping, Suzanne Knight, Wayne Koeller, W Korn, J Kraft, V Krogul,
Delbert Lamont, Katherine Landgraf, Edward Laskye, Beverly Lee, W Leary, Abraham Lenoir Jr., Dorothy Lenz, E Lewis, Frank Locash, Melvin Loewe, Donald Longamore, R Love, Norman Ludolph, Leonard Luettig, D Luke,
J Madden, R Magadance, J Manning, G Marassa, John Marsh, J Marsh, R Maurer, Donald Maves, R Maves, Darlene Maxey, Dorene Maxey, G Mayer, R Maynard, E McDonald, Richard McGill, B McLain, James McLenahan, Roger Meads, R Meile, Darrell Mellom, Rita Mensenkamp, J Meyer, Audrey Meyers, E Meyers, Tom Midthun, C Miller, Mayme Moore, Marilyn Moran, Donald Morris, T Murray, B Myers, Prudence Myers,
Barbara Nelson, Floyd Nesemeyer, J Nesemeier, Lyle Nesemeyer,
M Oswalt, Cynthia Ousley,
Jack Parriott, John Parson, K Penticoff, Lavern Pfeil, Robert Philbrook, N Phillips, Rosemary Piefer, Ronald Pieper, Charles Price,
Doris Rahn, David Randolph, C Rawleigh, Robert Reck, R Remmers, Alice Richtemeyer, Harlan Rigney, R Roach, L. Bradford Robinson, B Rosenwing, Benno Ruehr Jr.,
Carole Saeger, Harold Sager, Lynn Salier, D Saxby, Wilma Saxby, James Schell, Jean Schermerhorn, D Schmertman, M Schmidt, F. Eugene Schmitt, G Schmitt, B Schultz, Robert Scofield, D Scott, E Shipp, Gloria Siedschlag, Claude Sime Jr., Harry Smith, Jerrie Smith, Joan Smith, J Smith, Charlotte Soladay, B Sorn, William Spahn, M. Luellen Spedding, Jacquelyn Spielman, M Stein, Joyce Steinhagen, Kenneth Stevens, Donna J. Stewart, Donna Mae Stewart, J Stout, D Strobel, Carol Strohacker, Corlyn Stubbe, Gerald Studebaker, B Sueltman,
J Thomas, Norma Thurman, S Thurman, D Timmer, Mark Tippets, Roger Tippets, Roger Toelle, Jean Tricker, Betty Tucker,
Donald Valkema, Loren Vandenburg, Verlyn Vietmeyer, Margaret Vohlken, L Vrtol,
E. Wayne Wales Jr., James Weaver, B Wechter, Robert Weier, Richard Whalen, Leslie Francis Williams, Dona Wilcox, Burton Williams, Leslie Williams, A Wilson, M Wilson, Caryl Wisdom, Phyllis Witt, D Wittbecker, Richard Witters, N Wren,
Lydia Young, Richard Young,
Sandra Zartman, Rex Zier, Donald Zimmerman.

---
Freeport was the 1951 Illinois State Champions in basketball!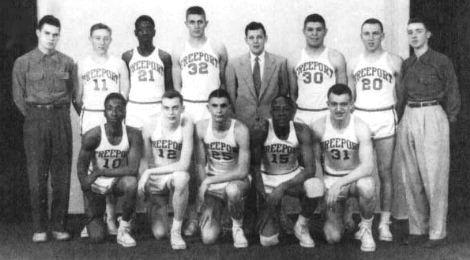 Freeport High School
1951 Illinois State Champions
Back row: Manager William Trunk, Eugene Ingold, Carl Cain, Jim Hill,
Coach Harry Kinert, William Spahn, Roger Meads, Manager Douglas Smith.
Front row: Thomas Williams, Eugene Schmidt,
Harlan Fritz, McKinley (Deacon) Davis, Ben Dorsey.
Davis later played with the Harlem Globetrotters.
Cain later was a member of the 1956 USA Olympic Team.

First Round Scores
Marion 70, Macomb Western 65
Freeport 67, Edwardsville 64
Peoria Woodruff 76, Odell St. Paul 62
Decatur 68, Danville 58
Moline 59, Pinckneyville 55
Robinson 60, Chicago Parker 46
Lincoln 54, Oak Park River Forest 41
Quincy 58, Hinsdale 46

Quarterfinals Scores
Freeport 65, Marion 51
Decatur 73, Peoria Woodruff 50
Moline 59, Robinson 44
Quincy 65, Lincoln 63

Semifinals Scores
Freeport 88, Decatur 60
Moline 64, Quincy 63 (OT)

Third Place
Quincy 60, Decatur 58

Final
Freeport 71, Moline 51
Freeport, coached by Harry Kinert, finished with a record of 31-2.

McKinley "Deacon" Davis, led Freeport, scoring 73 points in four games. Ben Dorsey scored 55, Harlan Fritz scored 54, and Tom Williams added 52.
McKinley "Deacon" Davis, a 6-2 Senior and Ben Dorsey, a 5-11 Senior, made the All-Tournament Team.
In the final pre-tournament rankings, Berwyn-Cicero Morton, 20-0, was ranked number one, while Freeport, 22-2, was ranked second.

The total enrollment for the 1950-51 school year was 970.
---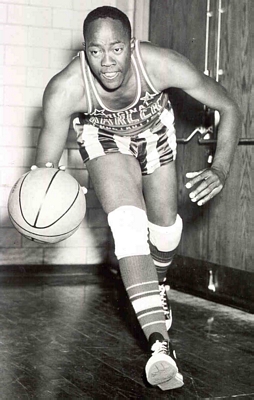 Deacon Davis as a Harlem Globetrotter. Deacon played basketball and earned a degree from the University of Iowa where he graduated in 1955.
While at Iowa, he was named to the 2nd Team All-American and 1st Team in the All Big Ten Conference.
From 1955 to 1957, Deacon was a member of the Harlem Globetrotters.
Northern Illinois University gives an award named after him. Created in 2004, the Deacon Davis Diversity Award recognizes NIU students, faculty, staff, academic units, offices programs and organizations for significant contributions made to the improvement of the status of minorities on campus.
Deacon Davis was one of my childhood heroes. My wife & I got to meet him in 1996, and I've got to tell you, he didn't disappoint me. His work in Rockford with disadvantaged youth can only compare to the work that Jane Addams did in Chicago at Hull House.
While traveling around the country with the Globetrotters, Deke studied the condition of American high schools. It was in these years, while continuing his education, that his vision developed for what would one day become the CHANCE (College Help & Assistance Necessary for College Education) Program.

In 1968, NIU hired Deacon Davis as the Director of Special Programs and founder of the CHANCE Program. He stayed in that role until 1978 when he became the Executive Director of Intercollegiate Athletics at NIU. Since 1968, the CHANCE Program has been a door of opportunity for many minority students to both enter and graduate from NIU. Deacon Davis helped to improve the status of minorities on the NIU campus.
McKinley "Deacon" Davis was born in Freeport, Illinois on August 3, 1932. He died on March 20, 2003.

---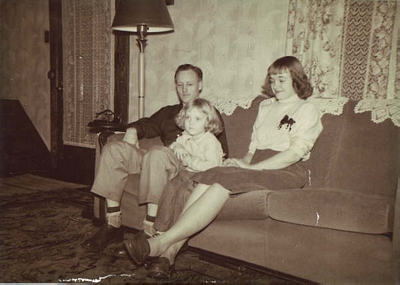 Betsy Datri of Eugene, Oregon, sent me this photo of herself as a child with her parents, taken in 1951 at the Becker home in Freeport. Betsy remembers that the mother's name was Grace and they had a little boy who was about her age; his name was Jimmy. Jimmy Becker, do you remember Betsy Datri?
---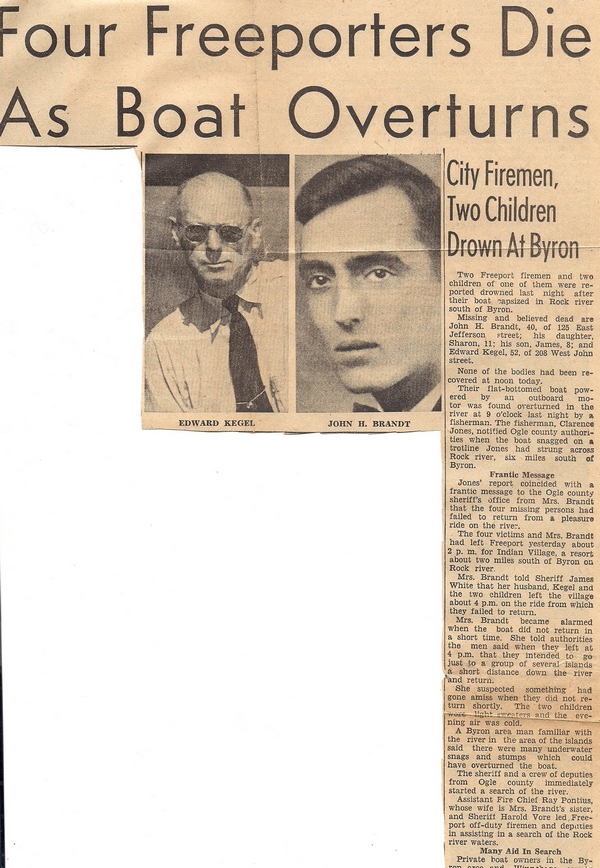 Tragedy struck Freeport on June 28, 1951, when a boat overturned in the Rock River. The Brandts were neighbors. I remember the children.
Clipping from the Freeport Journal-Standard.
---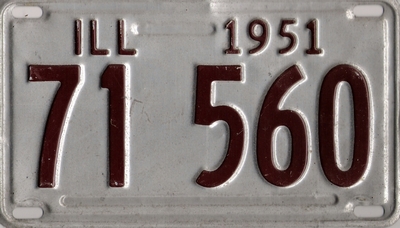 My father's 1951 license plate.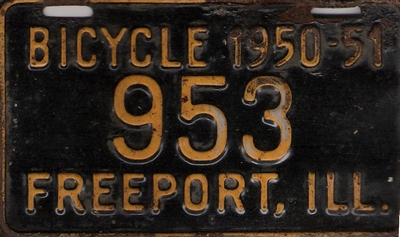 My sister's 1950-1951 bicycle plate.
---
Click on any year in the chart below to see the class and other info,
such as postcards, people and events from that year.