The Class of 1938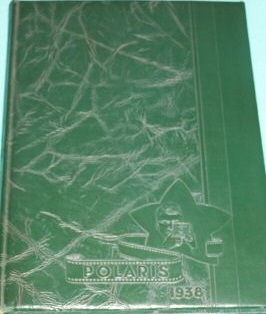 Russell Ackerman, Alan Adams, Erma Albert, Santo Amodeo, Anna Anderson, Earl Anderson, James Arenschield, Anne Arganbright, Dorothy Arrasmith, Lorraine Ashenfelter,
Marian Babcock, Norbert Bach, John Balles, Nathan Bast, Stanley Bauch, Harold Beardsley, Jane Beddow, William Beddow, Dwight Belknap, Lydia Bergemann, Wilma Bicknell, Eugene Biesemeier, Berle Birkett, Virginia Bloomquist, Jeanne Bookman, Eugene Boynton, Esther Branthaver, Robert Bushelle, Clarice Butt,
Torriba Calderon, Lois Campbell, Floyd Cannon, Muriel Casford, Barbara Chatters, Milon Chates, George Clark, George Cloud, Robert Collie, Jane Cook, Lois Coomber, Katherine Cram, Marjorie Cramer, William Cregan, Robert Crowell,
Florence De Gunther, Robert Dickman, Henry Dieterman, Wayne Dirksen, Herbert Divan, Howard Dorsey, Hugh Dorst, William Dreier, Barbara Duth, June Dyslin,
Barbara Eder, Elva Eli, Fred Engelhardt, Mary Enzler, Henry Euler, Bill Evans, Margery Evers, Bette Ewing,
Richard Fiedler, Lowell Fink, Ruth Fink, Robert Finley, Dolores Finn, Breard Fishburn, Roger Fischer, Florence Fluegel, June Fluegel, Robert Fogel, Evelyn Folgate, John Fosler, Clyde Franklin, Helen Frederick, Margaret Freerken, Marjorie Fricke, Delbert Fye,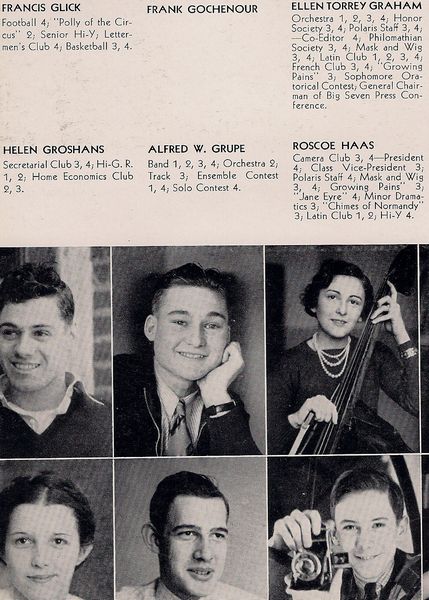 Mary Galway, Nelda Gillette, Francis Glick, Frank Gochenour, Ellen Graham, Don Greier, Helen Groshans, Alfred Grupe,
Roscoe Haas, Glen Hammond, Dorothy Held, Kathryn Hildebrandt, Edward Hoag, Russell Hoefle, Frances Holbert, Geraldean Holdeman, Lowell Holmes, Virginia Houpt, Max Howe, Iren Hull, James Hulburt,
Joe Ilgen, Catherine Isaac,
Harlan Jeffrey, Charles Johnson,
Bill Kaney, Chester Kaney, Stanley Kanne, William Kellner, June Kempert, Kathryn Kincannon, Lova Kline, Betty Knicely, Chester Kryder,
Dorothy Lamb, Genevieve Lamm, Jerome Lamm, Russell Lamm, Charles Langenstein, Dick Lebetsamer, Kenneth Lee, Jane Leemhuis, Caryl Leggett, Russell Lenz, Lincoln Lieber, Lorenzo Lotta, Eleanor Ludolph, Mary Luebbing,
Darlene Manthei, Darlene Martin, Harry Matherson, Patricia Mathews, Florence McCarty, Eleanor Mennenga, Marilyn Meyers, Ruth Meyers, Blaine Miley, Mary Moore, Rosemary Moran, Anna Morey, Donald Morse, Donald Moss, Anna Mulnix, Harriett Musser, Frana Moser,
Dorothy Neumann, Clifford Nodd,
Marjorie Obenchain, Geraldine Oosting, Vivian Orlick, Virginia Oswalt, Anita Ottenhausen, August Ottenhausen, Mary Ousley,
Donald Pash, Esther Payne, Irma Pearson, Patricia Peasley, Jeanne Peterson, Phenie Petta, John Pfender, William Pittsley, Glenn Plowman, Lucille Putnam, Patricia Putnam,
Neil Randall, Lelend Reed, Glenn Risdon, Walden Roe, Dorothy Roesch, Robert Rohr, Kenneth Rubendall, Gladys Rumelhagen, George Ryan, June Ryan,
Nora Sanman, August Schmidt, Margaret Schobert, Robert Schofield, Ruth Schroeder, Margaret Schuck, Helen Schumacher, Charles Schuth, Lela Schwitz, Jeanne Scovill, Carol Sechrist, Robert Secker, Ted Seely, Wayne Shafer, Joan Shaw, Margaret Shaw, Cleone Shepard, Naomi Shipley, Johnnie Shivers, Kenneth Shockey, Irene Sicher, Wallace Simmons, Robert Smith, Ethal Smyth, Donald Snyder, Ella Spauschus, Florence Staas, Ruth Staas, Bettina Steenrod, Ruth Stoke, Robert Stoltz, James Stover, Robert Stricker, Elizabeth STorhecker, Mary Sullivan, Bette Sward, Carl Swartz, Charles Sweeney, Martha Swingley,
John Tappe, Loreen Tegeler, Ruth Trester, Mary Trueblood, Warren Turner,
Anne Valeska, Bob Van Epps, Valda Vehmeier, Mernice Volkers, Gregory Vore,
Joyce Wagand, Robert Waggoner, John Wahler, Richard Wahler, Jack Wallace, Doris Walter, Bette Welch, Madeleine Wheat, Betty Wienand, Betty Wiley, Ethelda Williams, Marion Wilson, Jane Winchell, Louis Winkler, Paul Winter, Charles Wise, Myrtle Woker, Dorothy Wolfe, Clyde Woods, Frederick Wurtzel,
Iva Zaedow, Jean Zimmerman, Elizabeth Zipse.
---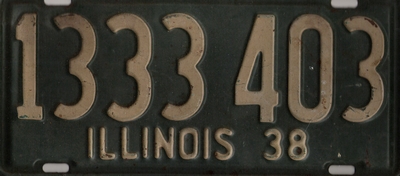 My father's 1938 license plate.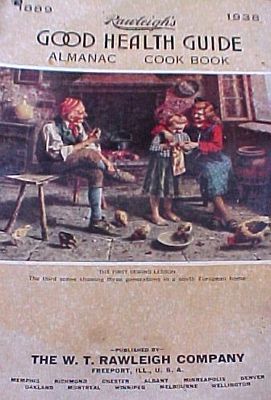 Rawleigh's 1938 Good Health Guide.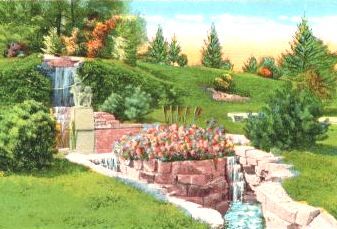 Read Park, in a post card postmarked 1938.
---
Click on any year in the chart below to see the class and other info,
such as postcards, people and events from that year.