The Class of 1940

Bill Abbott, Eugene Ackerman, Mardelle Adams, Miriam Alber, Eva Albright, James Allen, Art Anderson, Janean Arganbright, Alberta Arlington, Betty Artman,
Jack Baldwin, Kathleen Balles, Eugene Barnhart, Dean Bates, Kathryn Bates, Janet Baxter, Muriel Bayme, Jean Beck, Mildred Bennett, Gertrude Bergemann, Robert Best, Roy Bloom, James Bloyer, Jack Boeke, Ervin Ray Bokemeier, Tom Brannick, Betty Branton, Jenlynne Brown, Rae Louise Brubaker, Alice Bunnell, Don Burkholder, Betty Jane Bush, Milford Boyd,
Boyer Campbell, Marian Campbell, Dick Carpenter, Kenneth Chambers, Jeanette Christen, Frank Clark, Norma Cremer, Norma Crockett,
Joyce Danielson, Loretta Daterman, Philip Dedrick, Delores Dodson, Joan Dorman,
Richard Edler, Dale Eichmeier, LeRoy Emford, Dick Engle, Kenneth Engle, Mary Ennenga, William Entmeier,
Bob Fair, John Fehr, Jean Fisher, Eda Fluechtling, Dorothy Fransen, Fred Freidag, Bill Fritzenmeier, Dean Fryer, George Fusco,
Angelo Gaghliardi, Betty Jane Galloway, Bill Garrity, Bernice Gitz, Priscilla Gitz, Harold Glaman, Marcia Glass, Lowell Goethe, Ruth Goss, John Greenfield, Marion Grimm, Betty Griswold,
Patricia Haas, Lenna Haberkamp, Gene Hamon, Charles Hancick, Charles Harlan, Robert Hartman, Glen Hasse, Karl Hauth, Ruth Hea, Nick Heerkes, Eleanor Mae Heilman, Wayne Hermann, Joanne Hess, Agnes Mary Holmes, Phyllis Holtum, Bill Hope, Harold Horner, Grace Horton, Robert Howington, James Hull, Jean Hull,
Bill Irwin,
Allen Janssen, Vernona Johnson, Coralyn Jones, Lorna Jubert,
Leonard Kahl, Estherbelle Kent, Bob Kieckhaefer, Kenneth King, John Klever, Eldon Knodle, Mary Koehler, Anna Kornfeind, Russel Korth, Bob Kostenbader, Bob Kubatzke,
Louise La Tour, Eleanor Lafferty, Don Laible, Kenneth Landgraf, Naomi Lang, Ruby Lang, Grace Langan, Bob Law, Betty Lawrence, Kathleen Lawver, Barbara Lemke, Lorene Lighthart, Mary Little, Jeanette Loewe, Jeanette Lubold, Frederick Ludolph, Anna May Ludwig, Belva Luettig, Don Luettig, Grace Lundquist, Bob Lutz, Ferne Lutz, Doris Lyon,
Doris Jean Manning, June Mantzke, Phyllis Markel, Marshall Markely, Earl Marsh, Barbara Mathews, Lillian McBride, Marjorie McCarty, Marilyn McCool, Beatrice McCord, Robert McCurty, John Mellinger, William J. Mertins, Phyllis Meier, Pauline Meyers, Marvin Messing, Darrel Miller, Bill Molter, Jack Molter, Mary Ethel Moore, George Moran, Inez Morrow, John Muchow, Bob Mueller, Geraldine Munda,
Marjorie Nath, Elsie Neuberger, Dick Nichol, Josephine Noeske,
Ruth Orlick, Esra Ostergard, Dorothy Oswalt, Lucille Ottenhausen, Dale Otto, Paul Ousley,
Clarence Plambeck, Harold Peters, Boris Popov, Don Popp, Loyal Portner, Richard Potter, Charles Prussner,
Lowell Reed, Don Rhodes, Roger Richards, Ruby Richart, Jack Rohr, Wallace Rose, Dorothy Roskam, Margaret Ross, Thelma Rumelhagen, Dick Rundall, Marguerite Ruthe,
Gloria Samel, Bill Schmelzle, Betty Jane Schmidt, Dick Schofield, Margaret Schoonhoven, Wilda Schubert, Carl Schwietzer, Mabel Scofield, Bob Seitz, Lala Serrano, Virgil Sharp, Robert Shaw, Mary Jeanne Shirmer, Margaret Shivers, Frances Siemens, Delbert Sinclair, Geneva Skeel, Dorothy Smith, Jack Smith, Royal Smith, Alfred Snap, Margie Snap, Dorothy Snyder, Viola Sorn, Russell Southard, Harry Spahr, Evelyn Springer, Pauline Staben, Merrill Stabenow, Elsie Stensborn, Roberta Stephenson, Bill Stewart, Pauline Stiegman, Irene Stovall, Betty Sward, Wilma Symanek,
Franklin Thomas, Wayne Trost,
Donald Underwood,
Elizabeth Van Vleck, Alice Vance, Eileen Virgil, Eugenie Vore, Alvin Voss,
Dorothy Wagner, Theron Wagner, Bonnie Walker, Eugene Walter, Welker Walters, Wilbur Washburn, Geraldine Watson, Leroy Werntz, Dell Wescott, Miriam Wilhelms, Richard Williams, Mary Winter, Elwood Wunsch,
Lorelle Young,
Steve Zanis, Lorraine Zipsie.
---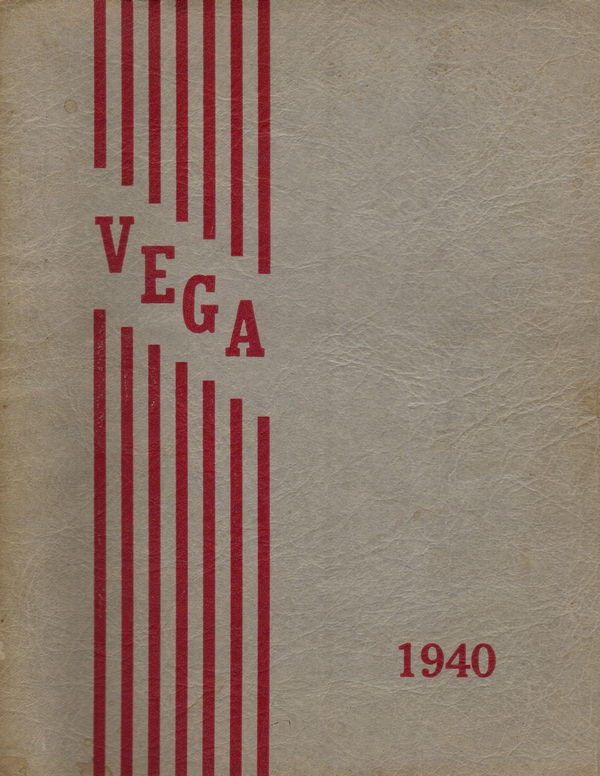 The 1940 Vega
The Freeport Junior High School newspaper
---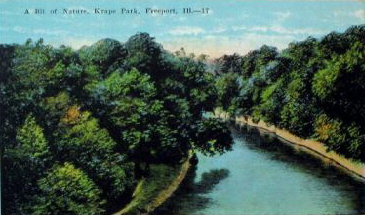 Card showing "A Bit of Nature, Krape Park, Freeport, Ill.", postmarked in 1940.
---
Click on any year in the chart below to see the class and other info,
such as postcards, people and events from that year.
.