The Class of 1956

Darrell E. Ackerman, James E. Anderson, Rodney Anderson, Thomas Ralph Anderson, Carl William Arndt, Kathryn Mary Ascher, Thomas G. Austin,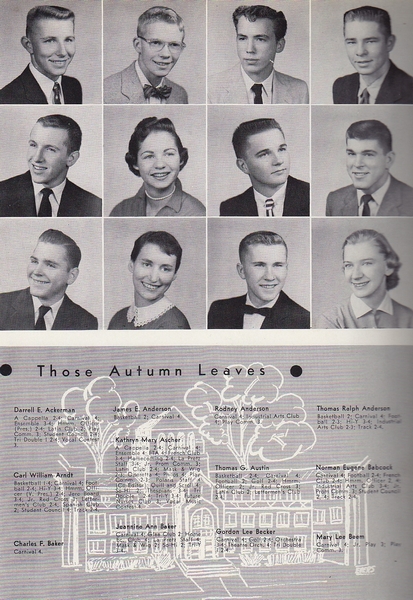 Norman Eugene Babcock, Mary Jane Babler, Charles F. Baker, Georgia Baker, Jeannine Ann Baker, Rex Bakerink, Gordon Lee Becker, Mary Lee Beem, Barbara Bell, Robert Bennett, Bruce Besley, Samuel Bess, Judy Bloyer, Marie Boltjes, Robert Borger, Margie Brick, Ronald Brubaker, Barbara Bruesch, Jack Bruni, William Paul Budenz, Barbara Burns, Wendy Jo Burt, Judith Ann Burton, Lorraine Burton, Ralph Busekros, George Buss, Samuel Buss,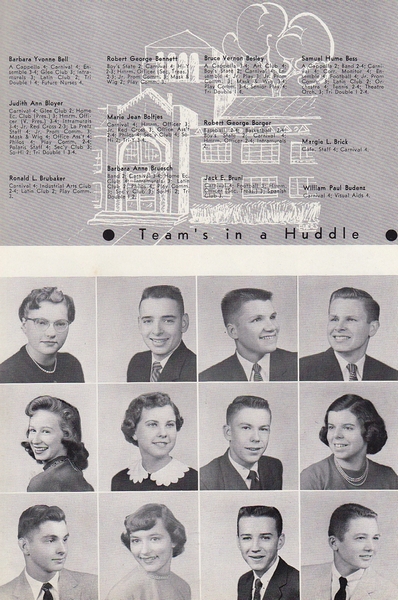 Thomas Cali, Shareen Casel, Skip Castle, Donna Christensen, Donald Churchill, Carol Connery, Janice Connery, Thomas Cook, Sharon Cramer, Cy Crothers,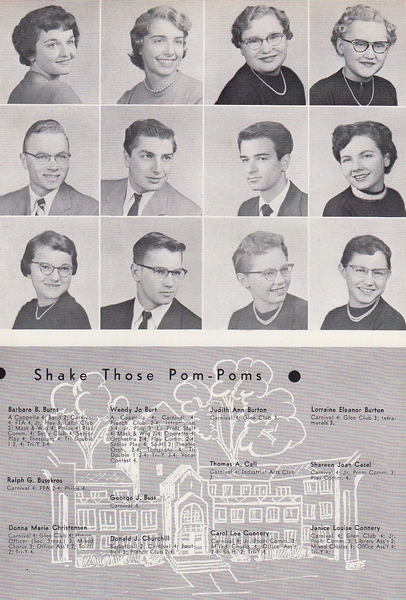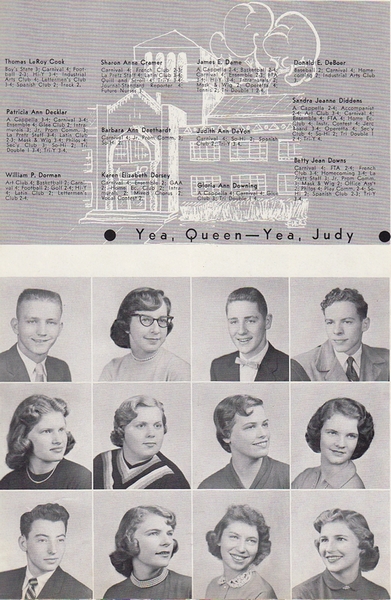 James Dame, Donald DeBoer, Patricia Decklar, Barbara Deethardt, Judith Devon, Sandra Diddens, William Dorman, Karen Dorsey, Gloria Downing, Betty Downs, Roger Downs, Kay Dunsirn,
Janice Earring, Gary Eichmier, Larry Erb,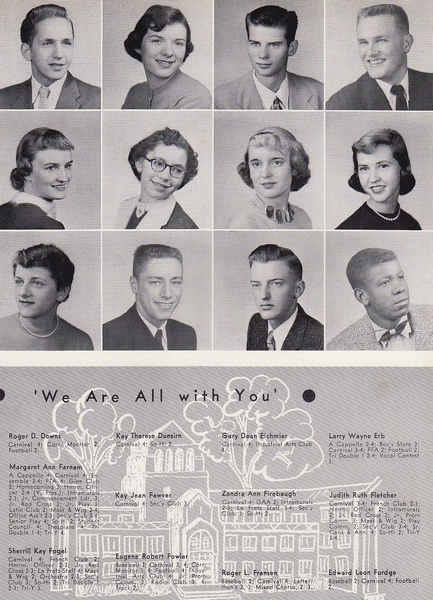 Margaret Farnam, Kay Fawver, Zandra Firebaugh, Judith Fletcher, Sherrill Fogel, Eugene Fowler, Roger Fransen, Edward Furdge, Frank Furst, Ned Furst,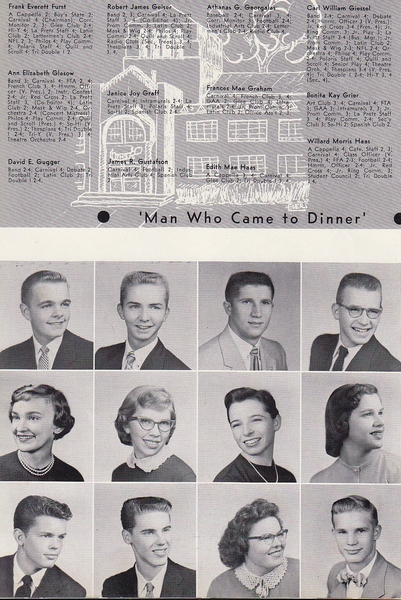 Robert Geiser, Athanas Georgalas, Carl Giessel, Ann Glasow, Janice Graff, Frances Graham, Bonita Grier, David Gugger, James Gustafson,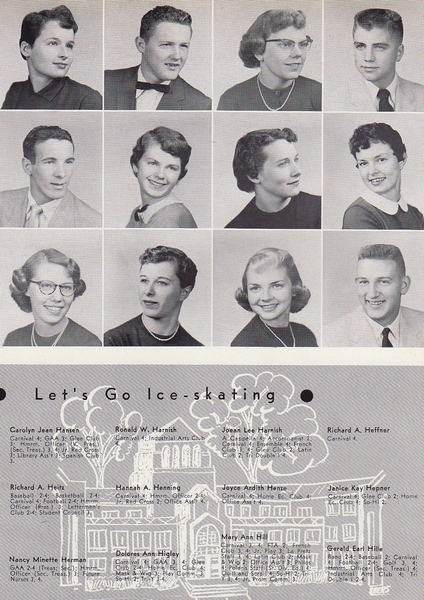 Edith Haas, Willard Haas, Carolyn Hansen, Ronald Harnish, Joean Harnish, Richard Heffner, Ronald Heinrich, Richard Heitz, Hanna Henning, Joyce Hanze, Shirley Helbling, Janice Hepner, Nancy Hermann, Dolores Higley, Mary Ann Hill, Gerald Hille, Ruthann Hird, Carol Hoebel, Roger Homan, Patricia Horning, Carol Hubbard, James Hughs, James Huisinga, Judith Hunter, Wayne Hutchison,
Betty Ingold, Birdine Ingold, Donald Isely,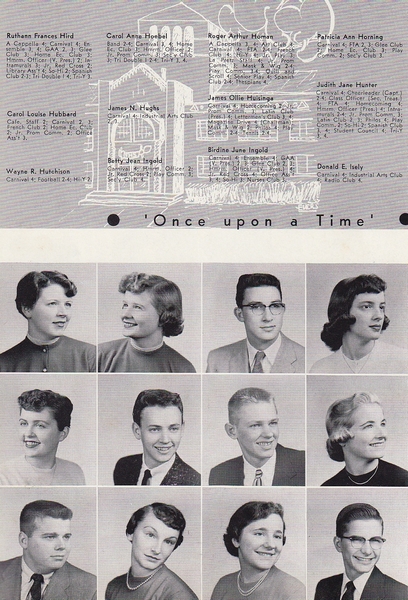 Carolyn Julius,
Thomas Kampmeier, Clifford Karl, Stanley Kasprzak, Mary Keene, Kenneth Kempthorne, Clinton Kenyon, Aletha Sally Kloepping, Susan Kramer, Kay Kriens,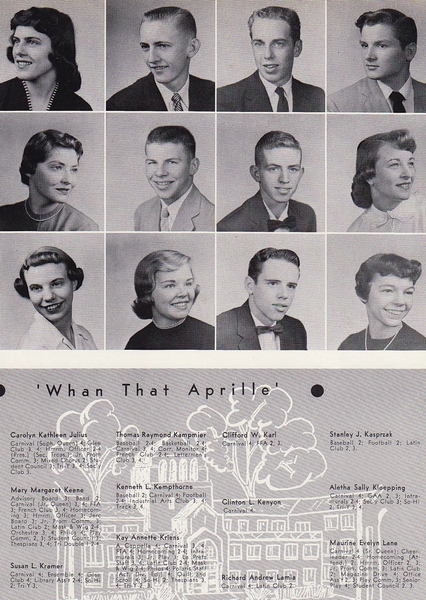 Richard Lamia, Maurine Lane, Renco Lane, Lyle Lang, Gary L Lantz, William Larson, Mary LaShelle, Patricia Lee, Ralph Lenoir, Edwin Lewis, Judith Lightfoot, Joanne Loring, Carolyn Lutz,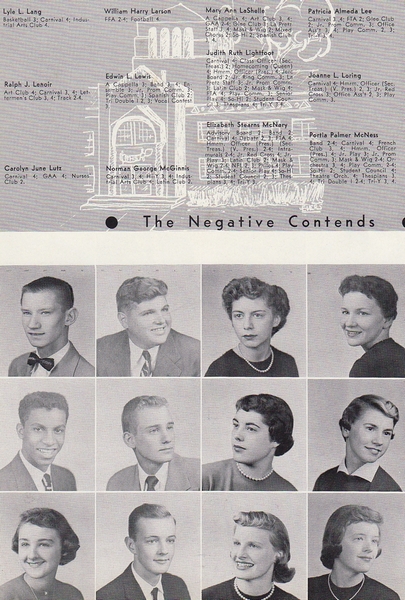 Janice Maines, Joyce Marsh, Jerald Masters, Norma Maves, Amanda Maxey, Norman McGinness, Elizabeth Stearns McNary, Portia Palmer McNess, Clarence Bunky Mease, David Mellom, JoAnn Merck, Virginia Meyers, William Millard, Robert Miller, Roger Minkie, Sharon Moellenberndt, Gary Mohr, Todd Moore, Robert Moring, Donald Munz, Judith Ann Munz, Dean Bruce Musser, Thomas Edward Myers,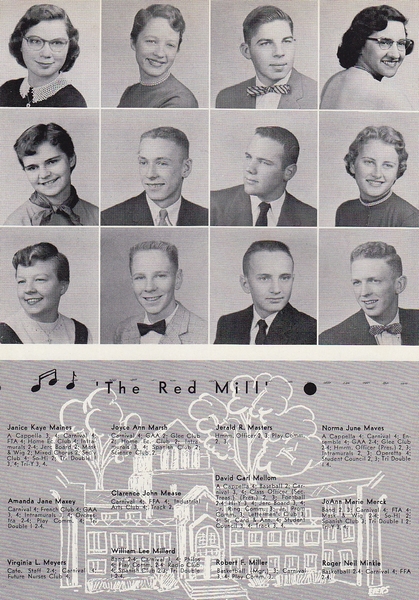 Judith Kay Nelson, Gerald G. Nevenhoven, Marlene Joyce Nevenhoven, JoAnn Niemeier,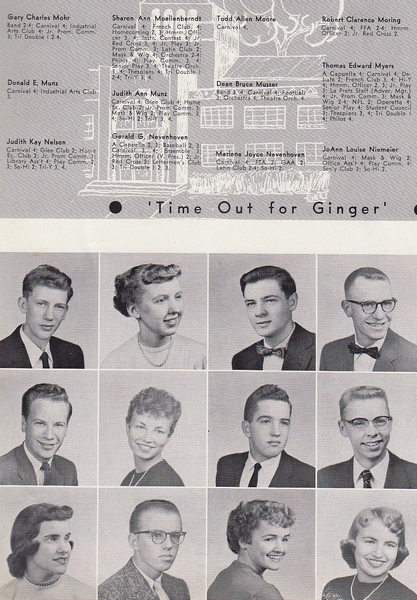 Carolyn Ontjes, Bill Oxley,
Laura Mae Patrick, Joyce Ann Paul, Patricia Ann Paul, James LeRoy Peltz, Helen Elizabeth Penson, Marilou Penticoff, Charles Peters, Liz Pensor, Marilou Penticoff, Charles Peters, Anita Pfeil, Royce Piefer, Diane Plum, Marlene Price, Shirley Price,
Sandra Reed, Frederick Rhynders, Janis Richman, Kenneth Richmond, Rose Marie Rockey, Gary Rodzon, John Rutter, Charlotte Rye,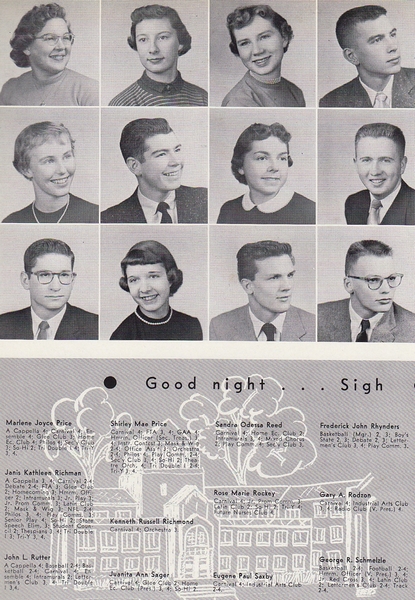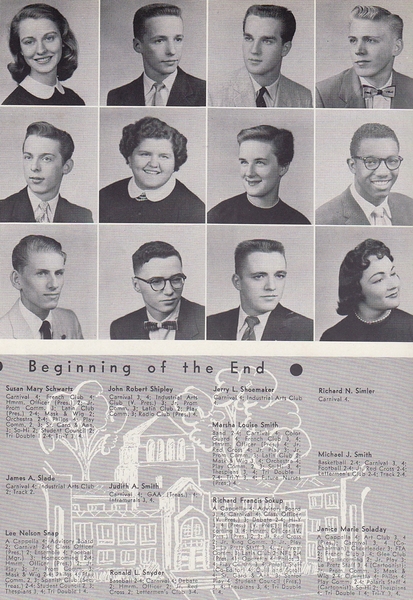 Juanita Sager, Eugene Saxby, George Schmelzle, Susan Schwartz, John Shipley, Jerry Shoemaker, Richard Simler, James Slade, Judith Smith, Marsha Smith, Michael Smith, Lee Snap, Ronald Snyder, Richard Sokup, Janice Soladay, Joanne Spaide, Dean Spielman, Richard Allen Steele, Ronald W. Steele, George Steimle, Judithann Stein, Janice Steinke, Sandra Lee Stewart, Eugene Stubbe, Ruth Elizabeth Stultz, Philip Thomas Switzer,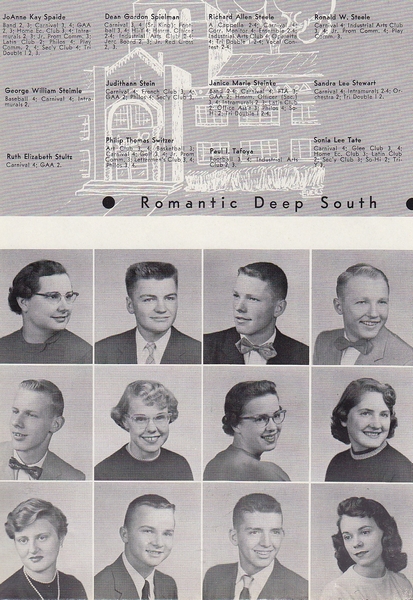 Paul Tafoya, Sonia Tate, Audrey Ann Taylor, Lynne Lois Taylor, Wayne L. Taylor, Georgia Ann Thruman, Ruby Triplett, Wallace Triplett,
Dieter Valk, John W. Voigt, Dorothy Vore,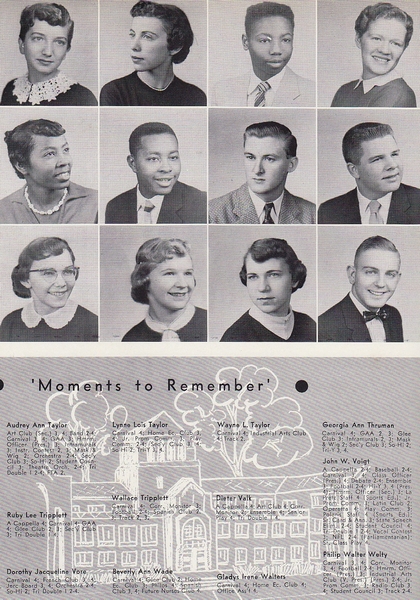 Beverly Wade, Gladys Irene Walters, Philip Welty, Edith Ann Whitten, Connilu Widmer, Beverly Jean Wild, Gwendolyn Y. Williams, Gail Marilyn Witters, Duane Edward Woods,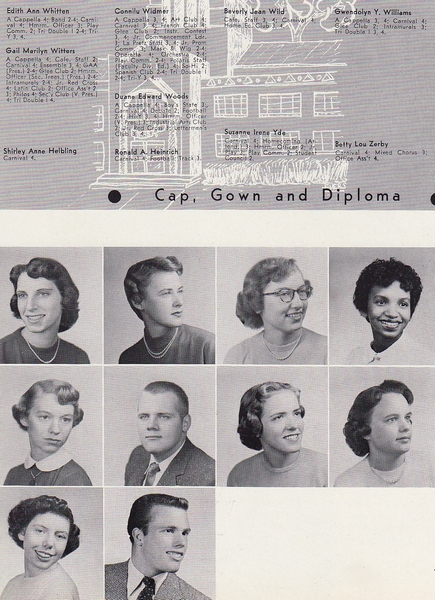 Suzanne Irene Yde,
Betty Lou Zerby.
Page scans courtesy of Tom Cook.

---
The 50th Reunion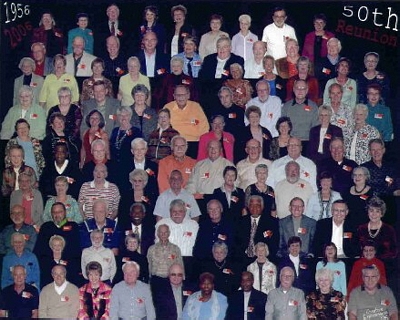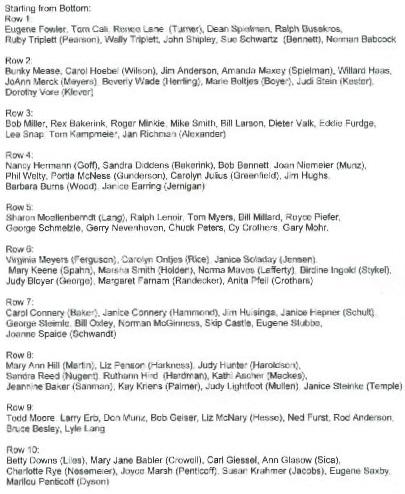 ---
Sandra Connilu Widmer Fann is now an accomplished harp player in Toronto, Canada. You can order CDs of her music on her website, www.sandrafann.com.
---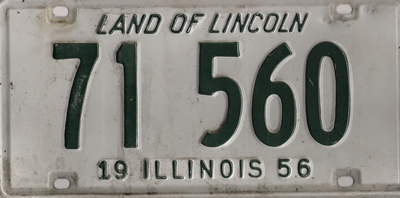 My father's 1956 license plate.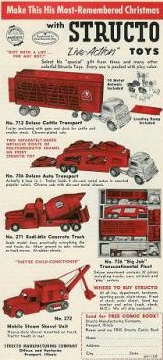 Ad for Structo toys in 1956 magazine.
And, below, Structo toy boxes.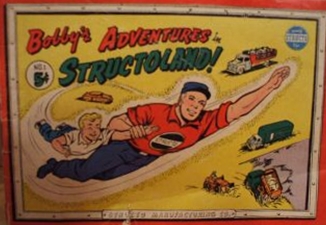 Bobby's Adventures in Structoland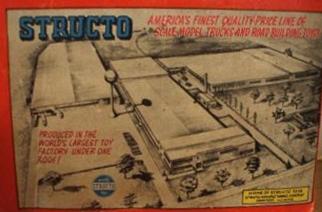 Structo
America's finest quality-price line of
scale model trucks and road building toys
Produced in the world's largest toy factory under one roof!


Structo toy trucks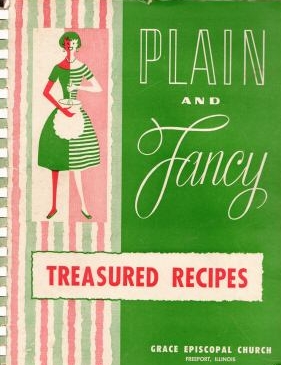 1956 recipe book from
Grace Episcopal Church
---
Click on any year in the chart below to see the class and other info,
such as postcards, people and events from that year.