The Class of 1905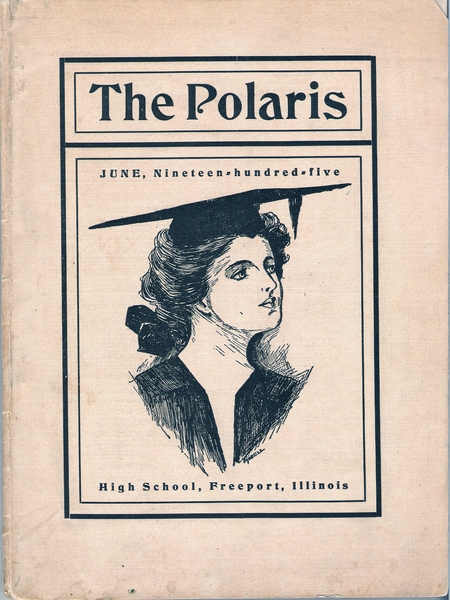 1905 was the first year the Polaris came out under the current name. It was the name of the school newspaper, with the final edition as a yearbook.
Unfortunately, the photos of the Class of 1905 are only identified by last name, so as I discovered first names, I added them. The only one I haven't identified is Miss Gale. Anyone know who she was?.
Harry Angle, manufacturer, Freeport.
Eva Armour, Chicago.
Margaret E. Armstrong, married Mr. Engle, Freeport.
Lura Bennethum, bookkeeper for Dr. Bowers, Freeport.
Florence Brubaker, Principal, Mt. Carroll High School
Bessie Capron.
Clarence W. Chapman, Moline Plow Co., Freeport.
Laura Clark, Freeport.
Arthur Clermont, Fairmount, New Hampshire.
Edith Courtney, teacher, Freeport.
Roy Cromley, Cedarville.
Frank E. Dailey, Salt Lake City, Utah.
Earl Eichelberger, bookkeeper, Rockford.
Ethel Ferries, Freeport.
Elta Flachtemeier,
Paul Frank, Moline Plow Co., Freeport.
Alice Frey, stenographer, Freeport.
Madge Furry, Freeport.
Miss Gale,
Oscar Heard Jr., reporter, Bulletin, Freeport.
Margaret Hershey, teacher, Freeport.
Mary Alice Hill, teacher, FHS.
Herbert Hime,
Oscar Hively, engineer, Kansas City, Missouri.
Carrie Hoefer, U. of W. Class of 1910, Freeport.
Laura Hoefer, teacher, Freeport.
Earl Huenkemeier, University of Chicago.
Ada Hunt, U of I, Ridott.
Nellie Jones, stenographer, Freeport.
Eloise Kintzel, teacher, Freeport
Cora Koenig, bookkeeper, Freeport.
Elenora Lamm,
Flora Lamm, married Mr. Newberger, Ridott.
Louis Lebkicker,
Elsie Mallory, married Mr. Coon, Freeport.
Frank Markel, advertising manager for newspaper, Portland, Oregon.
Florence Marr, married Mr. Dannhuerer, Racine, Wisconsin.
Jane McConville, teacher, Freeport.
Charles McCool, draftsman, Moline Plow Co., Freeport.
Lillian McGrath, teacher, Freeport.
Anna Meyer, teacher.
Ralph Morris, banker, Portland, Oregon.
Anna Myers,
Mary O'Connor, teacher, Freeport.
Jane Osborne, teacher, Freeport.
Claude Parks, Freeport.
Stephen Rigney, U of W Class of 1910, Scioto Mills.
Ellen Runner, Freeport.
Lillian Rust, married Mr. Fry, Freeport.
Melville Schaub, Miller Jourden & Carroll, Freeport.
George W. Schoeffel, U of I Class of 1910, Freeport.
Albert Steffen, traveling salesman, Freeport.
Helen Louise Strong, married Mr. Hartman, Freeport.
Charles Sullivan,
Mary Sullivan, teacher, Freeport.
Ethel Taggart, Rockford College, Ridott.
Norman Tuckett, Tuckett & Sons, Freeport.
Walter W. Vautsmeier, West Point, Class of 1910. An aviator in World War I, Major Vautsmeier died, along with 23 others, in a hydrogen-filled balloon that crashed near Norfolk, Virginia in February 1922 during a test flight of the U. S. Navy Zeppelin, Roma.
Ada Voigt, Freeport.
Alfreda Voigt, teacher, Freeport.
Luetta Voigt, teacher in rural school, Freeport.
Dan Voss,
Mazie Warner, teacher, Freeport.
Bessie Weisser, Rockford.
Chester C. Wells, U of W, Freeport.
Jessie Wilson, teacher, Freeport.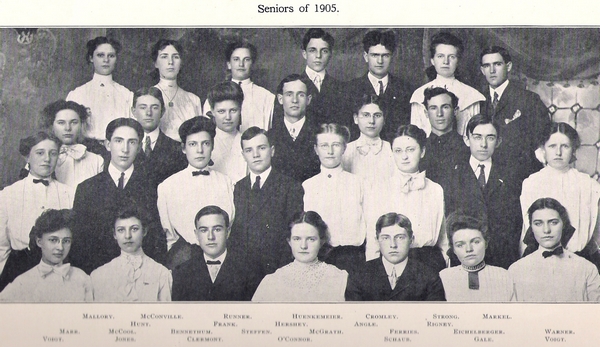 The Senior Class of 1905.
Top row: Mallory, McConville, Runner, Huenkemeier, Cromley, Strong, Markel.
Third row: Hunt, Frank, Hershey, Angle, Rigney.
Second row: Marr, McCool, Bennethum, Steffen, McGrath, Ferries, Eichelberger, Warner.
Front row: Voigt, Jones, Clermont, O'Connor, Schaub, Gale, Voigt.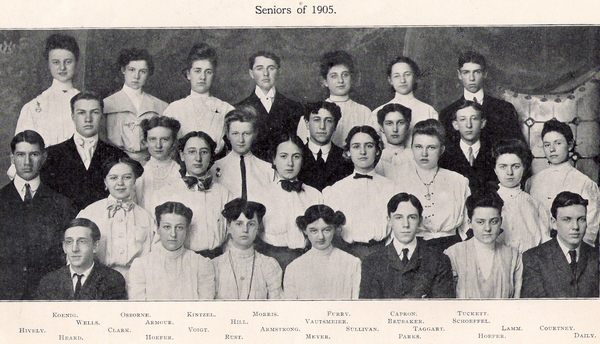 Top Row: Koenig, Osborne, Kintzel, Morris, Furry, Capron, Tuckett.
Third row: Wells, Armour, Hill, Vautsmeier, Brubaker, Schoeffel.
Second row: Hively, Clark, Voigt, Armstrong, Sullivan, Taggart.
Front row: Heard, Hoeffer, Rust, Meyer, Parks, Hoefer, Daily.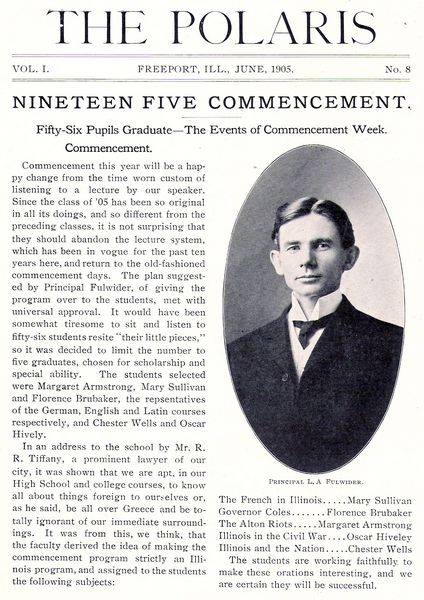 Volume 1, Number 8. The Polaris. Freeport, Illinois, June, 1905. Principal L. A. Fulwider.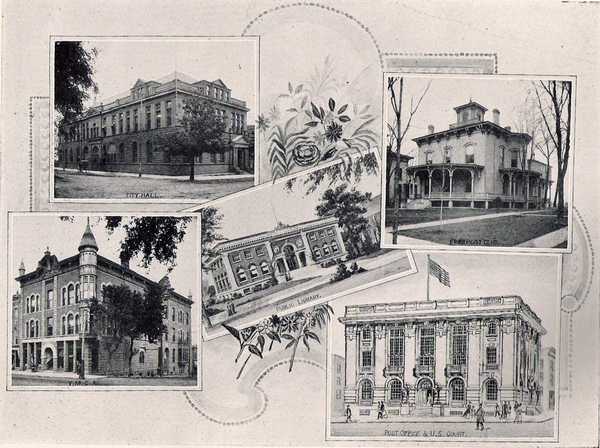 Some prominent Freeport buildings are shown. Top left, City Hall. Bottom left, the YMCA (across the street southeast from the Courthouse. Center, the Carnegie Library. Top right, The Freeport Club. Bottom right, the Post Office and U. S. Court.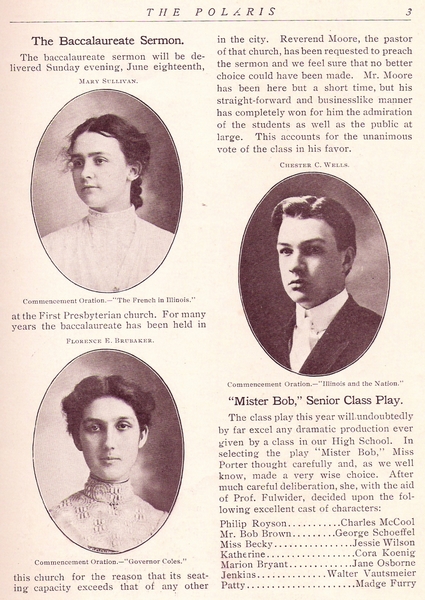 Baccalaureate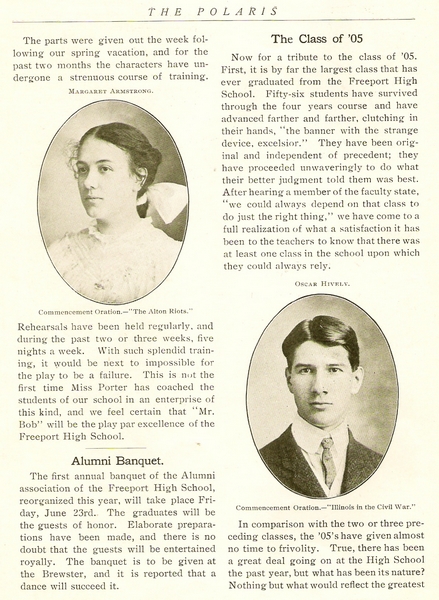 Commencement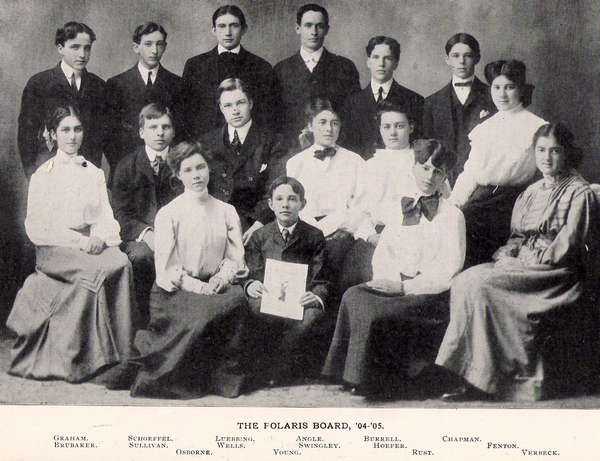 The Polaris Staff
Top row: David Graham - Exchange, George Schoefffel - Business Manager, Edward Luebbing - Assistant, Harry Angle - Forum, Kenneth Burrell - Junior, Clarence Chapman - Athletics.
Middle row: Florence Brubaker - Associate, Charles Sullivan - Sophomore, Chester Wells - Editor, Edith Swingley - Junior, Laura Hoefer - Alumni, Fenton.
Front row: Jane Osborne - Proof Reader, Clarence Young - Freshman, Lillian Rust - Sigma Delta, Marjorie Verbeck - Sophomore.
Not shown: Clara Ryan - Sophomore Literary, Margaret Armstrong - Senior, Joseph Faubel - Staff Artist, Helen Strong - Proof Reader.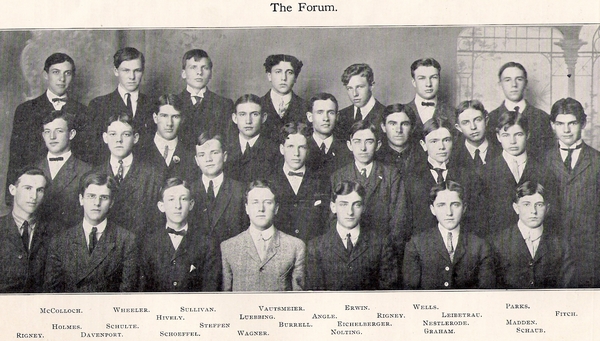 The Forum boys' literary society, first organized by Prof. Scrogin in 1900.
Top row: McColloch, Wheeler, Sullivan, Vautsmeier, Erwin, Wells, Parks.
Third row: Hively, Luebbing, Angle, Rigney, Leibetrau, Fitch.
Second row: Holmes, Schulte, Steffen, Burrell, Eichelberger, Nestlerode, Madden.
Front row: Rigney, Davenport, Schoeffel, Wagner, Nolting, Graham, Schaub.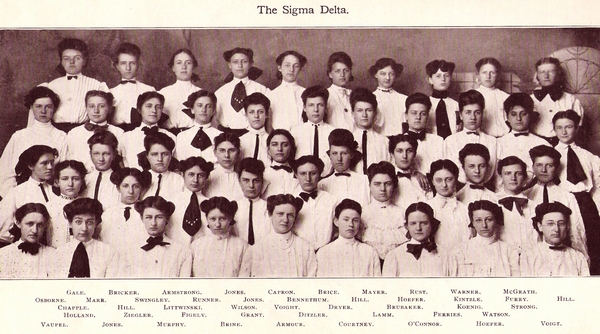 Sigma Delta literary society of FHS was organized in September 1904, composed of Junior and Senior girls.
Top row: Gale, Bricker, Armstrong, Jones, Caapron, Brice, Mayer, Rust, Warner, McGrath.
Fourth row: Osborne, Marr, Swingley, Runner, Jones, Bennethum, Hill, Hoefer, Kintzle, Furry, Hill.
Middle row: Chapple, Hill, Littwinkski, Wilson, Voight, Dryer, Brubaker, koenig, Strong.
Second row: Holland, Ziegler, Figely, Grant, Ditzler, Lamm, Ferries, Watson.
Front row: Vaupel, Jones, Murphy, Brine, Armour, Courtney, O'Connor, Hoefer, Voigt.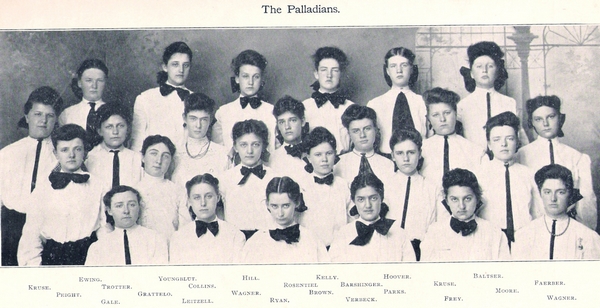 The Palladians began in the spring of 1905, consisting of Sophomore girls.
Top row: Ewing, Youngblut, Hill, Kelly, Hoover, Baltser.
Third row: Kruse, Trotter, Collins, Rosenstiel, Barshinger, Kruse, Faerber.
Second row: Peight, Grattelo, Wagner, Brown, Parks, Moore.
Front row: Gale, Leitzell, Ryan, Verbeck, Frey, Wagner.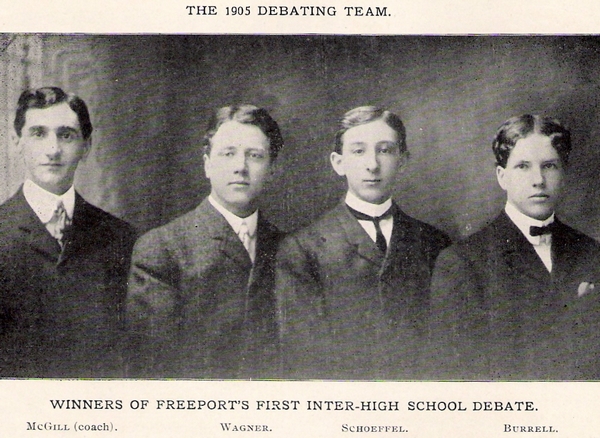 The 1905 Debating Team.
The first Freeport High School debate team. Coach McGill, Wagner, Schoeffel, Burrell.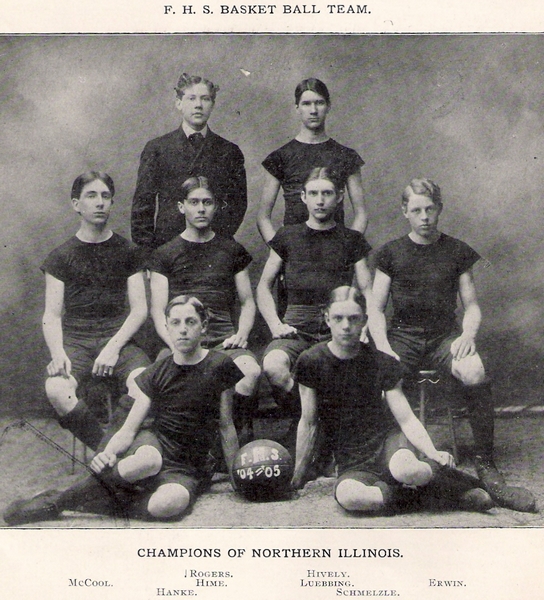 The 1904-1905 Basketball Team.
Top row: Rogers, Hively.
Middle row: McCool, Hime, Luebbing, Erwin.
Front row: Hanke, Schmelzle.
The 1904-05 basketball team were the Champions of Northern Illinois outside of Chicago. FHS outscored their opponents during the season by 554 to 285. The Northwestern Illinois High School League was created by Principal Fulwider. The State basketball tournament wasn't organized until 1908, so the team could not show their skills further than the Northern Illinois championship tournament.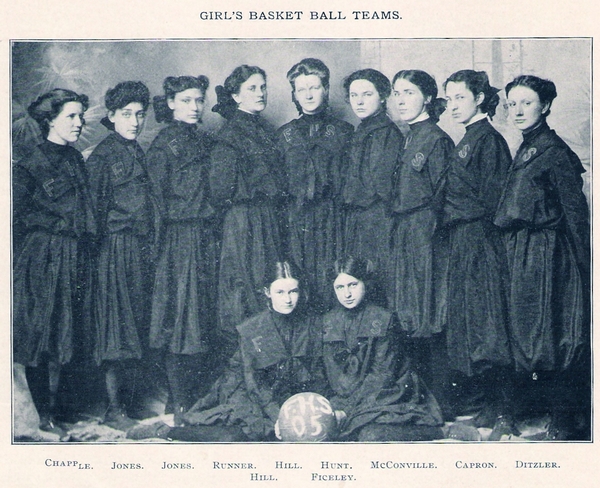 The 1905 Girl's Basketball Team.
Standing: Chapple, Jones, Jones, Runner, Hill, Hunt, McConville, Capron, Ditzler.
Seated: Hill, Ficeley.
How about those uniforms?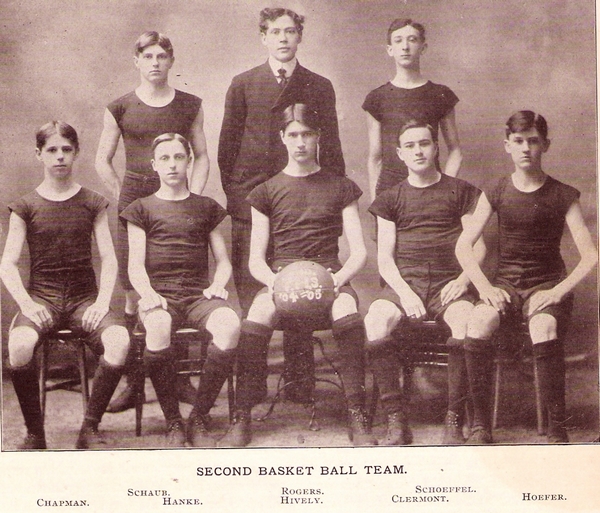 The Second Basketball Team.
Standing: Schaub, Rogers, Schoeffel.
Seated: Chapman, Hanke, Hively, Clermont, Hoefer.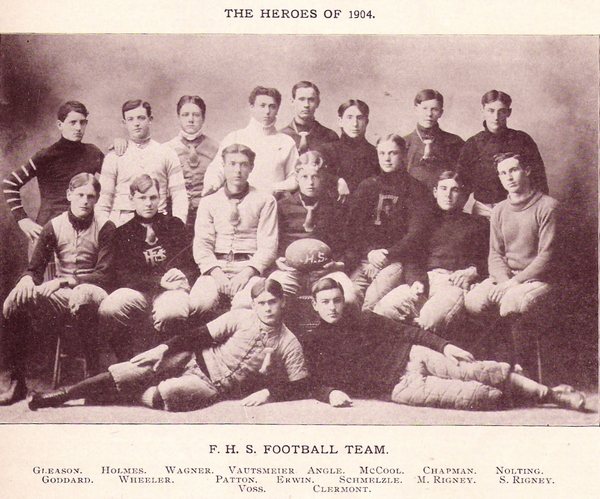 The 1904 Football team.
Standing: Gleason, Holmes, Wagner, Vautsmeier, Angle, McCool, Chapman, Nolting.
Seated: Goddard, Wheeler, Patton, Erwin, Schmelzle, M. Rigney, S. Rigney.
Front: Voss, Clermont.
The 1904 Football team had its most successful season ever, winning half its games!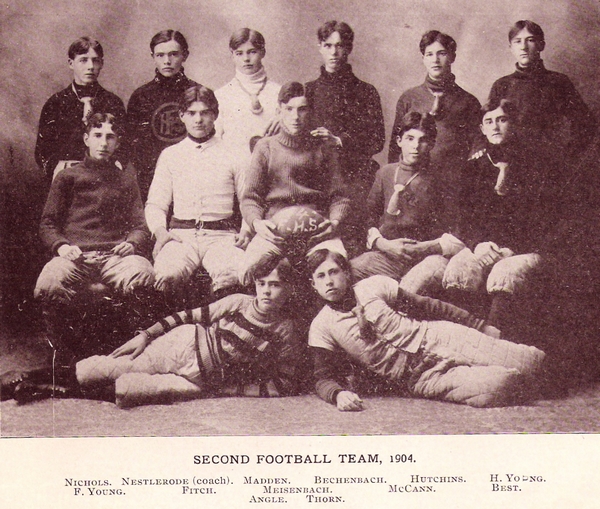 The Second Football Team, 1904.
Standing: Nichols, Coach Nestlerode, Madden, Behcenbach, Hutchins, H. Young.
Seated: F. Young, Fitch, Meisenbach, McCann, Best.
Front: Angle, Thorn.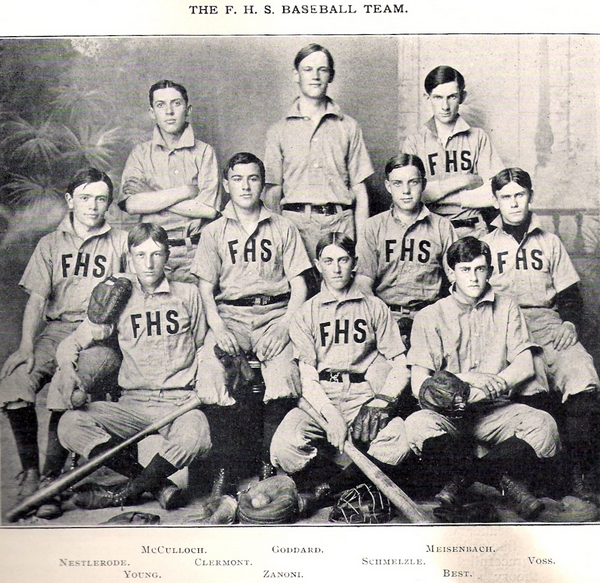 The 1905 Baseball team.
Standing: McColloch, Goddard, Meisenbach.
Middle: Nestlerode, Clermont, Schmelzle, Voss.
Front: Young, Zanoni, Best.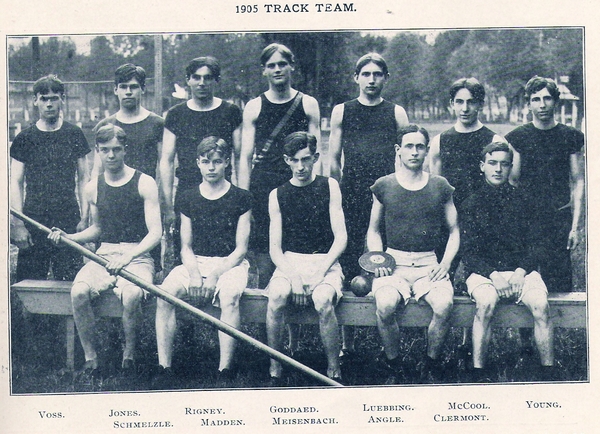 The 1905 Track Team.
Standing: Voss, Jones, Rigney, Goddard, Luebbing, McCool, Young.
Seated: Schmelzle, Madden, Meisenbach, Angle, Clermont.
The first ever Northwestern Illinois High School League track meet was held in Freeport. The league consisted of schools from Freeport, Lanark, Mt. Carroll, Rockford, Savanna and Warren. Freeport finished 4th. Clermont won the 220 yard hurdles for Freeport with a time of 28 seconds.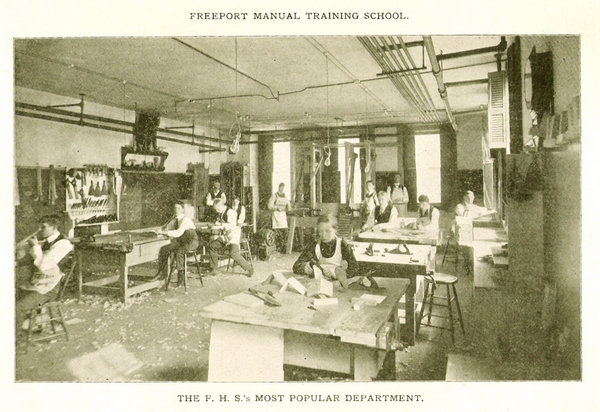 Freeport Manual Training School.
Freeport High School's most popular department appears to be wood shop. Note the mess on the floor!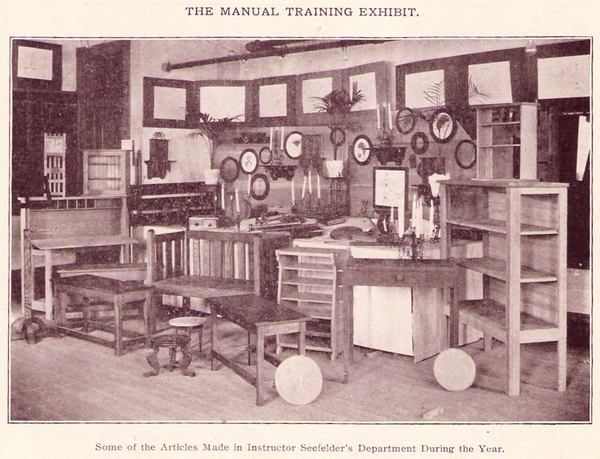 Manual Training Exhibit.
Some of the articles made in Instructor Seefelder's department during the year. Considering the mess in the photo above this one, some fine furniture, clocks and frames have been made.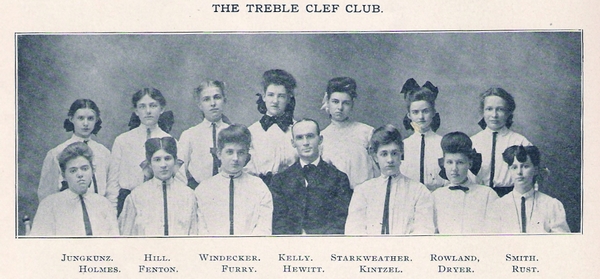 1905 Treble Clef Club.
Back row: Jungkune, Hill, Windecker, Kelly, Starkweather, Rowland, Smith.
Front row: Holmes, Fenton, Furry, Instructor Hewitt, Kintzel, Dryer, Rust.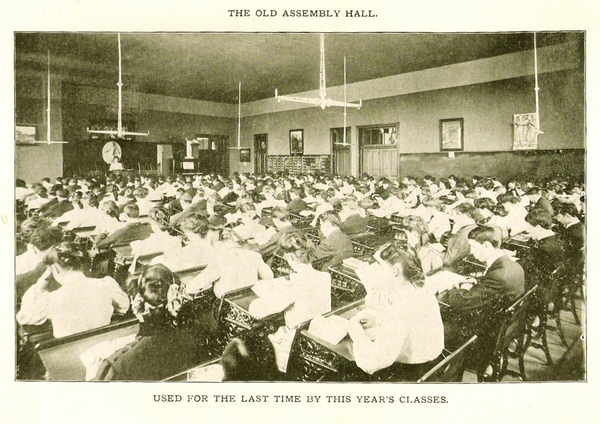 Assembly Hall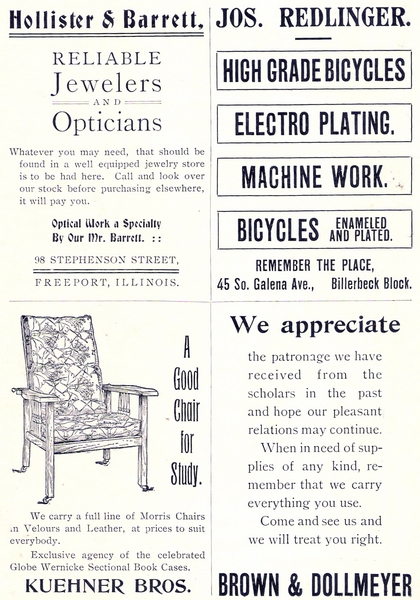 Every year advertising from local businesses makes it possible to publish the Polaris. Above & below are some of the 11 pages of ads from Freeport supporters.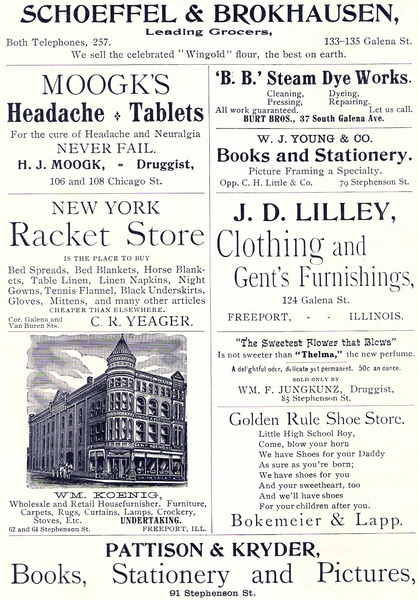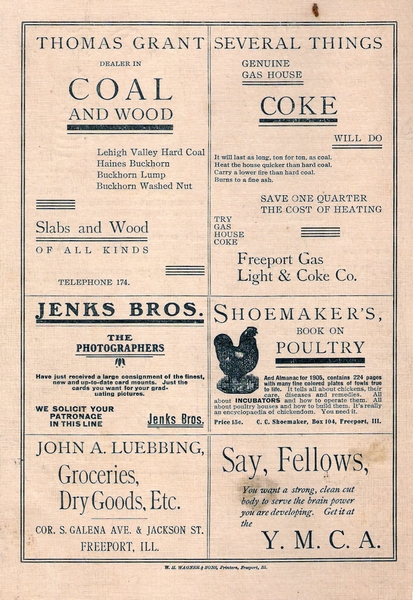 The back cover of the Polaris.
My copy of the 1905 Polaris came to me in battered condition with a loose cover. Bending it to put it onto a flatbed scanner to share with all of you has made it worse. But I thought that this was well worth sharing. I don't know who owned this copy for the first 100 years. Inside was a clipping, probably from an earlier issue of the Polaris student newspaper of an attractive young woman: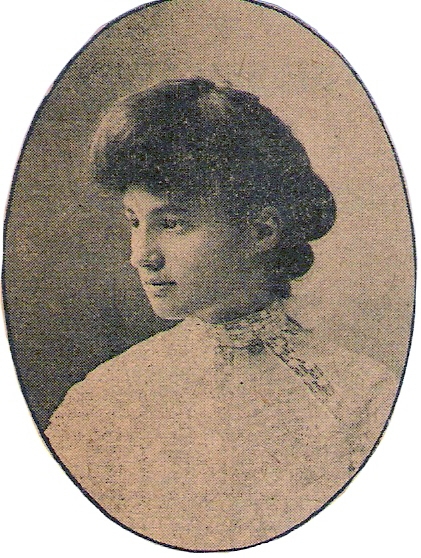 Does anyone know who she was?
---
World War I Veterans from the Class of 1905
Herbert Hime, Officer's Training School, Camp Taylor, Kentucky.
Major Walter W. Vaustmeier, Aviation, Camp Kelly, San Antonio, Texas.
---
Oscar Hively was Superintendent of Highways for 37 years.
---
The 1905 Polaris has an article about the FHS Alumni Association, which was founded in December of 1904. It does not say which class each alumnus is from:
| | |
| --- | --- |
| Office | Graduate |
| President | Al Fleck |
| 1st Vice President | Katherine Porter |
| 2nd Vice President | Ada Naylor |
| Secretary | Iva Swingley |
| Treasurer | Clinton Bennethum |
| Banquet Committee | Mrs. J. F. Fair |
| Banquet Committee | George Graham |
| Banquet Committee | Florence Miller |
| Banquet Committee | Oscar Dorman |
| Banquet Committee | Sarah Curtis |
| Membership | Ada Towslee |
| Membership | Paul Fair |
| Membership | Mary Stearns |
| Membership | Dr. Fred Bowers |
| Membership | Mrs. C. Fred Kuehner |
| Membership | Charles Green |
| Membership | Gertrude Hea |
| Membership | Walter Pfender |
| Athletics | Hon. O. E. Heard |
| Athletics | Dr. Louis Voigt |
| Athletics | Charles Bentley |
| Educational Progress | Alice Brown |
| Educational Progress | H. M. Barnum |
| Educational Progress | Miss Pattison |
| School Decoration | Winnie Taylor |
| School Decoration | Charles Hildreth |
| School Decoration | Mrs. D. B. Breed |
| School Decoration | Flora Guiteau |
---
Card postmarked 1905 showing Freeport looking northwest from the city limits. The Hobart M. Cable Company, locally known as the Organ Factory, is shown near the center. The railroad tracks are just visible in front of the winding Pecatonica River. The card was printed at Wagner Printing in Freeport.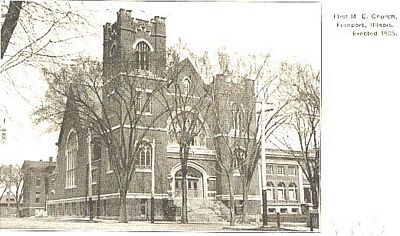 Photo of the First M. E. Church, erected 1905.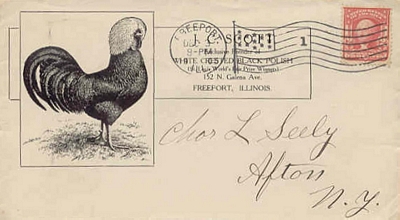 Letter postmarked December 3, 1905, from Freeport.
---
Click on any year in the chart below to see the class and other info,
such as postcards, people and events from that year.