The Class of 1921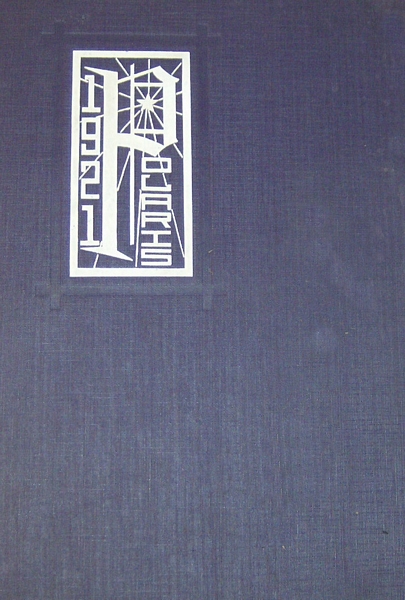 The 1921 Polaris
Charles Allen, Pearl Althoff, Joel Antrim, Esther Atz,
Dorothy G. Ball, Louise Balles, Violet Beardsley, Weldon Bennett, Gladys Jane Bidwell, Mary Bobb, Mildred Bobb, Lola Borchers, Bernice Bowen, Lola Breed, Robert Briggs, William Brokhausen, Roscoe Brown, Frederick Brubaker, Hazel Brubaker, May Burke, Mary Burns, Lucile Bush, Kenneth Byerly,
Harriet Carter, Kenneth Chamberlin, Wilbur Christen, Boyde Clark, Roy Clark, Lillian Cohen, Marguerite Crossen,
Irma Datt, Berlie Davis, Lucille DeBell, Marie Deemer, Helen Demeter, Edwin Dickson, Esther Dresser,
Robert Eckert, Alfred Edler, Robert Edwards,
Isabel Fleck, Emmett Fletcher, Mae Fluegel, Roger Folgate, Lester Francis, Margaret Franks, Raymond Franks, Erma Fredericks, Helen Freidag,
Mae Gavigan, Dorothy Garman or Garmen, Ella Gastel, Ruth Glasser, Ellen Goodhart, Isabel Graham, Margaret Graham, George Grimm,
Nita Hanna, Wayne Hannah, Jack Harpster, Ruth Hastings, Everett Hart, Vida Hart, William Harting, Arthur Hartman, Glen Hartman, Ramona Hartwig, Virginia Held, Fayette Henderson, Hal Hiatt, Howard Hill, Julie Hitchner, Drusilla or Dursilla Hoffman, Harry Hoffman, Theodore Hoffman, Leslie Holmes, Ruth Holtum, Stewart Hoxie, Katherine Hutchins,
Viola Jaeger, Dorothy Jenner, Martha Johnson, Melba or Melva Hohnson,
Marjorie Kauffman, Lola Keister, Charles Kerchner, Mary Kinney, Ferne Kuhlmeyer, Raymond Kobow,
Helen Landolt, Albert Lauck, Grace Lamm, Ellma Lauch, Helen Lee, Mary Ledwith, Karl Lenz, Bernice Liljequist, Curtis Linsley, Elizabeth Luecke, Helen Lyon,
Almeda Marble, Ruth Martin, Cheryl Matter, Lorena or Lorna Matter, Anna McDonald, Francis McGrath, Norma McMurray, Robert Meier, Hildred Mitchell,
Aletha Nampel,
Marjorie Ocker, Harold Offenheiser, Pearl Olthoff,
Ralph W. Parriott, Ruth Parriott, Ruth Paules, Dow Perkins, Leah Pfeil, Gladys Phillips, Gladys Price, Marjorie Putnam,
Edna Richard, Raymond Richard, Margaret Richards, Norma Ritzman, Charles Rockey, Clyde Rockow, Jeannette Roland, Howard Rolph, Charles Rosenstiel, Dallas Ruble,
Margaret Schmacker, William Schumacker, Mable Schock, Dorothy Schultz, Genevieve Schwarz, Robert Shipley, Russell Skeel, Merrill Smith, Mills Spangberg, Selma Splinter, Lenora Stone, Ralph Strohacker, Pauline Strohacker, Cynthia Strohm, Florence Sullivan, Gertrude Sullivan, Rame Sullivan,
Hale Thompson, Clarence Tielkemeier, Lloyd Trunck,
Mary Voigt, Oscar Volkers, Gladys Voltz,
Isabelle Wachlin, Marshall Wagner, Mary Walker, Byrness Webb, Esther Wilhelms, Rachel Wilhelms, Duane Williams, Elise Williams, Rachel Williams, Jane Willie, Myron Wisdom, Ramona Woodward,
Theodore Zimmerman.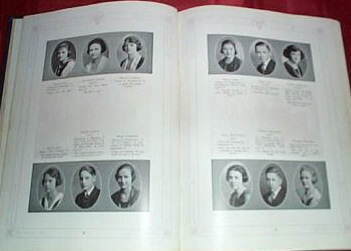 Seniors in the 1921 Polaris
---

Listed as Sophomores in the 1919 Polaris
Oddly, neither the Class of 1921 nor any of the classes besides the seniors were listed by name in the 1919 Polaris.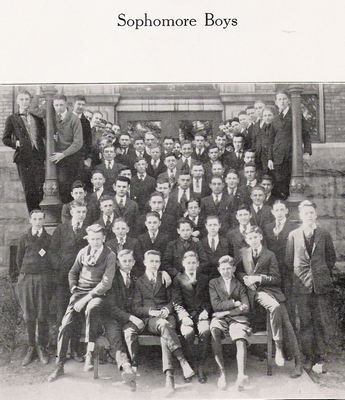 The boys of Freeport High School Class of 1921, as Sophomores.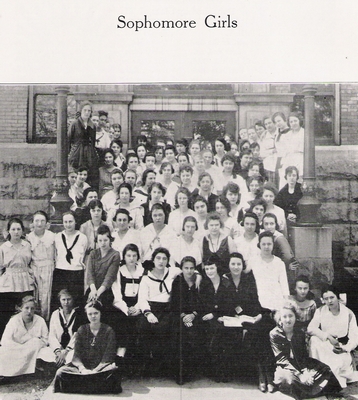 The girls of Freeport High School Class of 1921, as Sophomores.
The Sophomore Officers were Harry Voigt, President; Robert Eckert, Vice President; Robert Edwards, Secretary and Treasurer; and Gladys Bidwell, Historian.
The Board of Control was Joel Antrim, Katherine Hutchins, Alice Marks and Randall Sheetz.
Sophomore students mentioned in the 1919 Polaris included Faith Martin, Chrystal Heeren, Sydney Torey, Hale Thompson and Stewart Hoxsie.
Members of the football team included Joel Antrim, Harry Voigt and Lester Francis.
Oratory students were Robert Eckert, Russell Guccione, Gladys Bidwell and Katharine Hutchins.
Members of the basketball team were Voigt, Bokemeier, Antrim, Edwards, Rockow and Schudt.
---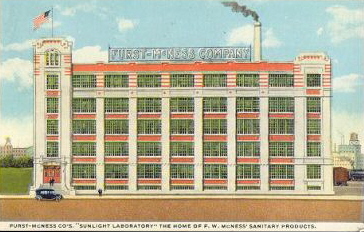 Furst-McNess Company's "Sunlight Laboratory", the home of F. W. McNess' Sanitary Products.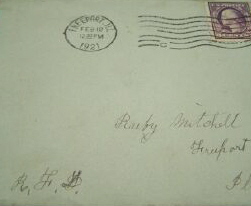 Envelope for a 1921 Valentine card to Ruby Mitchell of Freeport, postmarked February 10, 1921, in Freeport. Stamp is George Washington.
---
Click on any year in the chart below to see the class and other info,
such as postcards, people and events from that year.