The Class of 1932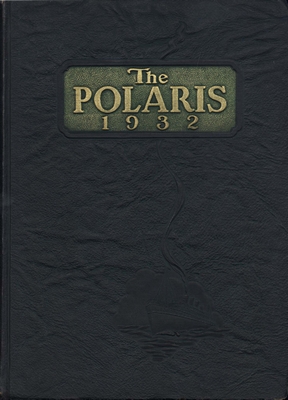 The 1932 Polaris

Roberta Alexander, Donald Arbogast,
Leo Bach, Betty Bear, Jane Becker, Joe Best, Donald Bender, June Blanchard, Monica Bookman, Blanche Breyer, Leona Borger, Leanor Bowen, Robert Breyan, Fern Buffington, Kathryn Burckhardt, Paul Buterbaugh,
Allen Calkins, Frank Campbell, Robert Campbell, Jack Cannon, George Carroll, Rose Casiana, James Chronic, Leon Clouser, Vernon Corman, Robert Cornell, Lily Cotherman, Gladys Cram, George Cregan,
Robert Dale, Florence Deemer, Kern Dickman, Ernestine Dobler, Dorothy Dupee,
Florence Eder, Frederick Emrich, Marion Engelhardt, Fredmont Engelman,
Clarice Faerber, Vera Fairbairn, Vera Fehr, Gwendolyn Fenton, Charlotte Fink, Clarence Fishburn, Helen Flannery, Florence Folbridge, Robert Fowler, Dale Foy, Bethel France, Mary Frisbie, Alvin Fritz, Robert Fry,
Katharine Garman, Robert Garrison, Iona Gassman, Delbert Geiser, Frances Gavigan, Willard Gringrich, James Giuffre, Kenneth Goeke, Rosella Gooch, Edna Good, Kenneth Gorham, Gordon Gregory,
Evelyn Haegele, John "Pat" Harmon, Harold Hart, John Hartman, Esther Hawes, Mathilda Hoelscher, Elizabeth Hillebrecht, Jean Hutchison, David Hogan, Jean Howe, Jane Hettinger, Robert Huss, Roland Hyatt Jr.,
Annetta Ilgen,
Alice Kaiser, Helen Kaiser, Edward Kaney, Betty Keil, Fannie Klesath, Carleton Kloster, Katherine Koppien, Joseph Kornfeind, Marsette Kratzer, Frederick Kruse, William Kuntz,
Chester Laible, Bernard Lamm, Martha Law, Lawrence Lawver, Howard Leamy, Helen Little, Woodrow Ludolph, Vernon Luedeke, Elizabeth Lukermann,
Chester Macke, Matthew Marvin, Robert Mack, Bernice McLenahan, Frederick McNess, Clifford Meinders, Merrill Miller, Virginia Mitchell, CliffordMeinders, J. Edmond Merck, Emerson Miller, Pearl Molter, Marion Moren, Paul Mohr, Kenneth Moore, Marian Mosmen, Norman Mosiman,
Alvin Niblo,
Raymond Oosting, Arthur Opel, Hazel Ozburn,
Patricia Packard, Miriam Parriott, Dorothy Peck, Frederick Perkins, Lucille Plager, Morrell Plager, Thelma Polhill, George Pie, Margaret Porter, Joseph Powers, Lillian Powers, Frances Price, Roger Price,
Edward Raih, Dalton Rampenthal, Richard Rehfeldt, Robert Rehfeldt, Harold, Reizer, Leona Ressler, LaVerne Richter, Dorothy Robinson, Lyle Rohde, Ruth Ross, Jeanette Rotzler, Nelson Rubendall,Emerson Runte, William Ruthe,
Donald Saxby, paul Scharf, Frederic Schaper, Ruth Scheffner, Robert Schmelzle, Calvin Schaefer, Betty Schofield, Wilma Schrag, Edna Schroeder, Ernest Seeman, Robert Shafer, Oril Shockey, Marguerite Singer, Helen Schunk, Burdett Small, Ramelle Smith, Burnetta Smunk, Bert Snow, Clarence Snyder, Viola Spaide, Willard Stabenow, Carl Stover, Robert Strohacker, Henry Stubbe, Virginia Sward,
May Tainio, Jewel Talmadge, Kenneth Thompson, Gaylord Thurston,
William Vance, Glenn VanGorder, Naomi Van Matre, Russell Vosberg,
Vivien Walkey, Lewis Waterstradt, Amel Watz, James Weaver, Elinor Wheeland, John Wheeland, Alfred Wieck, Jean Wilcox, William Wilhelms, Margaret Willie, Florence Wiltrout, Wayne Woker,
Betty Zwiefel.
---
Pat Harmon, member of the College Football Hall of Fame, started his illustrious writing career working on the 1932 Polaris as Editor of Boys' Athletics. He also wrote sports for the Freeport High School News. In the June 6, 1932, issue, he bequeathed his typing ability to Margaret Bingham, an editor of the FHS News from the Class of 1933. The Senior Class Prophecy predicted he'd be cubbing the baseball games for the Trib. The prophesy wasn't that far off.
He began covering sports at age 17 for the Journal Standard in the early 1930s. He would hitchhike to games, sleep on wrestling mats in gyms of teams he covered, and break into the food lines of teams.
Harmon became a student at the University of Illinois in 1934 and wrote for the Champaign News-Gazette. He met & married his wife Anne. He wrote for four years at the Cedar Rapids Gazette from 1947-51.
He moved to Cincinnati in 1951 and served as a sports editor and columnist for the Cincinnati Post for over 34 years. He wrote the book, Cincinnati's Greatest Sports Stories. After retiring and traveling for a year, he became historian and curator of The National Football Foundation and College Hall of Fame in 1986, and continued to serve as historian until 2005.
During his career as a sports writer and editor, he interviewed Vince Lombardi, Pete Rose, Casey Stengel, Arnold Palmer, Eddie Robinson, John Wooden, Bear Bryant, Jack Nicklaus, Woody Hayes, Paul Brown, Joe Louis and many other sports greats.
The Football Writer's Association of America awarded Harmon the 2004 Bert McGrane Award winner. The award honors an FWAA member who has performed great service to the organization and the game of college football.
Harmon's name is featured in two places at the College Football Hall of Fame as a winner of the NFF's Outstanding Contribution to Amateur Football Award and among the listing of previous McGrane Award recipients.
Harmon may be best known for inaugurating the selection of the Illinois All-State high school football and basketball teams.
Pat & Anne were the parents of 11 children. He died July 28, 2013, at the age of 97.
---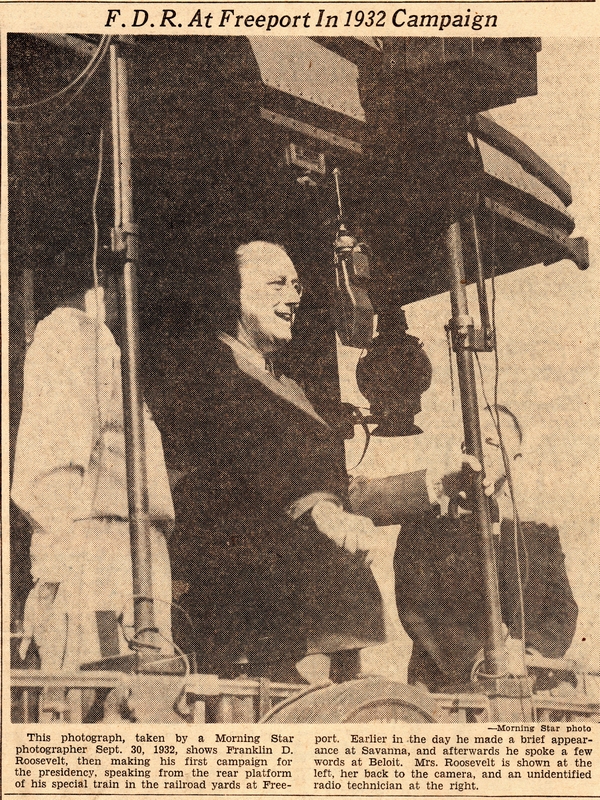 Franklin Delano Roosevelt campaigning in Freeport on September 30, 1932.
Photo by the Rockford Morning Star
From April 13, 1945, Rockford Morning Star, the day after FDR died.
---
Click on any year in the chart below to see the class and other info,
such as postcards, people and events from that year.