The Class of 1874
Curtiss Bidwell.
Kate L. Flanagan, teacher, Freeport.
Ida J. French, Freeport.
William L. French, bookkeeper, Chicago.
Frank C. Fry, proprietor of a fruit farm, 40 miles north of San Francisco, California.
George W. Hartman.
Oscar E. Heard, State's Attorney, Mayor of Freeport.
Carrie B. Krinbill, Chicago.
Addie J. Martin married Mr. Nash, Grand Forks, South Dakota.
Lizzie McCoy married Mr. Flanagan, teacher, Freeport.
Caddie H. Miller married Mr. Fair, Freeport.
Addie F. Norton married Mr. Webster, Chicago.
William B. Norton, minister, Millington, Illinois.
Eugene Rockey, physician, Portland, Oregon.
William H. Rodearmel, Chicago.
Charles S. Serfass, traveling salesman, Freeport.
Alice E. Shaffer married Mr. Wise, Freeport.
John M. Shaffer, druggist, DelNorte, Colorado.
Sarah C. Stoskopf, Freeport.
Albert F. Wagner, dentist, Huntington, Indiana.
---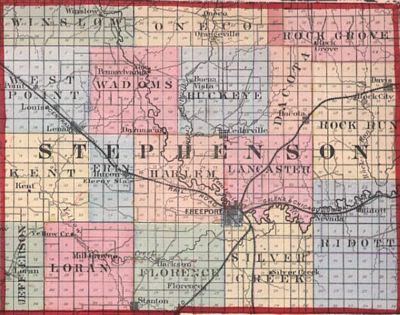 Stephenson County in 1874 map, showing Townships:
Winslow, Oneco, Rock Grove,
West Point, Wadoms, Buckeye, Dacota, Rock Run,
Kent, Erin, Harlem, Lancaster,
Jefferson, Loran, Florence, Silver Creek and Ridott.
Note original spellings: Wadoms is now Waddams, Dacota is now Dakota.
---
Click on any year in the chart below to see the class and other info,
such as postcards, people and events from that year.
.