The Class of 1927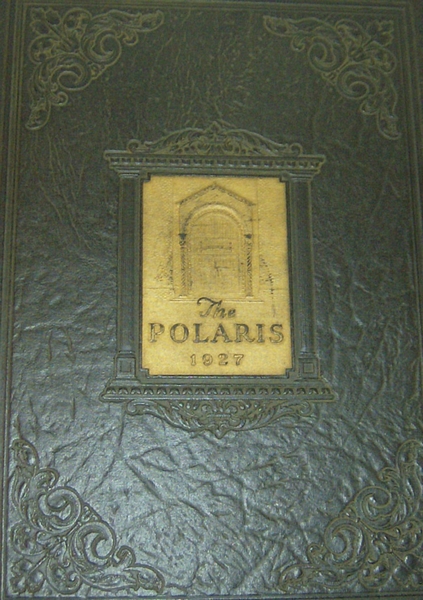 The 1927 Polaris
Gertrude J. Anderson, Loyal W. Andrews, Ruth M. Atz, Gladys Marie Aurand,
Mary Maurica Balderstone, Bernard Ogden Barber, Louis Edward Beckmire, Burwell Edward Beddoes, Beryl Bennethum,
Lucille C. Berg, Helen E. Blanchard, Menvan Boomgarden, Donald F. Bottorf, Ruth E. Bremer, Dorothy Burckhardt, Frank N. Brockmeier, Virginia Burnett, Elizabeth Burns, Thelma Harriet Byrem,
Lois M. Chitty, Dorothy Roberta Coon, Darrell D. Cotherman, Leslie W. Cox, Robert James Criddle, Jr.,
Lois A. Ditzler, Marion Edna Deily,
Dolores Lorraine Eaton, Bayard Hayes Esmay, Margaret C. Evans,
Dale Rayhorn Fair, Lucile Ruth Flickinger, Alby Royal Foy, Norman F. Fry, Margaret J. Fuss,
Katherine L. Gable, Marjorie V. Glasser, Martin G. Goodrich, Ruth Grimm,
Elmer Hill, Hilda M. Hirsbrunner, Paul Frederick Hirst,
Helen M. Jahnke, Alice G. Jephson, Vera Marie Johnson, Margery E. Johnston,
Robert G. Kehoe, Ottmar K. Keller, Vera Kathryn Kencke, Kenneth J. Kerlin, James John Keyes, Albert George Kircher, Fredrick J. Kirkman, Gladys Velma Kluck, Melvin Kurtz, Lorraine Knauff, Audrey A. Koser, Helen Ann Kreidler, Morrell L. Krell, Marion E. Kuhlemeier, Norma S. Kuntz,
Katherine Lambert, William H. Lambert, Lawrence R. Langfeldt, Ruth Ione LeBaron, Alice J. Lindsey, Florence M. Lins,
Francis Vincent McLarnon, Marion D. Molter, William E. Moore,
James F. Neiman,
John F. Ogden, Margaret L. Opel,
Evelyn Lucille Pack, Harold M. Perry, Lugene Perry, Mabel L. Petermeier, Hazelle Peters, Eugene Frederick Pfile, Thelma Olive Plager, Grace E. Powers, Robert E. Prescott,
Marian M. Ridgway, David Granger Rowen, Robert James Rowley, Martha A. Ruthe, Mary Ellen Ruthe,
Dorothy Louise Schauer, Eliza J. Schauer, Esther L. Schlegel, Margaret J. Schofield, Margaret M. Schrader, Wilbert A. Seidel, Mary D. Shoenhard, Rodney A. Smith, John Henney Smithe, Ralph H. Snyder, Vernon F. Sprague, Helen M. Stahl, Cecil Stevens, Katherine M. Stibgen, Victoria E. Stonick, Grace M. Sullivan,
Jack M. Thro, L. Edward Taylor, Gladwyn E. Tilden,
Joseph Marion Unzicker,
Phyllis Joan Wagner, Harriet Elizabeth Wallahan, Bertha M. Walter, Millard O. Walter, Beryl V. Webb, Bethel Imogene Weiler, Margaret E. Widmer, Perry M. Wilcox, Clinton DeWayne Wilkins, Alice T. Willet, Jane E. Wilson, Ruth M. Wilson, Marie Louise Witte
Agnes A. Young, Sarah M. Young, Richard A. Youngblood.

---
Click on any year in the chart below to see the class and other info,
such as postcards, people and events from that year.