The Class of 2008

Cristina Acevedo, Kelsey Achterberg, Nina Almillategul, Cortney Alber, Robert Alberts, Devareaus Allen, Lacreica Allen, Ontario Allen, Elizabeth Altfillisch, Dawan Anderson, Ingrid Anderson, Robin Arnold, Bers Ashely, Ana Avila, Maria Awender,
Nicole Babcock, Kaila Bahr, Cory Baker, Kalen Bales, Travis Bauscher, Andrew Beach, Emily Beach, William Beamish, Miranda Berg, Dannya Bernal, Amanda Bessert, Lathaniel Best-Jordan, Molly Beyer, Joshua Black, Desiree Blaser, Todd Blaser, Barbara Boolman, Travis Boyer, Tevin Boyett, Amanda Braden, Joshua Braun, David Bridgeland, Sarah Brill, Maja Broekl, Kattie Brown, Lorenzo Brown, Libby Brubaker, Ashli Busch, Adam Buss, Ryan Buss, Thomas Butler, Brandon Byrne,
Brandon Cahill, Kevin Calam, Angela Cali, Christopher Carey, Amber Castle, Jesse Castle, Rachel Cawkins, Hannah Clark, Daisy Clay, Joshua Clicquennoi, Demarco Coleman, Travis Coleman, Lasharea Colley, Arlene Collins, Jasmine Collins, Cody Corran, Jared Cotherman, Renee Cox, Sean Cox, Kelsey Cummins, Mark Curboy,
Craig Dailey, Cameron Davis, Bianca Dawson, Kristi Dehahn, Kaitlyn Drehoble, Melissa Delgado, Anna Deutsch, Trevor Dewall, Michael Dewitt, Adam Dickman, Abigail Dimodica, Jessica Ditzler, Shandy Dreyer, Lynette Duncan, Dustin Dunn, Shawn Dunn,
Ashley Eckert, Leslie Eiler, Erik Eiseman, Steven Ellefson, Blake Ellinor, Derenzo Epps, Marquita Erving, Patricia Esteves, Duane Euler, Erin Evans, Marcus Evans, Devin Ewers,
Raymond Fane, Shanika Fane, Timothy Farrar, Charmaine Farrille, Grenville Fernandes, Yashica Fields, James Fletcher IV, Niah Fletcher, Barry Forbes, Stephanie Foster, Karleen Franklin, Andrew Franks, Jerico Freeman, Octavia Freeman, Michael Fricke, Jeremiah Fuchs, Zakery Fullerton, Brittany Fullmer,
Angel Gage, Tramel Gaines, Andrea Genkinger, Ryan George, Dustin Gerard, Melissa Getzendaner, Alissa Giedd, Shannon Giles, Ana Gonzalez, Kentesha Gould, Karl Green, Sky Greer, Aften Griffin, Michael Groves, Robert Guzzardo,
Ansonya Hale, John Hall, Kitisha Hall, Michelle Harrison, Danielle Harty, Jamie Hasken, Jazzmine Hawthorne, Jeffery Hayenga, Kristina Hayenga, Brittany Hayes, Jenna Hayes, Glynnis Healy, Courtney Heilman, Heather Hellwig, Kelly Kickerson, Kyle Hiester, Dakota Higgs, Camrie Hill, Deja Hilton, Jacob Hoak, Brandon Hocraffer, Tyler Hocraffer, Breann Hohmann, Christiana Hohmann, Timothy Holbert, Britni Holden, Janlyn Holden, Lauren Homan, Kaitlyn Homer, Lindsey Hoops, Jerry Howard, Rashad Howard, Brenda Huetson, Marshall Hughes,
Sally Invergo,
Shaun Jacobs, Anthony Johnson, Brianna Johnson-Schaar, Felicia Johnson, Jacob Johnson, Jeremy Johnson, Shacara Johnson, Andrea Jones, Ashley Jordan, Heather Jurs,
Christopher Kaiser, Brian Kappes, Regina Keister, Matthew Keith, Kayleigh King, Kaitlyn Kirby, Rebecca Kirk, Savion Kirk, John Kirkland, Shawn Klaus, Timothy Klouser, T. Knapp, Jordan Koch, Danyell Koester, Sarah Kreeger, Robyn Kruse, Nakita Kubatzke, Nina Kutz,
Nelson Laborn, John Lameyer, Ryan Lamothe Jr., Anna Marie Langford, Kristin Lantz, Brian Lawler, Kara Lehman, Tymario Lenoir, Isaiah Lewis, Nathaniel Lewis, Stephanie Lind, Robert Lloyd, Kyle Losco, Brittany Love, Raondra Love, Timothy Lovell, Courtney Luensman, Joshua Luloff,
Tiffany Maltry, Chelsea Mamott, Kyle Marcum, Donnie Markham, Eric Martin, Katie Martin, Thomas Martin, Eric Mathews, Heather Mathews, Benjamin Maury, Benjamin Maxey, Jared May, Fredarico Mazique-Coleman, Ashley, Mazzarisi, Martini McClennan, Dustin McKee, Megan McKenna, Andrew McNett, Joshua McTier, Cody Meier, Robert Meinert, Ross Mellen, Chad Miller, Nicholas Miller, Erich Moderow, Kyle Moherig, Crystal Molitor, Sarah Montoya, Ashanti Moore, Justin Moore, Kyle Moore, Stacy Moore, Melissa Morgan, Garrett Morton, Adam Moeller, Ethan Mullen, Alicia Mumford, Rachel Myers,
Chad Nelson, Jestin Nesemyer, Jazman Norsworthy, Abbie North, Buddy Norton, Justin Nugent,
Aaron Ontjes, Kevin Oppold, Kathrine Ottenhausen,
Markel Palmer, Azibriel Parker, Deandre Parker, Destiny Parker, Jayde Parker, Tremon Parker, Shayveunte Parks, Spencer Parks, Brittany Parsons, Cody Parsons, Megha Patel, Sagar Patel, Timothy Patterson, Tarshae Payne, Kiara Pearson, Courtney Pehl, Toni Perkins, Elizabeth Peters, Kaitlyn Peters, Daniel Peterson, Rhiannon Petras, Jean-Louis Phillippon, Andrew Piefer, Joshua Pillow, Vaughn Piske, Jennifer Plum, Kyle Pommerening, Kristen Potter, Travis Pruitt, Sara Puetter, Onterio Pye,
Alyson Quigley,
Matthew Rammelsberg, Cathy Randall, Alexandra Raum, Gretchen Reed, Gerald Reeder, Katrin Regan, Katherine Reid, Skyler Rettenmeier, Daniel Reuber, Dantel Robertson, Dejane' Robinson, Rebecca Roe, Regina Rogers, Catlin Rosenwinge, Alison Rouse, Brittany Rowe, Jordan Ruthe,
Chad Sabin, Michaela Sager, Christie Saxer, Sheena Schad, Jacob Schemel, Alexander Schleich, Brittany Schnitzler-Saxby, Ryan Schrock, Joshua Schroeder, Dustin Schubert, Kiera Scott, Takeria Seals, Ashlee Seyster, James Shenberger, Stephen Shipp, Jordan Shores, Randy Skeel, Courtney Smith, Scott Smith, Cody Snyder, Kristina Soltow, Tayler Spikes, Bradley Statdfield, Christopher Steele, Cory Steele, Joshua Steele, Dorothea Stewart, Lacey Stewart, Kyle Stichter, Danielle Stilson, Kyle Strasser, Alexender Sullins, Allison Sutton,
Thor Tackett, Chaquanda Taylor, Dwayne Tensley, Bridgett Thomas, Heather Thomas, Kharmen Thomas, Ryan Thomas, Joseph Threadgill, Jasmine Thurman, Clayton Tobin, Jessica Toepfer, Veronica Tolliver, Elizabeth Tomita, Karina Tormohlen, M. Torres, Damon Trainor, Katelyn Tuell,
Jordan Underhill,
Corey Valkema, Jason Veer, Nathan Vehmeier, Tomarra Vilces,
Charles Wachlin, Sierra Wade, Treasure Wade, Nelson Walker, Porsha Walker, Abigale Wallace, Reginald Wallace, Terrence Wallock, Megan Walter, Cerel Watson, Quinton Watts, Breanna Weegens, Ryan Werntz, Ryan Wildes, Brandi Wilhelms, Ashley Williams, Britne Williams, Josinia Williams, Kelli Williams, La Shanda Williams, Latasha Williams, Misti Williams, John Willis, Raven Wilson, Megan Winnekins, Demetries Winston, Lizzie Winston, Andrea Winter, Sammie Wool.Angela Wright, Erik Wright, Gerald Wright, Yisrael Wright, Rebecca Wubben,
Nicole Zannis.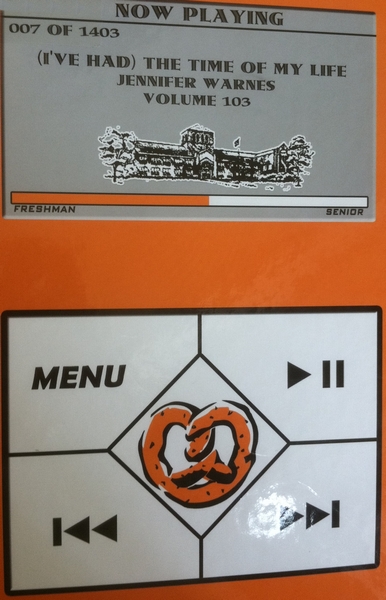 The 2008 Polaris staff cleverly used the back cover
to enhance the theme of the yearbook.
---
Faculty
Lucille Adams, Karen Alt,
Shellie Barth, Meg Bausman, Robert Baxter, Robyn Baxter, Yvonne Bell, Erica Berchtold, Larry Boettcher, Elizabeth Bowen, Lynn Brugger, Kevin Budden, Frances Bullock, Victor Burris, Mona Buss,
Jerry Casselberry, Charles Cawkins, Lisa Chrisetnsen, Blondie Clark, Tom Colborn, Gina Cole, James Cole, Becky Connors, Tim Connors, Elliot Cooper, Heather Cornelius, Jeff Curry,
Dana Dinderman, Susan Dittmar, Lynn Dunn,
Rick Eiler, Wendy Erbsen, Diane Erving, Kelly Everding, Paul Everding,
Tammy Fox, Kim Fricke, Steve Fricke, Joanne Fuller,
Matt Gallie, Nancy Geiser, Cindy Gordon, Jamie Graf, Alan Greene,
Cheryl Hartford, Jenny Heiden, Paul Heimer, Debra Heitkamp, Zack Heitz, Lisa Herring, Chad Hersey, Pat Hickey,
Lisa Johnson,
Jennifer Kanosky, Aaron Katzenberger, Nick Katzenberger, Michelle Keiwter, Mrs. Knighten, Sharon Koch, Sandra Kraft, Bill Krahe,
Lori La Budde, Andrew Ladendorf, Kathy Lamm, Jeffrey Lawfer, Tami Lawson, Nancy Lawver, Jeff Lehman, David Liebhauser, Lisa Lind, Andrew Lobdell, Robert Luedeke, Cindy Luensman,
Christy Mackey, Linda Marske, Anne Mason, Pamela McClure, Hope McDonald, Lori McIntosh, Michael McIntosh, David McIntyre, Jim Mertz, Carole Michael, Kathleen Mikkelsen, Matt Milliken, Audrey Moore-Howard, David Mouri, Pat Myers,
Nick Namio, Andrew Nelson, Kevin Nitz,
Angie O'Brien, Jacqueline Ogden, Cathy Osterberger,
Derek Paulsen, Kimber Perala, William Peterson, Larry Phillips,
Mark Rammelsberg, Diane Regan, Jeff Reuter, David Roloff, Paul Rowe,
Gwendolyn Salter, Jeff Sands, Carl Scace, Jeff Schierer, Kurt Schilling, Patty Schmidt, Jenny Schneiderman, Larry Seiple, Danelle Setterstrom, Jewel Shockey, Derek Simons, Rhonda Singleton, Charles Slaughter, Liz Smith, Carrie St. Andrews, Dave Steenrod, Rebecca Stefanelli, Tonia Strode, Laurie Swalve, Sarah Swords,
Roberta Tellefson, Steve Tellefson, Amy Tolu-Honary, Neil Trainor, Don Tresemer,
Martha Wachlin, Elwyn Webb, Terry Werntz, Beth Wichman, Paul Wieland, Tara Wingert, James Winker, Elizabeth Wolfe,
Justin Yeager, Rose Young,
Jeff Zick.
---
2008 All-Conference
Travis Boyer, senior, baseball; Raegan Budden, junior, track; Aaron Burke, junior, golf;
Karli Davis, junior, volleyball; Sidney Devries, sophomore, bowling; Suporia Dickens, junior, basketball, track; Abby Dimodica, senior, tennis, soccer; Jessi Ditzler, senior, tennis, soccer;
Blake Ellinor, senior, soccer MVP;
Grenville Fernandes, senior, swimming; Zak Fullerton, senior, basketball;
West Gastel, junior, football MVP; Ben Glynn, junior, wrestling; Caityln Greene, sophomore, soccer; Emily Guderyon, junior; golf;
Ryan Hickey, junior, baseball; Tim Holbert, senior, bowling; Libby Hurder, sophomore, swimming;
Heather Jurs, senior, softball;
Matt Keith, senior, bowling; Taylor Kirk, junior, track;
Eric Martin, senior, swimming; Dan Meier, junior, golf; Tyler Mercier, junior, soccer;
Katie Norman, junior, basketball;
Kiara Pearson, senior, track MVP; Travis Pruitt, senior, track;
Katrin Regan, senior, swimming;
Courtney Shiffer, junior, volleyball, basketball; Samantha Sloan, freshman, swimming; Mikeatta Smith, freshman, track; Hope Stayer, sophomore, cross country, soccer;
Damon Trainor, senior, cross country, track;
Austin Walther, senior, soccer; Josinia Williams, senior, track; Jace Workheiser, junior, track; Erik Wright, senior, soccer;
---
Click on any year in the chart below to see the class and other info,
such as postcards, people and events from that year.