While FHS was not yet on the graded system with classes, there were students attending.
---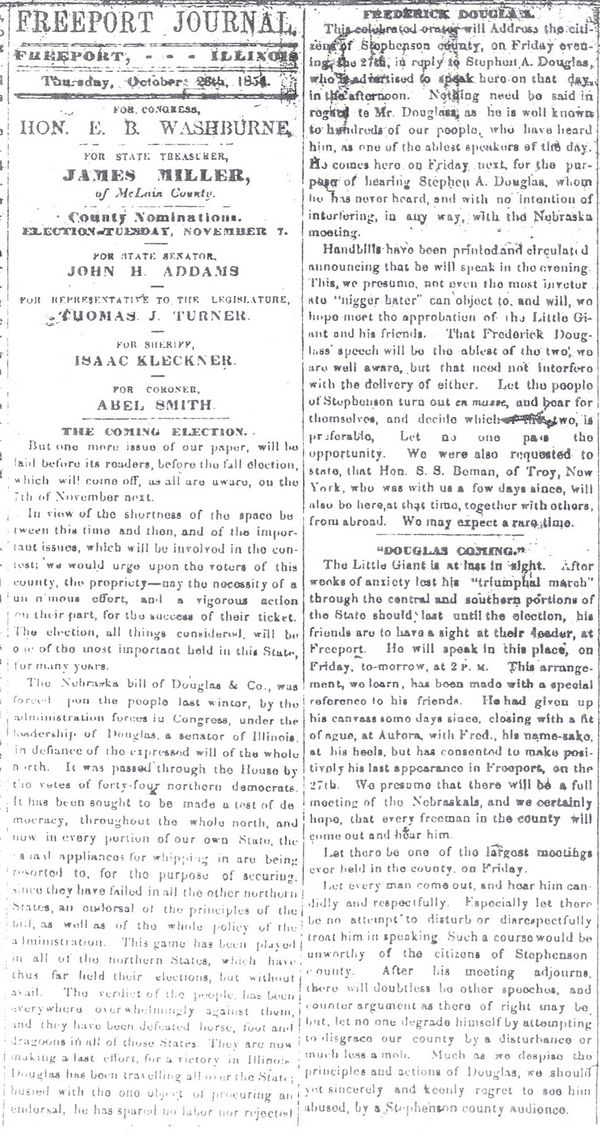 The Freeport Journal
October 28, 1854
Clipping courtesy of Steven A. Cole
This two-column clip talks about the upcoming election in the left column (John H. Addams is running for State Senator, and Thomas J. Turner is running for Representative to the Legislature), and two well-known speakers coming to Freeport the following day:
FREDERICK DOUGLASS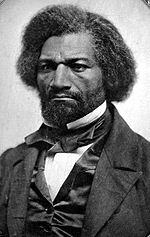 This celebrated orator will Address the citizens of Stephenson county, on Friday evening the 27th, in reply to Stephen A. Douglas, who is advertised to speak here on that day, in the afternoon. Nothing need be said in regard to Mr. Douglass, as he is well known to hundreds of our people, who have heard him, as one of the ablest speakers of the day. He comes here on Friday next, for the purpose of hearing Stephen A. Douglas, whom he has never heard, and with no intention of interfering, in any way, with the Nebraska meeting.
Handbills have peen printed and circulated announcing that he will speak in the evening. This, we presume, not even the most inveterate "nigger hater" can object to, and will, we hope meet the approbation of the Little Giant and his friends. That Frederick Douglass' speech will be the ablest of the two, we are well aware, but that need not interfere with the delivery of either. Let the people of Stephenson turn out en masse, and hear for themselves, and decide which of the two, is preferable. Let no one pass the opportunity. We were also requested to state that Hon. S.S. Beman, of Troy, New York, who was with us a few days since, will also be here at that time, together with others, from abroad. We may expect a rare time.
"DOUGLAS COMING."
The Little Giant1854 is at last in sight. After weeks of anxiety lest his "triumphal march" through the central and southern portions of the State should last until the election, his friends are to have a sight at their leader, at Freeport. He will speak in this place, on Friday, tomorrow, at 2 P.M. This arrangement, we learn, has been made with a special reference to his friends. He had given up his canvass some days since, closing with a fit of ague, at Aurora, with Fred., his name-sake, at his heels, but has consented to make positively his last appearance in Freeport, on the 27th. We presume that there will be a full meeting of the Nebraskals, and we certainly hope, that every freeman in the county will come out and hear him.
Let there be one of the largest meetings ever held in the county, on Friday.
Let every man come out, and hear him candidly and respectfully. Especially let there be no attempt to disturb or disrespecfully treat him in speaking. Such a course would be unworthy of the citizens of Stephenson county. After his meeting adjourns, there will doubtless be other speeches, and counter argument as there of right may be, but, let no one degrade himself by attempting to disgrace our county by a disturbance or much less a mob. Much as we despise the principles and actions of Douglas, we should yet sincerely and keenly regret to see him abused, by a Stephenson county audience.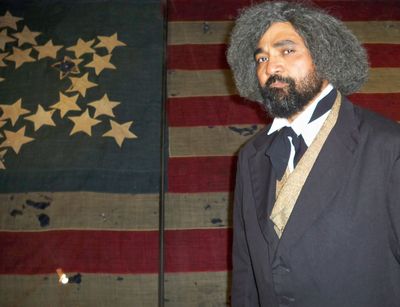 Steven A. Cole (right, a 1971 Pretzel), who sent a scan of the clipping, often plays the role of Frederick Douglass in historical reenactments, along with Michael Krebs (a 1974 Pretzel, below with Cole), who plays Lincoln.
Douglass, (1818-1895), was born a slave in Maryland, and escaped in 1838, surviving an owner who often beat him. He travelled widely, was hailed as a speaker in Ireland and England, and developed into one of the greatest speakers in his generation.
In one of the three books he wrote about his life he penned, "I have often been asked, how I felt when first I found myself on free soil. And my readers may share the same curiosity. There is scarcely anything in my experience about which I could not give a more satisfactory answer. A new world had opened upon me. If life is more than breath, and the 'quick round of blood,' I lived more in one day than in a year of my slave life. It was a time of joyous excitement which words can but tamely describe. In a letter written to a friend soon after reaching New York, I said: 'I felt as one might feel upon escape from a den of hungry lions.' Anguish and grief, like darkness and rain, may be depicted; but gladness and joy, like the rainbow, defy the skill of pen or pencil."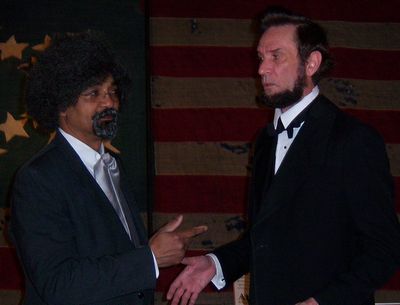 Though he was free, blacks in the 1850s still had it rough, and equality was not the norm in the United States. However, upon arriving in Ireland, he wrote, "I breathe, and lo! the chattel [slave] becomes a man. I gaze around in vain for one who will question my equal humanity, claim me as his slave, or offer me an insult. I employ a cab - I am seated beside white people - I reach the hotel - I enter the same door - I am shown into the same parlour - I dine at the same table - and no one is offended... I find myself regarded and treated at every turn with the kindness and deference paid to white people. When I go to church, I am met by no upturned nose and scornful lip to tell me, 'We don't allow niggers in here!' "
Douglass spoke not just for abolition of the slavery laws, but also for all human rights. He favored women's suffrage. He spoke about the need for education to improve life. He spoke about desegregating the schools.
Douglass argued that African Americans should be allowed to fight in the Civil War, to fight for their freedom. He celebrated the Emancipation Proclamation. He conspired with Abraham Lincoln to move the liberated slaves out of the South. He and two of his sons fought for the Union Army.
Click on any year in the chart below to see the class and other info,
such as postcards, people and events from that year.