The Class of 1895
Elizabeth Allen, Freeport; later married Mr. Hersche, Kellogg, Idaho.
Ellen Brooks, stenographer, Freeport; married Mr. Warner.
Royal O. Brown, studied medicine, Freeport; later a physician in Forreston.
Charlotte Casford, Beloit, Wisconsin.
John Coyle, stenographer, Illinois Central Railroad, Freeport; later Minot, North Dakota.
Katherine B. Hershey, teacher, Freeport; later Berkley, California.
Art "Doc" Hillebrand, College Football Hall of Fame.
Vivian Loveland, Freeport; married Mr. Kuehner.
Louis J. Marks, studied medicine, Freeport; later a merchant in South Bend, Indiana.
Joseph H. McGilligan, teacher, Ridott.
Ada M. Naylor, teacher, Freeport.
Phillip Pierce or Pearce, telephone company, Freeport.
George Pfender, Pfender's Flour & Feed Store, Freeport.
Harriet Saenger, Freeport; later Janesville, Wisconsin.
Florence Stoskopf, attended University of Chicago; married Mr. Ascher, Freeport.
William B. Stoskopf, attended Yale College; later a minister in Chicago.
May Stover, teacher, Freeport; married Mr. Lagron, Toledo, Ohio.
Lottie Welch, bookkeeper, Freeport; married Mr. Moers.
Mary Wheeler, stenographer, Freeport; later a teacher in Freeport.
---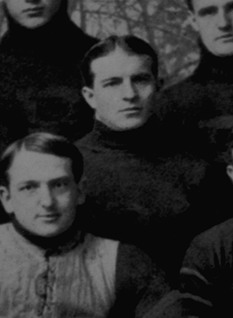 Arthur Ralph Thomas Hillebrand, "Doc", is a member of the College Football Hall of Fame. He was a member of the Class of 1895, but transferred before his senior year to graduate from the Andover Academy of Andover, Massachusetts. He was called Doc because he was the son of Dr. Christian Hillebrand.
Arthur Hillebrand was born in Freeport on March 9, 1877. He played football at FHS, Andover Academy, and at Princeton University.
Hillebrand was a big man for his time, six feet tall and 190 pounds. He was an outstanding tackle. He played four years at Princeton, from 1896-99. He was an All-American the last two years. He also was Secretary of his class, Football Captain in 1898 and Baseball Captain in 1900.
Hillebrand graduated from Princeton in the Class of 1900, and began coaching the football team at William Penn Charter School. In 1901 he coached the baseball team at the U.S. Naval Academy, and in 1903-05 he was the Princeton football coach.
He moved to Waubay, South Dakota, and was partner in a livestock company, Hillebrand Brothers. He died at Waubay on December 14, 1941.
In his four playing years in college, Princeton's combined record was 43-2-2. Princeton outscored its opponents 1,089 to 44.
When Hillebrand was head coach from 1903-05, the Princeton record was 27-4 and the Tigers outscored their opponents 669-85. His 1903 team went 11-0, had a scoring edge of 295-6, and was national champion.
Hillebrand was inducted into the College Football Hall of Fame in 1970.
His brother Homer Hillebrand became a pitcher in Major League Baseball.

---
The football schedule in the fall of 1894 included a loss to Rockford, and wins over Belvidere, Beloit and Dakota.

The Freeport High School Athletic Club presented it's first annual Field Day on May 4, 1895. This ribbon was given for 3rd place in the Base-Ball Throwing contest.
---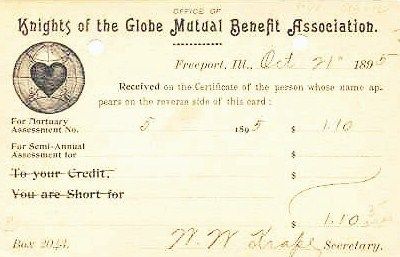 Knights of the Globe Mutual Benefit Association receipt dated October 21, 1895. The receipt for $1.10 is signed by the Secretary, W. W. Krape, a dentist who owned property at the southwest edge of Freeport. Twenty years later, he sold his property to the Freeport Park District, and it became one of the premier city parks in the world, Krape Park.
---
Click on any year in the chart below to see the class and other info,
such as postcards, people and events from that year.
..